Is your company inspiring trust and consumer confidence online as much as possible? If not, you'll quickly find out that you're leaving sales on the table. Your business can offer the strongest product or service on the market, but you won't be able to maximize your potential without consumers who trust your brand.
If you're having problems with consumer confidence and establishing trust, start displaying trust seals on your website and landing pages.
What are trust seals?
You've probably seen a trust seal on an ecommerce page and didn't even know it. Often referred called "trust badges," they are symbols that verify the legitimacy of a web page or confer a special status. These symbols are used for a variety of purposes, but the overall goal remains the same: to demonstrate that a brand is legitimate and credible, has proven to be successful, and is safe to conduct business with.
Countless studies have proven that trust seals have a significant effect on consumer behavior. For example, a study conducted by Actual Insights found that trust logos increased the perceived trustworthiness of a brand in 75 percent of respondents. Results also showed that 61% of participants said they recalled a time when they chose not to complete a transaction because trust logos were absent.
Another study from Actual Insights found that the success of trust logos was dependent on whether or not prospective customers recognized the logo being used. This study tested the 20 logos below: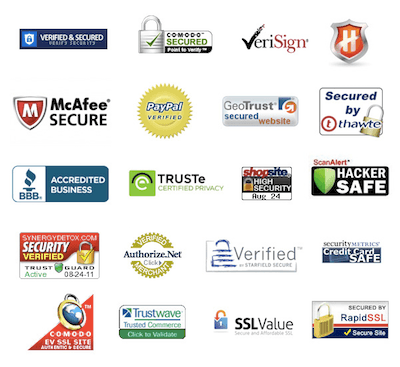 Although customers recognized several of the logos, the most trustworthy were McAfee, PayPal, Verisign, BBB, and TRUSTe — all highlighted here in red: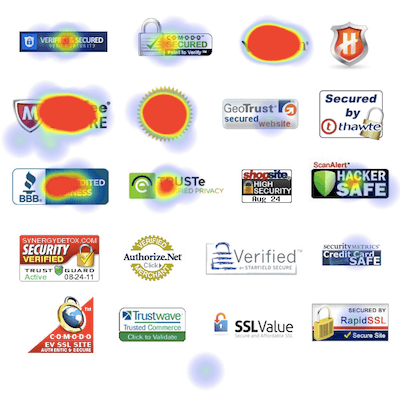 Selecting a trust seal that is valued by consumers is key to making them feel comfortable converting on your landing page or browsing your website. All trust seals are valuable, but some have more impact on consumer behavior than others.
Different types of trust seals
Businesses use different types of trust seals to push prospects to take a specific action. A security badge is placed an ecommerce page or sales page to make visitors feel comfortable entering sensitive information (like credit card number) and completing the transaction. On the other hand, an industry award is used to highlight an accomplishment and persuade prospects to request a free consultation, view a demonstration, download a white paper, or register for a webinar.
Let's see how companies are using different types of security badges and trust seals to make a great impression on potential customers.
Credit card trust logos
Visa, MasterCard, Discover, and American Express are commonly used to assure visitors that a business takes a particular form of payment. They are also a great way for lesser-known businesses to let prospects know which forms of payment are accepted.
My Binding's homepage places credit card logos in their website footer, directly above security trust seals from Norton and Google. During the checkout process for any of the company's products, the same credit card logos are found directly below the "Proceed to Checkout" CTA.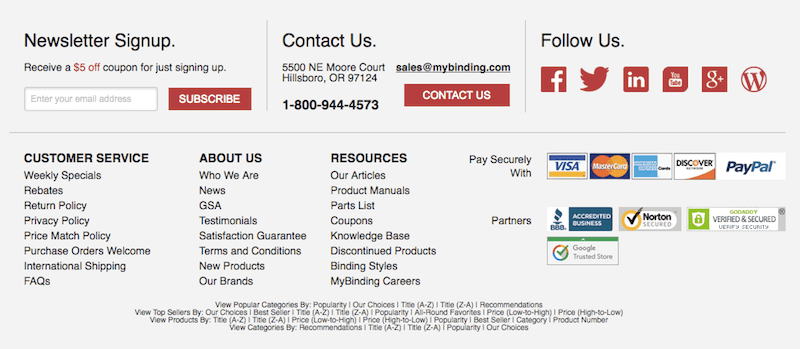 Industry awards
Industry awards are used to showcase a specialty or highlight a quality that competitors don't have. Industry award trust seals are often used to move prospects to view a product demo, sign up for a free trial, opt-in to receive a newsletter, or request a consultation.
Barracuda is a network security business and they understand the need to stand out from intense competition. The 2014 SC Magazine Award Winner symbol on the landing page below shows that Barracuda won the honor for the industry's best customer service. The company also placed the 2016 version of the award on their homepage, which further demonstrates their understanding of award badges' impact. (Why not update the landing page with the 2016 version?)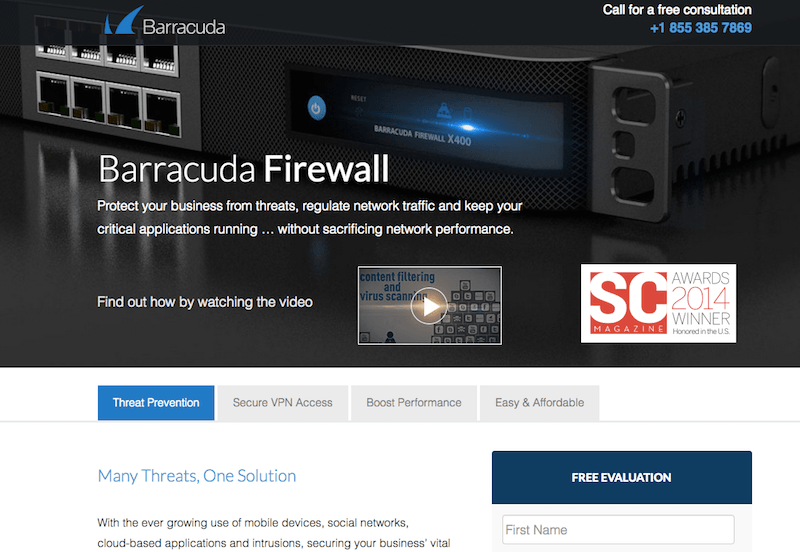 eHouse Studio is an ecommerce company that offers solutions for businesses looking to optimize their online shopping experience. By placing the "Inc. 5000 America's Fastest Growing Private Companies" badge in their website footer, the company makes it known they are a company on the rise. The stamp is placed right next to the email capture form to remind visitors that they will be getting updates from an industry leader:

Customer logos
It's no accident that online search users often come across logos of other companies on websites and landing pages. Companies want to brag they do business with other well-known brands. Essentially, they're saying, "we work with these other big brands you know, and since they trust us, you can, too." Research supports this because when consumers recognize a trust logo, they feel more comfortable doing business with that particular company.
Customers logos have a similar effect to testimonials. Testimonials come from individuals and provide specific information on how a particular product or service had a positive effect. Customer logos don't provide specific information, but they do give visitors insight on which brands are using a service. Let's look at a few examples.
The Google Cloud website highlights the logo, but a detailed quote is also provided for each brand represented. Doing this helps enhance the value provided to visitors. Plus, each logo is located above the "Try It Free" CTA button — acting as the last supporting evidence for visitors to try Google Cloud. With convincing testimonials from the likes of Coca-Cola, Spotify, and Snapchat, who's to argue with them?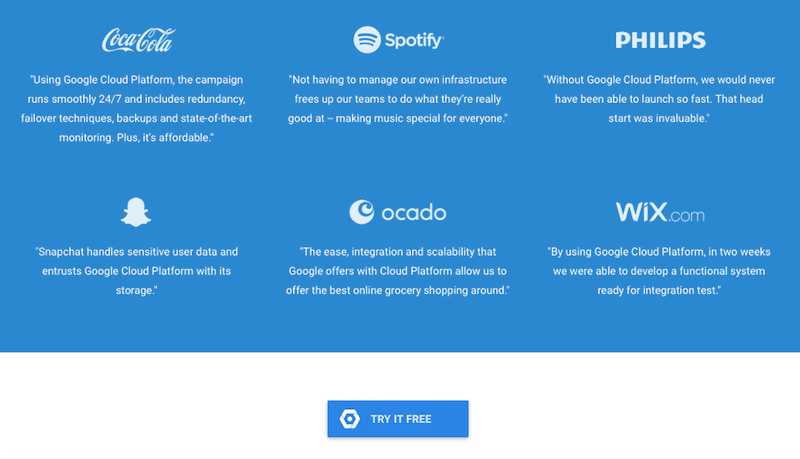 Similar to Google Cloud, Shopify includes customer logos on their homepage, complemented with detailed quotes. Visitors get insightful recommendations on how Shopify impacted these two businesses and then instantly see recognizable brands such as Google, Tesla, and the Los Angeles Lakers are also using the service: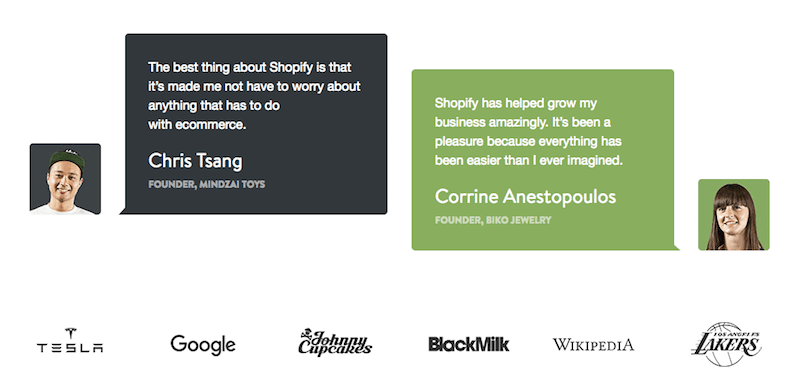 Like a lot of businesses, Curata understands that trust seals are convincing on both websites and landing pages. On this landing page, Curata chose to put Marketo, Eloqua, and Pardot logos underneath the bulleted copy and near the CTA button. In this example, visitors' eyes are intended to drift from the trust badges back to the CTA, increasing the odds of conversion: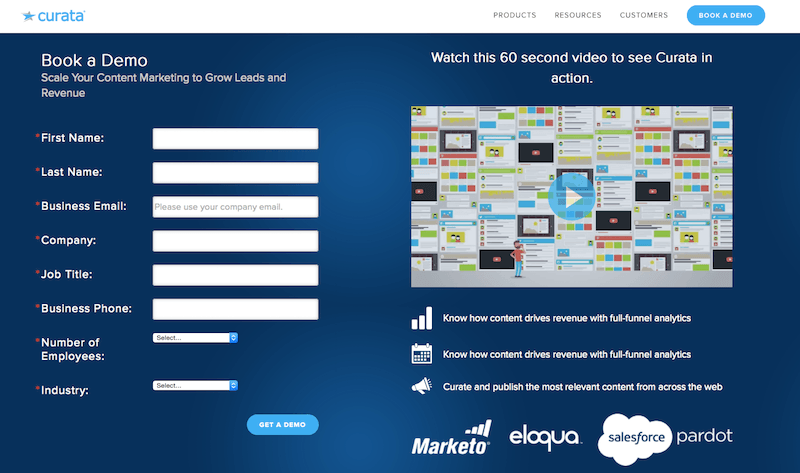 Customer satisfaction badges
Small businesses understand how critical trust is in completing any transaction because they don't have the luxury of a brand name that is well-known by consumers all over the country. Customer satisfaction website seals help instill confidence as prospects browse and are designed to put them at ease before making a purchase. Here are some of the ways small businesses are using customer satisfaction trust seals.
All American Air is an HVAC company based in Daytona Beach. Without a major brand name that is known throughout the country, All American Air must establish trust with prospective customers before convincing prospects to buy. The company does this by guaranteeing 100% customer satisfaction and placing the badge near two other website seals — Commendations and Premier Partners.
Not only does the guarantee instill confidence in prospects but it also associates the company with big brands, like the Better Business Bureau, Good Housekeeping, and Honeywell: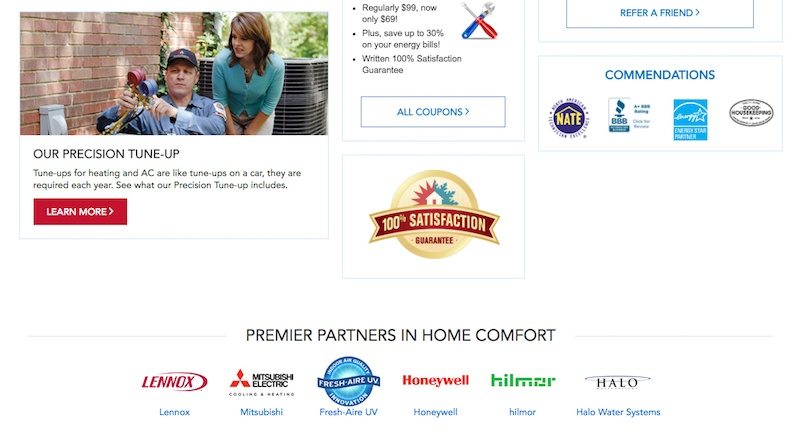 Frederick Plumbing, Heating, and Air is based out of Wichita, Kansas. Much like the previous example; without a nationally known service, the company must convince prospects they perform quality work. To do that, they have to first establish trust with prospects when they visit the company website.
When someone searches for a plumber in Wichita and arrives at their website, the lifetime workmanship guarantee is reassuring the company stands behind its work. The website seal is intended to increase consumer confidence when they are considering filling out the form and requesting service: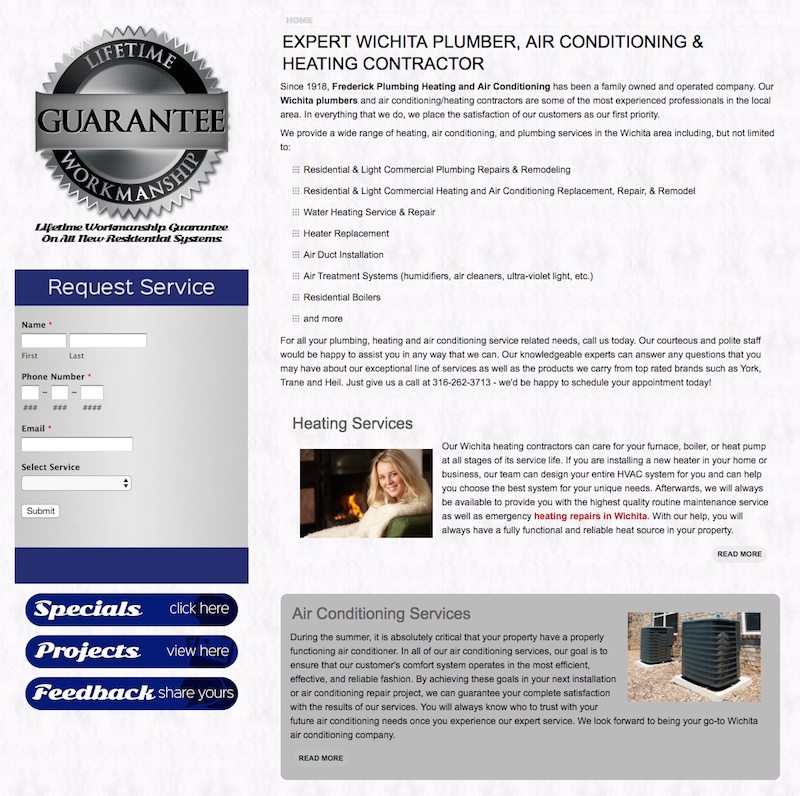 Security seals
Security trust seals are used to verify that it is safe for customers to input sensitive information and complete an online transaction. Security trust seals are associated with SSL (Secure Sockets Layer), the validation process that helps ensure security for online communications, like during a purchase. Let's take a look at how companies are using security seals to give prospects peace of mind before they buy.
Salesforce displays both the Norton badge and TRUSTe logos to let visitors know that Salesforce will keep all form data private and secure. By placing the trust badge near the form and CTA, Salesforce increases trust and reduces friction. The security seal is also strategically placed near several customer logo seals: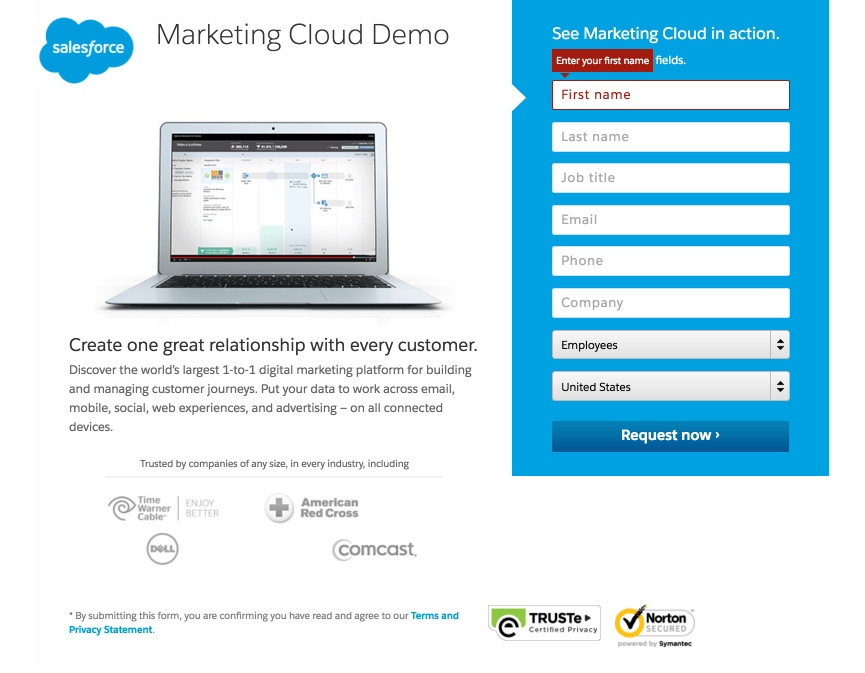 State Farm uses trust seals on both websites and landing pages, which shows that the company understands the positive impact that trust seals have on conversions. However, this landing page has the same issue as the State Farm website. The Cyveillance protected trust seal is in the footer, away from any actionable elements like a form field or phone number. This trust seal could increase conversions if placed near the "Start Quote" CTA above the fold.

App store logos
With mobile web traffic now exceeding desktop traffic, reaching mobile consumers is vital to any company's marketing plan. And regardless of app marketplace, apps must be vetted and approved before they're available for download. App store trust seals, therefore, let visitors know they can download a particular company's app in the App Store, Google Play, or Windows Marketplace. Here's how companies are using app store trust seals to engage with prospects.
GoDaddy's homepage footer displays which marketplace users can download their app. The buttons are placed in-line with a form field asking visitors to sign up for special offers. This way trust seals let visitors know that they can choose to engage through multiple channels, including email or through the company app: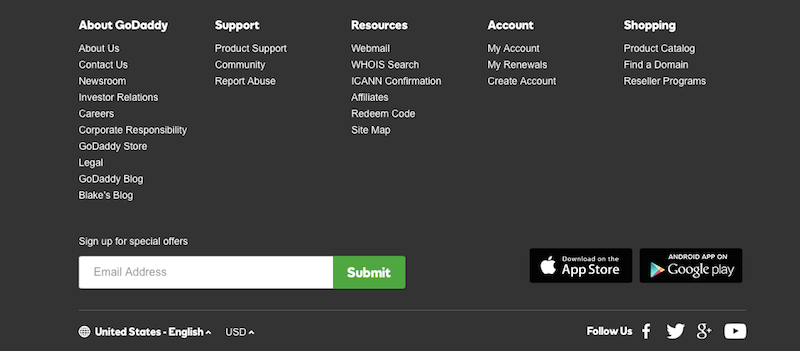 Similar to GoDaddy, FreshBooks' homepage includes app store trust badges in the footer. But unlike GoDaddy, the trust badges are not located near any actionable item, like a form field, CTA button, or phone number. These trust badges could have more impact if placed near a form field asking users to submit an email address to receive a newsletter: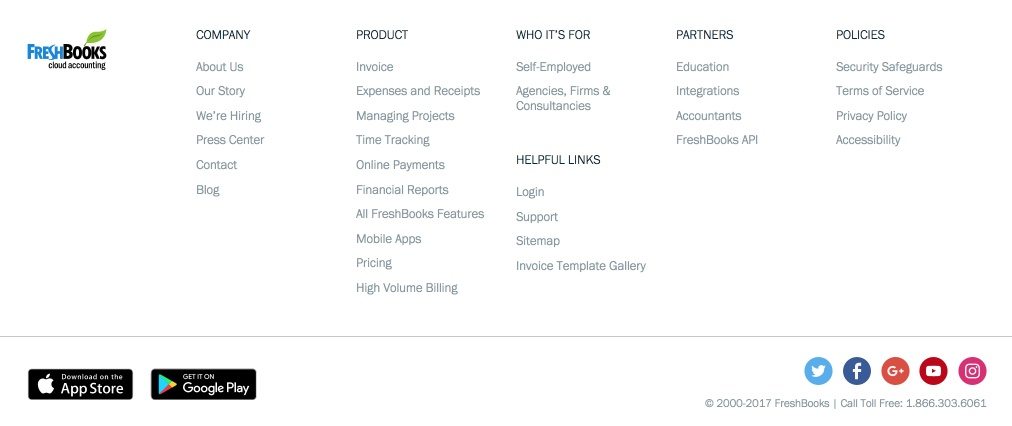 Where are the best places to include trust seals?
Simply having a trust seal on your website or landing page can improve consumer confidence. But their location can make an even greater impact. Moving trust seals closer to important fields can reassure consumers when they are entering sensitive information. Here are some of the most common locations trust seals are found.
In the header
This Adlift landing page showcases a trust seal in the headline, making it visible to potential clients right away. It's also in close proximity to two actionable items — above the form and next to the phone number: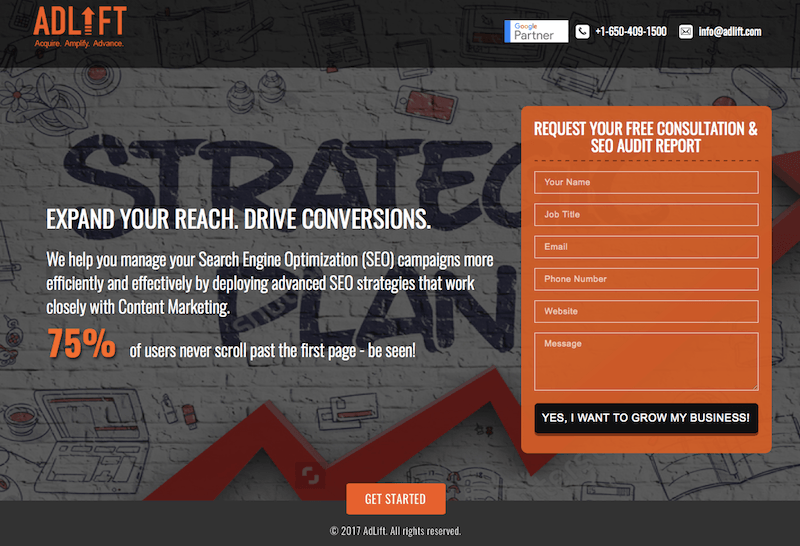 Near a form
This Iterable landing page shows customer logos centered below the lead capture form. Doing this helps reassure and remind prospects that established, reputable brands such as Yelp and Zillow trust Iterable for their email marketing: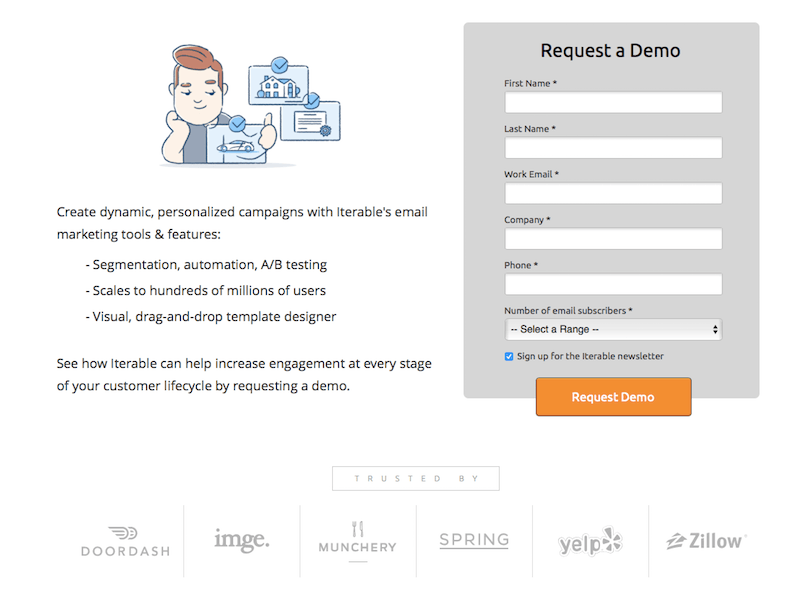 In the navigation menu
Although more subtle, navigation links can also serve as website trust seals. Trust seal navigation links take visitors to a dedicated page displaying popular brands that use the service. In this case, Curata's "Customers" navigation links take visitors to a page where they highlight companies such as JP Morgan, IBM, Dell, and Cisco: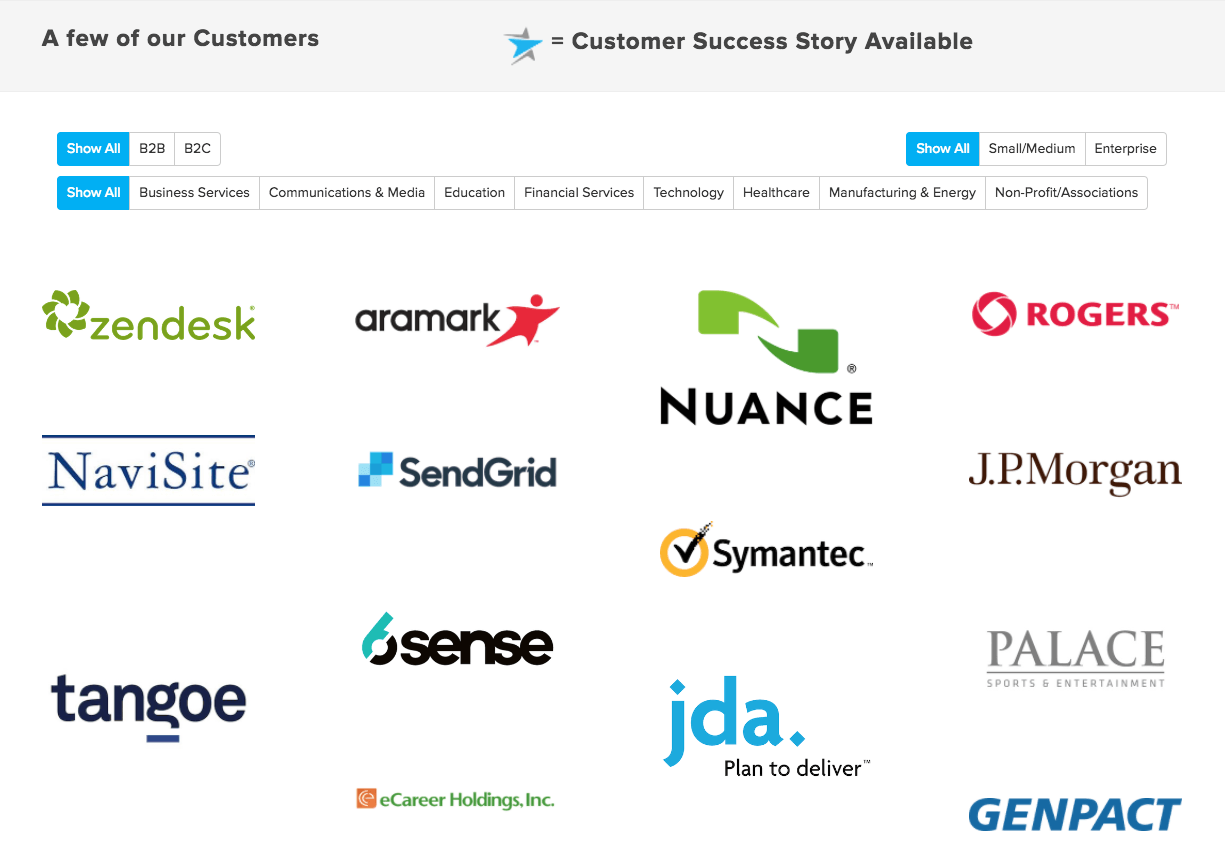 How does your business use trust seals?
There is no denying trust seals inspire consumer confidence in a brand, increase engagement, and persuade visitors to take action. Always connect all your ads to personalized landing pages to lower your cost per customer acquisition. Start creating your dedicated pages by signing up for an Instapage 14-day free trial today.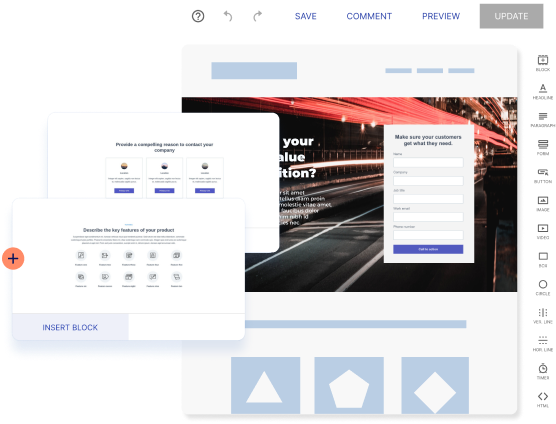 Try the world's most advanced landing page platform with a risk-free trial.