What do you think of when you hear someone say, "the future of television"? Do you think of immersive experiences? Maybe "Mike Teavee" from Willy Wonka. Surely Netflix, Hulu, and other streaming options come to mind. What if I told you the future of television is coming to a social network near you?
Get ready, because here it comes.
The arms race for social video has been happening for the past couple years and in 2016 reached new heights. Videos in a user's Facebook feed have grown 360% as the network tries to put them front and center. The question is no longer if you should be creating video content for your business, but what your video content should be.
Facebook recently announced four new ways viewers can consume videos both on and off its platform. What are they and how can your business capitalize?
4 New ways to watch Facebook videos
1. Expanded vertical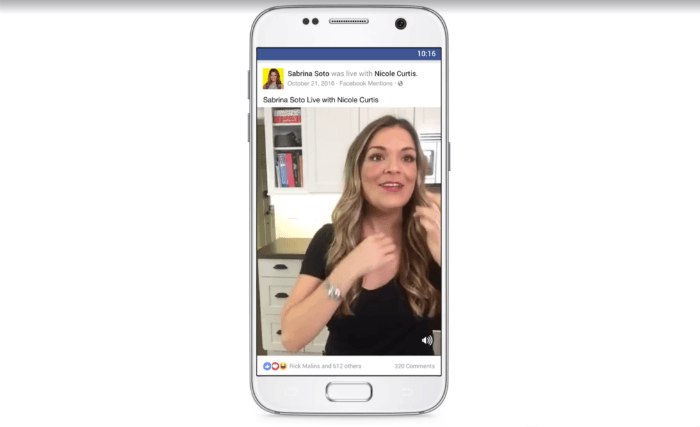 Early online video took the form of its film and television predecessors and presented images in a horizontal format only. Smartphones gave users the ability to record everything in our world, as long as they didn't mind recording in a format that didn't fit into the platforms where they lived. The horizontal format was humorously considered a disorder, called Vertical Video Syndrome. Yet, vertical video survived, and, with the rise of apps like Snapchat that encouraged vertical video, even thrived. Video platforms needed to adapt.
Facebook has been experimenting with vertical video for several months in its quest for more ways to engage viewers, especially on mobile. Since 84% of Facebook's ad revenue is from mobile and given that Facebook seems intent on becoming the leading platform for video, marrying the two seemed to be a forgone conclusion.
Previously, vertical videos would appear in a viewer's news feed with part of the video cropped to fit neatly in the traditional, smaller space reserved for a post. When a user interacted with the post, the video would expand to its full view, taking more real estate. On a mobile device, this would be an entire screen.
To continue giving publishers more engagement, Facebook began testing a news feed preview of vertical video in its entirety. It is now being rolled out for all mobile viewers, according to the official announcement. For mobile users, this means that vertical videos will fill an entire screen as one scrolls through the news feed, giving publishers a moment of a viewer's undivided attention.
Going forward, publishers need to know their audiences to understand from what devices users are consuming video content. If the viewers who fit a company's target persona are primarily coming from mobile, it will be worthwhile to start developing content in vertical format.
2. Can you hear me now?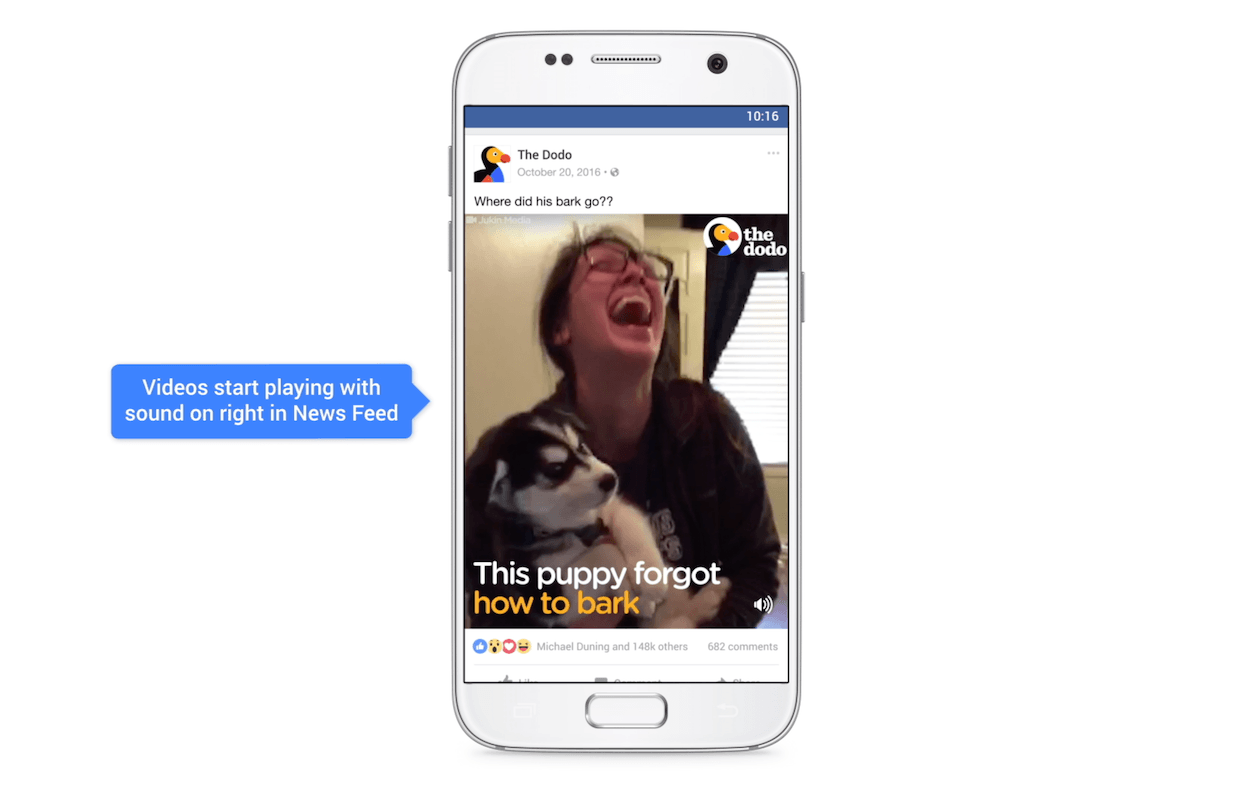 Mobile Facebook users are using their devices for many things, often all at once. They are listening to music, texting, or talking on the phone while also idly scrolling through Facebook. That meant that a user had sound coming from one source but not until a user chose that source. This might be changing, slightly.
Facebook is eliminating its policy in that all videos start on silent and require user action to enable sound. What does this mean, exactly?
If the device sound is on, audio will fade in as a user scrolls to a video
If the device is set to silent, audio will not play with video (sound can be turned on by tapping a video, just as before)
This feature can be disabled by users in their Facebook Settings
How Instapage planned for this
In 2016 we wrote how adding captions to videos improves engagement and viewing time for Facebook videos. While this remains true, the way your team introduces those captions might change. At the time we wrote about captions, the Instapage video team was adding captions as part of the video itself. There was no separating the two, even when sound was turned on by a user. We saw positive results and continued to create videos this way.
More recently, we wanted to provide a more natural way to consume videos in anticipation of this announcement. Facebook provides the option for uploading SRT files so Instapage began taking advantage of this. Now, viewers who opt to turn the sound on for our videos will no longer be forced to have captions, giving a more natural viewing experience. But, they are available for viewers who prefer to follow along in silence or are enjoying other sources of sound.
Put an end to the back and forth when designing landing pages. Go collaborate – https://goo.gl/4KK87J

Posted by Instapage on Monday, February 6, 2017
Captions still play a role in grabbing the attention of some users who have device sound turned off but can be added using an SRT instead.
3. Watch and scroll
Have you ever started watching a video, become engaged just enough to want to see how it ends, but not completely engrossed? Or, maybe a video catches your eye in the news feed, but you came to Facebook with a specific purpose. Lucky for you, Facebook has made video multitasking much easier.
One of the more exciting features is the ability to watch a video while continuing to scroll through one's news feed — much like picture-in-picture mode on television. This is something YouTube's mobile app has had for awhile now and gives publishers a big boost for viewing time. Too often viewers have to choose between watching a video and continuing to scroll.
Now, users can continue scrolling through other content and enjoying your video at the same time. When a user opens a video fullscreen, a small icon appears in the upper left corner. This takes viewers back to the news feed and moves the video to the lower right corner of the mobile device (sound will continue to play):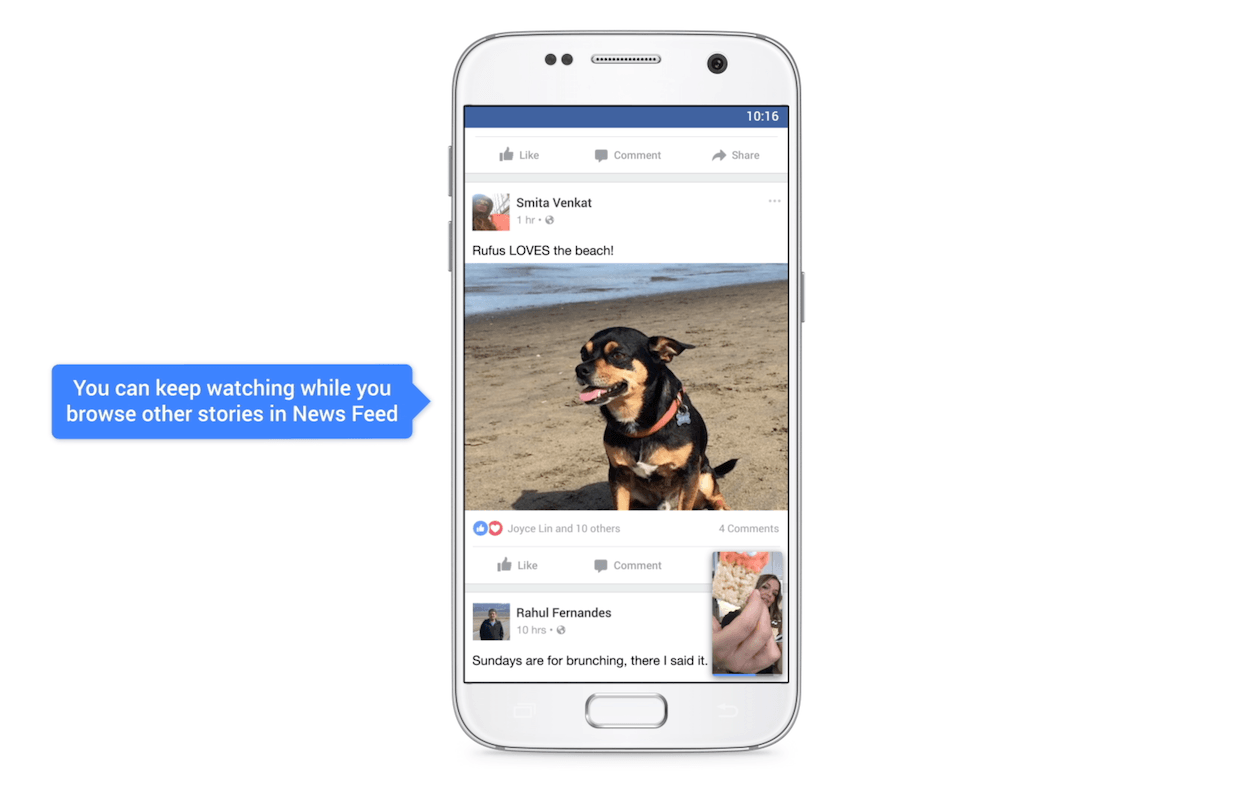 Taking it one step further, Android device users can leave the Facebook app entirely while still watching a Facebook video in the lower corner of their screen. Of course, this means that your content won't receive undivided attention, but it will help keep more users watching instead of abandoning a video to pursue a different task.
Grabbing users' attention in the first few seconds of the video is even more important than it already was. That's because viewers are more likely to stick around, even if they aren't fully engaged from the onset, giving you more time to make your case and provide quality over the course of an entire video.
4. Broadcasting live, from your living room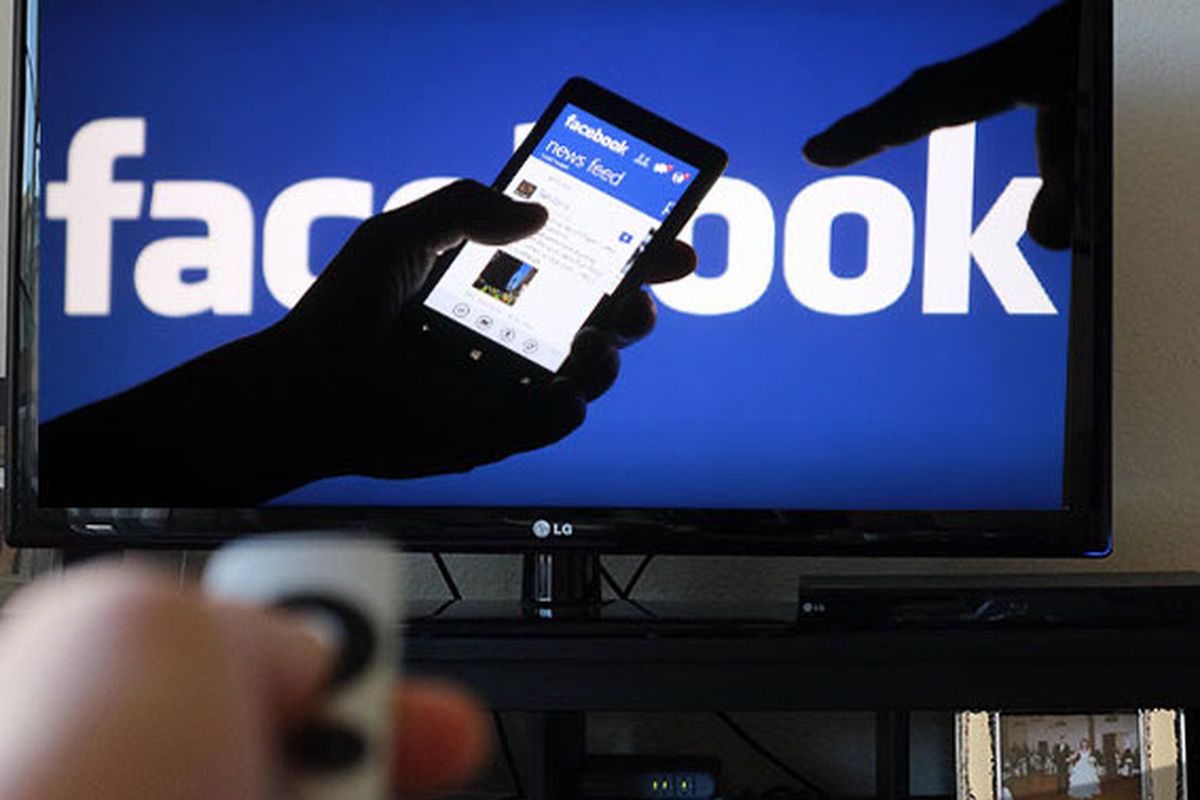 Grab a glass of wine and settle into your couch for the last announcement.
Ready?
Facebook's final announcement was the most direct indication of the vision Facebook has for video. The company is rolling out a video app for Apple TV, Amazon Fire TV, and Samsung Smart TV. Now you can binge watch your favorite Facebook video content with friends gathered around the TV.
That's right. Facebook and chill.
Facebook previously gave users the ability to stream videos to their TVs, but this puts Facebook permanently in users' living rooms. Users can watch videos from friends, their favorite pages, or live streams from around the world.
Creating serial content that users will want to return to is now a big opportunity for publishers. Just as Netflix allows for binge-watching a favorite show, Facebook is opening the door for publishers to create engaging content that viewers will crave.
How brands are implementing these updates
When vertical video was first introduced, it initially appeared in a cropped view, only showing the dimensions that align with landscape video. This meant that users would need to engage with the video to see the top and bottom thirds of a video. Publishers needed to get crafty to boost engagement or risk wasting the top and bottom thirds of a video.
Little Caesar's Pizza was one of the most ingenious early adopters, with a campaign for its bacon-wrapped crust: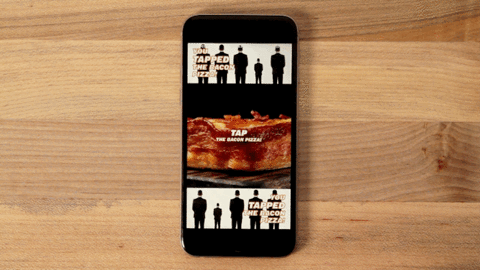 Facebook now gives publishers the extra mobile real estate without requiring engagement. Here are a few examples of brands that are already taking advantage to capture more eyeballs (click-through to view them in action).
Chubbies used the extra space to create a Snapchat style video ad. The vertical format aligns itself nicely to a person standing up to show off the new style of swim trunks. The music playing will grab the attention of those with sound on but isn't necessary to getting the message for those with the sound left off.
Ivy uses bright featured images in a vertical format and large, bold text to grab viewers' attention in a noisy newsfeed.
Red Bull uses its classic illustration style to reach people experiencing the grogginess of Daylight Savings. Sloths hanging from the subway bars all the way down to sleeping on the floor lends perfectly to vertical video and covers an entire mobile device.
Viral Thread popularized the style of adding a subheadline in the space above and/or below a video. This worked well before vertical video was given full space and continues to be effective now that the video starts expanded. The music is a nice addition to those with sound on but isn't required to get the full effect of the post.
Start filming today
What type of content are you creating for your Facebook business page? Does it lend itself to the new direction Facebook is taking video? What will you create to continue to draw viewers into your content?
Just remember to keep your business' target persona in mind and if you're adding links to click-through, that you're sending those prospects to 100% customizable post-click landing pages that match your content. Get the free guide here to maximize your lead gen efforts.