For years, businesses have successfully increased social media engagement using Promoted Tweets with compelling images and videos, along with relevant hashtags that drive Retweets, likes, and follows.
With Twitter Conversational ads, it's even easier to engage Twitter users, encourage more discussions, and empower consumers to spread a brand's message.
What are Twitter Conversational ads?
Conversational ads take standard Promoted Tweets a step further by adding call-to-action buttons with customizable hashtags, prompting users to spread a brand's message to their followers to further expand its reach: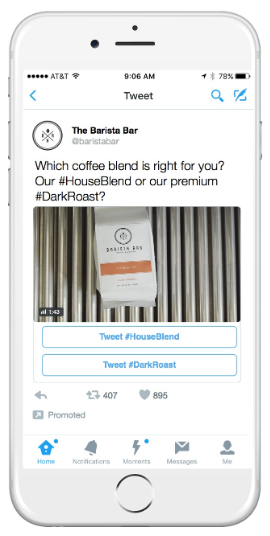 How do Conversational ads on Twitter work?
When a user taps a CTA button, the new Tweet composer opens with a pre-populated message, along with the creative and hashtag buttons. The user can then personalize the Tweet and share it with their followers: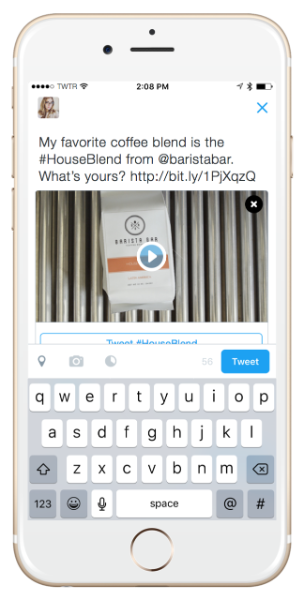 Next, the user receives a "thank you" message from the brand for engaging with the Tweet, which may also include a link to the brand's website or post-click page: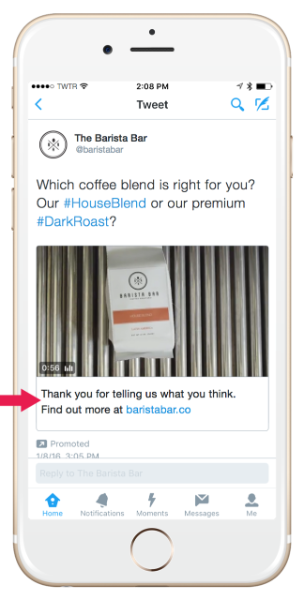 Finally, the new Tweet appears to the consumer's followers in their timelines, and includes the original photo or video: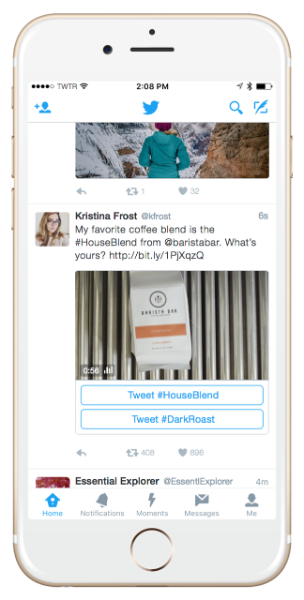 Also available: Instant Unlock Cards
Instant Unlock Cards build on Conversation ads by incentivizing users to Tweet, offering access to exclusive content (a trailer, exclusive Q&A, recipe, etc.) after the Tweet is sent: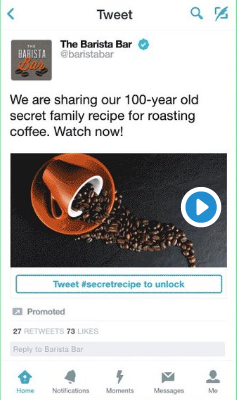 Instant Unlock Ads follow the same 3-step process as Conversation ads, but they make it even easier for consumers to engage with and spread a brand's campaign message since they reward people for tweeting about a brand: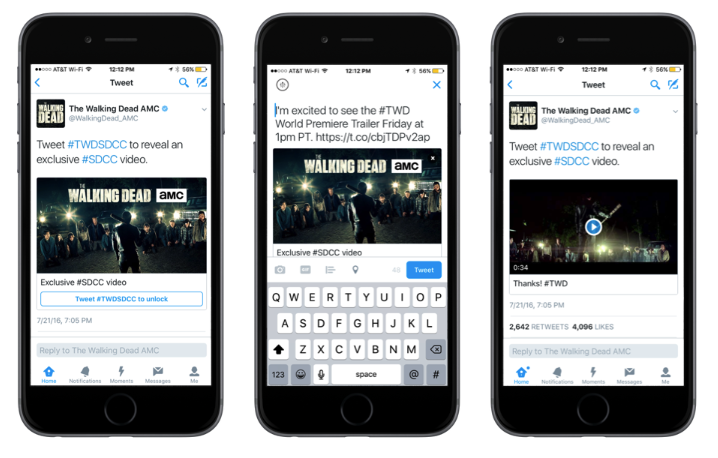 In addition to The Barista Bar and AMC, many other brands have also successfully used Twitter Conversational ads.
Twitter Conversational ad examples
Samsung
Samsung Canada was one of the first global brands to use the ad type: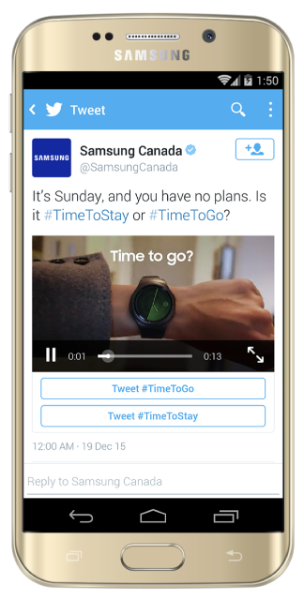 According to Mark Childs, CMO of Samsung Electronics Canada, the company was excited by the opportunity to initiate more meaningful conversation:
To stay ahead of the curve, it's important to continuously evolve our social media engagement strategies to help our fans get closer to the Samsung Canada brand.
Lifetime
Lifetime was also one of the first to partner with Twitter to beta test a Conversational video ad around the premiere of their 'Pitch Slapped' series: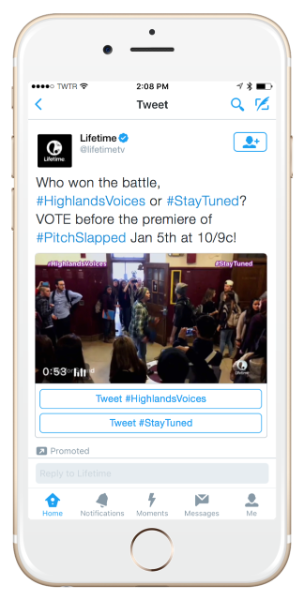 Marissa Vinciguerra, Lifetime's Director of Social Strategy, explained why the company chose to experiment with Conversational ads on Twitter:
The Tweet features voting buttons encouraging fans to engage with our creative and is a perfect match for this campaign.
Wendy's
Wendy's used Conversation ads to spread brand awareness and promote the Frosty: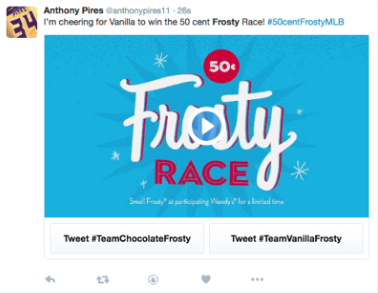 Every time users voted Team Chocolate or Team Vanilla, they shared the tweet and spread the engagement opportunity with their followers. Within 15 minutes, over 200 users were choosing a team and sharing the advertisement.
Coca-Cola
To drive engagement among teens during the launch of their "Taste the Feeling" campaign, Coca-Cola ran a Conversational video ad featuring influential creators: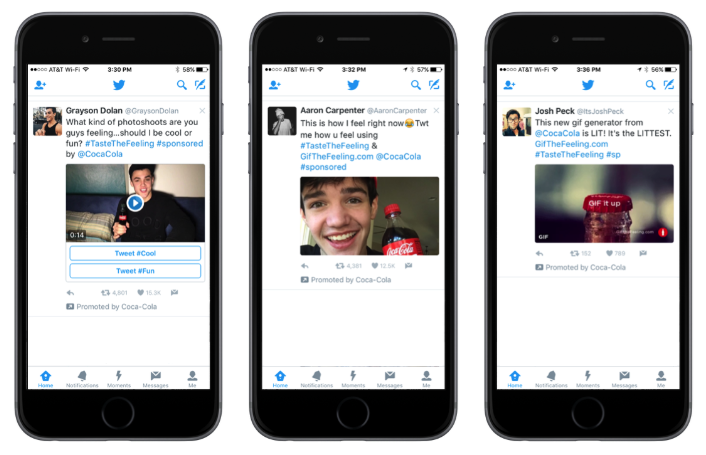 The campaign resulted in 180k mentions of @CocaCola and #TasteTheFeeling branded terms on just the first day.
Marvel
Marvel launched their new emojis with a Conversational ad that encouraged Twitter users to engage by picking a side — either #TeamCap or #TeamIronMan: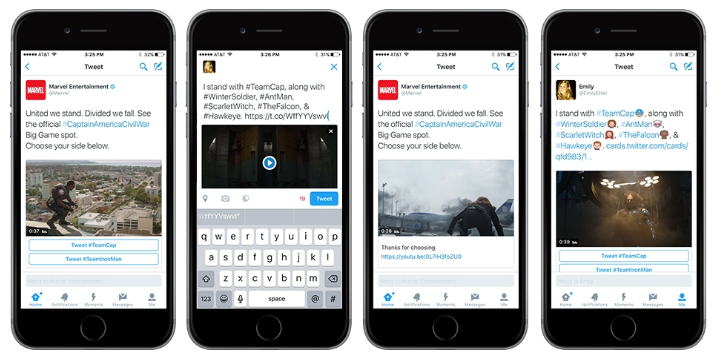 This generated massive amounts of conversation on Twitter over the following weeks. On the first day alone, there were 1.5M mentions of Marvel.
2 Major benefits of Conversation Ads
1. More organic engagement
This ad type boosts organic conversation about brands because of the continued sharing of the CTA. As more people share their version of the ad, the more people will talk about the brand. Not only that, but this happens at no extra cost, which helps increase ROI as well.
2. People become ambassadors
Since Twitter users are sharing these ads and editing them to be their own, it enables consumers to serve as brand ambassadors. Consumers feel like they are a part of something bigger — a valuable asset to the brand — and are more likely to purchase from the brand than if they were to simply see the company's advertisement.
How to set up Conversational ads on Twitter
1. Log in to your Twitter Ads account and select "Create new campaign."
2. Choose the engagements objective for a Conversational image ad, or the video views objective for a Conversational video ad.
3. Under the "Create or select creative" section, click "use a conversational card."
4. Complete your ad/card details:
Image or video
Number of hashtags
The pre-populated copy that shows when users interact with your card
Headline (appears above the hashtag) in a one-choice hashtag option
Thank you text (appears after a user has Tweeted your message)
Thank you URL (optional)
5. Configure the rest of your campaign options (bidding and targeting) and launch your campaign.
Note: Conversational ads are not available by default for self-serve advertisers. To request access, you must file a support ticket.
Ad specs
Image
Max file size: 3 MB
Aspect ratio: 5:2
Minimum ratio: 800x320px
File formats: JPEG, PNG, non-animated GIF
Video
Max file size: 1GB
Recommended video length: 15 seconds or less
Max video length: 2 minutes and 20 seconds (select advertisers may request up to 10 minutes)
Autoplay and loop if the video length is under 60 seconds
File types: MP4 or MOV
Video bitrate recommendation: 6,000-10,000k (recommended 6,000k) for 1080p; 5,000k-8,000k (recommended 5,000k) for 720p
Frame rate recommendation: 29.97FPS or 30FPS (higher is acceptable)
Audio codec recommendation: AAC LC (low complexity)
Video codec recommendation: h264, baseline, main or high profile with a 4:2:0 color space
Video aspect ratio: 1:1 is recommended, as it will always render as square on desktop and mobile, timeline, and profile (this and 9:16 (vertical) will take up the same amount of real estate, which is more than 16:9)

Any aspect between 2:1 and 1:1 is acceptable, but after 1:1, platform will crop to 1:1 aspect ratio
Desktop will have black bars on the sides once the video begins playing
Mobile will crop the top and bottom of the video, center, and autoplay without bars

Recommended size: 1200 x 1200 (if 1:1 aspect ratio, 600 x 600 minimum; if not 1:1 aspect ratio, 640×360 minimum)

Any height is acceptable, but if the height exceeds the width, the video will be cropped to 1:1 in the feed.

Captions: Closed captioning or text overlays are mandatory
Thumbnail supported files: PNG or JPEG
Thumbnail aspect ratio: Recommend matching sizing of the video
Thumbnail min size: 640 pixels by 360 pixels
Thumbnail max size: 5MB
Best practices for Twitter Conversational ads
In addition to the specs, there are also several best practices to follow to get the most out of your Conversational ads:
1. Make sure your visual is compelling
Since Conversation Ads are intended to make followers forward your brand message, the main content (e.g., image or video) needs to be compelling and valuable enough that someone would want to share it with their followers.
2. Keep your pre-populated copy short
The Tweet copy automatically generated for users to share should be short enough that they can customize it with additional characters — because the more they tailor the Tweet to their audience, the more impact it will have on that audience.
3. Use multiple CTA buttons
By including two different call-to-action buttons, brands can boost engagement but also start an organic debate as well. This wouldn't be possible with only one CTA button.
4. Brand your video
Branding is highly recommended with Conversational video ads. For example, present your logo in the upper left-hand corner, and place products prominently to drive product consideration.
Spread your message with Twitter Conversational ads
Turn your Promoted Tweets into Conversational ads with customized CTA buttons and hashtags, prompting users to expand the tweet's reach. Take it one step further than this with Instant Unlock Cards, rewarding people for spreading your message further with access to exclusive content.
No matter the ad type you select, complete your campaign by telling the same story narrative from ad to post-click page. See how Instapage can help you create these dedicated experiences at scale by requesting an Instapage Enterprise Demo.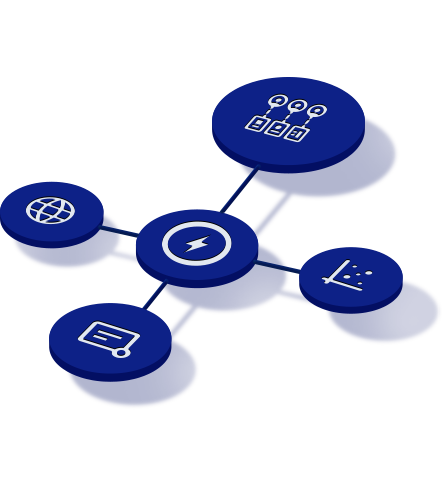 See the Instapage Enterprise Plan in Action.
Demo includes AdMap™, Personalization, AMP,
Global Blocks, heatmaps & more.