In the first quarter of 2016, Twitter announced some astonishing statistics about advertising on its network. Driven by the growth of autoplay video and improvements in ad formats, engagements rose by 208% year-over-year. Not only that but the cost per engagement is down 56%.
These reasons, among others, are why over 100,000 businesses use Twitter to boost reach, drive engagement, and generate conversions by serving ads to people with influence. According to Twitter, 82% of users interact with brands on their platform, and 64% have an impact on purchases made by friends and family.
Here's how to get started engaging your audience with ads on the world's go-to real-time social network.
Create a Twitter advertising account
To get started advertising on Twitter, you'll need to first create an account here. Once you're set up, determine what the goal of your campaign is. Then…
Choose a campaign objective
Follower campaigns
Growing your Twitter following is a significant step toward accomplishing some key marketing goals. With each fan comes the potential for engagement — a retweet, a favorite, a reply. And the more those fans interact with your business, the more opportunities you have to boost organic clicks, conversions, and other objectives.
Tweet engagement campaigns
Tweet engagement campaigns allow brands to run ads, known as "Promoted Tweets," in users' timelines, on Twitter search engine results pages, and partner networks. They offer expanded reach for advertisers looking to get content consumed, and conversations started on Twitter.
Website clicks or conversions campaigns
If your goal is to generate traffic and convince prospects to take action, it's one of these campaigns you want to run. Serve ads to people most likely to redeem your offer or click through to your Twitter post-click landing page.
App installs or app engagement campaigns
Twitter's "app install" and "app engagement" ads allow advertisers to boost downloads of their mobile applications or re-engage inactive users. With a mobile app card, drive action right from a Tweet, where users can install or open your app with a few finger taps. And only pay when someone engages with your ad.
Leads campaigns
With lead campaigns, growing your email list on Twitter is simple. Offer something valuable to your target audience, then let them exchange their personal information for it in just two clicks of their mouse. Integrate your CRM to sort them into your system for easy follow-up.
Tweet engagement campaigns
Get more retweets, likes, and replies with this campaign format, which gets your Tweets in front of users who are likely to engage with them. Other than an increased reach and a "promoted" label, these Tweets are no different than ordinary ones. They'll appear in your target audience's timelines, on profile pages, and on Tweet detail pages, and you'll only pay when they're engaged with.
Video views campaigns
Videos on Twitter are recalled 20% better than on other leading platforms. They also produce the highest level of attention in users and more emotional engagement on mobile. If your goal is to get a branded video seen and remembered, it's this ad format you'll want to take advantage of.
Only pay when your video is at least 50% in-view and watched for more than 2 seconds, or it's full-screened or unmuted by the user — whichever comes first.
Choose your targeting specifications
Twitter ads generate up to 2.4 times more sales and higher lifts when they're targeted to a highly relevant audience. Choose which specifications best suit your brand and campaign goals.
Age/gender targeting: Target people based on their age and gender.
Geo-targeting: Target over 200 markets around the world based on your desired location. Serve ads in a general location, like a country for example, or a more specific one by inputting region, city, or zip code.
Username targeting: Serve ads to people based on the Twitter users they follow. Try targeting the followers of competitors, influencers, and similar brands for maximum ROI.
Device targeting: Don't limit yourself to desktop. More than 80% of Twitter users access the social network from a mobile device. Run campaigns based on device type, OS version, wifi connectivity, and more.
Interest targeting: Deliver branded messages to Twitter users based on their interests. Choose from 25 categories and 350 subtopics within them to target people based on what they enjoy, like "investors and patents," "marketing," or "small business."
Keyword targeting: Get your branded messages in front of people who have engaged with Tweets containing keywords relevant to your business.
TV targeting: Target people before, during, or just after a specific TV show.
Tailored audiences: Reach people who have visited your website, are in your CRM, or are part of third-party lists from web audience partners.
Event targeting: Target based on live moments all over the world, like sporting events, concerts, or political debates.
Craft your ad creative
From text tweets to promoted videos — ad creatives are what you'll use to engage your audience. Here's what you can choose from:
Plain text tweets


These Tweets contain just text. If you include a link, it'll count against the 140 character limit by 24.
Website cards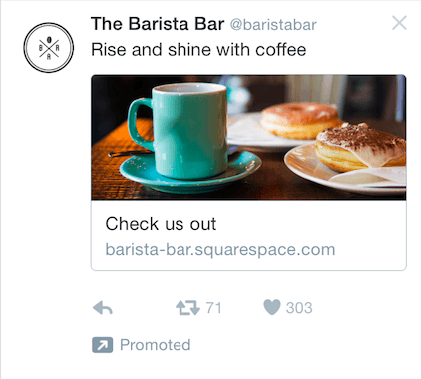 These tweets include 116 characters of text (24 used for images), a 70-character title, and an 800 x 320px JPEG or PNG image that can't exceed 3 megabytes in size.
Lead generation card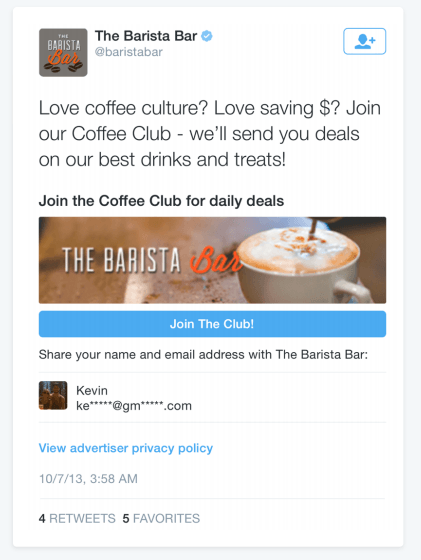 Lead generation tweets contain 116 characters of text with a 50-character description and custom 20-character CTAs. After a lead is submitted, a "thank you" message totaling 100 characters will display to the user. Also included is an 800 x 200-pixel image no bigger than 3mb.
Basic app card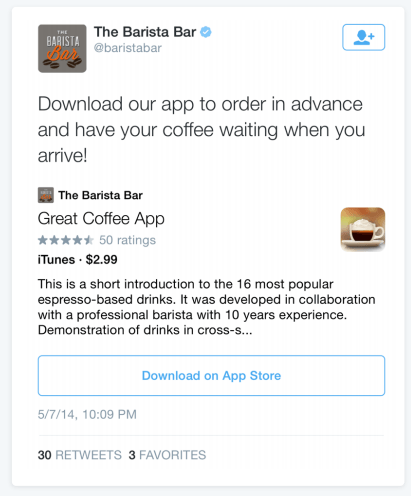 Basic app cards drive users to your application's page in the App Store. They can contain up to 116 characters, a 144 x 144-pixel JPEG or PNG icon with a call-to-action reading "install," "open," "play," "shop," "book," "connect," or "other."
Image app cards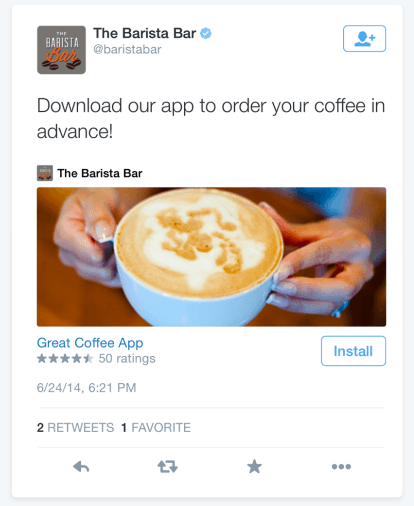 Image app cards are a more visual version of the basic app card. Their creative specifications are the same as the basic app card, aside from the 800 x 200 pixel JPEG or PNG that they can accommodate.
Promoted video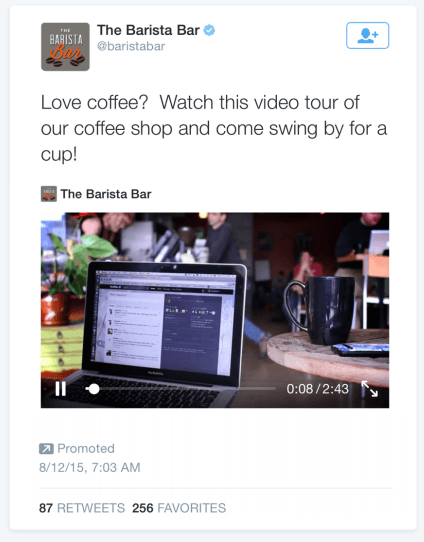 Promoted video tweets consist of a 140-character description, a 70-character title, a 200-character description, and a .MOV or .MP4 clip that doesn't exceed 2:20 (speak to a Twitter rep about using longer videos).
Single image tweets and GIFs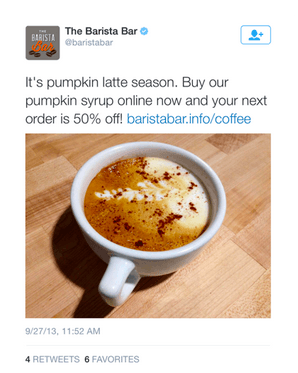 Single-image tweets and GIFs have room for 116 characters of text (140 when created on twitter.com instead of ads.twitter.com) and a 600 x 335-pixel image. Though, Twitter recommends using a 1200 x 675-pixel image for better resolution when expanded.
Multi-image tweets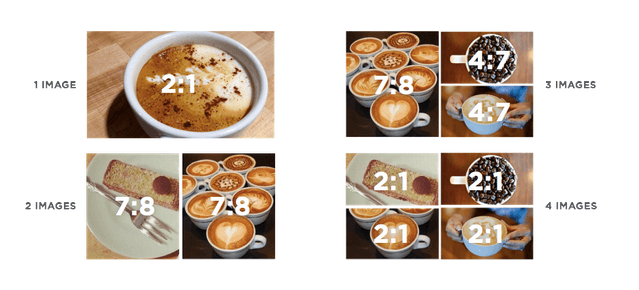 These Tweets can accommodate between 1 and 4 images, 116 characters of text (140 when created on twitter.com instead of ads.twitter.com), and a 600 x 335-pixel image (1200 x 675px for best expanded viewing).
Summary card with large image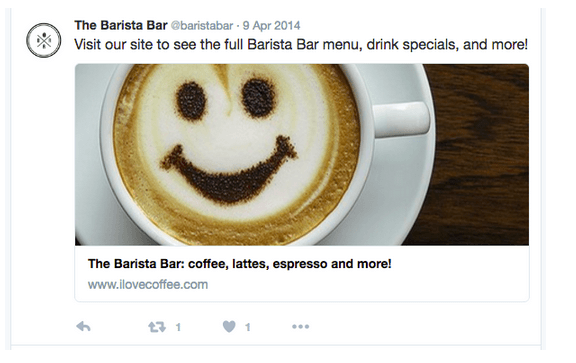 Summary cards allow users to click through a linked image to a web page. Along with a 280 x 150-pixel image, it can include 116 characters of text, a 70-character title, a 200-character description.
Conversational ads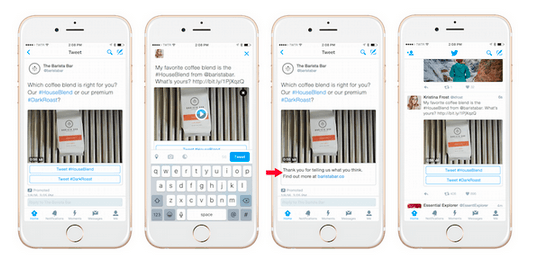 Conversational ads are created with the goal of spreading your message among your followers. They can include a CTA, 116 characters of text, a 23-character headline, customizable 21-character hashtags, along with an 800 x 320-pixel image, or video not exceeding 2:20.
Follow Twitter's best practices
Follower campaigns
When running ads to followers, make sure your profile is ready for traffic. According to the social network, users will visit your brand's page before they decide whether or not to follow you. Segment your campaigns to reach each one of your buyer personas with highly relevant information, and target 10-20 usernames and/or interests to make sure your audience is specific.
In your ad's creative, let Twitter users know why they should follow your account, and include the words "follow us" in your copy. Keep hashtags and extra links to a minimum — they'll only distract from your CTA button.
Tweet engagement campaigns
As always, keep your targeting specific and your messaging as personalized as possible. Include eye-catching media and a strong call-to-action that invites users to engage with your brand. Then, finish off your ad off with a relevant hashtag. Data from Social Times shows it can boost engagement rates by as much as 122%.
Website clicks and conversions campaigns
Target your audience based on your goals. If it's maximum impressions you're after, use follower or interest targeting. If what you'd rather have is a smaller, highly specific audience, consider using keyword targeting to deliver ads to people who have engaged with Tweets containing a particular word or phrase.
As for ad content, test the two types of formats that Twitter offers for conversion campaigns: image + link and website card. With an image + link ad, use an in-Tweet image to draw attention, then a compelling call-to-action in your copy to convince users to click. Or, use a Website Card, the format built by Twitter specifically to share links and images together compactly.
"Among the thousands of advertisers we've worked with, some find the eye-catching imagery of image+link performs best for them, while others find that the Website Card's clear call-to-action is most effective for them," says Twitter. Make sure you give both a try.
Regardless of which you ultimately choose, remember to keep Twitter users focused on your call-to-action by excluding usernames and hashtags. Make the ad copy short and benefit-focused, and optimize your post-click landing page for mobile. The majority of Twitter users (80%) access the network via a mobile device, and they won't have the patience to pinch and zoom.
When you've finished creating your ad, don't forget to add a pixel to the code of your "thank you" page. This will allow you to not only track conversions and clicks but to create a new audience based on the people who took your desired action (remarketing).
App installs or app engagement campaigns
Create a campaign that speaks directly to your target audience. Copy aimed at people who have already downloaded your app is going to look different than some written for people you're trying to re-engage. In both cases, briefly describe the benefits of your app, and use a strong call-to-action in addition to including an eye-catching in-app image to pique your viewers' interest.
Lead campaigns
To make tracking easy, Twitter recommends you make a separate lead campaign for each offer. Keep your ads brief and benefit-oriented, and make sure your copy matches the offer. Most importantly, reach out to your converted leads as soon as possible. The longer you wait, the less likely they are to move further down your marketing funnel.
Tweet engagement campaigns
Tweet engagement campaigns should be used to promote your most important brand messages. If you have news to share or a product to offer, this format is best for creating a conversation around it.
Figure out what your engagement goal is — do you want users to retweet? To reply? Get them to do it with a strong call-to-action and a clear description of why they should engage with your content.
Video view campaigns
First and foremost, Twitter recommends using video to humanize your brand. Promotional videos featuring people in the first few frames are twice as likely to keep users watching the whole way through.
Make sure to tell a story, as research has shown it can boost purchase intent by 9% in Twitter videos, and focus on how your product or service will improve the life of your prospect.
Take tips from brands that are succeeding
Follower campaign
A division of the largest plumbing wholesaler in the US, Ferguson Bath, Kitchen and Lighting used Twitter to boost its following of potential clients and industry influencers: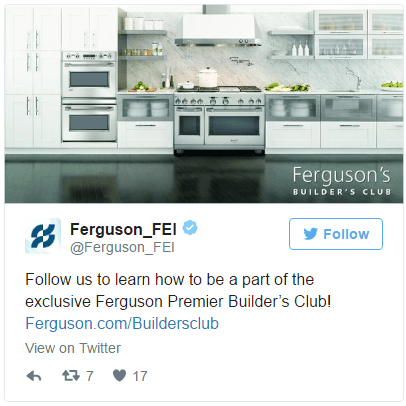 "Not only have we seen a 104% increase in engagements on Twitter since we ran our campaign, but the new followers have driven results off-Twitter too," said Whitney Porter, Senior Marketing Manager at Ferguson. "Compared to the average social visitor, users who come from Twitter spend more time on our website and visit more site pages."
When the campaign was through, Ferguson had boosted their follower count by 3,000%. Learn more about their success here.
App installs and engagement
"The immense targeting capabilities, international reach, and reporting that tie to our analytics platform have made Twitter a great partner in TripCase's marketing strategy," said the brand's Senior Market Specialist, who took to the social network with the intention of boosting app installs: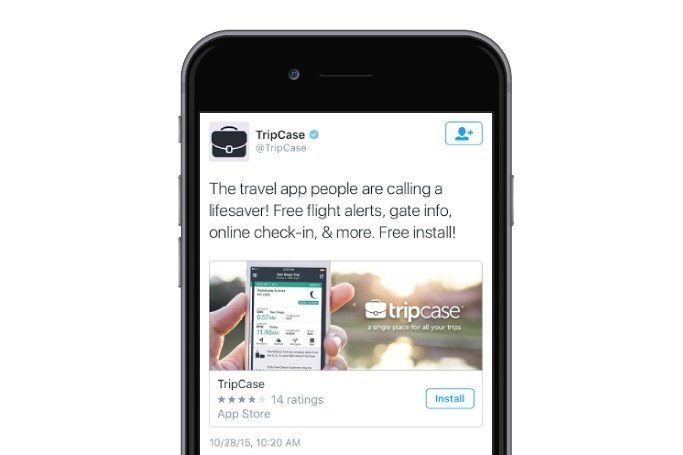 His team succeeded, generating engagement at a rate 25% higher, and a cost-per-install 30% lower, than other advertising channels. See how they did it here.
Website clicks and conversions campaigns
When watch brand MVMT began advertising on Twitter with the goal of generating new customers, Co-Founder Jake Kassan says they got more than expected.
"The main objective for our Twitter campaigns was to acquire new customers, but we were able to gain new followers and inform our current customers of new products in the process:"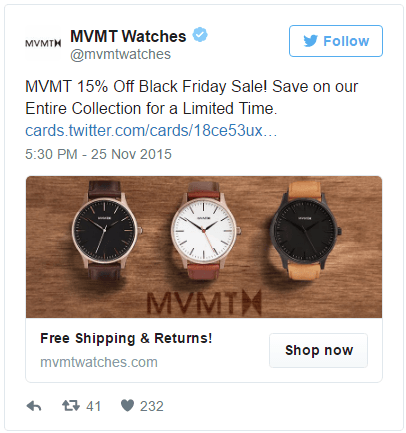 In addition to accomplishing their objective, they were also able to boost Black Friday and Cyber Monday traffic by 189%, which led to a 353% increase in sales for both days.
Tweet engagement campaign
Pact Coffee wanted to use Twitter to increase brand awareness and create a community of coffee enthusiasts who could share thoughts and product recommendations. So, they ran a Tweet engagement campaign to do it: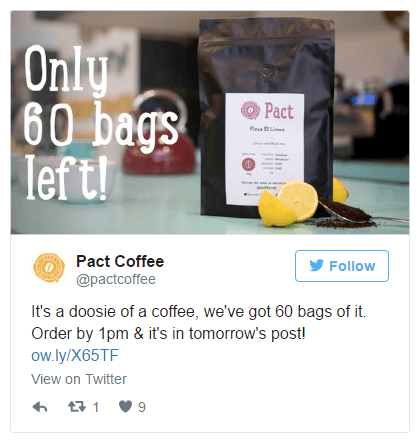 With multiple creatives featuring enticing offers, they were able to generate 5 million impressions that resulted in a 1,300% increase in retweets and an engagement rate as high as 5%.
Lead generation campaign
Getting high school grads to take the first step toward enrolling is tough for colleges in the overly competitive higher education industry. To level the playing field, Mount Washington College teamed up with Adobe on Twitter with the goal of generating student leads.
Together, they crafted copy that spoke to their target segments and targeted students based on the accounts they follow and the interests they have. Combined with Twitter's lead generation ads, which allow prospects to submit their personal information with a few taps, their creative work resulted in a 101% higher conversion rate at a 55% lower cost per lead.
Video views campaign
When the Surface 3 came out, Microsoft wanted to showcase its new and improved features on Twitter. With a quick, engaging video complete with creative shots and effects, they captured the attention of a tech-savvy audience, which resulted in a brand familiarity lift twice the average, and ad recall 5% higher among Twitter users: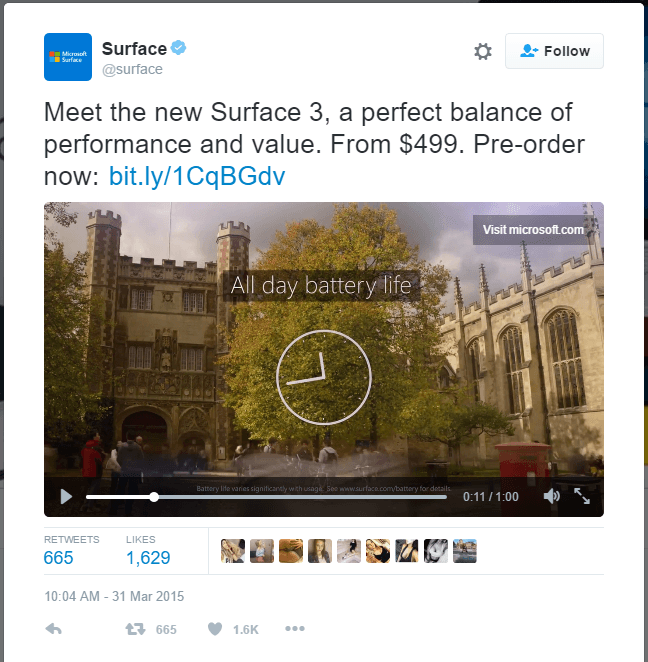 After Twitter ads, optimize the post-click landing page
Once you've started running a campaign, track metrics like impressions, actions, cost per result, and engagement rate with Twitter's analytics dashboard to prove ROI to clients and superiors. That's only part of the Twitter-ad-conversion equation, though.
Optimize the post-ad click experience with a professional post-click landing page from Instapage. With a designer-friendly builder, team collaboration, Instablocks™, and advanced A/B testing, no other platform compares.