He's a knight and a billionaire, but more than anything else, John Dyson is a failure.
In the late 1970's, he came up with the idea for a new kind of vacuum that wouldn't lose suction power over time. Eager to change how the world cleaned, he built a prototype.
But it failed. Then he created another.
That one didn't work either.
This went on for 15 more years, and by the time he created a single working design, Dyson had built 5,126 defective vacuums.
But the one iteration he got right? It launched him to international stardom.
Today he's worth $4.9 billion, and his brand of vacuums is one of the most trusted in the industry worldwide.
Marketers take note: If at first you don't succeed, try, try again 5,126 times. If you haven't gotten your post-click landing page design or your email subject line right by then, try using the following tips to turn your marketing failures into successes.
5 Marketing fails that can be turned into successes
1. Starting a hashtag controversy
Always always always look before you tweet. In 2014, DiGiorno learned that lesson the hard way after jokingly sending the message "You had pizza" out into the Twittersphere, accompanied by the hashtag "#WhyIStayed":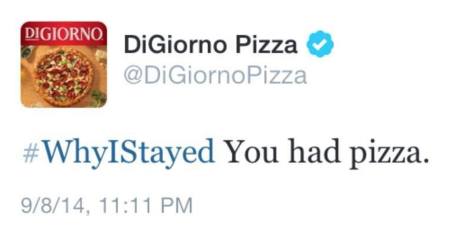 What's wrong with that? Well, nothing, unless the hashtag you hijacked began as a way to start a conversation about domestic violence.
If the company's social media team did more than glance at #WhyIStayed before they pressed "Tweet," they could've saved the brand a PR nightmare. Instead, they were accused of not taking domestic violence seriously: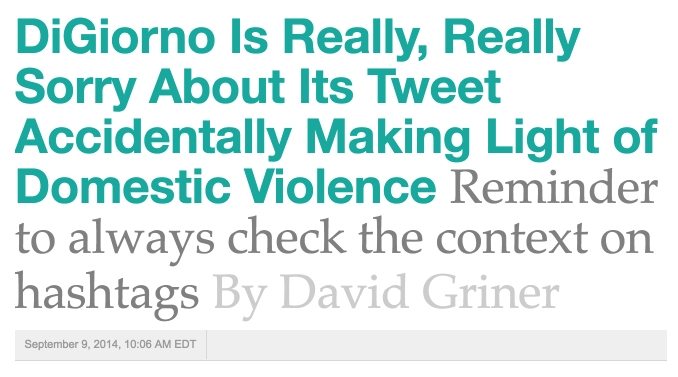 If this happens to you, own up to the mistake and apologize — sincerely. A post reading "We're so sorry for that tasteless tweet" isn't enough. DiGiorno knew that, which is why they addressed each offended Twitter user personally: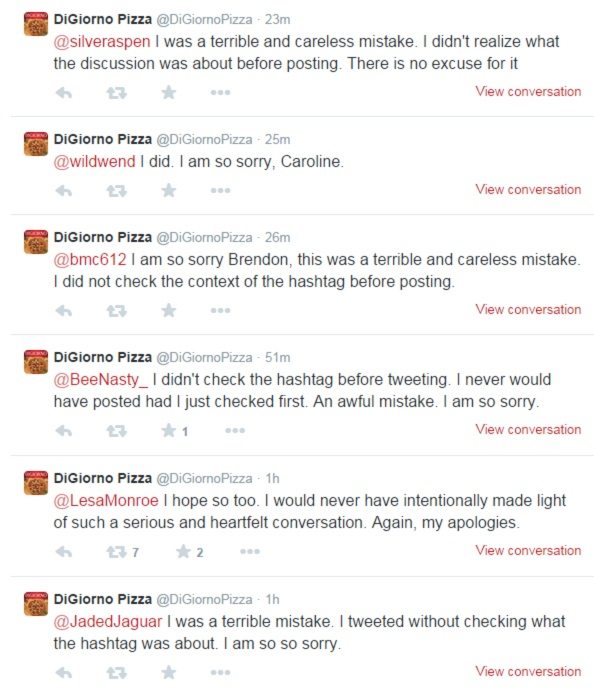 It's possible to recover from a mistake like this one, but swiftness and sincerity are crucial. Delete the post, say you're sorry, and right all your wrongs personally. The internet won't forget your slip-up, but follow DiGiorno's lead, and odds are they'll forgive it.
2. Creating a poorly performing page variation
You spent hours tweaking your post-click landing page's headline and adding social proof only to find that this variation, which you thought would skyrocket conversions, didn't even come close to outperforming the original. According to your A/B testing software, it generated 12% fewer leads than the control.
Concluding a test like that can be a real bummer. Instead of throwing in the towel, remember the words of Thomas Edison: "I haven't failed, I've just found 10,000 ways that won't work."
Maybe that headline didn't speak to your audience. Maybe your testimonials weren't believable. Whatever it was, you know now what doesn't work. So how do you figure out what does?
That failed variation may not have bombed as badly as you think. In fact, it might not have failed at all. One of the most common A/B split-testing mistakes is concluding a test too early. If you've determined a winner after 100 visits, or even 1,000, chances are you haven't collected enough data. And that could be skewing your results.
Make sure you've run your test until you've reached a level of statistical significance. Then, if time and resources allow, run it for longer. Conversion rate optimizer, Peep Laja, could've once confidently called a test after reaching the industry standard 95% level of significance. Instead, he kept it running, even after his A/B testing software reported his variation had a 0% chance of beating the control. Ten days later, that hopeless variation was generating 4% more conversions than the original.
What does it have that your variation doesn't? What might be the reason it outperformed your control? You can eyeball and make an educated guess, or use a technique like multivariate testing, which will help you determine how page elements (copy, social proof, headline, etc.) impact performance individually. But, if you don't have the skill needed to run one, consider testing one element at a time going forward: a headline vs. a headline, a hero shot vs. a product shot. That way, when one page outperforms another, you'll know exactly what caused the change.
Survey tools that allow you to collect customer feedback are a valuable tool for optimization. If you can hear directly from your post-click landing page visitors what's keeping them from converting, you'll know exactly how to make it more likely they hit your CTA button in the future.
Use heat mapping software
At the time, that bright, bold banner seemed like a good way to draw attention to your free offer, but what you didn't realize is that your visitors are mistaking it for your CTA button. Heat mapping software helps you learn things like where your visitors are clicking on a page, how far they're scrolling, and what they're looking at. Use it to tone down your failed banner and draw more attention to elements central to conversions, like your form and CTA button.
Check your traffic sources
Even a perfect post-click landing page won't perform well if the people who land on it aren't interested in your offer. Your campaign's poor performance might not be a result of what's on your post-click landing page, but what's not.
Where is your traffic coming from? Is that PPC network trustworthy? Does your ad's message match with the content of your post-click landing page? Ask yourself these questions to figure out whether your post-click landing page is to blame, or if the conversion-killing culprit is hiding elsewhere.
3. Attempting to engage your email subscribers without success
No matter how hard you try, there's seemingly nothing you can do to resurrect that list of dead email subscribers. Take comfort in knowing that you're not the only one. Data from ReachMail shows that, on average, 60% of email subscribers are inactive.
Before you give up on them, try something a little unconventional. Then, set yourself up for better engagement going forward by taking steps to build a better list.
Find out why they're inactive
Money Dashboard, a UK financial management company, sent out an email to their inactive subscribers with the subject line "Please put us out of our misery." Its quirkiness got people clicking through, and the opportunity to win 750 pounds in a drawing enticed them to complete a survey about why they were inactive. With the answers to that survey, MD's marketing team was able to make informed decisions about how to change their email marketing strategy going forward.
Invite them to unsubscribe
If they're not engaging, why keep them around? Clearly, you're not providing them enough value, and they're not returning the favor, so it might just be time for both of you to move on. Send out an email inviting your subscribers to opt in again to your email list, and at the same time, promise that anyone who doesn't will be unsubscribed, never to hear from you again.
Don't automatically opt them in
If you want to build a more valuable email list going forward, don't assume that everyone who converts on your offers wants to receive branded messages in their inbox. It's commonplace to pre-check that opt-in box, but it's also sneaky. We all know those boxes are easy to miss, and that if you're not paying attention, you can sign up for all sorts of things you didn't intend to. Ros Hodgekiss over at Campaign Monitor once signed up for travel insurance accidentally. Leaving that box unchecked will mean only the people who want to get your emails will sign up for them.
Create different subscription types
As many as 69% of American email users have unsubscribed from a list because brands messaged them too often. Lower your inactives by inviting them to set their email preferences. How often do they want to receive content? Daily? Weekly? By giving them control of when they see your brand in their inbox, you increase the likelihood they engage. Littlefuse did this, and they saw a 53% success rate with their campaign.
Offer them something valuable for free
Maybe what your subscribers need is a little incentive. Email marketing consultants, Forward Progress, found that even a small gift card could get inactives reengaged. When they offered the members of their inactive email list $5 toward their next Starbucks purchase, they saw a 10% survey completion rate, which outperformed previous campaigns by 7%.
4. Driving your agency into the ground
A year or so ago, you left your position as an in-house creative to form your own digital marketing agency, and you saw immediate success. In just a couple months, you had generated more business than you thought possible in such a short time. So much, in fact, that you needed to hire some freelancers to help you handle it.
You brought on team member after team member, quickly hiring anyone that was available to help you with the mountain of work you had buried yourself under. And it worked for a while until you could no longer keep up with the management of your oversized staff. You missed deadlines, lost clients, and now you're questioning whether leaving nine-to-five-land was even a good decision in the first place. Here's what you need to do to turn things around:
Remember that it's not you, it's your process
Premature scaling is one of the biggest reasons businesses fail. Your decision to start your own agency wasn't wrong. It's not that you were unsuccessful — it's that you were too successful, and you were unprepared to handle the demand for your talent.
Business expenses can add up quickly. Office space, employees, and management software all detract from your bottom-line. Do you really need that office space, or can you hire remote workers? Do you really need a new full-time employee, or will a part-time one do? Those answers, among others, will help you separate needs from wants and eliminate overhead in the process.
Stop working in your business, and start working on it
You might not have missed deadlines and lost clients if you had put systems in place to make your business self-sufficient. Make sure you're hiring the right people, and you're training them well. Do they fit with your company culture? Are they prepared to handle the workload if you have to take a personal day?
If the answer is "yes," you're headed in the right direction. Eventually, you'll be able to phase yourself out of the business, so you can think more about the big picture and let others handle the day-to-day workload.
What if you could boost revenue and save your business the time required to chase after prospective clients? By maximizing customer lifetime value, you can.
Capitalize on your current relationships by offering additional services to your clients. Upsell them by explaining how they could benefit from even more blog posts than they've currently contracted you for. Cross-sell them by sharing the benefits of having a graphic design team on retainer. The more value you can provide, the more money you can demand.
5. Generating low ROI with a PPC campaign
As much as 76% of marketing PPC budget is wasted on bad traffic. If you're not seeing the results you expected, evaluate your campaign with the following questions.
Are you driving traffic to the right place? Homepages aren't designed to convert — mostly because they include navigation, which has proven to kill conversions. post-click landing pages, though, quickly describe the benefits of your offer and keep your prospects on converting by excluding outbound links to other web pages. If you do not see conversions, it could be because you need to drive your prospects to a dedicated post-click landing page instead of your homepage.
Are you ranking for the right terms? Disruptive Advertising's Jacob Baadsgaard found that when their blog post "6 Killer PPC Branding Tactics Even Freddy Krueger Loves" showed up on page 1 of Google, it was for the wrong reasons. Instead of ranking for keywords to do with paid advertising, the post was ranking for "Freddy Krueger." Make sure you're bidding on the search terms that are going to bring you the right prospects. Otherwise, you could end up generating meaningless traffic.
Are you setting the right expectations? Without a clear message match between your Google ad and your post-click landing page, your prospects will be confused when it's time to convert. Ensure the content of your ad contains copy and a headline that's also on your post-click landing page so that when your visitors arrive, they know they're in the right place.
Is your PPC network trustworthy? Michael Keating of Octatools spent $25 on a campaign that generated more than 100,000 impressions, 500 clicks, but 0 conversions. The reason was a shady PPC network that deceptively drove clicks with spammy websites and tricky pop-ups. If this problem sounds familiar, dig into your Google Analytics to see where your traffic is coming from. You might find it's time to try a new search network.
Turn ad clicks into conversions, create dedicated, fast-loading post-click pages for every offer. See how you can provide audiences with unique post-click landing pages by signing up for an Instapage Enterprise Demo today.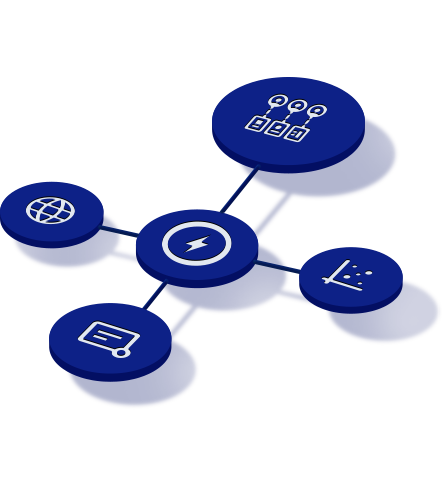 See the Instapage Enterprise Plan in Action.
Demo includes AdMap™, Personalization, AMP,
Global Blocks, heatmaps & more.