Some might describe Tumblr as an out of the ordinary, immature social platform. Others might say it's highly creative, visual, and entertaining. Either way, there's no arguing that it's a popular one — one of the 50 most popular websites in the United States. Digital marketer's take note, it might be worth it for you to invest in Tumblr ads.
With a mix of short textual posts, images, memes, video, gif, and audio, this image-driven blogging platform can be an extremely useful platform for brands willing to dig beyond the platform's quirky surface. Underneath all the humor, there's much more solid content on a diverse range of topics, indicating the breadth of Tumblr's user base.
After a quick definition of Tumblr ads, we will demonstrate how you can use Tumblr advertising to engage users and persuade them to convert on your offer.
What are Tumblr ads?
Tumblr ads are created as Sponsored Posts, Sponsored Video Posts, or Sponsored Day. They are selectively shown to relevant audiences based on factors such as surrounding content users are viewing, information provided, apps used, search history, and friends' recommendations. Ads on Tumblr serve across desktop, mobile, and tablet: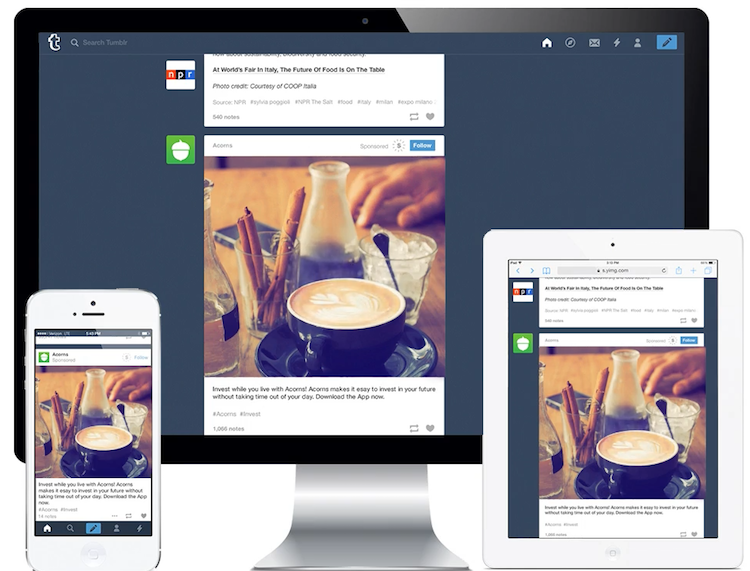 Not sure if advertising on Tumblr is right for you? Let's find out.
Who should use Tumblr advertising… and why?
Advertising on Tumblr is ideal for any brand trying to reach an artistic, creative, entertainment-focused audience.
Forbes describes the Tumblr generation as a "young, bright and tech-savvy group of international users who seek what might seem counterintuitive: Genuine online connection bolstered, not hindered, by anonymity."
If that sounds like your target audience, you should be advertising on Tumblr. However, any brand with good visual content to share can benefit from Tumblr advertising because it's:
The leading personal blogging and publishing site, perfect for PR and branding purposes.
A simpler and less expensive alternative to WordPress.
The #1 platform to develop brand fandom, making it great for film promotion and PR.
Filled with extremely shareable content, among Tumblr and with other social networks.
To check if your industry is relevant on the platform, the full list of top-level topics currently available on Tumblr includes (but not limited to):
Art
Business
Design
Developers and Startups
Education
Health and fitness
Home and lifestyle
Movies, music, and television
News
Politics
Science
Sports
Technology
Travel
Notably, there are audiences for practically all types of business.
There are also several ways marketers can advertise on the platform. Here are the different types of Tumblr ads, complete with examples and Tumblr ad specs.
How to put ads on Tumblr
1. Sponsored Posts
These ads are served in the Dashboard stream to desktop, mobile, and tablet users. They look and behave like regular Tumblr posts — users can like, reblog, and follow — except they're exposed to a wider audience because users don't need to be following you to see your ads: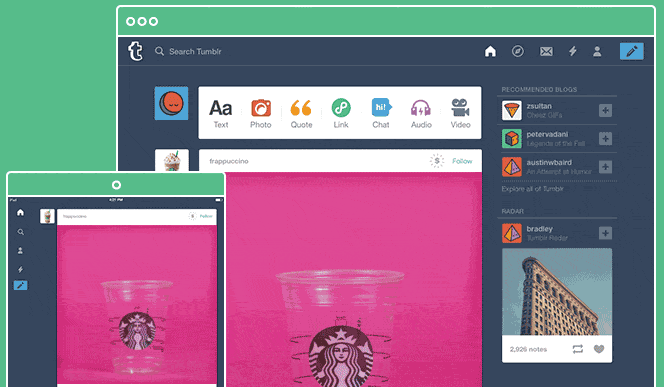 Sponsored Posts can target audiences by gender, location, and interests. They can even be syndicated to Yahoo for more reach, but the only engagement opportunity in this case is a click through to the Tumblr post's permalink. Native engagements (like, reblog, and follow) aren't available through Yahoo.
Television network FX ran a Sponsored Post campaign to promote their new show, Man Seeking Woman. They created "editorial content including GIFs, illustrations, and original photography that aligned with the brand's messaging strategy:"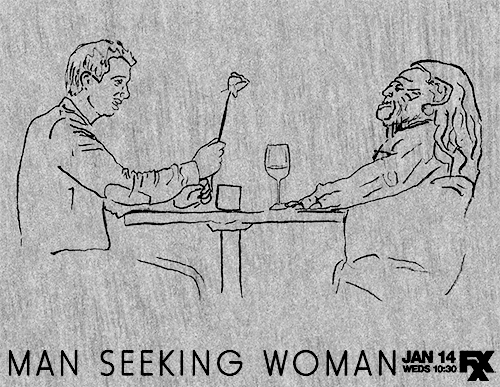 The campaign increased FX's follower count by 86%, and boosted their engagement rate to 2.8% — 32% above industry averages.
These results represent the consensus of Tumblr ads:
60% of users exposed to a Sponsored Post find it fun, engaging, and high quality
70% perceive the associated brand more favorably after seeing an ad
50% even research the brand afterward
Ad specs
File type: Static image (JPG, PNG) or Animated GIF (GIF)
Dimensions:

JPG, PNG: 1280 x 1920px max, 540 x 750px recommended
GIF: 540 x 750px max

Max file size:

JPG, PNG: 10 MB
GIF: 2 MB

Caption text: Unlimited characters
New creative must be rotated in every 7 days throughout the campaign
Cannot exceed the viewing height of a normal laptop screen or two iPhone screens
GIF and photosets cannot exceed 3×3
Instagram embedded posts are not accepted
Features: Carousel (3-5 cards) and video
Best practices
Consider your audience: Pay attention to what they're posting and reblogging to understand their interests.
Use 7-8 relevant hashtags: Tags relevant to your industry and/or your post will allow users who aren't following you to see your ads.
Run 2-3 ads simultaneously: Optimize them for engagement.
Use animated GIFs and photosets: These grab users' attention, tell a better story, and GIFs don't have any looping restrictions.
Choose fun, dynamic content: Tumblr's ad server optimizes placement based on engagement (note: rapidly-flashing animations can be off-putting).
Use vertically oriented images: You'll get more real estate this way — just don't exceed maximum height restrictions.
2. Sponsored Video Posts
Similar to regular Sponsored Posts, Sponsored Video Posts also appear in the dashboard, but as videos that autoplay and loop: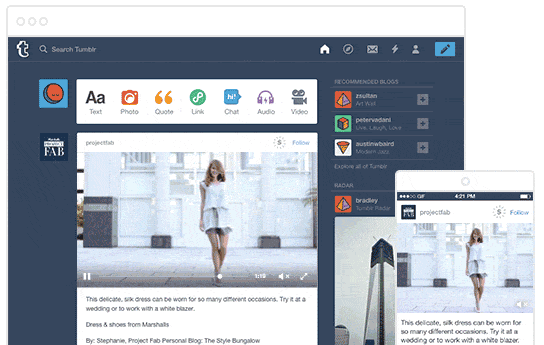 They are similar in terms of reach and targeting, however, they provide additional analytics, allowing you to see stats on views, looping, and engagement. In addition, the video player pops out so people can continue scrolling their feed as they watch.
Maynards used a combination of Sponsored Video Posts and regular Sponsored Posts to promote their new line of candy, Maynards Beanz. Along with video, they used the tag #whereyoubeanz to increase brand awareness: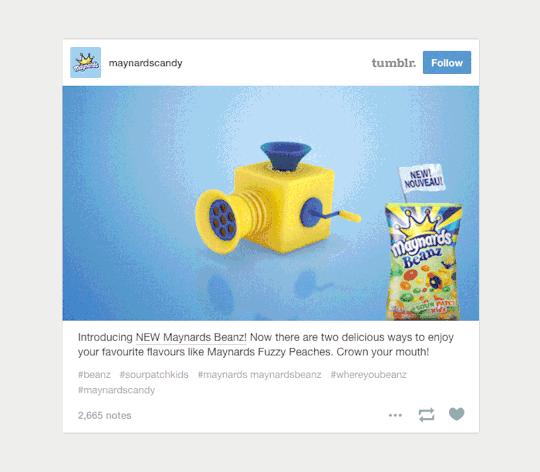 The campaign resulted in:
1.6x increase in brand awareness
10x increase in ad recall
2.13x increase in purchase intent
Ad specs
File type: MP4, M4V, or MOV
Dimensions: 640×480
Max file size: 1 GB
Caption text: Unlimited characters
Best practices
Consider mobile viewers: They are most likely watching vertically, so shoot your videos in vertical mode whenever possible.
Include a call-to-action: An effective CTA can increase purchase intent by 14% and boost brand recommendation by 11%.
Consider your target audience: Tumblr found that among millennials:

Comedic ads achieve 50% higher brand familiarity
Dramatic ads achieve 33% higher brand affinity
Informational ads achieve 31% higher purchase intent
3. Sponsored Day
This option allows advertisers to monopolize the top of users' dashboards to advertise selected content for a full 24 hours. It displays an ad above the first post on the Tumblr dashboard, directly below the post box: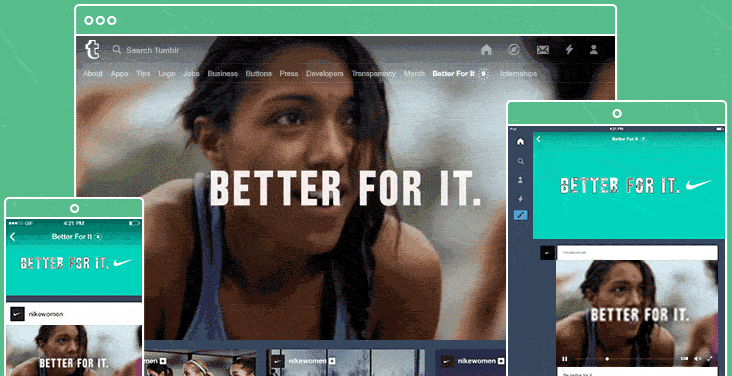 Sponsored Day campaigns enable users to click through to:
A branded Explore page (where brands have free reign to share curated content)
An advertiser's Tumblr
An advertiser's website or Tumblr post-click landing page.
According to Tumblr, purchase intent and ad recall can double with a Sponsored Day campaign.
Ad specs
File type: JPG, PNG, or GIF
Dimensions: 1080×432 (JPG, PNG), 540×216 (GIF)
Max file size: 3 MB
Engagement available: Click only (Tumblr native engagements such as Reblog, Like, and Follow are unavailable)
Call-to-action: 30 characters (sentence case)
Best practices
Use simple creative: Think simple, compelling photography or illustrations that are sure to draw people into your campaign story.
Coordinate visuals and tagline: Imagery should work in support of the tagline, and not overwhelm or compete with it.
Avoid imagery within containers: For example, mobile device frames are not suggested, as imagery loses impact in the space.
Consider color contrast: Tumblr's navy blue color will overlay the image for tagline contrast and should be accounted for when designing creative.

Hex Color #: 36465D
Transparency: 40%

Use slow-motion for GIFs: This helps drive interest and engagement.
Ensure your CTA aligns with Tumblr Guidelines:

No phishing for notes or other engagements ("Click here for 50% off", "Click to reblog", etc.)
No offensive language
No promotion of other sites and services
No placing text on your static image/GIF Sponsored Day ad unit creative

Monitor relevant industry trends: Pay attention to what industry leaders are sharing, and mix this content in with your brand's original content.
Use themed content: Consider how all of your content will work together with a visual theme, and be sure not to post anything that will disrupt the aesthetic.
Create your own engaging Tumblr ads
With the right niche and target audience, Tumblr can be a very effective channel to advertise your brand. As long as you have engaging visual content to share, advertising on Tumblr could significantly boost your brand awareness, increase engagement, drive leads, and ultimately, help you profit.
To get the most from all your ads, download the Instapage digital advertising reference guide, complete with ad specs, best practices, and ad examples across all platforms.