Email marketing is a tricky trade, but the payoffs can be huge. Through the shift from outbound to inbound marketing, email remains the highest returning ROI for marketers. This metric makes an email campaign a necessity, but crafting a high-quality email is difficult. With the added difficulty of creating open-worthy headlines, creating an effective email campaign can feel overwhelming.
As trying as it may be, an opened email sends the user to whatever post-click landing page you want them to engage with. It's a calculated way to direct the user's attention without feeling like a bully. Since the goal here is to increase the visibility of your site, ensuring that your emails are opened and engaged with is key. From newsletters to seasonal messages, there are plenty of different email campaigns out there, but knowing where to start and what emails will work is daunting.
Some emails are seen as more important to the user receiving the message. These "must see" emails usually contain information that the user is actively interested in viewing. This is your opening to connect with the user, sending them to your site. We call these emails transactional, and they're a great place to dive into an effective email marketing campaign.
What are transactional emails?
Transactional emails are based on the user's buying history or actions that the user regards as a "must-open" email. According to an Experian study, they receive "8x more opens and clicks than any other type of email". These emails are typically automated and often boring, but straight to the point. But why would you waste an opportunity to engage your user? Especially on an email they are likely to open? The answer is, you don't.
Transactional emails offer a unique opportunity to engage with your users. Since they have a higher chance of being opened, your content has a high chance of being seen. By making your transaction emails a vital part of your email marketing campaign, you're making the most of every point of contact with consumers.
Making an efficient transaction email is a balance of content, information, and entertainment. You want to give the user the information they are looking for while enticing them with additional content. Including unique post-click landing page links increase the traffic to your page without the user feeling like they're being bombarded with a sales pitch.
Here are ten transactional emails that will get users clicking, and how to use them to your advantage.
1. Cart abandonment
Every consumer has been there, browsing an online store, filling up their shopping cart, and then failing to check out. This could happen for any number of reasons, slow connection, frustration with the checkout process, or they simply forgot. Regardless, this is no time to give up on the sale. Cart abandonment emails have a 44% open rate and are a prime opportunity to return traffic to your site.
How to use it:
Monabello has a fantastic cart abandonment email. They start with a title that makes it obvious what the email is about. The body of the email includes a link to easily complete the user's order while listing the items that are waiting for them. Each item has a hyperlink that directs them to that specific product.
An important thing to keep in mind with these emails is not solely to rely on pictures. Pictures are great for visual appeal, but if the image doesn't load, you run the risk of the user being confused and quickly losing interest. Monabello includes the images but goes into a full description of the product directly beneath the image, so there is no confusion on the user's part. As an added bonus, they create a sense of urgency simply by saying "Grab yours while it's still in stock!"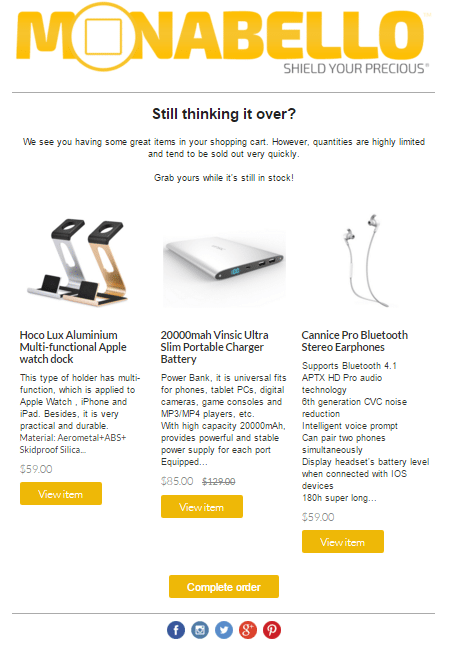 2. Order confirmation
These emails are necessary for the user because they include their receipt and order information. Chances are, the consumer will open the email to double check that the order is correct and that their payment went through. But this email is also a great opportunity to engage the reader further. According to Marketing Metrics, users are 60% to 70% more likely to purchase from a site they've already used. This is your opportunity to increase your sales.
How to use it:
Walmart does an excellent job at this. They immediately show the user that their order is confirmed with a bright announcement at the top of the page, but then they move on to their next selling opportunity. The user can confirm their purchase, and other products they might need. Using similar campaign tactics, suggesting items the consumer would also be interested in, is an excellent way to upsell the user without them feeling bullied or pressured.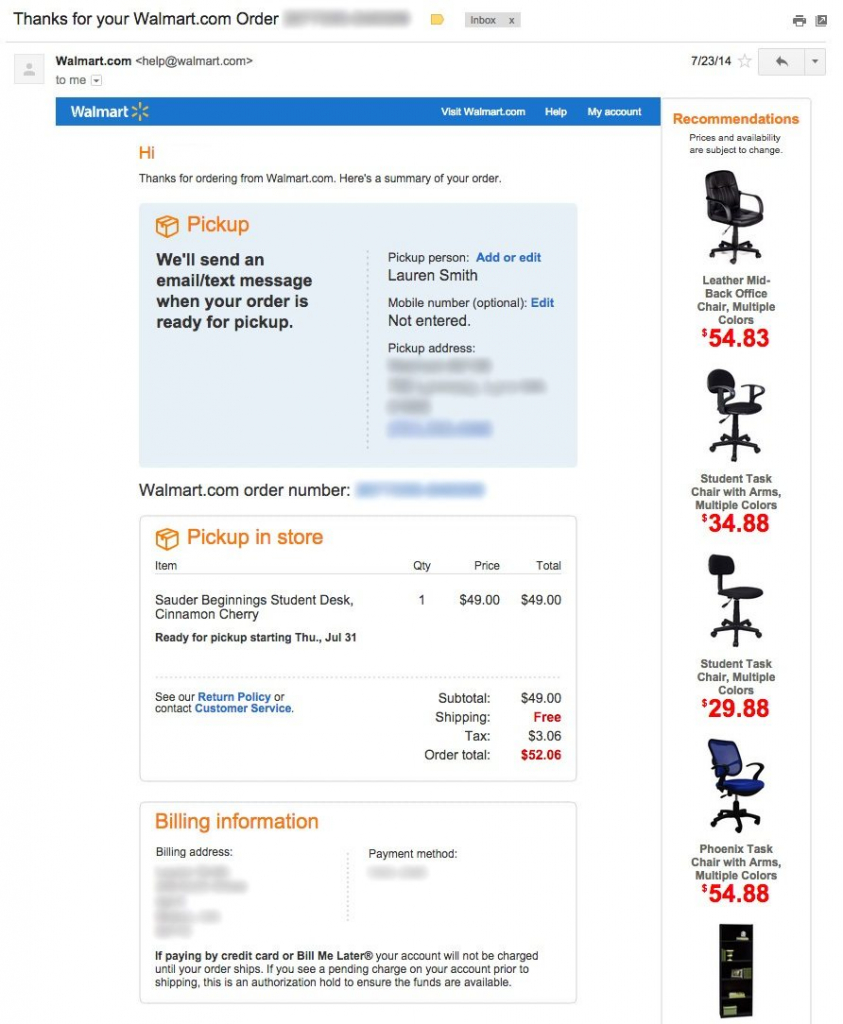 3. Shipping Confirmation
Shipping Confirmation emails are always exciting to receive. The consumer clicks on this email to see where their package is and when it will arrive, which means not only are they clicking, but they're eager to click.
How to use it:
Express makes great use of their shipping confirmation. First, they show the reader what they want to see. They don't just dive into your sales pitch. Making it hard for them to see and track their package will quickly turn their excitement into frustration, and that's exactly what you want to avoid. So Express puts their tracking information right at the top of the message. Then, they start to work their sales magic. Rather than suggesting specific items, Express leads the user to their sales pages, directing the user to discounted products they'd be eager to buy.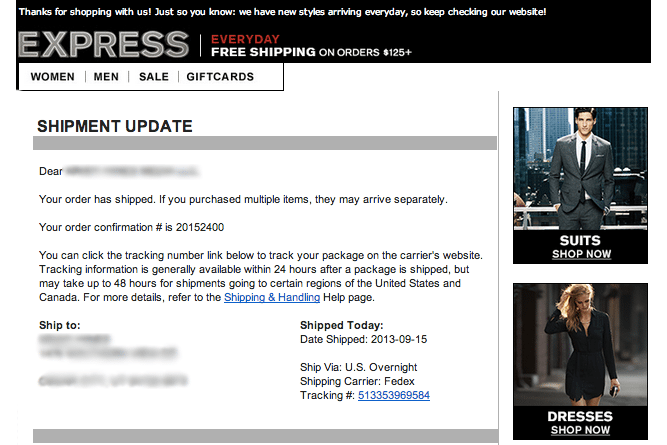 4. Delivery Confirmation
Similar to shipping emails, delivery emails give you the opportunity to interact with your users when they're happy and excited. Since the customer has already made their purchase, the delivery email is a great opportunity to build on their excitement and get them excited to share their experience with others, driving more traffic to your post-click landing pages.
How to use it:
Pottery Barn has made the most of their delivery email. Their title lets the user know that their package has been delivered, but the body of the email is what matters. What they want from the user is clear; to follow them on social media. By playing off the user's excitement of receiving their product, they're building their social media following. If you don't have social media today, your business might as well be invisible. Successfully growing a business's social media presence is a marketing strategy in and of itself, increasing social proof marketing and funneling leads to sales.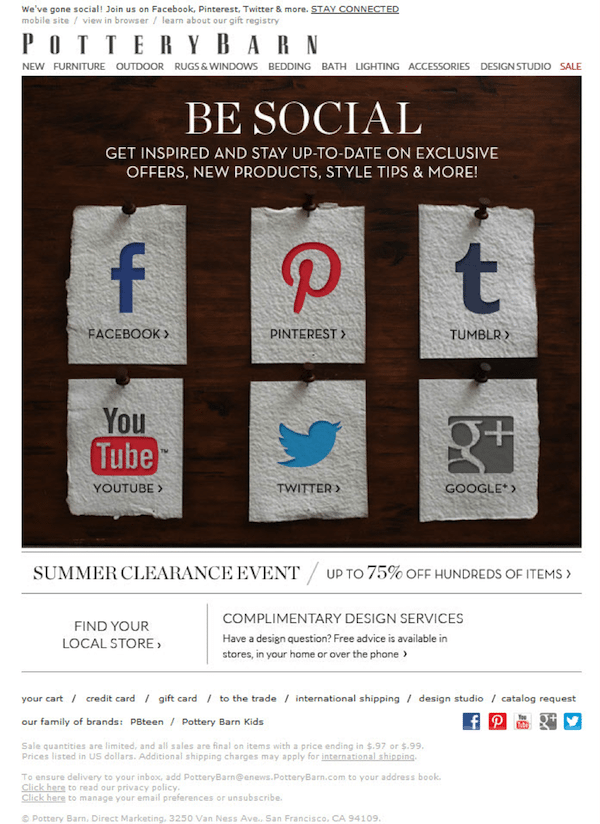 5. Customer Feedback
In a Bright Local survey, researchers found that 88% of consumers trust online reviews as much as personal recommendations. Customers trust people more than they trust businesses, so it's your job to collect as many positive reviews as possible, and email is a great way to do this.
How to use it:
Take Warby Parker, for example. Their setup is simple. They thank the user for their purchase and then ask for feedback. Notice how they make the user know how valued they are by immediately thanking them and telling the user specifically, "We love our customers dearly." This language goes a long way in motivating the reader to complete the survey. And if their gratitude isn't enough to convince the user to proceed, they've also included the chance to win a $100 Amazon gift card.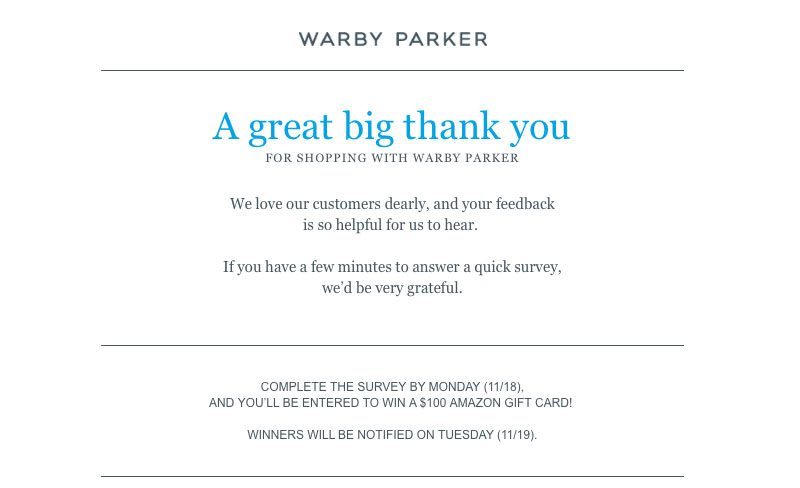 6. Password Reset
It's happened to the best of us. Excited to buy a chic new top, you log in to your favorite website, shop, etc. But, after trying every birthday, pet's name and street name you can think of, it's clear you've forgotten your password. Luckily you may reset that password. For business owners, this is an often missed opportunity to engage with your user more. You know for a fact that your user will open this password reset email, so why not take advantage of the moment?
How to use it:
This email doesn't have to be intricate or full of sale opportunities. It can be simple and offer just one other thing for the user to do. Airbnb uses the password reset as an opportunity to grow their social media following. The password reset is the focus of the email, and the user doesn't have to search for the link, but right below it, they include social follow buttons. The user is happy with the ease of the process, and they can easily click on their social buttons to keep up with the brand. Short, simple, and straight to the point, with just a little extra benefit for the business.
The takeaway here is how well simplicity works for the business and the consumer. Particularly for password resets, a user wants a quick solution to their problem. They're already trying to access your site, so don't push more site redirects. Instead, choose another benefit, like linking to social media. It's not an annoyance to the user, but the simple social sharing buttons can help you extend your marketing reach.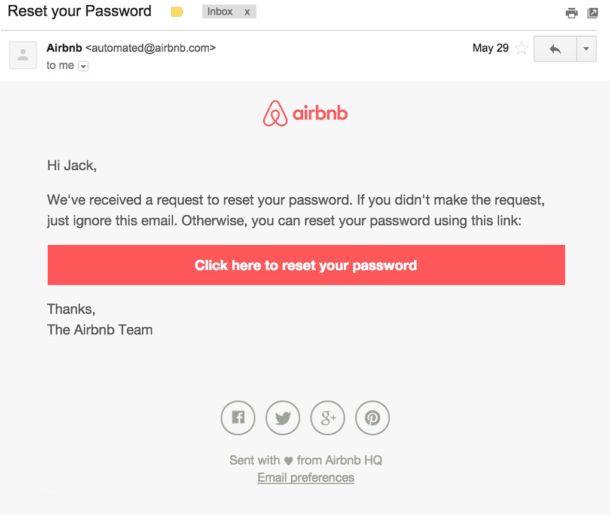 7. Notification Emails
After welcome messages, notifications are the second most opened emails, so make sure you're making the most of the opportunity. These emails can be sent for some reasons. They've received a message on your platform, someone has commented on their social media post or any other types of interactions they might need to be alerted of. The emails serve to inform the user that they should check back in with your platform.
How to use it:
Facebook is notorious for their notification emails, and it makes sense. They only make money when you're on their platform, so they're going to use everything in their wheelhouse to redirect your attention to Facebook. That includes letting you know when other people are commenting and interacting with a post you liked. By playing off the user's need to be included in the conversation, Facebook focuses the user and gets them back on their site. You can use similar techniques, showing the user when others are actively looking at posts they previously engaged with, to send them back to your page.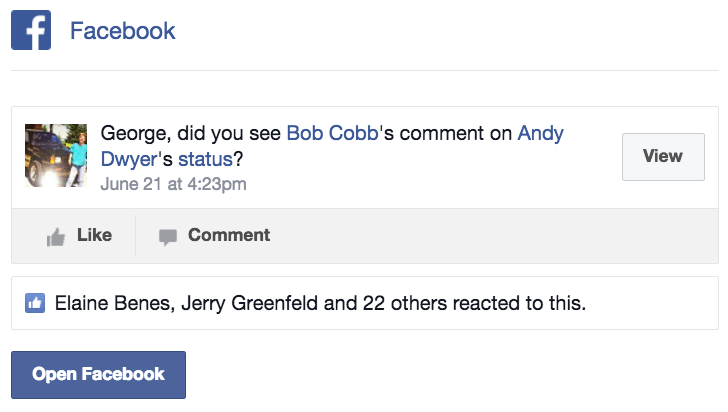 8. Double Opt In
As users become more aware of the potential dangers related to email marketing, more and more sites are investing in double opt in methods. This is a great way to protect your data, but it's also a way to build trust with the user. When they know you value their data, they value your business more.
A double opt in functions by sending the user an email and making them confirm once more that they want to be included on your list. This email also offers your site a way to start selling to the customer immediately.
How to use it:
Macy's does a fabulous job with their double opt in email. They have strong branding from the jump, so the user gets a feeling of what to expect from them. They make the opt in button appealing with the capitalized "YES!", But they also offer an extra incentive to get the user shopping. The 15% off encourages the user to spend, and when they click on the "Yes!" button, they're immediately redirected to Macy's homepage. This redirect lets them know they've confirmed their email, but it also gives them the chance to start using that 15% off code.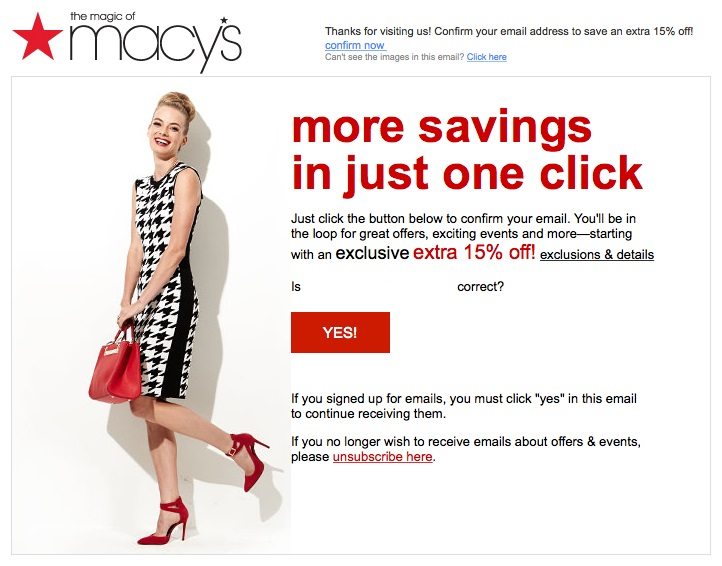 9. Subscription Renewal
As your user's renewal is about to begin, check back in with them. Users open up these emails because they want to know what's happening with their wallet. Also, the giving them a heads up portion reads well with users. It shows that you're an open and honest business, confident enough to alert a user when they're about to be charged again.
How to use it:
Subscription Renewals are great because you're supposed to sell yourself. You're explaining to your users why they signed up and why they should stay. Square Space excels with this. They explain why their product is useful, both with copy and visuals. Then, they immediately include an upgrade link. Everything is laid out simply, and upgrading is as easy as a click. Make it simple for the user to renew or upgrade, and make sure they know why they should.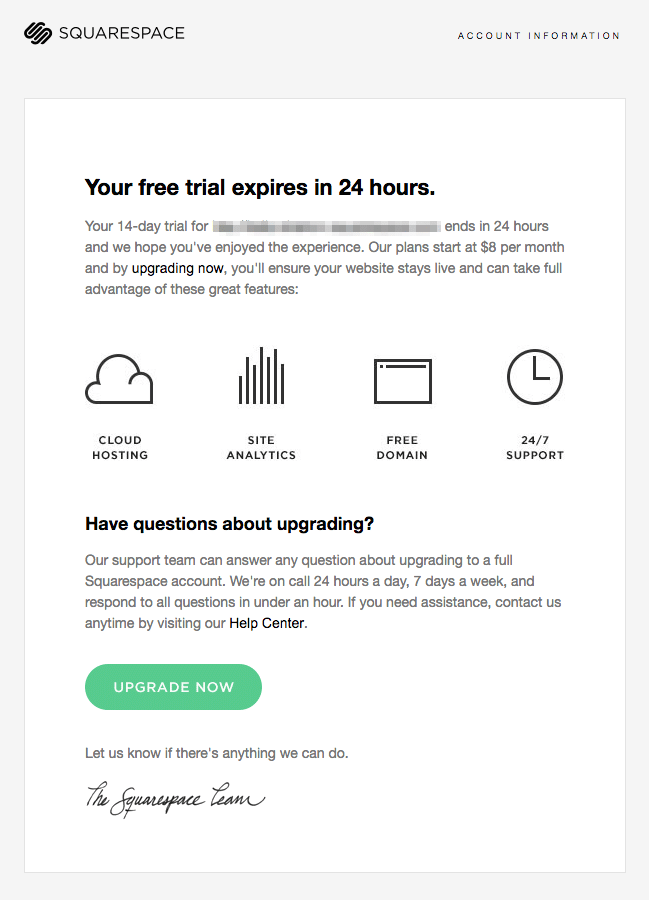 10. Software Updates
Software updates can affect how the entire software operates and letting your user know what's happening with the product is essential in maintaining their happiness with your company. But, it's also a great way to make sure they're visiting your site.
How to use it:
First, make sure you're explaining the updates in plain language and visuals if there are any available. Look how BuzzSumo uses their new feature email. They've included visuals as well as a short description of the update. Then, they use examples of how the new feature works by linking to top searches, "Digital Agencies in London." Their email is full of links that will help you understand and better use the update. The user is automatically more engaged and eager to click because of the links and in-depth explanation. They finish the email off with one of their top performing blogs. Drawing the user in with new features, and then making sure they stay on the site with suggested content. That's how it's done!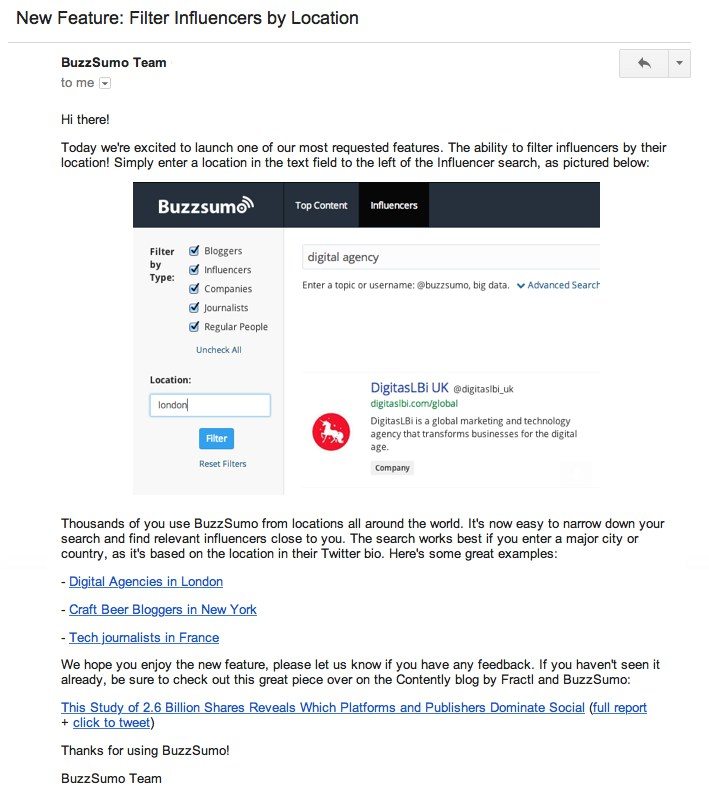 Leverage the transactional email in your marketing
Email marketing is tough, so make your life a little bit easier by taking advantage of all the opens you get. As you build out these campaigns, make sure to keep things clean and simple, ensure that all of your links work, and remember to verify emails before sending, so that your content is safe, secure and most of all, effective. By using content strategically, you can control where the user is clicking and what post-click landing pages they're seeing, increasing viewership and sales on your site.
Sign up for an Instapage Enterprise demo today.
About the author:
Alyssa's passion for learning about people led her to a career in marketing and social media, with an emphasis on content creation. She currently works for VCN Media where she focuses on their email verification software, XVerify. Connect with Alyssa on LinkedIn and be sure to follow XVerify on Twitter to stay up to date with all of Alyssa's posts.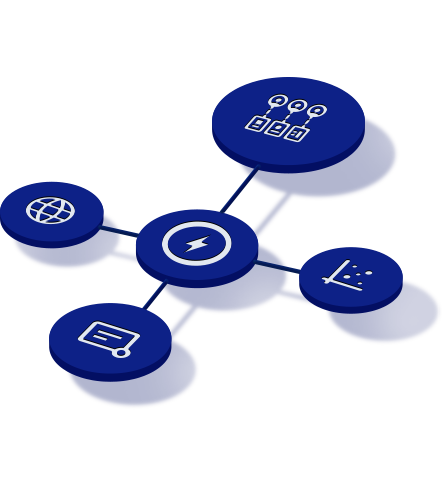 See the Instapage Enterprise Plan in Action.
Demo includes AdMap™, Personalization, AMP,
Global Blocks, heatmaps & more.