Data drives better decisions.
Our affiliate partners understand this as well as we do here at Instapage. That's why we're excited to announce that our affiliate partners now have the control they need to set up the tracking that works best for them.
Whether you're promoting Instapage on Twitter, in a resource guide or blog post, to an audience on a webinar, or through a paid traffic source like Facebook, you can benefit from tracking the performance of your affiliate links. The data you collect will help you make faster and more accurate decisions.
Now, it's easy to set up, collect, and analyze the data, too.
Here's how:
Creating your first link
Within the Instapage Affiliate Dashboard, click on the tab on the left side titled "Advanced Tracking. " A portal will open where you can create and manage all of the links.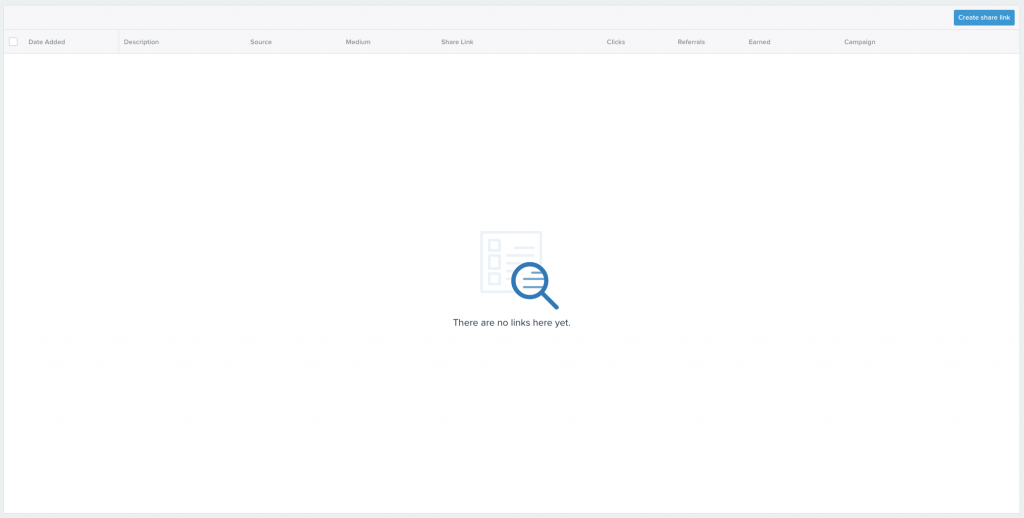 At the top right, click "Create Share Link" and a pop-up will prompt you for information. Select "Instapage" for the Campaign field and fill in the Description, Source, and Medium fields with the data you want to track for this specific link. Leave Redirect URL blank if you want the link to lead visitors to the default post-click landing page, or choose to enter the URL for another page you want to redirect visitors to.
Take a look at the example below.
I used the fields to set up a link where I can track the engagement on a specific blog post titled "My Marketing Stack."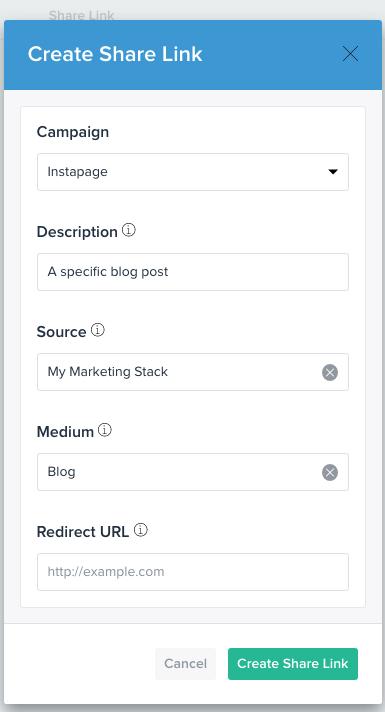 I can now track the performance of this post to assess whether it is a reliable source for clicks, referrals, and income. I would use the same process to create links for other posts and banners where I mention Instapage on my blog.
Once you set up your links, watch the data roll in.
What to do with the data?
Setting these links up will require a little work, but the process is quick and easy and the data you collect over time will give you the insights you need to make more informed decisions that will earn more in commissions from Instapage.
Example 1: Your data shows the 300 x 250 Instapage banner ad on your blog is generating a lot of conversions. This tells you that you should try devoting space to a larger or more prominent ad, which might result in even more conversions.
Example 2: If the data shows Instapage is generating a lot of clicks in the "My Marketing Stack" post, that tells you that you should start creating more content about Instapage because your audience is clearly interested in the product.
A more in-depth look at the Redirect URL field
To start, the Redirect URL field is only optional. Leaving it blank will send anyone who clicks on your link to a default post-click landing page.
Rather than sending visitors to the default post-click landing page, you may want to send them to a different page. Type the URL for the page where you want your visitors redirected.
Here's how you would redirect visitors to the Instapage pricing page, for example:

Use the link that's generated and the visitor will be redirected to the pricing page and you will receive credit for the referrals that are made.
You can also use the Redirect URL field to append your own UTM parameters. Here's how you could set up a custom parameter to track the keyword "landers" on a paid campaign:

Use the link generated and any parameters you added when creating the link will be passed along in the destination URL.
Everyone benefits from more data
There are numerous way to promote Instapage and earn commissions. While the example given above was based on a blogger, anyone promoting Instapage will benefit from creating and tracking the performance of their links over time.
Media Buyers
Track and optimize your campaigns from paid traffic sources like Facebook and Google using keywords, audiences, geos, etc.
Bloggers
Tailor the description, source, and medium fields to track which mentions and posts are generating the most interest in Instapage — and the most in commissions. Plus, track your banner ads to see if you can improve your monetization strategy around the ads you're displaying.
Influencers
Are your posts on Twitter converting more than your posts on Facebook? Create and track different links to find out which channels are performing better to determine where you should be devoting more of your time. Or, dive deeper into one social network and measure which types of content is resonating with your audience.
Email Marketers
Just tracking the open and click rates on your emails? Take it a step farther and track which type of emails are most profitable by creating new links for each email you send.
Whether you fit into one of the categories above or you're using other strategies to earn commissions from Instapage, you will be able to leverage the advanced link tracking to fine-tune your approach.
Log in to the Instapage Affiliate Dashboard and start tracking your performance and optimizing your campaigns.