Fact: Businesses with forty or more landing pages generate 120% more leads than those with less than five. That's a lot of leads!
Creating that many landing pages, however, can exhaust your marketing team's time and resources. Unless you had something magical that made it easy for anyone to create gorgeous landing pages at scale… like a landing page software perhaps?
All jokes aside, with landing page software, you can create and optimize landing pages at scale quickly — without a developer. You can finally create that cohesive, personalized ad experience you've always wanted but couldn't implement, which will increase conversions and lower the cost of customer acquisition.
By integrating your landing page software with the rest of your marketing stack (i.e., paid advertising channels, CRM, marketing automation, etc.), you can provide a seamless customer experience, faster than ever before.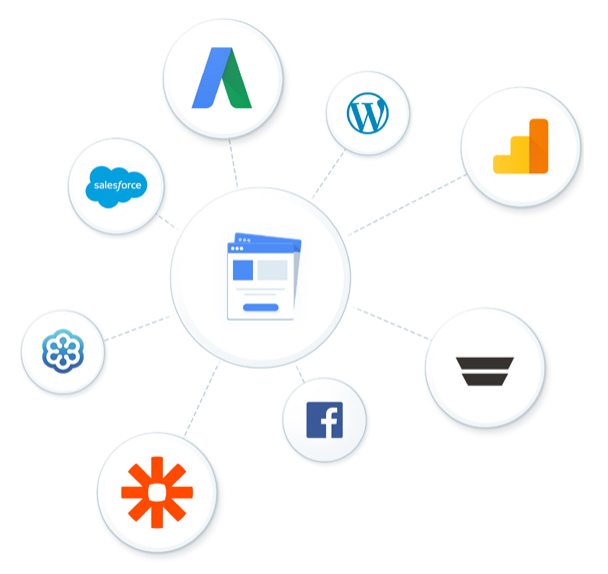 But how do you know if landing page software is right for you? And what features should you be looking for before you buy?
We've created a comprehensive landing page buyer's guide that answers all the lingering questions you might have.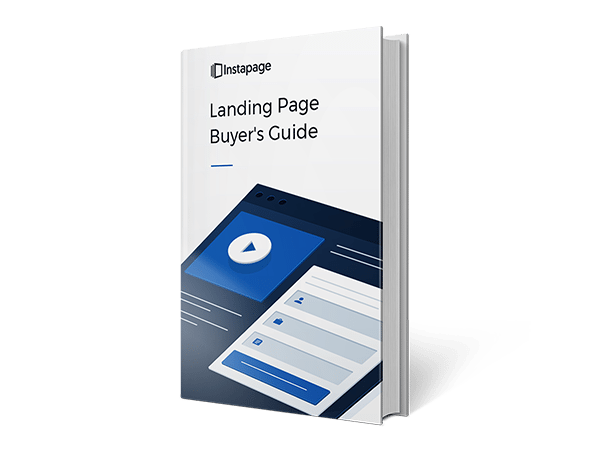 Who should read the new landing page software buyer's guide?
A landing page platform can help nearly any business that creates and runs digital campaigns or invests in paid advertising. But there are four uses cases that quite frankly can't be ignored.
If you invest in paid search
When people search on Google or Bing, they're looking for an answer to a specific question. If they click on your ad, it's because it spoke to a particular need or desire. And they want a cohesive journey from the ad they clicked onto the page they land on. Don't send them from an ad for a polka dot dress to your homepage. They'll bounce because you've made it difficult to convert on the offer in your ad.
Your homepage is meant for browsing, while a landing page is focused on a single offer, which is why creating dedicated landing pages for every campaign is so effective at increasing conversion rates.
For higher ROI, it's important to match the message of your ad with a targeted landing page that provides exactly what your prospect is looking for. Even Google recommends this practice and punishes campaigns that don't adhere to it. You need a dedicated landing page for every search ad.
If you're constantly creating new campaigns
The pressure to bring in a steady stream of new leads or sales means you must get creative with your ad campaigns and continuously optimize your ads. To increase conversions, you need to create dedicated landing pages tailored to each campaign and audience.
But creating personalized landing pages for each target segment can put incredible stress on your team. For each landing page, designers need to build wireframes, copywriters need to write compelling copy, and developers need to make sure everything works on the back-end, which can take weeks to complete.
With a platform and easy-to-use builder, however, it's something just one person can accomplish quickly, and a small team can perform even faster.
If you're a marketing technology user
Best-in-class marketers adopt technology at a higher rate than others. Landing page software is no exception. Since the best landing page platforms integrate seamlessly with the rest of your marketing stack, it's an easy way to offer scaled personalization at every stage of the funnel.
By incorporating personalized landing pages into your marketing or advertising flow, technologies like Google Ads, Facebook Custom Audiences, and MailChimp all become more powerful.
If you offer landing page services
Agencies that provide landing page creation and optimization services should be using a landing page software. Instead of relying on costly developer resources, anyone on your team can create message and audience-matched landing pages that are beautiful and brand compliant. Being able to create landing pages at scale quickly will increase your clients' conversion rates and reduce customer churn for your agency.
You can also set up branded lead notifications in your landing page software so that every time your client gets a new lead, it strengthens your value in your customer's mind.
We've done the research. Decide what's best for you.
Choosing the right landing page software can be confusing with so many options on the market, all boasting different 'must-have' features. And there are many factors to consider depending on how you'll be implementing landing pages into your marketing flow and how your team operates.
Not to worry, we've put together a comprehensive landing page buyer's guide detailing which features you should consider based on your business needs.