Video can be a great addition to your post-click landing page, but it doesn't have to stop there. Video is also a nice way to get more out of your social media efforts. This has become increasingly important as consumers have come to expect a presence from brands and businesses on Facebook, Twitter, Instagram, and other social platforms. Today's article is the first in a series of blog posts that will dive into how to use social video to drive engagement, drive sales, and establish expertise.
According to Buffer, "video is largely underutilized" on Facebook. After analyzing more than 16 million social media posts, Buffer concluded that video gets a lot more engagement than other types of posts, including photos, links, and plain text posts: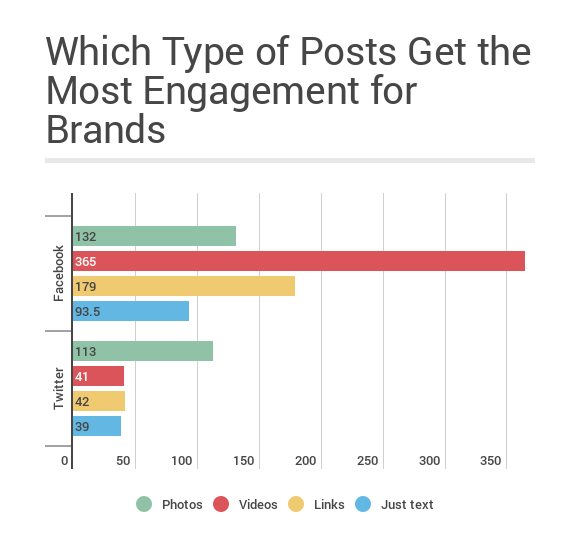 Even knowing that, many brands still don't incorporate video into their social marketing strategies. Facebook's 2016 Q3 earnings report revealed that 3 million businesses upload videos to Facebook each month, but this is still only a drop in the bucket of the 60 million businesses on the social network.
Businesses that aren't using video on social are missing out. Animoto surveyed over 1,000 consumers in 2015 and found that 84% had liked a company video in their news feed and nearly half (48%) had shared a company video on their profile.
Consumers want videos to engage with because they evoke emotion and tell stories in a way that text and photos simply can't. And video will help with consumer brand recall, too.
According to Rocketium:
90% of consumers watch videos on their mobile devices and mobile shoppers are 3x as likely to view a video than desktop shoppers.
78% marketers have generated more traffic thanks to video content.
80% increased conversion rate for landing pages with videos.
By starting to use video, you can earn a leg up and start engaging with potential customers that your competitors aren't.
And Facebook isn't the only place where video can help you stand out. From Instagram to Twitter, Snapchat, and even Pinterest; social platforms are beginning to embrace and push video content. Read on to learn which types of videos are best for driving engagement. Later we'll highlight some tips on how to create videos that your customers and fans (and potential customers and fans) will be more likely to engage with.
4 types of social videos that drive engagement
We've established that video posts receive higher engagement than all other types of posts, but which types of videos will get people to watch, like, comment, and share? The following four will get you well on your way to higher audience engagement.
1. News and trending topics
Posting videos about events that are happening right now are great not only because they're top-of-mind for people, but they also give folks that are interested in joining the conversation, something to share.
For example, Facebook expert Mari Smith posted this message on Facebook shortly after the social network announced an algorithm update. Upon Facebook's announcement, social media networks were abuzz talking about the update and searching for information about it, asking: What was new, what was changing, and how could it affect marketing campaigns?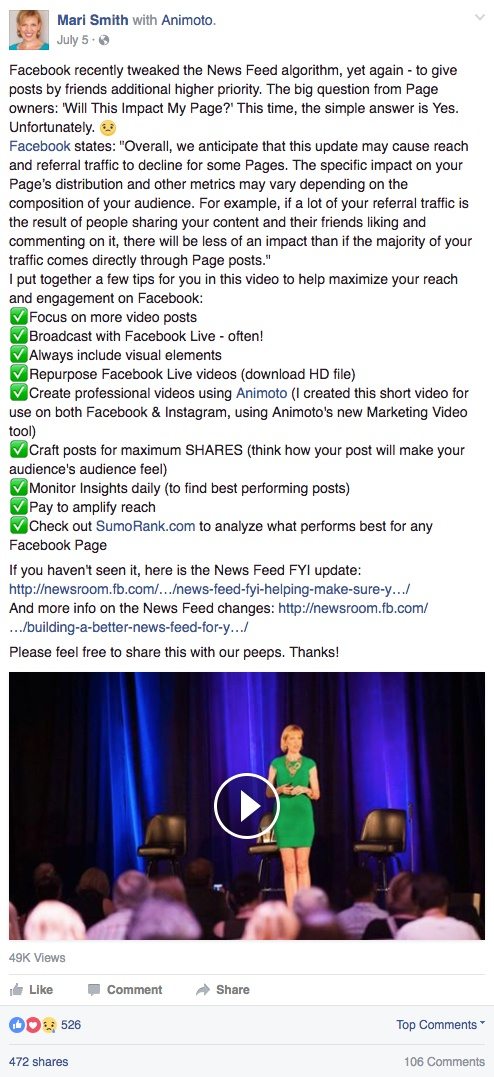 Mari's video received over 500 likes, 400 shares, and more than 100 comments from people that wanted to be a part of the conversation.
What's even better is that news and trending topics is not limited to marketing industry updates. Social media engagement can also work very well with breaking news, holidays, social media trends, and more.
2. Stories that evoke emotion
People are also more likely to engage with and share videos that evoke emotion, as explained by Vidyard. This Facebook post from vegan chocolate purveyor Rescue Chocolate is a great example: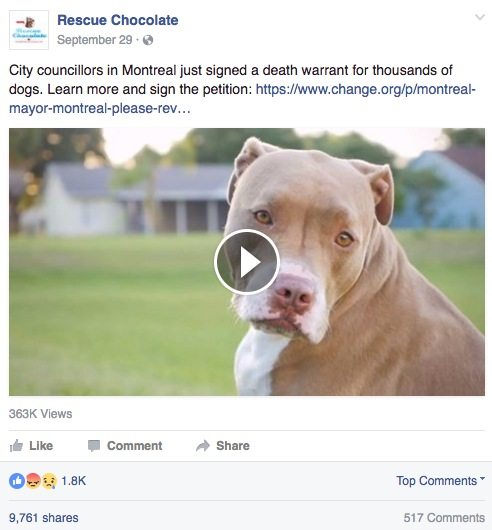 Rescue Chocolate's video appealed to dog lovers because it evoked emotion through slow motion video, photos, text, and music. Plus, the ending scene includes a call to action with on-screen text: "Please share to raise awareness and help us fight this INJUSTICE."
The video has been shared nearly 10,000 times, received almost 2,000 likes, and over 500 comments. Find out more about this video and how it helped raise awareness for the petition.
3. Videos that teach something
Creating a video that teaches viewers something is not only a great way to showcase your expertise, but it's also share-worthy because people are compelled to share things that are helpful. That's because when someone learns something from you, they'll be inclined to spread the wealth!
Teaching people something related to your offering also means that, in the future, when people who viewed your video are looking to purchase something related to that topic, they'll think of your brand first.
This Facebook video post from RYOBI Power Tools teaches viewers how to build their own coffee mug display — receiving 32,000 views and over 500 likes. In doing so, RYOBI hopes that viewers consider purchasing power tools from them when it comes time for their next DIY project:
What does your business specialize in, and what expertise could you share with your customers?
4. Behind-the-scenes peeks
Loyal customers and fans love to see what goes on behind the scenes at your business because they feel closer and more connected to your brand. A behind-the-scenes video is a great way to show off your personality and workplace while also sharing the story behind one of your products.
In the example below, Lucy's Vietnamese Kitchen received over 100 likes on Instagram after showing the history of the restaurant and sharing some popular recipes:
Video can also be an excellent way to show off your company culture for potential new employees. This video from Zendesk is a great example:
Tips for encouraging engagement
A great video is the first step to engagement, but there are a few additional things you can do to encourage viewers to take that next step and like, comment, or share:
Don't be afraid to ask! Include a call-to-action in either the video itself or in the video's description when you share the video. Let people know what you want them to do next, whether it's share, tag a friend, retweet on Twitter, or answer a question in the comments on Facebook or Instagram. (Hint: Watch Rescue Chocolate's video again.) Learn more about ways to include a call to action in your video on Animoto's blog.
Be quick to grab their attention! When scrolling through Facebook, Instagram, or Twitter, it's easy for people to be overwhelmed with content. If your video doesn't capture their attention immediately, they'll just keep scrolling. To avoid that, start with an eye-catching photo, video clip, or an intriguing title to capture their attention within the first few seconds. This way they'll stop, keep watching, and be more engaged.
Create videos designed for sound off! Digiday reports that as much as 85% of video on Facebook is watched in silence. The Instapage team can attest to this as well, as they have tested a variety of Facebook video captions and seen some impressive results.
When creating your videos, use titles or captions so that your video can be understood without audio. You can add to your video during creation or upload subtitles using Facebook's captioning feature. Adding captions is worth your while, too, because Facebook reports that captioning videos increases watch time by 12%.
Video is becoming an integral part of an effective social media strategy. The stats prove it, as do the results. If you're feeling overwhelmed, try starting out with one type of video — speak to a trend, tell a story, teach something, or share a behind-the-scenes peek.
Keep our engagement tips in mind when creating your video because we think you'll be inspired by the results! Stay tuned for our upcoming posts, where we'll dive into how to use video on social media to drive sales and establish expertise. Create post-click pages with video to increase user engagement. Start creating post-click pages today with Instapage, request an Enterprise demo today.
About the author
Megan O'Neill is the Content Marketing Manager at Animoto. She loves video almost as much as she loves helping others use video to achieve goals for their brands and businesses.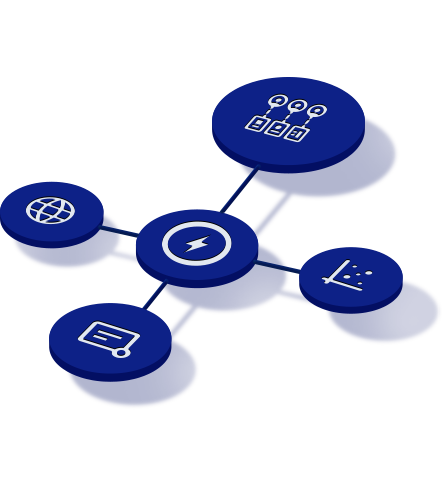 See the Instapage Enterprise Plan in Action.
Demo includes AdMap™, Personalization, AMP,
Global Blocks, heatmaps & more.