Instapage, the leader in post-click optimization, is excited to announce that we've raised $15 million in Series A funding led by Morgan Stanley Expansion Capital. This announcement, needless to say, is a big one for Instapage, and myself.
The journey to this major milestone has been a long one and not without its fair share of ups and downs. Our growth prior to funding was largely achieved via the tireless efforts of our global team (I am thankful for them every day!) who built and continually improve our platform, our self-sustaining business model that helped us achieve profitability relatively quickly, and the seed funding from initial investors.
Given that we're embarking on the next phase of our mission, I thought this might be a good time to briefly recount how Instapage got started and how this funding is going to be used to further strengthen our position as the leader in the post-click optimization software category.
Instapage: the early days
The Instapage "origin story" dates back to early 2010; not with the bite from a radioactive spider, rather, Instapage sprang from a company I started called Jounce.
Jounce was a tool to help affiliate marketers find new products to promote. The Jounce audience was very much a niche and one that understood digital marketing at a very high level. Knowing this, we created audience relevant ads and sent that highly targeted paid traffic to our website homepage. All evidence suggested that this approach was bound to bring us business. Turns out, we were half right. From the beginning, we saw high ad engagement and click-throughs. Only rarely did we see a conversion.
A lot of hand-wringing and burnt budget later, we concluded that our lack of conversions must have something to do with the erosion of relevancy from ad to destination, in this case our homepage. To test this theory, we built a few unique post-click landing pages (one for each campaign segment). Almost immediately we saw our conversion rate jump from 5-20%.
This was my a-ha moment; what happened post-click mattered as much — or more — as the ads sending the traffic. It became clear that the post-click landing page was where the conversion was happening.
By the time we understood the significance of this learning we had spent the majority of our initial funding and had arrived at a fork in the road. A decision needed to be made. Option One was to continue to work on Jounce. Option Two was to refocus our efforts into solving this newly found advertising efficiency gap.
As is clear, I went with Option Two, pivoting Jounce to Instapage in 2012 with the vision that every promotion deserves its own page.
From the Jounce team I kept our senior software developer, Marek Dajnowski and UX designer Ivan Aleksic. The rest of the team was comprised of freelancers.
The bootstrap years
As any startup founder can tell you, there are more hats than there are hours in the day. After the pivot I was suddenly a product manager, head of business development, customer support, UX design, and content marketer. For nearly two years Instapage was a lean, one might say emaciated, organization, scraping by to get the product to market.
When Instapage launched, the product consisted of an intuitive drag-and-drop post-click landing page builder with relatively robust A/B testing functionality for optimization, and that was it. Once Instapage started gaining traction and more marketers realized the value, I hired our customer support manager in Romania, Marius Laza, and entrusted him to build out that team. I did the same with our engineers in Poland.
Instapage now
In the intervening years since the launch, Instapage has seen tremendous growth and development in all categories.
Most notable, our company size has more than doubled since the end of 2015 where we totaled 55 employees. Today I am proud to say we have four global offices totaling 130+ employees with team members originating from: Canada, China, Ethiopia, India, Italy, Pakistan, Peru, Philippines, and Serbia. (By the way, we're hiring.)
Every member of this talented global team has played an integral role in the creation of the most robust post-click landing page platform on the market; one that is recognized throughout the industry as the leader in post-click optimization.
At the end of the day, it's about the product
Our intuitive builder will always be the foundation of the product, but like the rest of the organization, it has evolved from a drag-and-drop landing builder into a complete platform for modern digital advertisers, marketing teams, and agencies with unmatched features and 100% customizability from tools like:
These features, in addition to updates like:
and more, have made Instapage the go-to post-click landing page solution for some of the largest companies in the world:

Recently we made the platform more powerful with the addition of Instablocks™ and Global Blocks (both unique to Instapage), making scaling your post-click landing page production faster by enabling you to create and update multiple pages with a single click:
With Instablocks and Global Blocks, digital marketers can create, optimize, and personalize post-click landing pages en masse while maximizing conversions. This significantly lessens post-click landing page production time and accelerates campaign scaling.
The Instapage difference
Among the many lessons we've learned over these years of diligently improving our product, the most valuable have been these.
First. We've come to thoroughly understand that organizations that aren't focused on post-click optimization and scaling post-click landing page production are hindering the flow of prospects through their advertising funnel. In an effort to unblock these bottlenecks, marketers have been throwing money at the problem only to produce suboptimal results. Our team is solving this problem by delivering higher performance without increasing ad spend.
With our platform, advertisers and marketers can launch post-click landing pages expeditiously with minimal technical resources, therefore saving a lot of time and money. Instapage users also get more from their digital advertising spend by creating, and optimizing personalized post-click landing pages at scale. To date, 15,000 customers across 100 countries, are using Instapage and are seeing an average conversion rate of 22% — more than seven times the average conversion rate in the industry: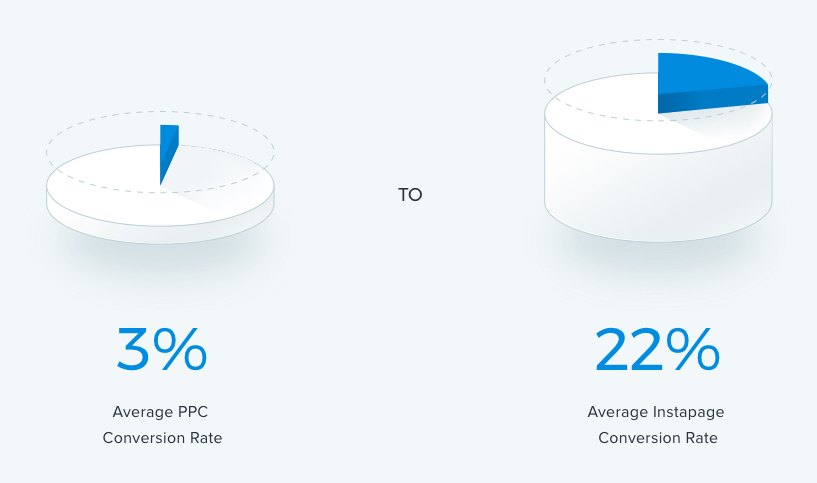 Second. It is possible to provide every prospect with a personalized post-click landing page. One that is relevant to their interest and/or their interaction with an advertisement that aligned with their interest. The Instapage platform possesses the power, customizability, and functionality needed to create those personalized campaigns, at scale.
Another service our Enterprise customers appreciate is our combined customer onboarding and customer success with their own dedicated messaging channels. This comprehensive support reassures them that their pages are set up for optimal success.
That's the Instapage difference.
What's next
This new capital will allow Instapage to accelerate platform development and expand sales operations to help marketers with large-scale advertising operations to quickly realize efficiencies and significantly improve ROI. Another goal is to further the adoption of post-click optimization and to significantly improve on the $230 billion global annual digital advertising spend.
This series A investment only makes us more bullish than ever to make digital advertising better for everyone. There is so much more potential in our platform and the post-click optimization software category.
On behalf of our entire team, thank you for your support and feedback. We could not have gotten this far without your support.
Stay tuned to our blog for more platform updates from our talented team as we continue developing the most sophisticated post-click optimization platform on the market. In the meanwhile sign up for an Instapage Enterprise demo here.
To better advertising,
Tyson Quick – Instapage Founder & CEO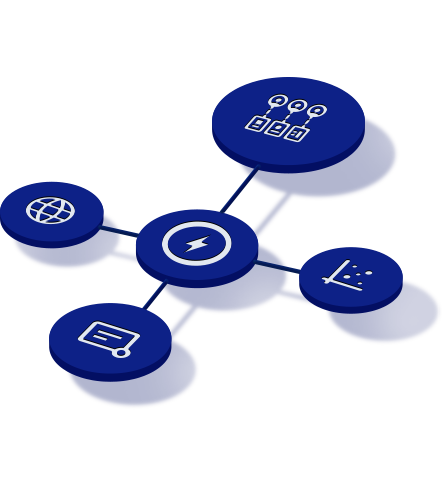 See the Instapage Enterprise Plan in Action.
Demo includes AdMap™, Personalization, AMP,
Global Blocks, heatmaps & more.