With 430 million monthly active users, Reddit is the place to discover new trends and movements. The social sharing website operates like a popularity contest, i.e., upvoted content rises to the top, and downvoted content becomes less noticeable.
As of March 2020, brands and advertisers can use the platform to make sure their ads are winning the popularity contest using Reddit's trending new ad product: Trending Takeover.
What is Reddit Trending Takeover?
The Trending Takeover ad product gives advertisers more access to millions of Reddit users who are in an information-gathering mindset. It is active for 24 hours and is placed alongside popular and relevant trends and conversations of the day. All ads have a "promoted" label and appear on both desktop and mobile.
These pay-to-trend ads appear in the second slot of the Trending Today module on Reddit's Popular feed: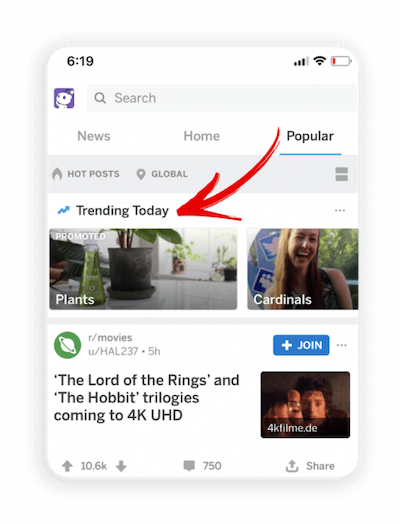 As well as the second slot of the Trending Today dropdown in Reddit's search tab:
Clicking the Trending Takeover ad directs users to a special landing page featuring paid promotional content at the top, with discussions from related subreddits that match the advertisers' chosen keywords.
With Trending Takeover, advertisers can promote their campaign next to the largest trends on Reddit. They can also spotlight their trend on the Trending Takeover landing page, driving further engagement and visibility. The landing page experience applies to both desktop and mobile: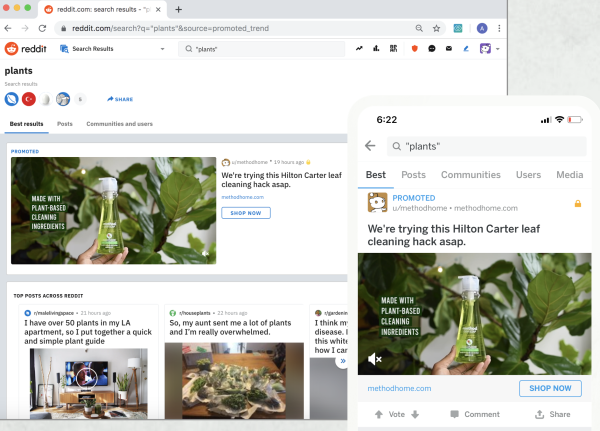 In the past few months, Reddit has been beta-testing Trending Takeover with more than 15 partners across entertainment, consumer tech, CPG, automotive, and QSR verticals, including Spotify, Method, and Adobe.
Are Trending Takeover ads PPC?
The Trending Takeover ad unit is an auction-based system. The bid you place is the highest CPM (cost per thousand impressions), CPC (cost per click), or CPV (cost per view) that you're willing to pay for your ad to be seen or clicked by the target audience.
As of now, Trending Takeover is not yet available programmatically on Reddit's self-serve platform, as the ads are currently sold on a reservation-only basis.
What results have brands seen so far?
On average, the brands saw an increase in surfaced conversations and a CTR 2x higher than the industry standard for social platforms. Brands were able to drive video views with a video completion rate 4x higher than Reddit Promoted Posts.
For example, Method leveraged Trending Takeover to increase brand awareness and drive video views for their new dish soap. The brand's selection of keywords and custom creative on the Trending Takeover landing page, by targeting relevant Reddit communities, such as r/houseplants, r/gardening, and r/malelivingspace.
How much does this new ad type cost?
Reddit hasn't formally announced how much these ads will cost. However, one media buyer estimated that he expects Trending Takeovers to cost a "minimum of $100,000."
Are they worth it?
Though the ad type comes with an expensive price tag, the ROI could be worth it. Taking into account Reddit's monthly active users and the fact that it has more than 100,000 interest-based communities. The ad type can be seen as an opportunity to drive high visibility and build top-of-funnel awareness directly to the top-trending topics and issues.
Moreover, the ad type has already yielded promising results for the beta testers; brands were able to drive video views with a video completion rate 4x higher than Reddit Promoted Posts.
Connect your Reddit ads to post-click landing pages
Reddit ads are ideal to drive high visibility in front of search-intent audiences researching information. Yet, you can't afford to miss out on conversions by neglecting to link all your ads to unique post-click pages. Discover how to provide personalized post-click landing pages at scale by signing up for an Instapage Enterprise demo.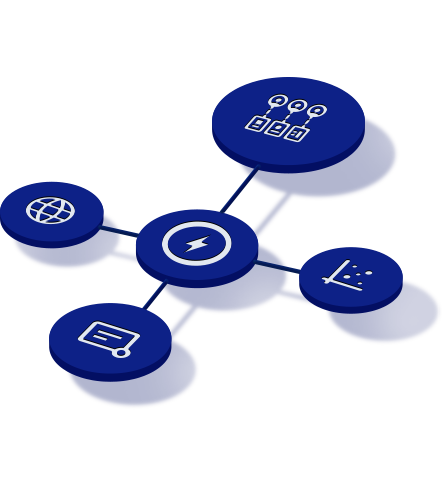 See the Instapage Enterprise Plan in Action.
Demo includes AdMap™, Personalization, AMP,
Global Blocks, heatmaps & more.