One of the most favorable aspects of the Quora ads platform is its ability to deliver intent-based marketing — serving an audience with the right message at the right time, based on user intent to purchase. One way it does this is through a variety of targeting capabilities.
To keep up with other PPC channels, Quora recently added three more options for digital advertisers to reach audiences:
Keyword history targeting
Browser targeting
Gender targeting
Below is the list of all the Quora ads targeting options — including the newest trio — each within their specific targeting category.
What are the Quora ads targeting options?
Contextual Targeting
There are currently three different Quora ads targeting options within the contextual targeting category:
Topic targeting
Topic targeting on Quora stems from question and answer pages grouped into certain topics. This allows you to precisely target the topics relevant to your business to better reach your desired audiences, because your ad will show in or near content that's directly related to specific topics of your choosing.
Here are two different ads that showed for the "Social Media Strategy" topic because scaling and optimizing marketing efforts, and growth marketing, could both be worked into a social media strategy: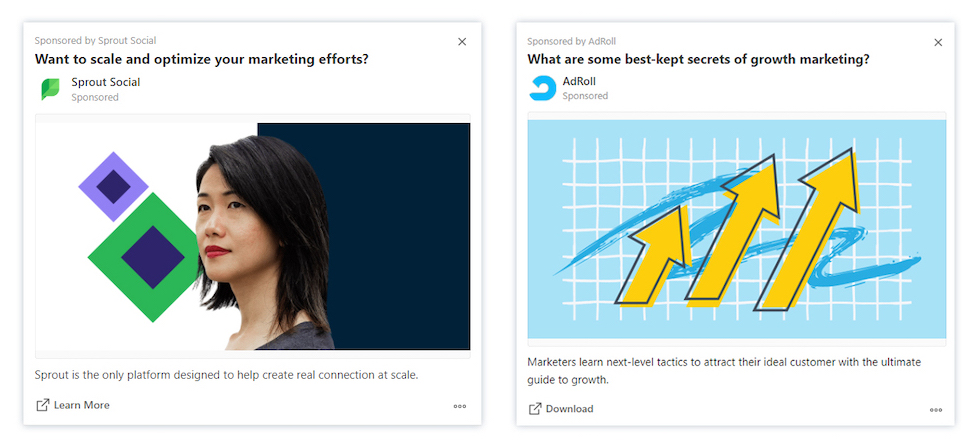 Note: You can visit different topic pages to get an idea of how many people follow the topic.
Keyword targeting
Quora keyword targeting allows you to target questions that contain specific keywords, like GoToWebinar does with their content marketing ad: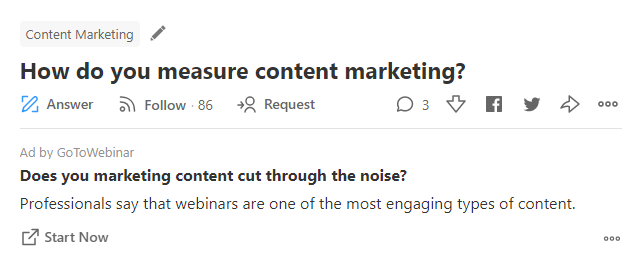 The platform offers two types of keyword matching at the ad set level, to help determine how closely related the questions need to be to your keywords for your ad to display:
Broad match to show your ad to a wide audience without spending too much time selecting keywords. In this case, you'd be targeting any questions related to your keywords or close variations of them.
Phrase match, which allows for narrow targeting by displaying your ad only where a question contains an exact match to your keywords.
For example, a financial services brand could target relevant questions on Quora using either match type. In the sample text below, investing is defined as a broad match keyword because it's not surrounded by quotation marks, while finance is a phrase match because of the quotations around it: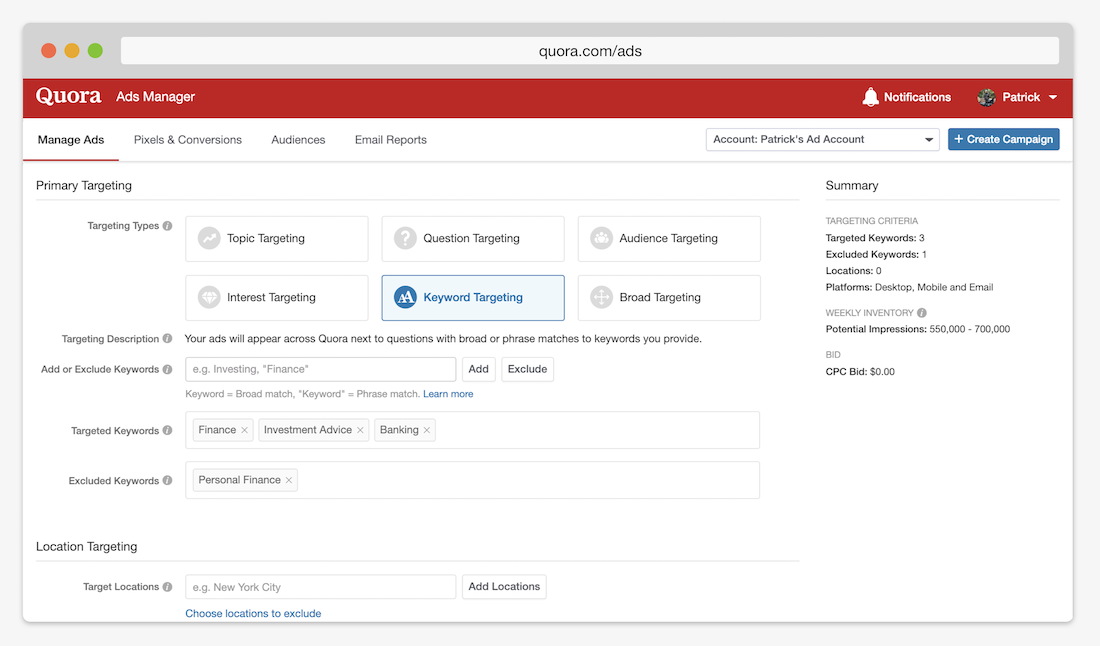 You can also exclude keywords or phrases (or negative keywords) to prevent your ads from displaying with specific questions.
It looks like Malwarebytes should have excluded keywords in this example since their ad is showing for the wrong kind of "hack:"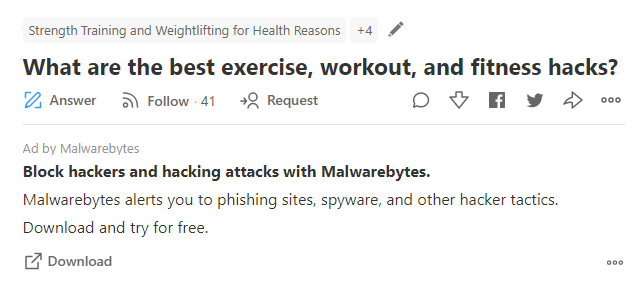 However, too many exclusions can reduce your reach.
Question targeting
Since Quora is mainly a question and answer forum, it makes sense that advertisers have the ability to target by specific questions. With Quora question targeting, your ad will appear for specific question pages of your choice, like this: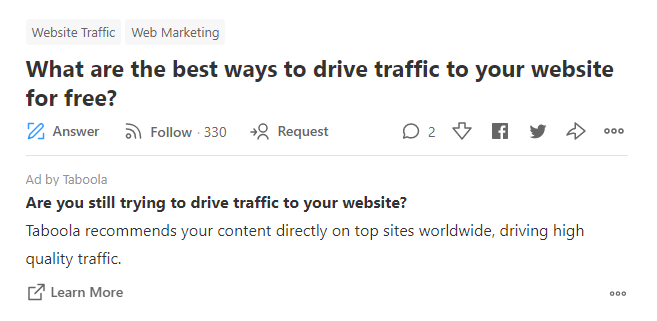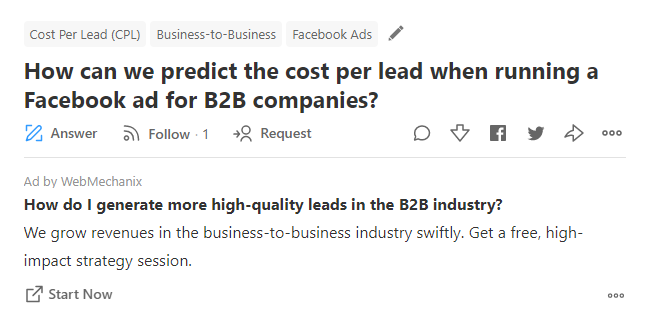 In both examples, the advertisers purposely chose these question pages for their ads to display.
Although you can either show ads to users currently reading the question you're targeting — or show ads to users who have previously read those questions (discussed more below) — you'll likely see better results with the former. These people are engaged and looking for a solution now, so you have a better chance of catching them at the right time.
Audience Targeting
Quora audience targeting can also be implemented in three different ways: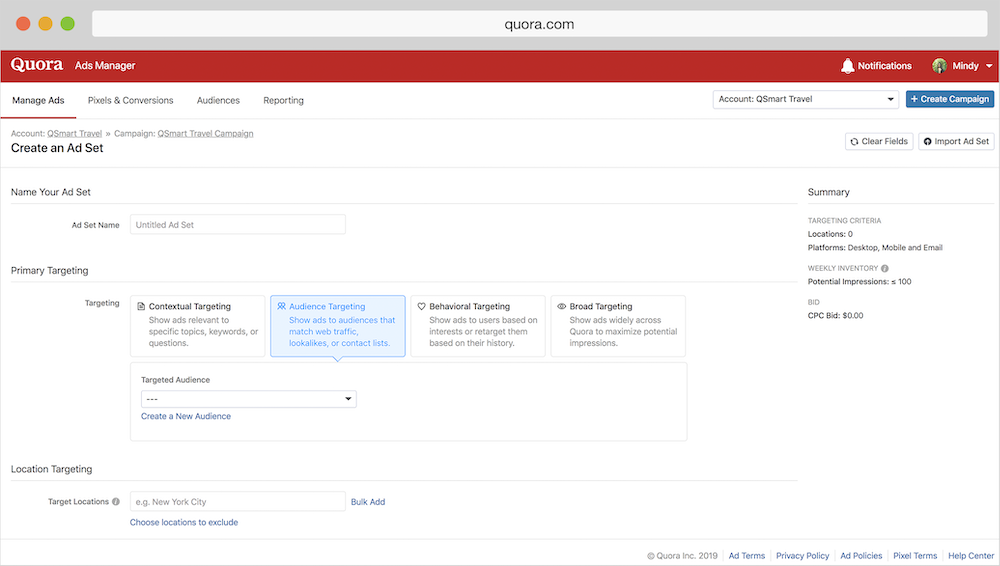 Website traffic audience targeting
This enables you to create an audience based on traffic to your website, and then retarget that audience more relevantly and personably since they've already interacted with your brand before. (Note: You must have the Quora Pixel set up to define retargeting rules.)
Lookalike audience targeting
Lookalike targeting on Quora is similar to Google and Facebook's equivalent. You simply create an audience based on an existing audience in the Quora Ads Manager for a higher potential of high-value customers. (Note: Your base audience must have at least 3,000 users before a lookalike can be created.)
List match audience targeting
This audience is based on a list of email addresses, and used to tailor ad campaigns toward a customized audience — e-newsletter subscribers, previously collected leads, or existing customers. You can also upload a list of current customers to exclude. (Note: The recommended minimum audience size is 200.)
Behavioral Targeting
In this category, again, there are three targeting options — one of which is a new addition to Quora advertising.
Interest targeting
Interest targeting is similar to topic targeting with one major difference: Topic targeting gets in front of users when they are on a topic or question page, while interest targeting reaches users who have previously engaged (read a question, casted upvotes, etc.) with a topic.
These users may not have as much purchase intent as users reached by topic targeting since they're not currently searching or engaging, but they still could be a relevant audience based on their past engagements.
Keyword history targeting
This is one of the three recent additions, allowing you to retarget and re-engage with users who have visited topics or questions with keywords relevant to yours, within a given period (e.g., the last seven days).
Ads are shown on users' feeds, topic feeds, and question pages.
This method is an excellent way for you to reach people who have expressed a strong intent for a certain question or subject in the past. In other words, to gain repeat access to a lower-funnel, highly-qualified target audience.
According to Quora, there are three best practices to follow when using keyword history targeting:
Leverage existing Keyword Targeting ad sets. You can do this by creating a new ad set and importing your existing keyword-targeted ad sets. Quora will automatically transfer the keywords to the new ad set.
Choose relevant keywords. Keywords that have generated high CTRs and conversions for you on other search engines and advertising platforms — and could translate well into questions on Quora — are the best options.
Consider the future. With thousands of questions added to Quora every day, the ad platform automatically includes new and pertinent questions so your ad set is constantly targeting the most relevant content.
Question history targeting
The question history option is great for remarketing to Quora users who visited specific questions within the past 30 days:

While 30 days is the maximum limit, you can select any number of days under 30.
Broad Targeting
Broad targeting is Quora's machine learning option that automatically targets your audience across the network, allowing you to reach the widest audience possible. This option is ideal for advertisers who feel like they've maximized all other targeting options, or are looking to vastly expand their reach.
Broad targeting requires patience, though, because it takes time for Quora to understand how users are engaging with your ads, and to try and find additional users who perform similar behaviors.
Additional options
After choosing from the targeting options above, you can also add in Location, Platform & Browser, Email, and Demographic details as additional layers:
Location
You can specify the geographic locations you'd like your ad sets to target or exclude, including country, state, city, zip codes, or Nielsen® DMA® (Designated Market Areas) regions:

Locations can be added or excluded individually in the "Target Locations" bar, or through the "Add Locations" button. Each ad set can support up to 1,700 locations, and if no target locations are specified, ads will be distributed globally.
Platform & browser
Quora users can be targeted by:
Device type — desktop and/or mobile
Mobile platforms — iOS and/or Android
Desktop browsers (newly added) — Chrome, Firefox, Safari, and/or all other browsers: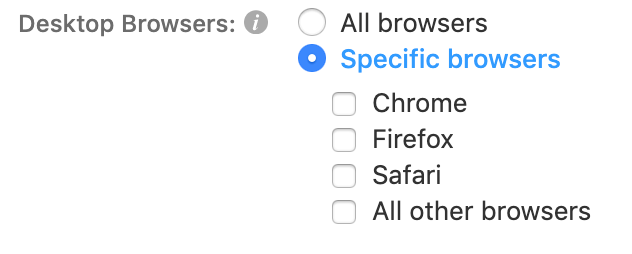 Note: App Install campaigns are automatically set to target mobile only.
Email
You can include your ads in Quora Digest Emails, so anyone subscribed to the Quora Digest will see them.
Demographic (aka gender targeting)
Demographic targeting, or gender targeting, is the third new platform option, allowing you to target all genders or only specific genders (female, male, and/ or unknown) based on users' profiles and behavior on the platform: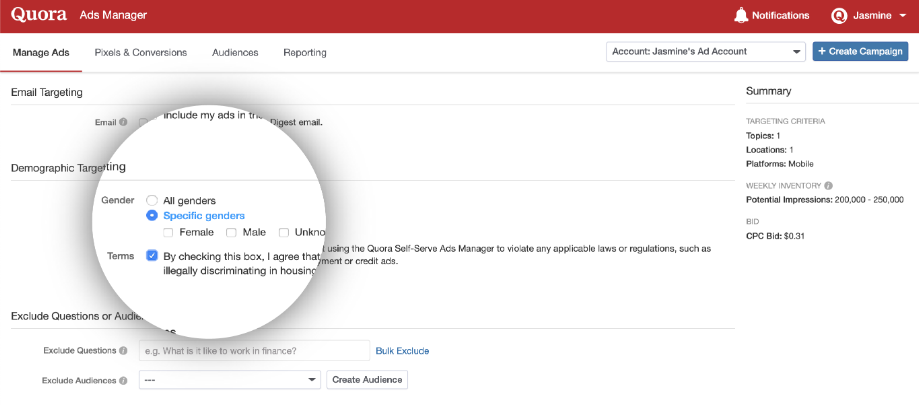 This is helpful because some businesses have precise gender-specific audiences. At the same time, different genders often display different shopping behaviors, so even if your business doesn't have a gender-specific audience, you may still benefit from gender targeting and customizing your ad copy and creative for either men or women.
In fact, some advertisers during beta saw gender targeting campaigns conversion rates increase by more than 40% over their non-gender targeting counterparts.
All groups can be targeted alone or in conjunction with another group. However, if Quora can't determine a user's gender, they're placed in the "Unknown" demographic group, so excluding this group may dramatically reduce the number of target users reached.
Use Quora ads targeting to capture already engaged users
Since Quora questions often receive unique, in-depth, high-quality answers, users often spend a lot of time engaging in topics that interest them. That's why displaying relevant, well-timed, Quora ads that address the specific subject they're interested in can be a great way to capture them. Plus, developments like the ones above demonstrate how Quora's consistent growth as a PPC platform is undeniable.
Don't let your digital marketing efforts go to waste by stopping at the pre-ad click stage. Be sure to provide all of your target audiences with a unique, personalized post-click landing page with every ad offer. Request an Instapage enterprise demo today to see how to get started.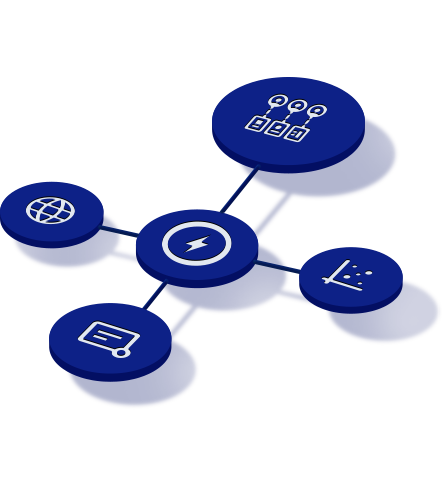 See the Instapage Enterprise Plan in Action.
Demo includes AdMap™, Personalization, AMP,
Global Blocks, heatmaps & more.