It's "something to be afraid of," says digital marketing expert Neil Patel — something that can "slay a business faster than nearly anything else."
What's the "it" he's referring to? Premature scaling.
It's true, growing too much too soon can ultimately doom your marketing agency. Before you put a down payment on that fancy new office complete with bean bag chairs and a ping pong table, ask yourself these questions to see if you're ready for the next step.
1. Do I have a replicable customer acquisition process?
If you're in a position to be asking yourself the following questions, you've obviously generated enough work to keep you busy — which is great. In fact, it's so great that it warrants a brief moment of reflection.
Remember your first client? Remember how scary starting your agency was? You've come a long way since then and you deserve some congratulations. Go, you. Not everybody makes it this far.
Okay, back to reality.
Right now you have enough work to keep you busy, but to continually grow your agency, you need to be able to generate more. You don't want to spend money on a new office and some star employees only to break even — or worse, plummet toward the red.
How have you attracted clients so far? What are your most successful acquisition channels? What others can you use to bring in more business?
Before you grow your agency, make sure you have replicable protocols in place for bringing in more customers.
2. Have you optimized your current pricing structure?
How does your agency price its services? Do you charge by the hour? By the project?
According to a report from HubSpot, nearly 60% of agencies offer monthly retainer-based pricing — which, from a growth perspective, makes a lot of sense.
Consider this scenario: You charge by the hour, and your client has contracted you for up to 30 hours of work per week. That's the maximum amount of production they can expect from your agency.
On the flipside, there's no minimum amount of work they're required to give you. If you charge by the hour or by the project, you risk sacrificing dependable revenue. There's no guarantee you'll have enough work to pay your bills or enough projects to grow your agency's bankroll.
If you offer a monthly retainer, however, your client pays the same fee every 30 days that was agreed upon in your contract. In exchange, you provide a set amount of services.
For example, you might charge a $5,000 "gold" retainer that guarantees your clients 15 blog posts, 50 social media updates, and 1 white paper per month.
The guarantee goes both ways, though. Once you and your client agree to a retainer, you won't have to worry about unstable revenue sources every month.
Now, of course, your pricing structure will vary depending on the work you do. If you're an agency that specializes in one-off jobs like building websites or generating market reports, project-based, and hourly pricing might make more sense. But for those who do ongoing work, a retainer is the safest, most stable form of pricing.
3. If I go on a vacation, will the whole agency fall apart?
"Some advice" read the subject line of an email received by Jim Moffatt in the middle of a 10-day vacation years ago. It was a business partner he respected greatly, and its contents changed the way he managed Deloitte Consulting LLP as chairman and CEO.
At the time, Jim had some trouble leaving work at work, even on vacation in Scotland. But, you would too if the team you managed serviced 70% of the Fortune 500. Still, Jim's partner encouraged him to unplug for one primary reason:
He said that as a senior leader, you can't control the day-to-day all that much, whether you're in the office or on vacation. The decisions and strategy you set a year ago are what really dictate daily results. The only people who can really determine how things work in the near-term are the managers closest to clients and daily operations. If that's not you, stop worrying and start trusting.

As an agency owner, the best thing you can do to help your business grow is phase yourself out of the day-to-day workflow. You can't be a micromanager who needs to touch every project before it's finalized. You need to be able to work less IN your business and more ON it.
As Jim's partner said, "If you really unplug, you will start thinking about the long-term, strategic issues, and what we have to do to be successful over the 9-to-24-month period, and that is essential."
4. How can I get the most from my existing clients?
Determining how to get the most from your current clients is just as important (maybe more) as creating a replicable plan to generate new ones. After all, data does show that, on average, loyal customers are worth 10 times their initial transaction, and they're 65% easier to sell to than first-timers.
So, how do you boost their value to your agency?
Maximize customer lifetime value — a numerical figure that represents how much your client is worth to your business throughout your entire relationship.
For example, let's say you're an agency that offers a few different service packages: social media marketing, blog writing, and email marketing, and each package has three tiers: silver, gold, and platinum.
Instead of chasing after new customers all the time, consider upselling or cross-selling to your current ones.
If a retail company pays for the six monthly articles your silver package offers, try to convince them that bumping to gold would bring them increased exposure. Or, persuade them to purchase a new service, like email marketing, to nurture more prospects to sale.
Focus on the value of your services instead of what they feature. Ask yourself, "What am I really selling?" Not email marketing and more articles, but increased exposure and more customers.
Come prepared with case studies and testimonials to make your case, and your clients will have a harder time turning you away.
5. What shape is my agency in financially?
What's your net profit? What're your expenses? Have you calculated gross profit margin?
If you don't know, you're not yet ready to grow. Without these numbers, you can't be confident of how much money you're bringing in, or whether it's enough to support your next phase of expansion.
Gross profit will help you determine net profit, which gives you an idea of your agency's overall financial health — how much you're bringing in after expenses.
And while those metrics are crucial to determining whether or not you can handle scaling, they're not the only ones you should know. Adjusted gross income, profit, overhead, labor costs, and utilization are all things you should have a firm handle on — especially if you're thinking about applying for a loan or hoping to attract investors.
If you don't have financial management software, now may be the time to consider investing in some. Or, consider hiring a consultant who can help you put all the pieces together.
6. Am I tracking my team's hours?
At an agency that constantly shifts between projects, it can be hard for creatives to figure out just how long they spent working on a particular job. So, they guess.
"Eh, it took me about 20 hours to create that ebook — 13 for research, and 7 for writing."
Uh oh. That's bad news, considering you estimated the project would take around 16 hours. So, was it less profitable than you expected?
Nope. It turns out your copywriter just didn't track her hours well. Weeks after finishing the project when she was tasked with completing her time sheet, she could only give her best estimate: 20 hours. In actuality, it only took her 14.
Regardless of how you bill for your time, knowing how long a project takes is crucial to figuring out your pricing. Consider using a time tracking software if you don't already to determine if you're profiting as much as you think you are.
7. Am I building the right team?
The world's fastest pit stop took less than two seconds. Blink, and you'll miss it.
Now, ask yourself: How does a crew elevate a car and change four tires faster than you can read this sentence? Every member knows their job, and they each do it well, together.
Hiring the right team isn't just about bringing on people who know their stuff. Those people also have to be a good fit for the company culture, and they have to be able to cooperate well with the rest of your agency's staff.
Don't get yourself into a situation in which you need to bring on a new team member immediately. Hire slow and fire fast to save yourself from lost productivity down the road.
8. Am I proactive or reactive?
Most agencies follow the flawed, traditional model of growth: Earn more business, hire more people to take care of it, repeat. Here's the problem with that…
When you make organizational changes after earning new business, you're reacting. And reacting creates overhead and commitments that can drain your agency's bank account quickly.
Think about it: more business = more staff to take care of it + a bigger office for them to work in, and so on. Before you take on a new client, it's important to make sure you have a growth strategy in place.
Peter Zagres, owner of global chemical consulting company, Hazox, recommends taking on remote workers with "burstable bandwidth" — people who have more hours available than you need them for. That way, when you take on a new client, you'll be able to swiftly handle the increased workload by delegating more to your part-time staff.
As an added bonus, hiring remotely means you save on an office space. Check out Upwork for freelancers capable of handling a wide range of tasks.
9. Am I working harder, or smarter?
If you're having trouble keeping up with your agency's workload, the answer might not be to hire another employee or work longer hours. Think "smarter," not "harder."
As an alternative to recruiting an assistant for help with appointment scheduling, try using software like Calendly. Instead of bringing on another web designer to create a post-click landing page for each of your clients' PPC campaigns, consider trying a tool that makes it easy for even your copywriter to do.
From content management systems like Drupal and WordPress, to email marketing software like MailChimp, today's marketing technology can save you from adding excess overhead and working unnecessary overtime.
How does your agency stack up?
What do you think? Are you ready to grow? What have been your biggest challenges so far?
Turn ad clicks into conversions, create dedicated, fast-loading post-click pages for every offer. See how to provide all of your audiences with unique post-click landing pages by signing up for an Instapage Enterprise demo today.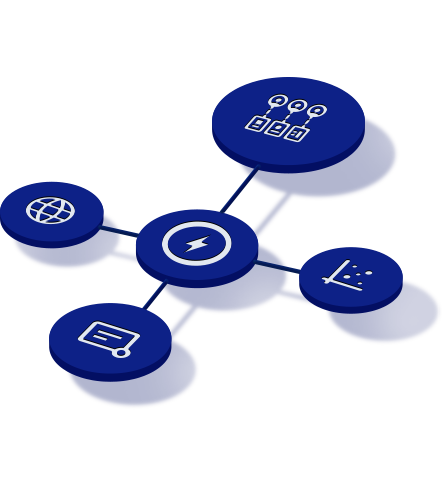 See the Instapage Enterprise Plan in Action.
Demo includes AdMap™, Personalization, AMP,
Global Blocks, heatmaps & more.