Proving ROI to clients can be challenging, with 81% of B2B marketers struggling to show measurable ROI.
Every campaign is different, and every client has different goals. Even if you know your project was successful, clients look for data to determine that their investment in your agency was worthwhile.
Knowing how to prove ROI to clients really helps with client retention and helps you acquire new clients by showcasing your results in case studies.
Today's article will look at:
How ROI can be proved via calculation
The varying metrics to consider
How different agencies show ROI to clients
How to prove ROI to clients
Calculating ROI for campaigns can be tricky. But, using the basic formula taught in business classes can establish your overall ROI:

Showing ROI by calculation can also be achieved using customer lifetime value instead of profit. This works for clients who have been working with you for an extended period of time. Customer lifetime value measures the profit accumulated over the time period of working with you.
Using gross profit instead of overall profit takes into consideration the profit minus the overall cost of producing the campaign.
Client and agency expectations
According to Hawke Media CEO, Erik Huberman, acknowledging client expectations when proving ROI is essential. If you're making projections, consider current industry data. For one particular client, Hawke Media couldn't promise ROI but used the client's audience metrics to set result expectations.
Additionally, Hawke Media set up success metrics, so their clients can view them too. This helps show clients exactly how metrics are moving during and after a campaign.
Being transparent with clients on ROI demonstrates an agency's worth and helps establish trust. Clients are more likely to work with you on future campaigns if they can clearly view how key metrics improve.
The different metrics to consider
For digital campaigns, the best way of showing ROI typically involves an analysis of the data you've collected and producing a report demonstrating this data. Depending on the project you're undertaking, you'll likely be using various methods of data collection and analysis (e.g., Google Analytics, post-click landing page conversions, email signups, social media followers, etc.).
When building a report, you don't need to focus on every single metric reported. Instead, only focus on metrics that are relevant to your campaign. Keeping your metrics concise will show your clients how you've succeeded in meeting (or surpassing) their goals.
Here are some different metrics you may use depending on the type of marketing campaign:
For blog articles
For blog posts, you'll likely look at website traffic and/or conversions. You want to be able to prove that your articles bring in new readers, and ultimately, increase overall website traffic.
A tool like Google Analytics provides comprehensive data on website traffic and shows you varying metrics including the number of page views and users.
When using website traffic data, you can break down your metrics in terms of traffic sources, user flow, and behavior to determine how your blog articles are performing and how they are contributing to overall website performance.
Proving ROI example
Jawfish Digital produces a lot of SEO-based content and uses Ahrefs to prove ROI to clients. By searching specific URLs, the agency can determine how much it would have cost to bid on all of the keywords that the blog post is ranking for organically.
For example, one client article produced a traffic value of $3,800:

Showing ROI in terms of traffic value enables Jawfish Digital to prove the value of an investment in SEO and content creation services. SEO takes time to kick in, but showcasing these statistics helps to acquire new clients.
For email marketing
Your email campaigns may include driving traffic to a website, improving conversions, or increasing email subscribers with gated content. Depending on your client's email marketing goal, metrics can be measured via a tool like Google Analytics or the email service provider you're using.
Another option is Klaviyo which provides metrics relating to conversions, including click-through rate, revenue, and orders placed: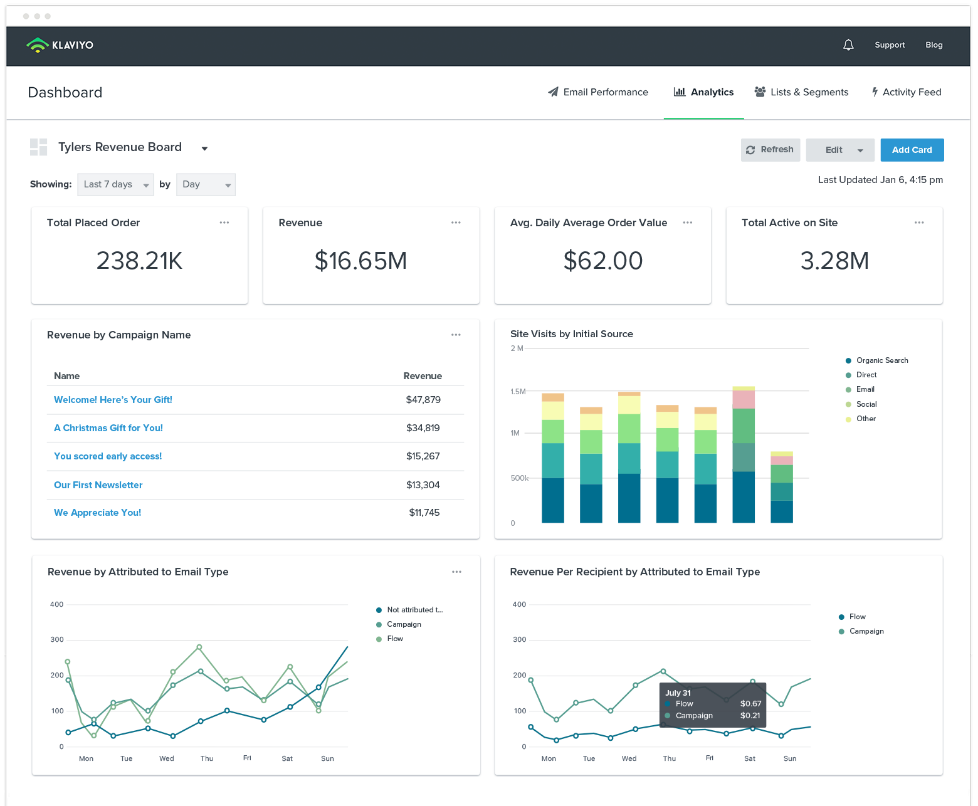 Proving ROI example
For Lyfe Marketing, the best way of showing ROI for email marketing is with an increase in company revenue, sales conversions, website traffic, or brand awareness. Using email analytics (i.e. conversions) can help you to establish how many purchases are made via email.
Lyfe Marketing suggests that if exact revenue cannot be calculated, you can simply conduct the following calculation to determine the average ROI:

For Google Ads
Of course, PPC traffic from Google Ads campaigns can be measured in Google Analytics. Depending on your client's goals, you may track sales analytics and conversion rates to post-click landing pages, sales pages or a website homepage (either in terms of traffic or total sales). And for Instapage Enterprise customers, you can track average cost per visitor and average cost per lead with the Advertising Conversion Cloud™:

Proving ROI example
For Emma Chun at PPC agency SearchStar, optimizing ads for ROI instead of cost per conversion helps to determine an overall return on investment. For SearchStar, a successful campaign is one with an improved ROI via continual optimization, including bid management and ad text testing.
For social media
Proving ROI with social channels can be a little more challenging. The most basic metrics like follower count and shares can be measured via each platform you are using (like Instagram or Twitter analytics). However, there are alternative metrics available to determine how successful your campaign has been.
Consumer conversations
This one allows you to determine consumer reactions to your campaigns. While you can discuss engagement metrics, it's important to consider the type of comments that consumers post. For example, this Mercedes Benz post on Instagram about a blind father who drove a car for the first time received many positive comments: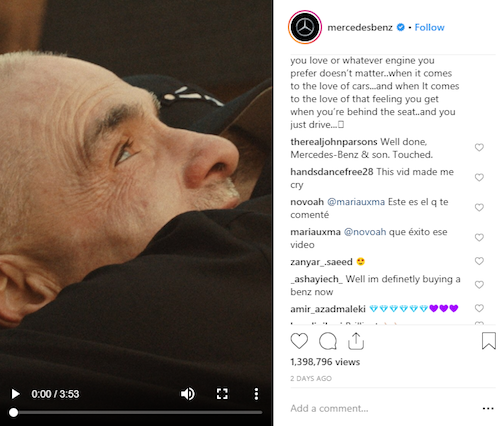 Image analysis
Image analysis provides insight into brand mentions and brand awareness, as well as tracking social media influencers using your client's products regardless of whether they have been paid or not.
Brand perception
Analyze the overall impact your campaign has had on brand perception by consumer sentiment analysis. Understanding consumer perception of your client's brand not only helps you prove ROI, but also establishes if a campaign has failed by receiving a negative reaction.
One way to do this is to compare your client's brand to competitors, such as the example below of TV show X Factor in comparison to MasterChef. Opinions of X Factor were positive, with MasterChef opinions proving negative on social media: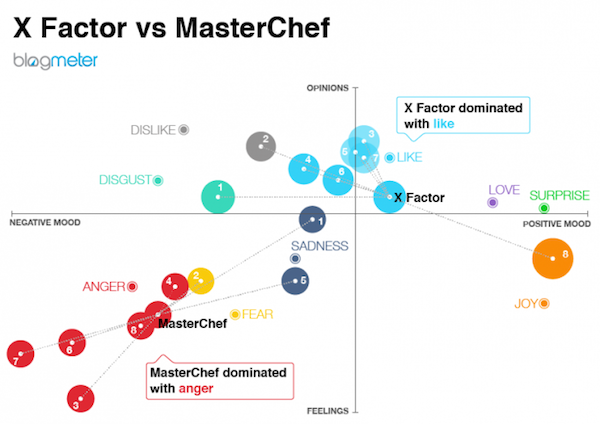 Using social opinion analysis is helpful for proving ROI to clients by identifying purchase intent. You can then use this data alongside other campaign data, like conversions, to demonstrate the ROI to your client.
Proving ROI example
For Single Grain, they consider a project's goals to prove social media success. This may be an increase in sales conversions, a boost in website visits, backlinks or email signups, enhanced brand awareness, or something else. Once you've considered client goals, you can determine which metrics to analyze in order to showcase ROI.
For web design
Proving ROI on a web design project may seem daunting since there are varying sizes of web design projects, such as a complete redesign, implementing new navigation, or installing new pages. One way to show ROI is to use Google Analytics (you should ensure it's implemented before you start working on the design project because this gives you ample time to accumulate data).
Once you've completed the web design, you can analyze Google Analytics data with the previous web design data, especially the bounce rate, page views per visit, and the average time spent on each page.
This data establishes the impact your design is having on visitors who are already reaching the site. Ideally, a good ROI will show a lower bounce rate and higher page views per visit than before, demonstrating that your design project is encouraging visitors to stay on your site longer.
Keep in mind, though, that website statistics can fluctuate depending on the time of year or month. For example, during Black Friday and the holiday shopping period, your site may see a huge boost based on promotional campaigns you run. This period would not be representative of your average website statistics and should be treated differently.
Proving ROI example
Orbit Media recognizes that website design ROI can vary from a negative amount to millions of dollars if the website operates in the ecommerce industry or specializes in lead generation: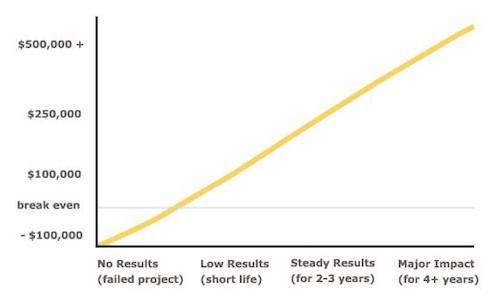 Furthermore, Orbit Media considers website traffic and conversion rates in addition to website lifespan. According to them, successful website design can bring positive results for five years or more.
The best way of proving ROI to clients
Proving ROI to clients will ultimately depend on the services you provide, your clients' expectations, and your baseline metrics. While you may decide to show ROI to keep current clients happy and acquire new leads, being transparent with your success metrics helps establish your worth.
Take into account your clients' goals, the campaign's goal, and the tools you'll use to track metrics. Once you've established these, you can collect data and conduct an analysis to determine the overall ROI and success of your project.
Showing ROI is just one significant step in proving your agency's success. There's still a lot more you can do to steer your agency on the right path and increase your client base. Sign up for an Instapage Enterprise demo today.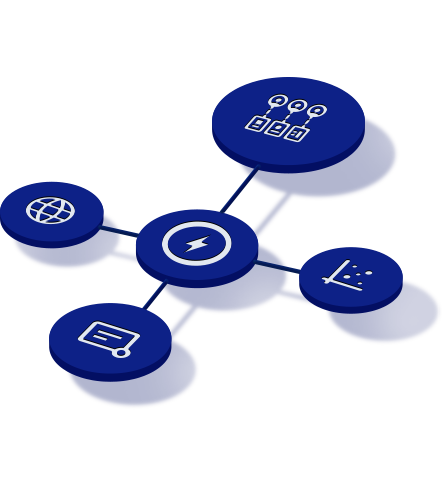 See the Instapage Enterprise Plan in Action.
Demo includes AdMap™, Personalization, AMP,
Global Blocks, heatmaps & more.