Are you relying on email follow-ups to land prospects? How about phone calls?
Here's the situation: You've put in the long hours crafting the perfect pitch and nailed it at the meeting. But you're prospect didn't bite, and now you're left to send an email follow-up.
If that's the case, it's nothing to be alarmed about. 80% of sales require a follow up after the first pitch anyway. That's why having a killer plan to follow up through email and other channels is essential to closing prospects.
Let's dig into some sample follow up emails you can use after meeting potential clients, and what you can do better to close a deal.
The truth about following up with prospects
What if we told you that 80% of prospects need five follow-ups to seal the deal?
That's the truth about closing prospects. They want you to prove that you're the real deal. And it's exactly why most sales reps fail at prospecting. They hate rejection.
Instead of sending one or two follow up emails and giving up, you need to have a smart, persistent sales process to close your prospect.
When you should follow up
If you wait too long, there's a strong chance your prospect will look to your competitors to try and solve their problem. As you can see in the chart here, most follow-up emails are opened the same day they're sent: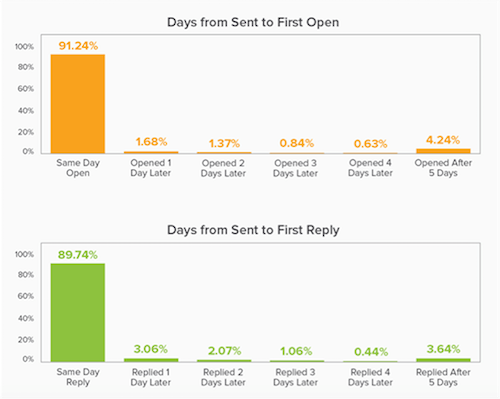 This is noteworthy for two reasons:
It means that prospects are interested in your message
There is a higher chance to them replying to your email that day
Here comes the rejection, though. As the data shows, if they don't reply on the day you sent the email, they're probably not going to.
This isn't an excuse to become needy.
Send your follow up email in the first 24-48 hours of meeting your prospect, and then extend the sending period by a few days for each of your follow-ups after that.
There's a difference between being persistent and a nuisance. Don't be the latter.
Pro Tip: Never mention how many times you've previously emailed your prospect. All it does is highlight your desperation. And never copy your previous email into your next follow-up to try and force them into replying. That's just going to annoy your prospect even more: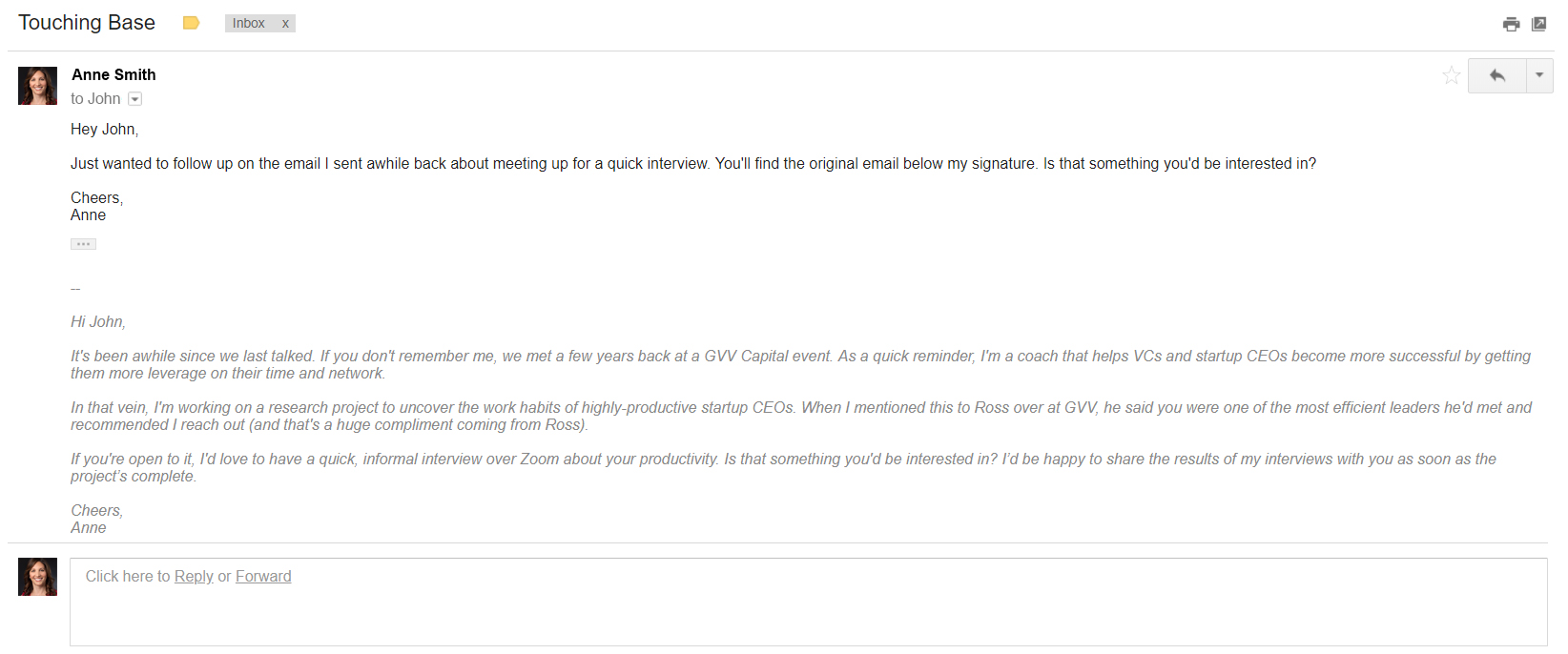 Timing is important
You could write the world's best, most persuasive follow-up email, but if you send it at the wrong time… it'll probably get lost in the recipient's inbox.
Send your emails at the right time — when your prospects are checking their inbox, of which GetResponse reports the following: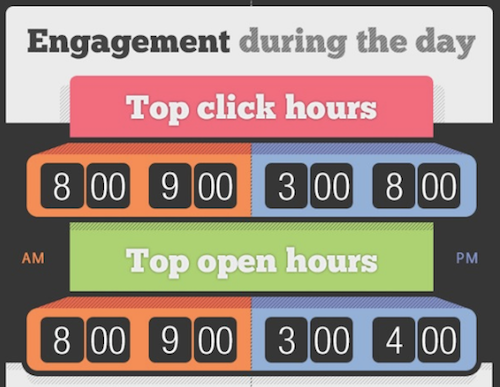 Early mornings and mid-afternoon are when your prospects will be least distracted from roadblocks like phone calls and meetings. Mondays and Fridays are not the best days for connecting with a prospect, either.
Set yourself apart and receive their full attention by sending your follow-ups mid-week.
Pro Tip: Yesware has a helpful tool that automatically determines the best time to send emails. Try it out for free here: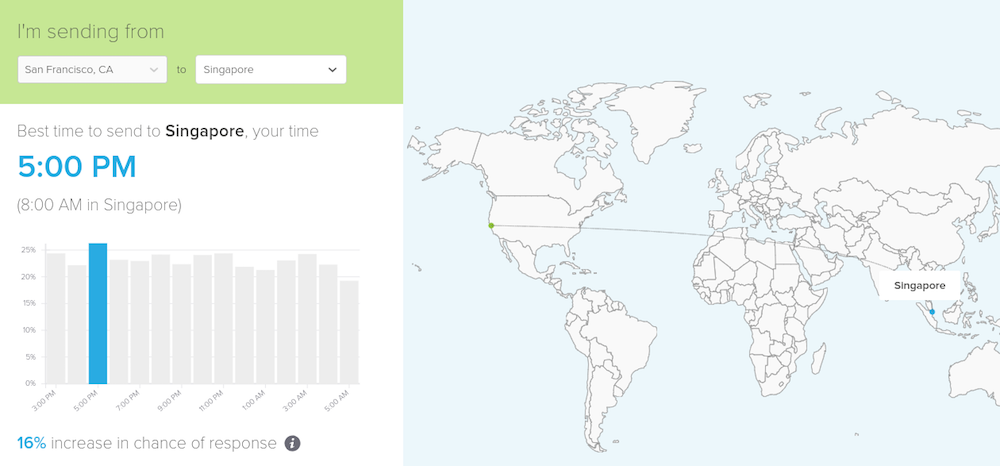 Follow up with a game plan
What are you looking to achieve with your follow up?
If you aren't 100% sure, then your prospect won't be either. And not providing them a clear path to follow is a recipe for a non-conversion.
Ask yourself, what is my ultimate aim from following up with this prospect?
Do you need information? Make that your aim.
Do you want to catch up with a connection? Only aim for that, nothing else.
Want to schedule a meeting? Don't let other fluff distract you from setting a meeting.
Just want to say thanks? That's always polite, but don't ruin it with any sales pitch.
Be prepared to answer the prospective client's hard questions, too. As much as you want to bring the prospect on board as a new client, they need to feel comfortable that you're the right agency for their work.
They will likely ask you:
What experience do you have in our industry?
What tools will you use to reach our marketing goals?
How long will it take for us to see results?
If you aren't prepared to answer these questions, you need to be. (Check out this in-depth guide on how to tackle these roadblocks here.)
Shower them with importance through email
At this point, you've managed to nail down what you're looking to achieve with your follow up, and when to send it. Now, let's look at how to write a follow-up email that is opened and read.
Include their name
Start with the basics. Even though name tokens are not considered true personalization anymore, little tweaks like this in an email can make a massive difference in receiving a reply: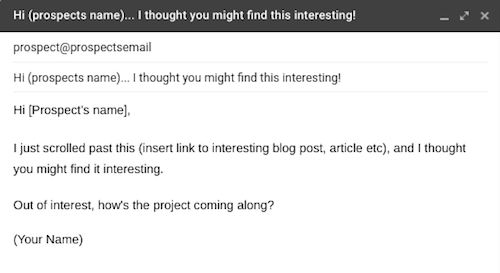 Be warned… When an email doesn't have a personal touch, 52% of customers look elsewhere, so it's worth making the extra effort.
Use a dynamic, compelling subject line
The subject line is the first part your prospects see, so make it count. The data is worth looking at, too.
Thirty-three percent of follow-up emails are opened based on how well their subject line lures a prospect in.
Try using a personal touch here as well and stay away from the overused, "just touching base:"
Hi (Prospect's name) – we met last week at (event, fundraiser, etc.)
(Prospect's name), last time we spoke you were interested in (topic)
Both approaches imply you are "just touching base" but are significantly more relevant to the recipient. See how easy it is to incorporate a catchy subject line with a prospect's name?
Avoid boring email follow-ups
If you're sending a follow-up email to a client after a quote, avoid the cliche "touching base" line. It's boring and makes your email much less enticing to your prospect.
You need to make your prospect want more and be willing to spend time reading your email. Their time is precious, so treat it as such.
Does your company offer a free demo or trial for new customers? Great! Offer it in a follow-up.
If not, what else would your prospect be interested in reading or hearing about? Add value to your follow-ups, not just words.
Don't fill up your prospect's inbox with junk.
Beware: After a while, follow up emails tend to slip into a sinkhole of robotic language and uninspiring templates.
If you are prone to slipping into robot mode, review this cheat sheet: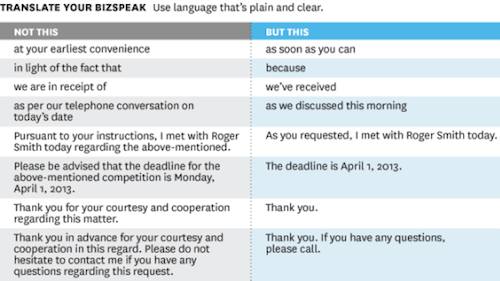 Show genuine interest (that doesn't involve your services)
When was the last time you sent an email to a prospect that wasn't pushing your product or service? Sometimes, sending an email to build a relationship rather than trying to close a deal can work more in your favor.
When you met your prospect, did they mention anything that could be followed up on in a unique, personal way?
Look at this example: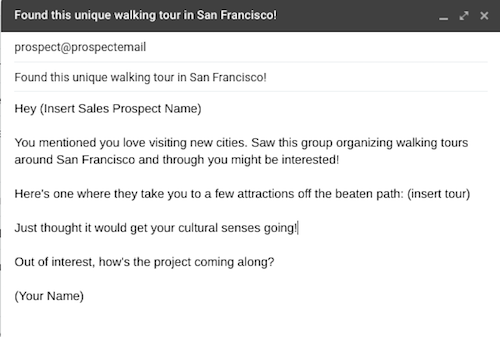 It's not pushy or salesy, but it does show your prospect that you took note of everything they said during your last conversation. Sure, it asks how their project is coming along, but it still doesn't mention what you're selling.
Emails like this can also work by sending your prospect things like helpful blog posts or links to another product they might find value in.
It's not directly linked to a sale on your end. But one thing it's likely to do is spark a conversation, which can open up further communication to help you close a deal.
Include a CTA
Include a call-to-action and make it sure it's the action you most want them to take. For instance, if you want to arrange a meeting, focus on that.
Make sure you write in specific details, like dates and times: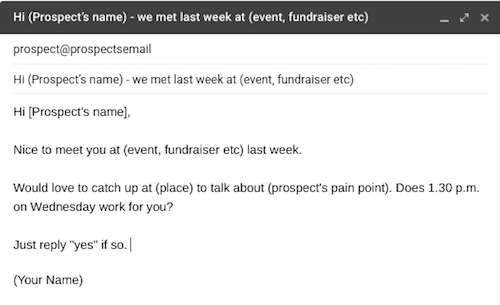 This takes away the decision-making process from your prospect and makes the meeting more desirable because it's effortless for them.
Following up by phone
Following up on the phone doesn't have to give you anxiety, but there are a few important tips to remember:
If after those attempts you still don't hear back — leave it alone. Don't become desperate, know when to stop.
There's a higher chance a follow up on the phone will annoy a prospect. But by reaching out on the phone can work in your favor as well.
Why? There are a few things a prospect always wants to know when you get them on the phone:
58% of prospects want to know your pricing
47% want to know what benefit your agency's services will provide their business
Since you know you're likely going to face with these objections, know the answers before you pick up the phone. That way, they'll be easier to diffuse and you can focus more on the benefits your agency provides.
The old school follow up: A handwritten note
Handwritten notes are not for everyone. But with 38% of marketers claiming prospecting is the hardest part of the sales process, it may be worth trying.
Using handwritten notes to follow up with prospects won't work for everyone, so use it on a case-by-case basis. The best way to do this is to look at your past interactions with your prospect to decide if a handwritten note is the correct move.
Have you met them briefly at a conference? Or have you managed to grow a strong relationship with them? Just make sure whatever you send is authentic and still has an aim for an outcome included.
How prospects actually want you to follow up
There's a difference between what you think a prospect wants in a follow-up and what they actually want.
You may think you're being annoying and intrusive by sending five or six follow-up emails. But on the contrary, if you aren't continuing to follow-up, the prospect might think you can't be bothered putting effort into building a relationship:

When it comes down to it, your prospect wants you to take charge:
Confidently show them that your proposed solution will fix their problem
Take the risk out of their decision (think money-back guarantees, free trials, no locked in contracts)
Show your prospect the next logical step in the decision-making process
Make it clear that you're working with your prospect and that you'll be there with them throughout the process. Most importantly, make it clear that you'll be able to deliver on your promises. That's all they really care about.
Persistence is key
Whether you love it or hate it, persistently following up is the only way to keep them interested and close a deal.
There are lots of ways you can separate yourself from just being another annoying sales rep, too. Make your emails interesting, make them clear, and show your prospect that you're genuinely interested in making them more successful.
When you follow up with prospects, be persistent and be smart. Your bottom line will thank you for it.
Following up with potential clients isn't the only tactic you should be using to grow your agency, though. TTo turn ad clicks into conversions, create dedicated, fast-loading post-click pages for every offer. Sign up for an Instapage Enterprise demo.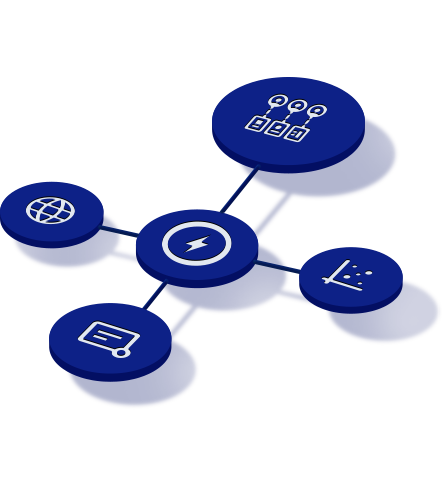 See the Instapage Enterprise Plan in Action.
Demo includes AdMap™, Personalization, AMP,
Global Blocks, heatmaps & more.