One book forever changed advertising. Dr. Robert Cialdini's seminal Influence: The Psychology of Persuasion is a must-read for advertisers interested in using the principle of influence to lift online conversion rates.
So why have digital advertisers found Influence to be so influential? Because conversions are about much more than the quality of a product or service. They're about feelings. And like all decisions, they're entirely based on emotion. So naturally, conversion specialists use emotion to influence decision-making. This post will explain how to use the Principles of influence in marketing to get more conversions while showcasing examples of principles of persuasion.
Let's begin with Robert Ciadini's principles of persuasion:
Reciprocity
Commitment
Social proof
Authority
Liking
Scarcity
Unity
Robert Cialdini's principles of influence

Reciprocity: People dislike feeling indebted
Charity organizations often utilize Cialdini's first principle of persuasion. Give a little something to get something in return. That might be a nickel affixed to a letter or a sheet of labels with your address printed. Either way, you've received a gift from The March of Dimes, and now you're compelled to return the favor by donating. Offering a free white paper, seminar, or another value-add is one way savvy marketers influence consumers to complete purchases by making them feel obligated.
Commitment: People require consistency
Humans need to be viewed as consistent. Top advertisers know this, and they're consistently looking to get a prospect to commit because it increases the likelihood they'll become a committed customer.
It works like this: A prospect signs up for your Pizza Lovers email newsletter. Now they're committed pizza lovers and need to remain consistent. Next, serve up an ad for a slice.
Social Proof: People do what they observe others doing
Have you ever driven by a diner with a line out the door and think that it must be good? That's social proof. This principle is why you see many company logos on landing pages. When consumers see them, they think, "if these brands use this product or trust this company—I should too."
It doesn't have to be logos; star ratings work the same way. A product with thousands of glowing reviews is bursting with social proof. Mention them near a CTA for real impact. To that point, Pipedrive is a CRM company that uses influencers as social proof: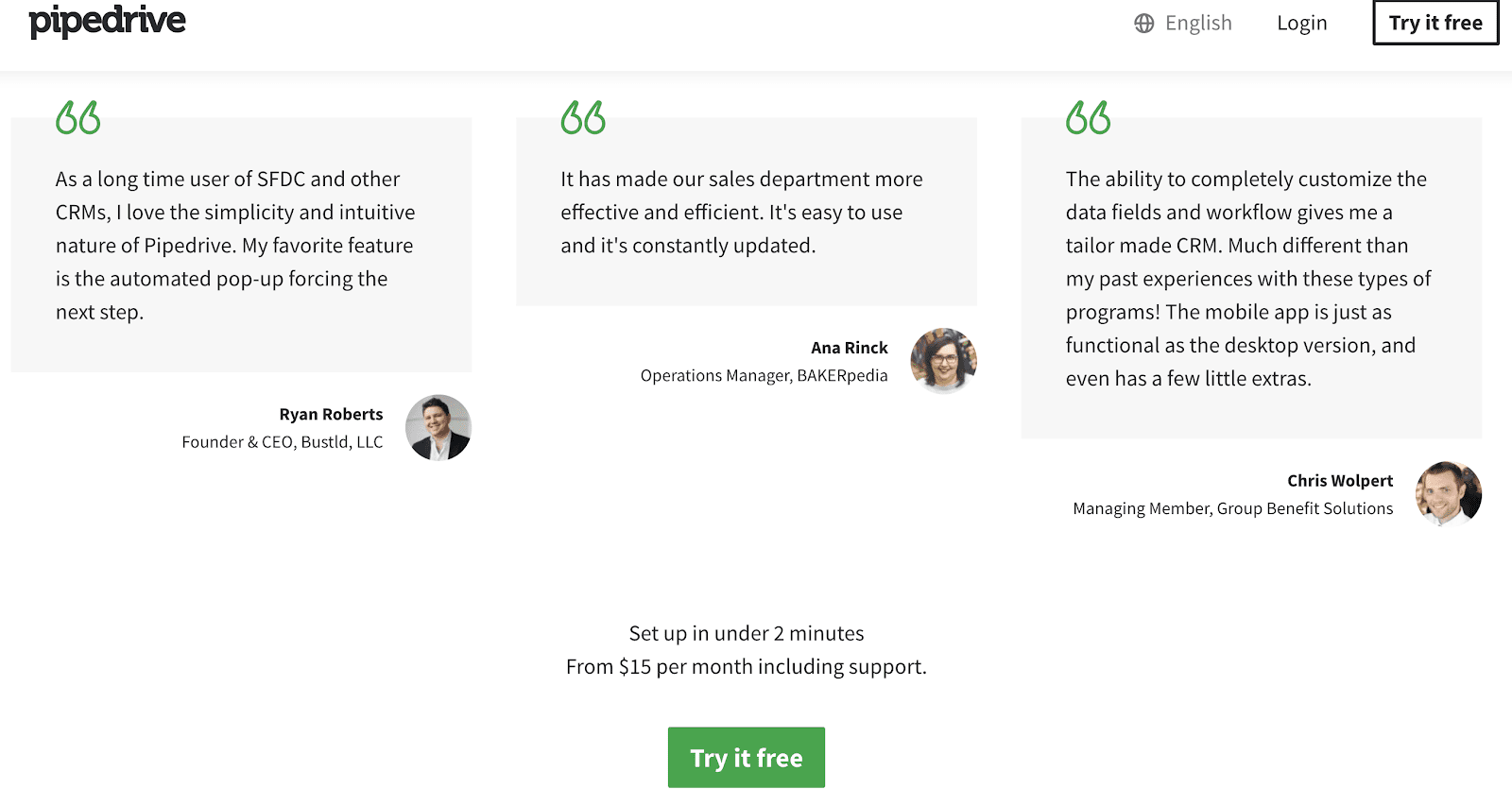 Authority: People trust authority
Those in a position of authority are inherently persuasive. Why? Because people can't help but trust others with higher status, greater wealth, or in uniform. If consumers trust a brand, they're more likely to convert. That's why high-converting landing pages include authority badges. Notable examples include the BBB, VeriSign, and MacAfee. Salesforce demonstrates by example: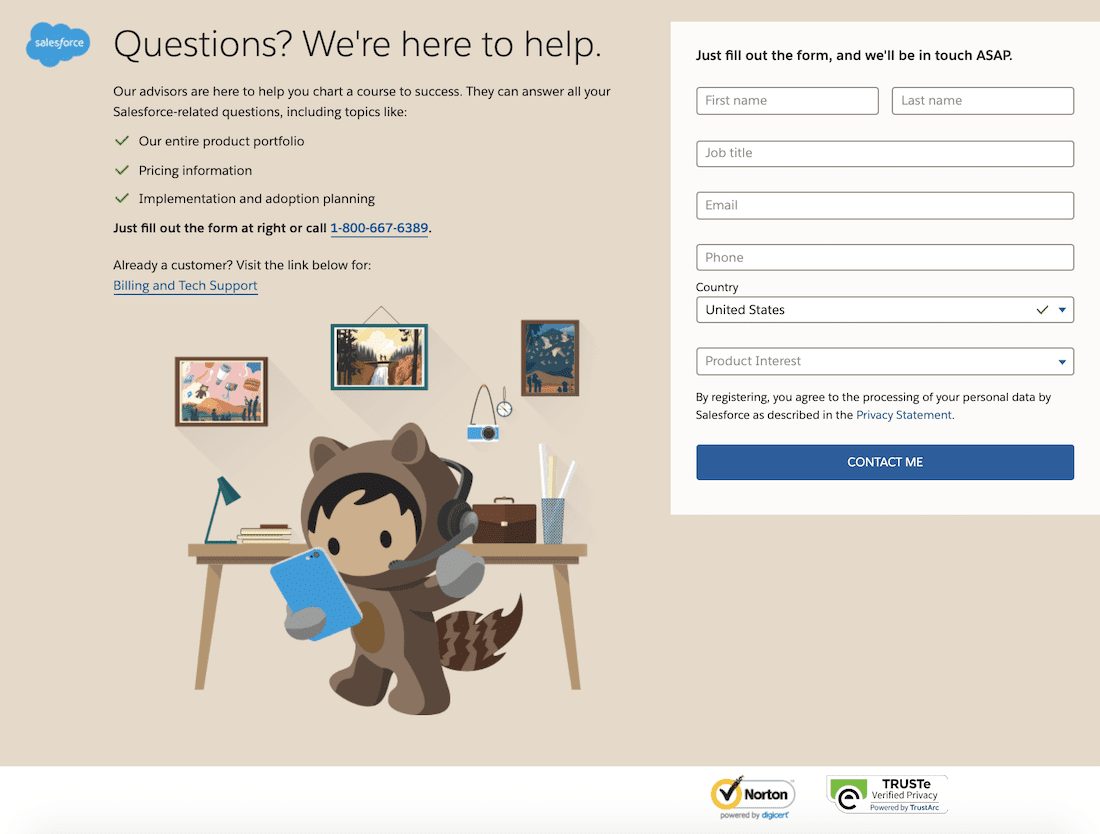 High-converting pages may also feature testimonials or quotes from highly regarded individuals. This is especially true for DTC advertising where online sales are paramount.
Liking: People prefer similarities
People are more likely to comply with requests made by someone they like. That's why they ask close friends rather than acquaintances to help move. It's also why mentions from social influencers and celebrity endorsements work well, not to mention word-of-mouth recommendations.
Advertisers in the know take time to get to know their customers. The more they can imitate them, the more influence they'll wield. To nail copy that sounds like a customer, poach a few well-written lines from positive reviews.
Scarcity: Less quantity equals more demand
When people believe something is in short supply, they want it more. Short supply signals demand. That's why smart marketers use scarcity on landing pages. You've seen this technique many times. "Hurry, only 2 left" is a prime example. Upping urgency, as in—"act now, offer ends at midnight," increases scarcity.
Unity: Us and them
Humans are social—we need to be part of a group, community, or family. The unity principle, which Cialdini penned a few years ago, concerns this desire for shared identities. They're about relationships and bonds. You have a strong bond with your best friend, that's the main reason you trust their judgment. Brands can boost conversions by communicating with their audience like they're family.
Warren Buffett once relayed to Berkshire Hathaway shareholders:
I will tell you what I would say to my family today if they asked me about Berkshire's future.
Speak to an audience similarly, and they'll be primed to click your CTA.
How to use Cialdini's influence principles in marketing
For more than three decades, marketers and advertisers have relied on Cialdini's principles of influence to guide behavior successfully. Appropriately used these popular concepts will continue driving conversions for years to come.
Put the principles to use on your landing pages to start increasing conversions.
Don't know where to start? Start with Instapage.
When you sign up for Instapage, you get access to the most powerful way to create, personalize, and optimize landing pages at scale. Sign up for the demo here.