The buyer's journey is more complex than ever and the most successful digital marketers understand they can't rely on traditional pre-click strategies to show positive ROI. Things like PPC headlines and a compelling display ad image might get people to click-through your ad, but then what? Those only address one half of the conversion equation.
Pre-click strategies are no longer enough
For digital marketers, ROI isn't driven by the advertisement itself. Revenue is typically produced when someone clicks through to the page following the ad to fulfill the conversion goal. Yet, marketers continue to spend much of their optimization efforts on the pre-click stage, using techniques like:
Email segmentation and subject line tests
Ad copy adjustments
Search ad extensions
Personalization with behavioral retargeting technology
For example:
Changing your email subject line from "Here's a great deal" to "Save 50% and get free shipping today only!" would likely improve open rates
Adding search ad extensions with location details, calls-to-action, contact information, and specific website pages may increase ad click-through rates
Testing a more vibrant Facebook ad image would probably encourage more post engagement
Now for some optimized pre-click strategy examples…
Pre-click optimization examples
This South Beach email ad has a compelling subject line that's sure to boost open rates. It presents specific savings details (40% off), a sense of urgency (order today), and a distinct CTA (shop now):

The expanded ad is also ripe for conversion: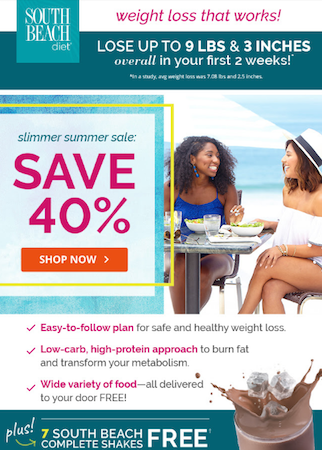 The attention-grabbing headline includes specific benefits to the South Beach diet.
The 40% promotion is the largest, most noticeable element in the email.
The CTA button is contrasting and contains an arrow — both great visual cues.
The image is relevant, bright, and engaging — sure to evoke an emotional reaction.
Bulleted, bold, colored copy makes the email easy to scan and learn the key benefits.
The downside to South Beach's campaign is that it doesn't lead to a post-click landing page optimized for conversion generation.
The same is true for this Hewlett Packard Enterprise display ad campaign. The ad itself features optimized pre-click elements:

A company logo so users immediately know who the offer is from.
A headline and subheadline indicating exactly what the offer is for.
An attractive image to capture users' attention.
Although, again, instead of being brought to a dedicated post-click landing page with only one clear conversion goal, prospects are directed to this web page with many distractions.
PPC search ads often include compelling headlines and sitelink extensions like this one from Taboola:

The headline is precise and persuasive, telling prospects how they can benefit.
The display URL is fully optimized with a subdomain and pathfield.
Two sitelink extensions provide additional information and website locations.
Pre-click strategies may help improve pre-click metrics, but they don't close the deal and persuade people to convert. To avoid discrepancy between click-through rate and conversion rate, you can't neglect the post-click stage.
Post-click marketing is just as important for campaign optimization
Post-click optimization ensures that the email or ad click results in a conversion by directing visitors to a message matched post-click landing page that meets the needs of the prospect. Since the conversion happens on the post-click landing page, there must be a seamless transition from ad to post-click landing page with every campaign.
By optimizing both the pre- and post-click optimization stages, marketers have achieved over 6x the conversion rate. In fact, the average post-click landing page conversion rate achieved by Instapage customers using a post-click optimization strategy is 22%, while the industry average is only 3%: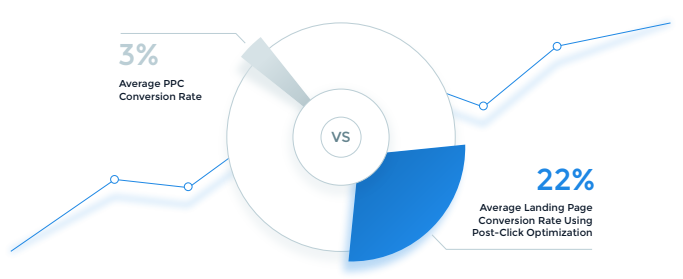 The post click conversion stage deserves more attention
The purpose of post-click optimization is to convert ad and email clicks into leads and sales. But while pre click strategies and software are abundant, tools for post-click optimization aren't as prevalent. The other half of the conversion equation requires attention.
See why the post-click stage is the missing piece in your buyers' journey, sign up for an Instapage Enterprise demo here.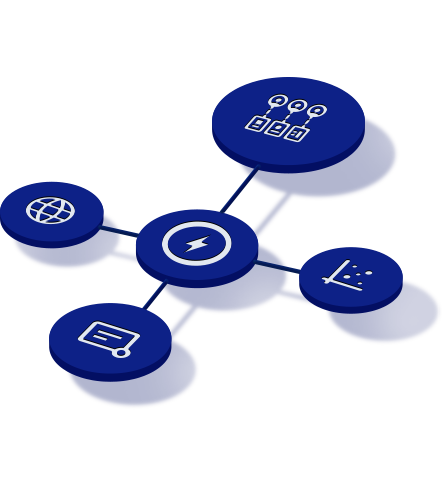 See the Instapage Enterprise Plan in Action.
Demo includes AdMap™, Personalization, AMP,
Global Blocks, heatmaps & more.