Post-Click Automation (PCA) software comes with countless benefits. And when you're on the receiving end of those benefits, it's easy to feel like a new tool is justified.
But the purchase of B2B software cannot be done without buy-in from management. So, what are the benefits to designers, and how do they translate to the rest of the organization? Here are some helpful arguments, depending on your role in the post-click design process:
PPC Managers
On networks like Google, Bing, Yahoo, Facebook, LinkedIn, and beyond, PPC managers are responsible for running and maintaining paid campaigns. This starts with in-depth keyword research that will uncover the many ways people search for your product or service. It will also involve strategic bidding, reporting, and creative collaboration to build effective ads and post-click pages. Currently, though, PPC managers run into some obstacles to success:
Staying organized: Many keywords means many campaigns. And that means lots of ads and landing pages. With many PPC managers still using spreadsheets to map ads to landing pages manually, organizing to ensure effective message match can quickly become overwhelming.
Tracking impactful data: Improving campaigns requires a strong understanding of incoming data. And when the buyer's journey is more complex and convoluted than ever, it's highly difficult to track meaningful metrics across touchpoints and to make sense of them for future optimizations.
Personalizing the entire campaign: In the age of 1:1 personalization, it's not just ads that require narrow targeting and high relevance, it's their corresponding post-click landing page, too. A PPC manager benefits from high-powered tools like the Facebook Ads Manager and the Google Ads Manager, but for targeting in the post-click, there are no equivalent solutions.
Benefits to pitch management = Better personalization and attribution
Considering these problems, PPC managers can pitch PCA to their supervisors by emphasizing features like AdMap™, which allows you to integrate your Google Ads Account to automatically match the ads to specific landing pages. This way, every ad can be easily tracked from the ad through the landing page.
Assisting with the problem of matching each ad to a post-click experience is a Personalization Solution. With a UTM parameter generator, this feature allows PPC managers to match the relevance of their ad to a post-click page by filtering people to a page only if they match the set parameters: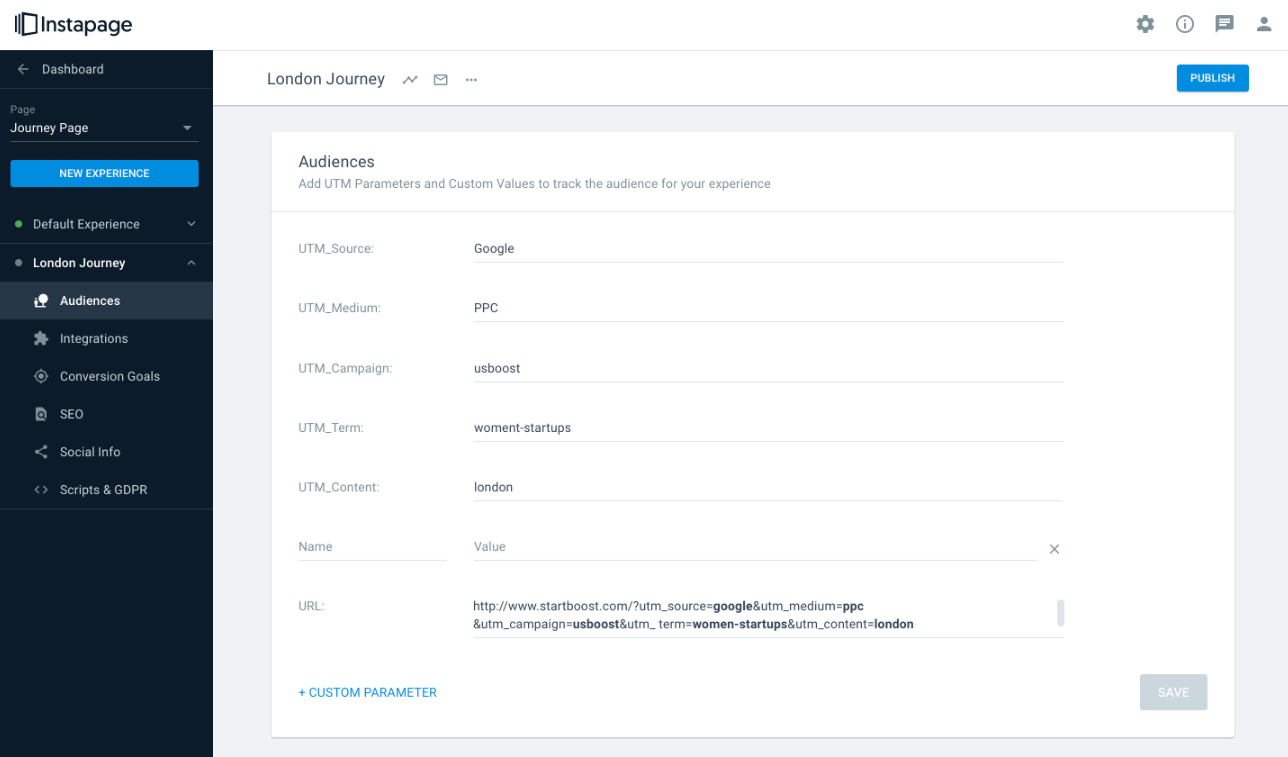 To analyze their campaigns, PPC managers can highlight a robust dashboard that will offer insight into standard KPIs as well as determine the effectiveness of post-click experiences using a proprietary algorithm. Known as Postclick Score, this score is the percentage of unique experiences you have, compared to the quantity of ad groups + ads you have. Over time, this algorithm will become smarter by analyzing impact (spend, clicks, conversion rate) and more: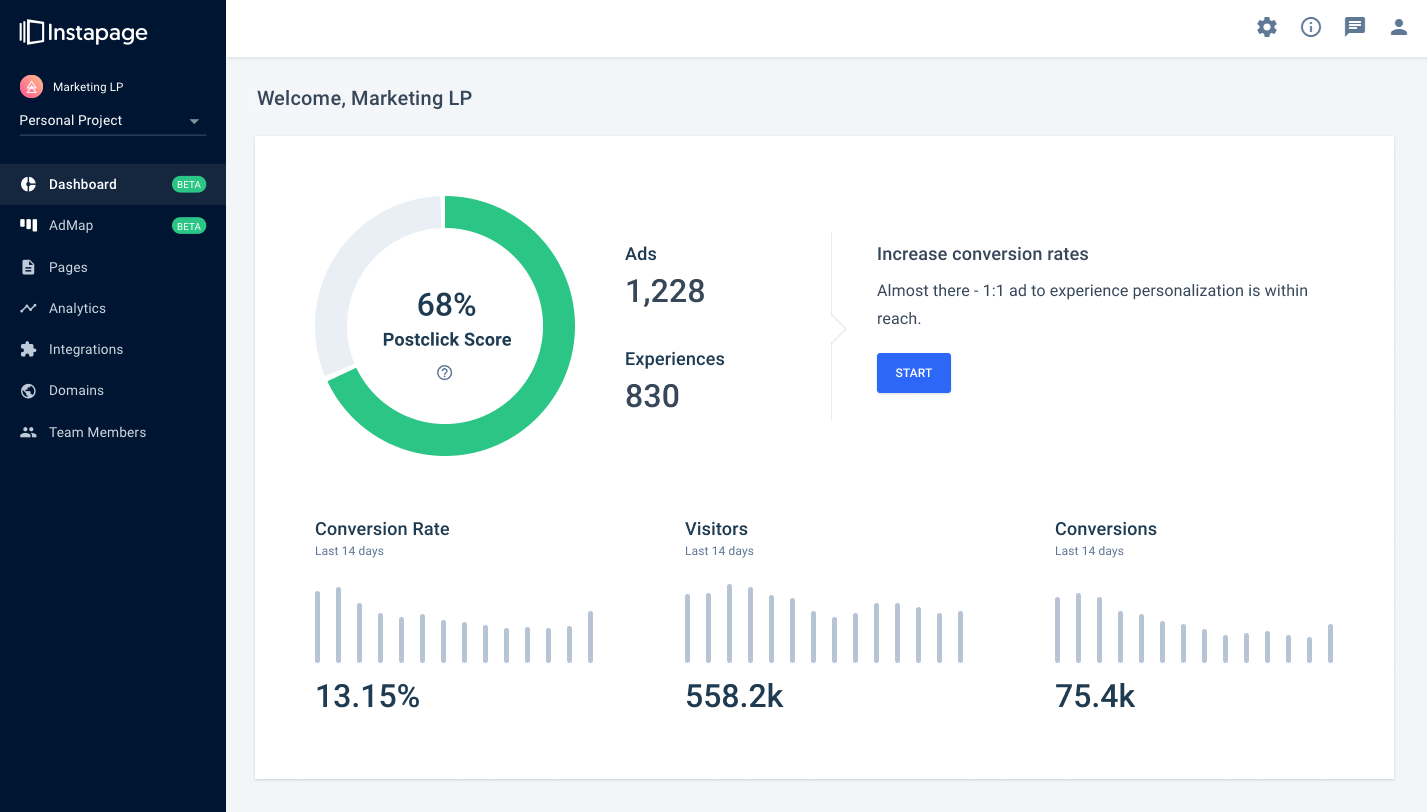 Together, these analytics provide PPC managers with the data they need to make key decisions about campaigns. Ideas for optimization, bidding strategies, and budgetary changes all start with data.
Copywriters
When persuading a visitor to click and convert, no role is more important than the copywriter's. With input from designers and PPC managers, the copywriter forms the message of each ad and landing page by speaking the language of the consumer in the tone of the brand. But this process comes with its own set of problems:
Inability to see what they're creating: The traditional way of designing is slow. And, while you may not consider copy part of a design, the way text appears among the rest of a page's elements can greatly impact the way it's consumed. It can also greatly impact the way it's written.Too often, though, copywriters write without seeing how their copy will be laid out. If each ad and landing page isn't mocked up before the writer begins writing, it can result in an awkwardly long headline or a strangely short block of text. Or, even worse, instructions that don't make sense, like, "Fill out the form to learn more," when the designers have stripped the page of its form.
Lack of technical skills: Most copywriters are pure writers. They can write persuasive content, but when arranging that content on a page, they lack the technical skills needed to do it all from scratch.
Having to copy and paste content repeatedly: Most landing page builders come with WYSIWYG builders to make design easier. Even though this streamlines creation, making design possible for copywriters, it does not have an answer for the writer who has to make several pages with similar or identical copy. That situation calls for a repeated copy and paste job that can go on for hours considering the vast number of pages 1:1 campaign personalization requires.
Benefits to pitch management = Frees designers and ensures message accuracy
Copywriters can get approval from management in two ways:
By highlighting the accuracy with which they'll be able to create their message. If you're actually writing on the page you're writing for, the content will be that much more accurate, filling every design space and cooperating with existing content.
You free designers and developers to work on more important projects with the ability to add your own copy. And that process won't involve tedious copying and pasting. Instablocks™ — a tool that allows users to save elements to implant on pages later — will ensure that you only have create each block of text once.
Demand Gen Managers
Demand gen managers own the top of the funnel. And what every business at the top of the funnel needs is quality leads. To generate enough leads to fill the funnel requires a massive effort from the entire team: PPC, design, writing, and development. It's the Demand Generation Manager's job to ensure this team comes together to bring in the leads needed to satisfy bottom-funnel goals. Some of their challenges include:
Scaling to fill the funnel: Not only does every top-of-funnel offer need its own landing page, but every audience does, too. That means the number of pages required to maximize input at the beginning of the buyer's journey can add up to tens, even hundreds, very quickly.
Managing the team: Meeting project deadlines is difficult when you're responsible for coordinating at least three or four other team members. Schedules rarely align to meet for feedback, and marked-up documents attached to email chains are too messy and difficult to implement.
Benefits to pitch management = More leads, fewer missed deadlines
The widespread coordination it takes to run a demand generation program costs far more resources than it should in the average business — even in an agile atmosphere. Meetings, no matter how quick, can interrupt production; email chains, no matter how short, can cause disorganization.
With a true PCA platform, though, demand gen managers can rely on a Collaboration Solution to leave and collect design feedback in a streamlined fashion. It enables every team member to work on the same page design at their own pace. They can leave comments on design elements, respond, edit — and with permission settings, a demand gen manager can ensure that stakeholders don't overstep their role: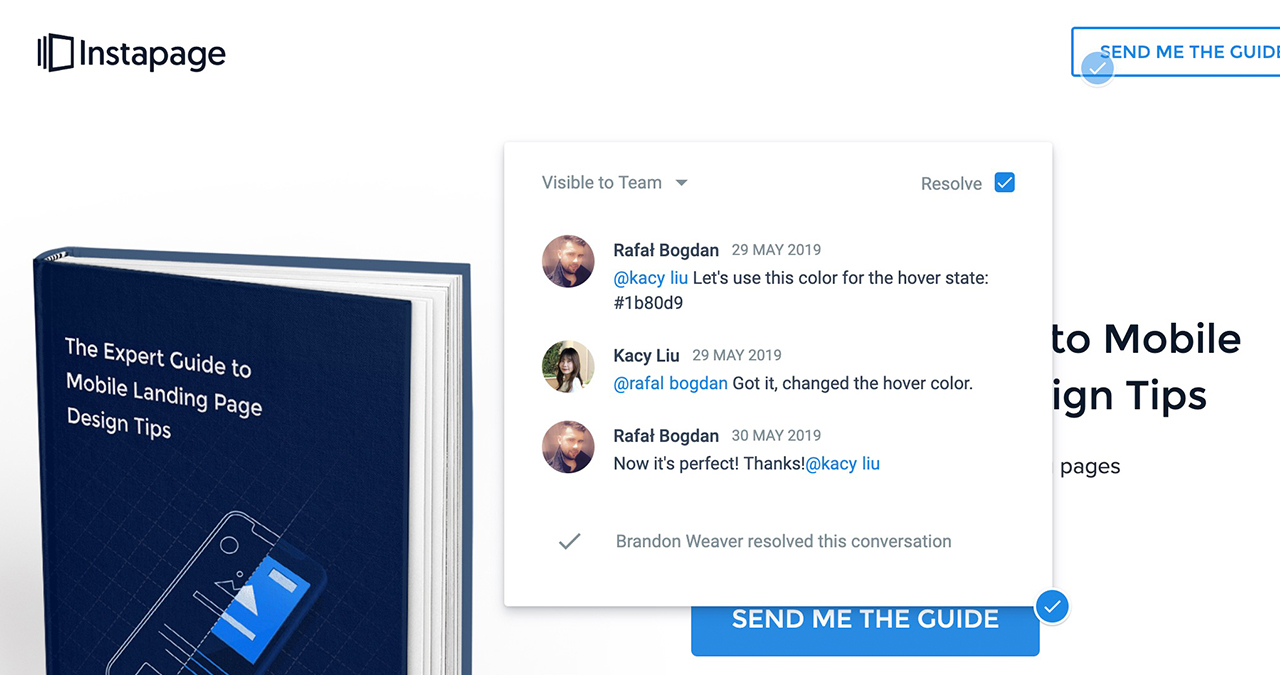 There's no better tool for demand gen managers when it comes to meeting design deadlines without wasteful meetings or cluttered emails.
Designers
Designers are responsible for a campaign's overall look and aspects of its usability. They ensure that images, videos, copy, colors — all the elements created by other members of the team — come together to form a cohesive ad campaign that guides visitors to conversion. This includes creating multiple versions of ads and pages for A/B testing, and improving upon elements throughout the campaign.
Shipping to developers: The old method of wireframing and shipping to developers to complete a design takes too long.
Designing with templates: Most landing page design tools come with templates, which speed the design process, but they're too inflexible to customize fully.
Editing multiple pages: When mass edits are needed across a campaign (optimization, for instance), or multiple campaigns (a rebranding for example), editing takes too long, even with a builder.
Creating with builders: Landing page builders are more intuitive than ever. However, this ease of use comes at the expense of professional grade design capabilities.
Benefits to pitch management = Professional design in a fraction of the time
For designers, PCA offers the ability to create pages quickly without sacrificing quality. First, an intuitive builder and conversion-ready templates take the pressure off, allowing other team members to add their own content without the need of a wireframe. Once this initial design is in place, designers can fine-tune with the help of pixel-perfect capabilities like axis lock, edge measurement, and mobile alignment, to give every page a finish that exudes professionalism and trustworthiness: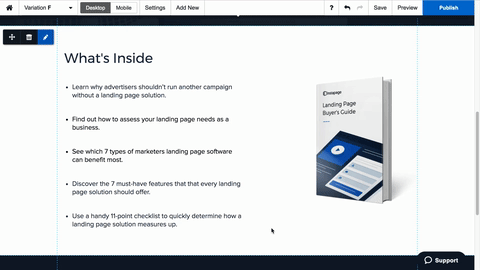 When the time comes to make design improvements to groups of pages, designers won't find themselves tediously editing one at a time. Like Instablocks allows users to save an element to insert into a later design,
Global Blocks
allows users to save elements and import them into
groups of pages,
making any kind of widespread editing a snap.
Developers
Post-click pages are works of art. They have to look good, but they have to work well, too. Ensuring they do is up to developers, who spend their time sorting the nuts and bolts of web pages, minimizing errors, and maximizing their connectivity to other systems.
When users convert, it's developers ensuring they're passed to the next stage of the funnel. When they don't convert, it's developers ensuring they get retargeted on their favorite platforms. On top of quality assurance, developers often work to maintain A/B tests, which return important data for improving campaigns. As you can imagine, this work behind the scenes can come with some major complications:
Taking requests from designers: Developers can't only focus on page creation for designers. If they were to design each landing page needed to create 1:1 personalization throughout every campaign, they'd never have time for anything else. It's not sustainable.
Uncovering technical issues: When something on a page goes wrong, the process of determining what the issue is and how it occurred is a problem that plagues support staff everywhere.
Integrating tools is imperfect: Picking tools that work with each other the way you need them to is still not a perfect process. It's not just your A/B testing tool. Ensuring there are no issues between your landing page creator, your ads manager, CRM, heat map tool, and more, is another major unseen job developers
Benefits to pitch management = More bandwidth for other projects
For developers, the benefits of PCA are less about what it enables them to do, and more about what it frees them from doing. With post-click automation, developers aren't responsible for translating wireframes to live pages anymore. If you can use a mouse and keyboard, you can design a page. Which means any member of your team can build, edit, and publish.
Of course, you might assume that with more non-designers designing your page, the potential for more errors on the back end is higher. And resolving those errors still falls on developers. However, the builder ensures that every front-end edit is translated accurately to the back end of the post-click page. Automating this process means less fumbling around the back-end, which can actually reduce the number of errors made in the design process. And on the rare occasion there is an error to be resolved, a detailed audit log helps developers determine when and why it happened so it doesn't happen again: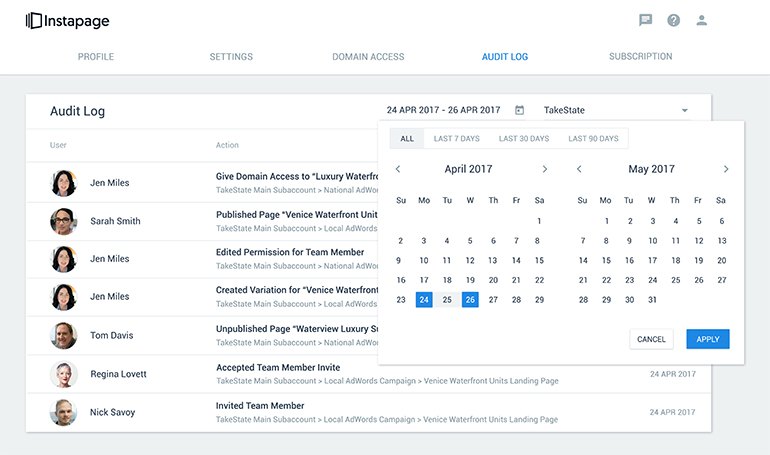 On top of QA, another part of campaign management that routinely falls on developers is the setup and maintenance of A/B tests. Normally, the process requires dedicated software to run, making yet more work of integration and maintenance in a growing marketing stack. With complete PCA solutions, though, the tool comes built-in, and starting the process takes only a few clicks.
Get the best PCA solution for your team
Today's consumers demand meaningful personalization that can't be found in the average campaign. To achieve a level of valuable relevance, you have to treat landing pages like you would ads: If you wouldn't run the same ad for different audiences, you shouldn't use the same landing page for different audiences, either. If you test and optimize ads, you should test and optimize landing pages, too. The only way this is possible is with post-click automation.
To learn more about what PCA, get an Instapage Enterprise Demo here.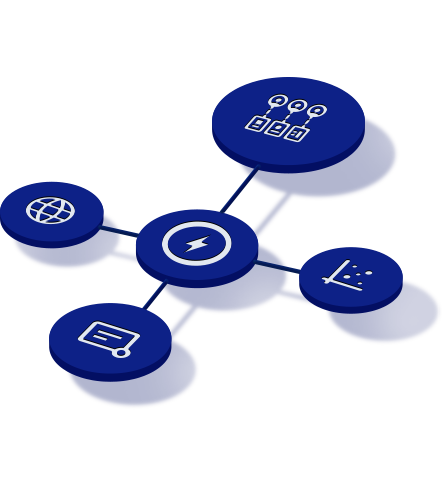 See the Instapage Enterprise Plan in Action.
Demo includes AdMap™, Personalization, AMP,
Global Blocks, heatmaps & more.