Pinterest has long sought to position itself among promoters as a practical elective to other well-established social media platforms like Facebook, Instagram, and Twitter. Over the past year, Pinterest is well on its way to achieving this.
From 2015 to 2016, Pinterest grew from 100 million monthly users to 150 million monthly users. All of these users are now conducting searches, saving and repinning pins, and being introduced to new brands.
Although other social media giants still have Pinterest beat in total monthly users, Pinterest users are 47% more likely to be introduced to new brands than users on other social platforms.
That statistic alone should be enough to convince you to advertise on Pinterest. If not, hopefully the rest of this article will do the trick.
What is Pinterest advertising?
Pinterest advertising is a pay-for-placement system that now allows brands to reach the over 200 million monthly users on Pinterest today. Pinterest ads contain an image, caption, and link, and are displayed in users' home feeds, like this: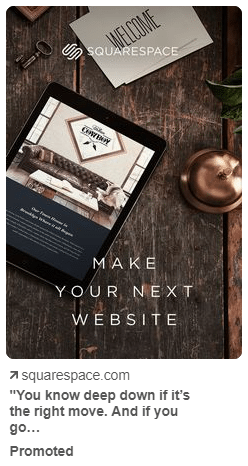 Why advertise on Pinterest?
Pinterest operates differently than other popular social media platforms. Many people don't use the network for broadcasting content to their followers — they use it to save valuable ideas, products, and content for a later time. Since many consumers save products to go back and purchase them later, Pinterest is the perfect tool for businesses selling products or content. In fact, 93% of users plan purchases with Pinterest, and 87% actually make a purchase because of something they saw on the platform.
Another major difference between Pinterest and other social networks is the way content is displayed. On Pinterest, users can view pins in a variety of ways:
By visiting your profile
By searching for a relevant keyword
In relevant categories
On their home feed if they follow you or if your pins are relevant to their interests
What's also unique about Pinterest is that when someone saves a Promoted Pin, other people see it in their feeds as well, which naturally encourages increased engagement and drives additional sales. And, although paid ad campaigns end, the Pins themselves last forever, so your ads will never stop appearing in front of users. Advertisers actually receive an average of 20% more clicks in the month after launching a Promoted Pin campaign.
Pinterest advertising best practices
Consider your target audience
One way to target your audience when it comes to Pinterest advertising is demographics — characteristics like location, gender, language, and device.
Another is to choose relevant keywords, as this will determine what searches your pin appears in. Although Pinterest allows up to 150 keywords per Promoted Pin, they recommend only using 20-30 keywords. It's also important to select a wide variety of keywords — some specific, some more general — to provide increased diversity and visibility.
A third method is to select different interests, which will help your Pinterest ad reach specific audiences while they're browsing and in their home feeds. Since users see Promoted Pins based on what they've saved, liked, or followed, they receive a highly personalized advertising experience.
Actalike Audiences
Pinterest also offers Actalike audience targeting, which is similar to Facebook's Lookalike feature and Google's Similar feature. A major difference, though, is that Actalike only requires an audience size of 100 users to create the audience, while Facebook and Google require much larger audiences. Also, with layering and variance of 1% to 10%, your Actalike audience closely resembles your pre-existing audience list, with similar engagement activity. This allows for personalized targeting of new, niche audiences.
Optimize your image
To optimize your ad image, there are several best practices to follow.
Only high-resolution, non-pixelated images (like the one on the left) should be used to convey your idea, product, service, or content to your audience. Since Pinterest is an image-focused platform, relying on low-quality, blurry images (like the one on the right) is likely to derail your campaign: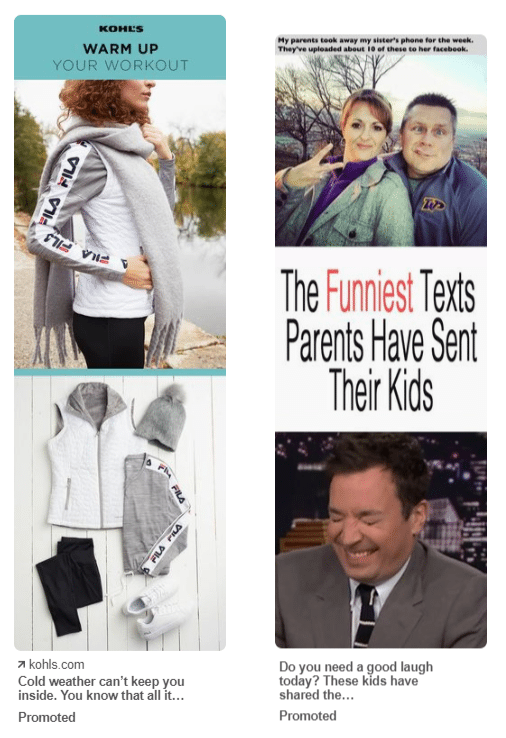 Creating your Pinterest ad to be taller than it is wide can help it stand out and attract more attention and engagement in users' newsfeeds. Take a look at the image below. The tall, pink Wonderbly pin captures your attention first, doesn't it?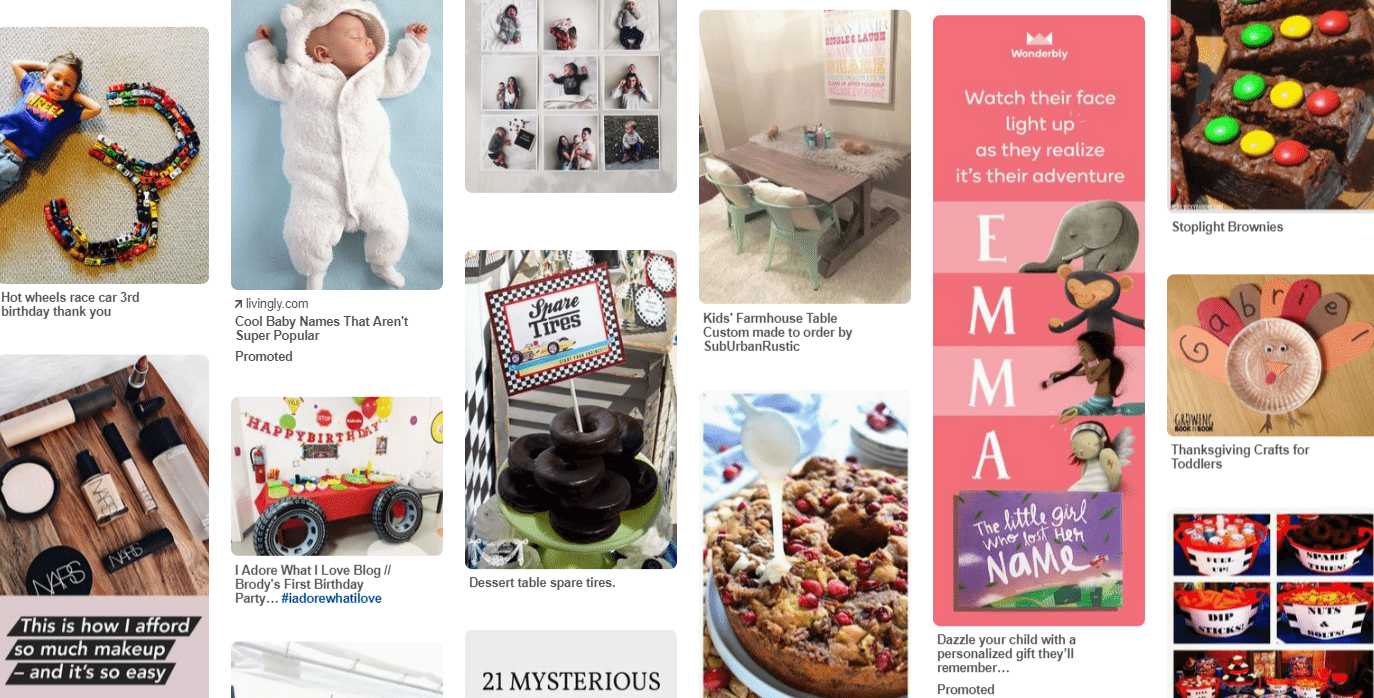 It's important to recognize that Pinterest scales all images to a width of 235 pixels when small, to a width of 736 pixels when clicked and expanded — so the ideal aspect ratio for your Pinterest ad is 1:3:5.
Use rich pins
By adding more dynamic context to your Pinterest ad, rich pins automatically increase traffic to your website or post-click landing page. Not only that, they also sync with your site to provide Pinterest users with the most accurate information. For example, if you're promoting a product and that product goes on sale on your website, the new price is reflected in the pin as well.
There are six types of rich pins for businesses to choose from:
Product pins, which include pricing, availability, and purchasing details.
Recipe Pins, which display required ingredients, serving information, and cooking times.
Article Pins, which feature an article title, description, date of publication, and author.
Place pins, which include a map, address, and phone number (ideal for local businesses).

Movie pins, which display ratings, prominent actors' names, and reviews.

App pins, which feature install buttons (currently available to iOS apps only).
Made.com, a company that strives to make unique, well-designed home decor affordable and accessible to everyone, is a great example of a brand who benefited from using rich pins. In just a few months, they experienced:
36% increase in website traffic
51% increase in conversions
106% increase in transactions
173% increase in revenue
Post at the right time
Just like other social media platforms, posting to Pinterest at peak times will allow more users to see, click, and repin your pins.
According to CoSchedule, the best times to post to Pinterest are:
Saturdays 8-11pm
Fridays at 3pm
Daily 8–11pm, with a 9pm peak time
Daily 2-4am and pm
Daily 1-3pm
It's also important to space your content out. As a general rule, only post one Pinterest ad per hour. This is because only one pin per hour per user will show up in a certain category.
Choose your CTA wisely
No matter what you're advertising — and no matter what platform you're advertising on — it's essential to include a call-to-action to encourage your audience to take the next step. By simply adding "Sign up", "Learn more", or "Visit site" to your Pinterest ad, you can inspire users to take action. By doing so you can increase conversions by up to 80%!
To demonstrate, here's a Promoted Pin that uses a text overlay on the image to convey a CTA:

Link to a post-click landing page
To make the most of your Pinterest ads, always create a Pinterest post-click landing page to direct all of your traffic to. This type of dedicated page is the best place for users to "land" after clicking your pin, and will significantly help convert prospects into leads because it's free of distractions (e.g. header navigation, social icons, etc.).
Since Pinterest is a visual-based platform, it's critical to make your Pinterest post-click landing page visually appealing. Of course, it should also include persuasive elements, such as engaging images, convincing testimonials, and compelling copy.
The new Pinterest Taste Graph
Previously, Pinterest's targeted advertising list only had 400 different interests for businesses to choose from. In September 2017, it announced a new remarkable digital marketing personalization technology: The Pinterest Taste Graph.
By tracking and understanding Pinners' evolving interests, tastes, and preferences, the Pinterest Taste Graph offers an expansive collection of 5,000 interests and categories in the Pinterest Ads Manager. This allows advertisers to reach more specific, niche, obscure audiences. The more Pinners search, save, and click, the more refined the targeting (because Pinterest can more easily suggest new categories and interests), and the more accurate the data.
Pinterest product manager, John Milinovich, explains the new technology:
The Taste Graph is Pinterest's core data asset. It's how we actually connect these 200 million people with 100 billion-plus ideas on Pinterest by actually modeling how the world's tastes and interests evolve over time.
Milinovich says this kind of niche targeting will provide advertisers with more options, and therefore allow businesses to create better-performing, cheaper ads.
Since the new technology launched, many advertisers have already seen up to 50% increases in their click-through rates, and up to 20% decreases in their pay-per-click rates.
Nordstrom has reported positive results with the interest-targeting campaigns they've run on Pinterest. A representative from the company confirmed, "Across three of our most important categories—fashion, beauty, and wedding—we're seeing robust customer engagement. We anticipate utilizing the new interests across our 2018 Pinterest campaigns."
STAINMASTER is another company that has seen success with Pinterest's targeting technology. Joniece D. Hinds, Media Marketing Manager for Georgia-Pacific, explains:
In a recent Pinterest search campaign targeting the carpet care category, 90% of traffic to our website came from new customers. We reached people who hadn't visited STAINMASTER's page in the past, driving incremental awareness. For the same campaign, we also saw a 90% lower cost per click than traditional search.
Drive more traffic with Pinterest ads
Pinterest advertising can be a very effective way to increase brand awareness and engagement, drive traffic, and boost sales. Now, with interest-targeting powered by the Pinterest Taste Graph, you'll witness more of this than ever before — especially from new customers.
Your Pinterest ad isn't the end of the road, though, because setting up a post-click landing page for prospects to visit after clicking your ad is just as important to your campaign success.
Optimize your users' post-click landing page and start creating fully optimized Pinterest post-click landing pages with Instapage. With our designer-friendly platform, you'll enjoy 100% customization and the ability to scale your post-click landing page production fast with personalized pages.