Every business owner wants to maximize conversions, and social media advertising is one of the most effective ways to improve customer penetration. When looking to social media, video plays an essential role.
But while video is the future of social media, it's not a magic wand. A video alone won't guarantee that your customer engages with your clip. But you can improve your CTR by making sure that your video campaign speaks directly to your customer; offering quality post-click landing pages that they're likely to remember.
In today's article, we explore the possibilities of personalized video marketing so that you can create content guaranteed to enhance the post-click landing page.
Why video content works
It's been proven time and time again: people respond more readily to video content than static images. And, surprisingly, there are more engagements with video content through Facebook than through YouTube.
It sounds crazy, but the stats don't lie.
In 2017, Quintly discovered that YouTube videos get fewer interactions than video shared on Facebook.
Think about it:
You find a video (probably from YouTube or Vimeo)
You share it on your Facebook feed
Your friend comments: it starts a conversation.
Another friend shares the video. It starts a new conversation.
Repeat till fade.
Before you know it, the YouTube video has thousands of hits — but not natively through YouTube.
Facebook has a broader social reach than YouTube. So Facebook is a paid advertising platform that you probably can't afford to dismiss: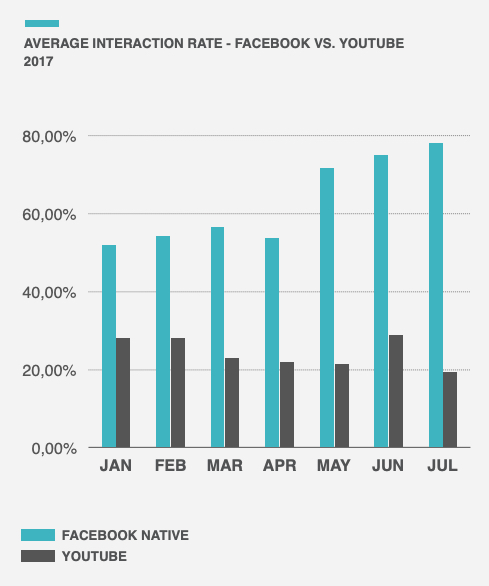 The importance of keeping personalized video marketing original
Anyone with a Facebook account is familiar with personalized video: those cute videos that pop up when you log in, celebrating six years of friendship. Or those birthday clips that you share with friends.
Each video comprises a tantalizing combination of personal data all crammed into a fun, 30-second video:
Photos (or photos from friends)
Content from individual posts
Comments and interactions from friends and their extended network
But do you still watch them? Sure, you probably watch the occasional one or two, but do you watch all of them?
Keeping things fresh and unpredictable is imperative in personalization. Originality is the key.
Are CRM systems enough?
You probably own a fair amount of data about your customers and prospects in your CRM system already. You're likely to know their:
Name
Date of Birth
Address
Credit reference data
Interaction history with your website
Loyalty status
Customer Service data
Contract information
Purchasing history
And that data might help you create a personalized, targeted video campaign. But do you understand the behaviors of your customers and prospects? Until now, understanding how a person is likely to respond to a given stimulus has been a matter of talented guesswork.
Your CRM system probably holds useful information, but is it winning information?
Data doesn't always tell the full story
All the data held by your CRM is not always enough to provide everything you need to know about a target.
Digital marketers make assumptions about somebody's buying power from data like a postal code. We might know that they live in an affluent area, and they might drive a mid-range car, and they might work for the civil service.
But what about the gaps in the data?
The stuff that tells us that that same person inherited that home and bought that car in an auction? That it's always breaking down, and they can't afford to repair it?
Suddenly the raw data profile begins to belie the reality. And so, our marketing strategy falls down.
This isn't to say that CRM data can't be useful for targeting strategic post-click landing pages that help maximize your conversion rate. But you only really know about the information that the person has willingly surrendered.
Facebook is always learning about you
Facebook has become the significant player in paid social advertising simply because users are continually surrendering their preference data:
You Like a post: Facebook learns something about you.
You Love a post: Facebook learns something about you.
You find a post funny by clicking the animated HaHa icon: Facebook learns something about you.
Facebook observes what we do when we're not posting about ourselves. It watches our every interaction. And it's those interactions that are most valuable to the digital marketer because it's behaviors that tell us who someone is.
Facebook users inadvertently create a marketing profile through their interactions with the platform. And the amount of data generated is growing every year considering 90% of the data around the world was generated over the last two years.
How Facebook understands behaviors
We surrender our preferences every single time we interact with Facebook. We create digital versions of ourselves through social media platforms, but Facebook has probably the most comprehensive digital umbra of our physical body.
Since data is more about what people say about themselves, not about what they do, it's essential to look beyond the numbers and social media interactions.
Check out Erving Goffman's Theory of the Presentation of Self for more details:
Data might tell us one thing about our existing or prospective customers, but what people are on paper, probably isn't what they actually are.
Create targeted advertising using CRM and Facebook data
The exponential glut of behavioral data held by Facebook, in combination with the customer information in your CRM system, creates a perfect storm for targetable marketing campaigns.
The companies which let the data drive the algorithm are creating dynamic video content that maximizes the post-click landing page by directly addressing the individual, as shown in the following examples.
Cadbury's Flavorism campaign
Cadbury Australia embraced the personalization revolution back in 2017 with their "Flavorism" campaign powered by Idomoo's personalized video as a service (PVaaS) platform and broadcast across Facebook. The video curated photographs stored in Facebook profiles and incorporated them into a personalized clip that felt utterly tailor-made:
The campaign was targeted at Facebook members who joined Cadbury's Facebook company Page and introduced a range of new flavors to the Australian market. The video targeting matched specific flavor profiles to personality types; ascertained by Facebook's behavioral data.
The personalized video that drove the project used Facebook members':
First name
Location
Age
Interests
Photographs
The campaign achieved a 65% click-through rate, with an overall 33% conversion rate. Furthermore, 90% of people who received the advert through their Facebook feed watched the video, demonstrating that adding the personal touch really does work.
02's "Refresh" and "Wear the Rose" campaigns
The British cell phone company O2 used device usage data (gathered through their network) to send specific video campaigns through Facebook and email marketing.
"Refresh" campaign
Their "Refresh" campaign was devised to encourage customers to upgrade their phones and the O2 team created over 1,000 versions of their video ad which targeted the customer's device and location in real-time.
The personalized ad campaign received a 128% CTR better than previous generic campaigns.
When O2 partnered with Facebook, they targeted three different messages depending on the customer's behavioral profile. Using subtle variations in the ad copy and images used, they managed to reduce their customer acquisition costs by 49%.
"Wear the Rose" campaign
When O2 launched their "Wear The Rose" campaign, they used first names and incorporated bespoke avatars the user had created on an avatar site to accompany the campaign.
From these few things, they received an 11% increase in engagement levels:
How Netflix differs from Facebook to show personalized video
Netflix has offered sign-in to their platform via Facebook since 2013 and, although the relationship has seen its share of controversy, Facebook remains firmly integrated into Netflix's marketing strategy.
Netflix's personalization approach is different to Cadbury's because they don't use names or photographs from people's Facebook photo albums. Instead, the video streaming platform observes user-viewing habits. And those viewing habits create user-profiles which dictates the video content that pops up on Facebook feeds.
So, while the video content itself isn't individualized by first name, the content selected on your feed is based on behavioral data from both Facebook and Netflix.
Netflix may use a different set of metrics, but they're still applying the principles of personalization data to target their advertising.
But these are huge companies with massive budgets?
Of course, Cadbury and Netflix are big players with tremendous marketing power. But personalized video doesn't have to exhaust all of your budget. Crazy as it sounds, personalized video is not beyond the grasp of most SMEs.
How to use behavioral information with your CRM
Did you know that your CRM is likely to be integrable with Facebook (if you have an existing Facebook Page for your company)?
To find out if your CRM is compatible:
Go to your Facebook Page Manager and click on Publishing Tools (one of the menu options at the top of the page):

Click on Leads Setup:

You'll find an option "Connect to a CRM now to start seeing your leads in real time:"
If your CRM system is compatible, great! If not, don't fret because Facebook is likely to have all the data you need to target the perfect post-click landing page.
More inspiration: personalized video examples
Vodaphone created a unique personalized video campaign celebrating their customer's birthdays and offered free phone call minutes. The video includes the customer's full name and their location data (a map of Ireland appears):
British band, Keane, offered their fans the opportunity to create a personalized video, using personal photographs (gathered from Facebook data). The campaign coincided with the release of the single "Everybody's Changing:"
Manchester United, created a personalized video campaign to accompany the launch of the new Premier League season. Revolving around the dream scenario of being signed for United, the video superimposes the fan's head onto an animated character and gathers Tweets and social updates:
It seems that Millwall United have attempted the same tact. This video demonstrates the customizable fields that the user can incorporate to help celebrate a special birthday:
This video campaign from BlueBiz helps celebrate a birthday while including a party invitation for guests. This clever campaign uses the customer's name, location, and party invitation dates and times:
To conclude
To improve post-click landing pages for your customers and prospects, you'll find that personalization works and doesn't have to be difficult to implement.
Facebook has become a powerful targeting mechanism that's invaluable to digital marketers and the best part is, it's available to everyone.
Video that directly speaks to your customers is the future of social media paid advertising. You can't afford to ignore it.
About the author
Eoin Dowdall is an award-winning Film Maker and Creative Director of Kartoffel Films, a video production Agency based in London. With over 22 years' experience in the sector, Eoin oversees all of Kartoffels' films from concept through to production. Over the past eight years, Kartoffel has produced over 1,000 films and animations for the UK and international markets.