It is a known fact that email marketing is the best channel when it comes to generating ROI. In fact, 89% of the marketers use email as their primary marketing tool for optimal lead generation. However, the question is how to use email marketing to achieve desired results.
The answer lies in email personalization. It gives the marketer a chance to send useful and relevant content to subscribers and connect with them on a personal level. The following stats give you a better idea why personalization is key to email marketing success:
JustFab, a clothing retailer witnessed an increase of 103% in revenue after it personalized their email marketing campaigns.
According to an Experian research, email personalization drives 6x higher transaction rates. 51% of marketers believe email segmentation to be the most effective personalization strategy.
Moreover, with 77% of people preferring to receive promotional messages via emails, personalizing emails becomes even more important to establish a smooth communication.
Here's a list of the best email personalization tips to help you engage your subscribers in a relevant way.
Personalizing emails done right
1. Always ask for permission
There is a fine line between being personal and being intrusive. Asking for your subscribers' consent before you send them any commercial mail is necessary because the rest of the tips below are irrelevant if you don't receive consent first.
Plus, with GDPR effective as of May 25th, 2018, having prospect's consent is now an obligation: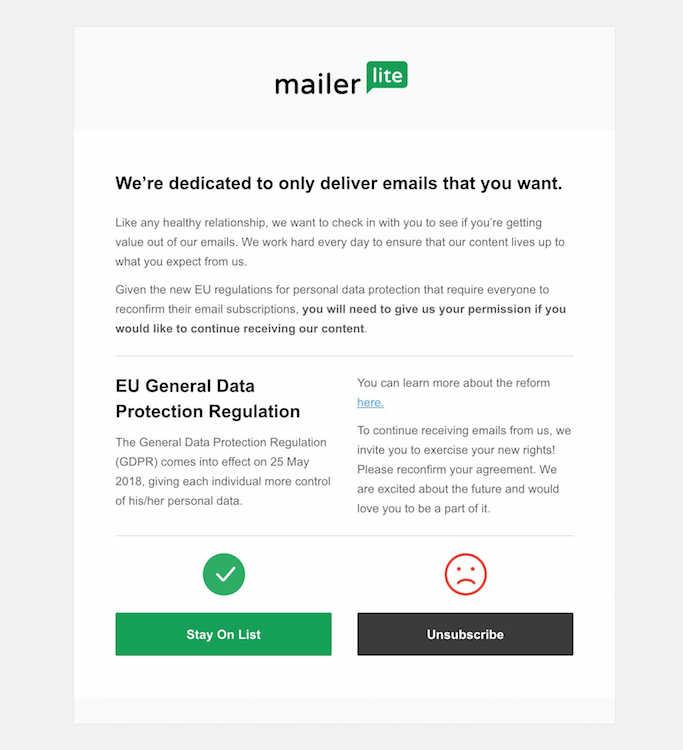 2. Segment your email list
Once you have their consent, segmentation is one of the best ways to personalize emails. Marketing research supports this in that segmented campaigns accelerate email revenue by 760% with click through and open rates more than 100.95% and 14.31%, respectively.
So, how can you leverage it?
Start by collecting relevant information about the subscriber's age, gender, geographic location, interests, etc. in the subscription form and segment the list accordingly. This way, subscribers will receive content that is most relevant to them and will ultimately help increase your open, click-through, and conversion rates.
3. Individualizing email personalization
You can personalize emails by individualizing each message you send to subscribers. According to a report, personalized subject lines have a tendency of accelerating the open rates by 50%. Grammarly is a great example here the way it personalizes its message based on the recent activities of a subscriber: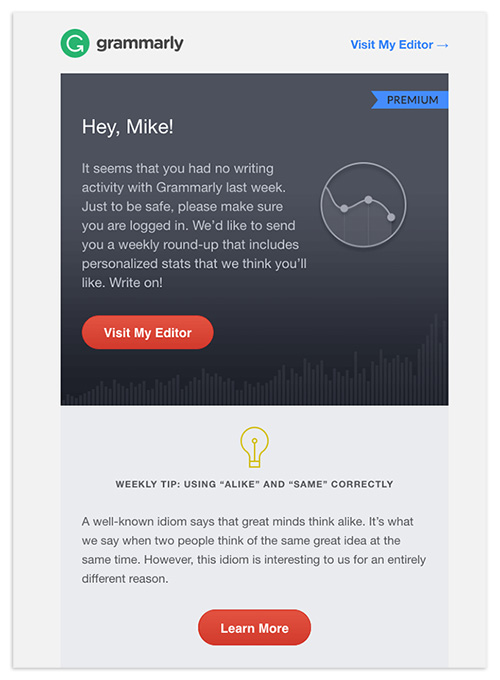 4. Behavioral automation
Marketing automation software does a lot of the heavy lifting in sending behavior-based emails to subscribers. It helps you put forth your content in a relevant way. You can execute behavioral automation by sending a warm welcome email or greetings once they sign up for your list like Godiva does here: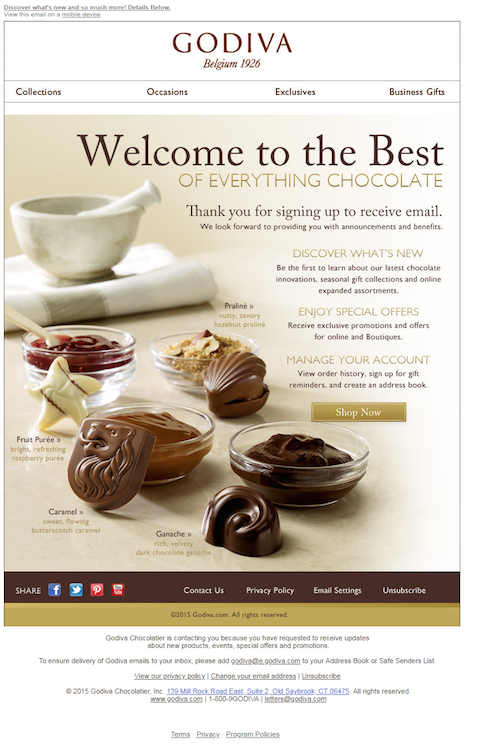 Additionally, sending periodic reminder emails about renewing a subscription or purchasing an item that has been in their wish list or shopping cart for awhile can also persuade them to engage and take the next step: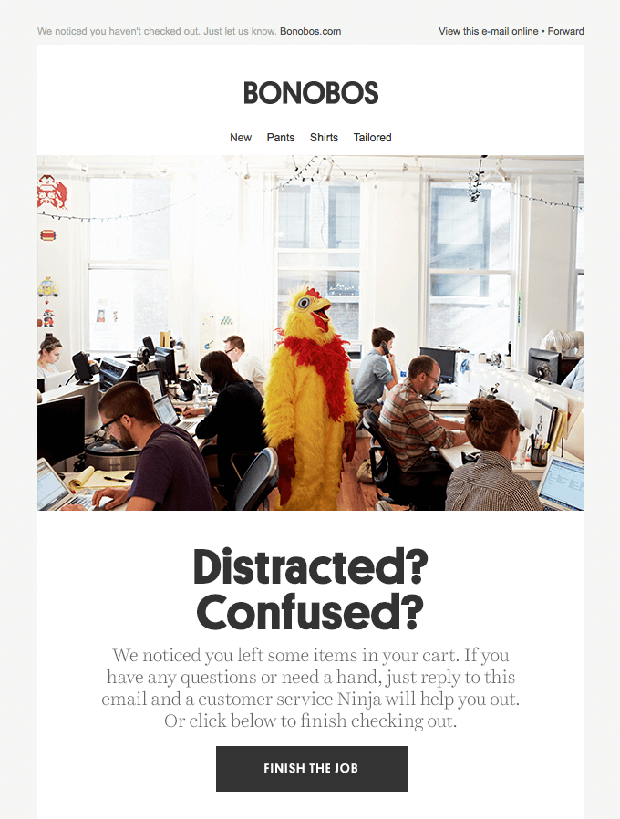 5. Let subscribers take control
To provide instant gratification, helping subscribers realize that they have full control over the way they receive promotional emails is smart as well. This can be done through a subscriber preference center that allows them to change their preferences whenever they want.
Here is a sampling from Think with Google: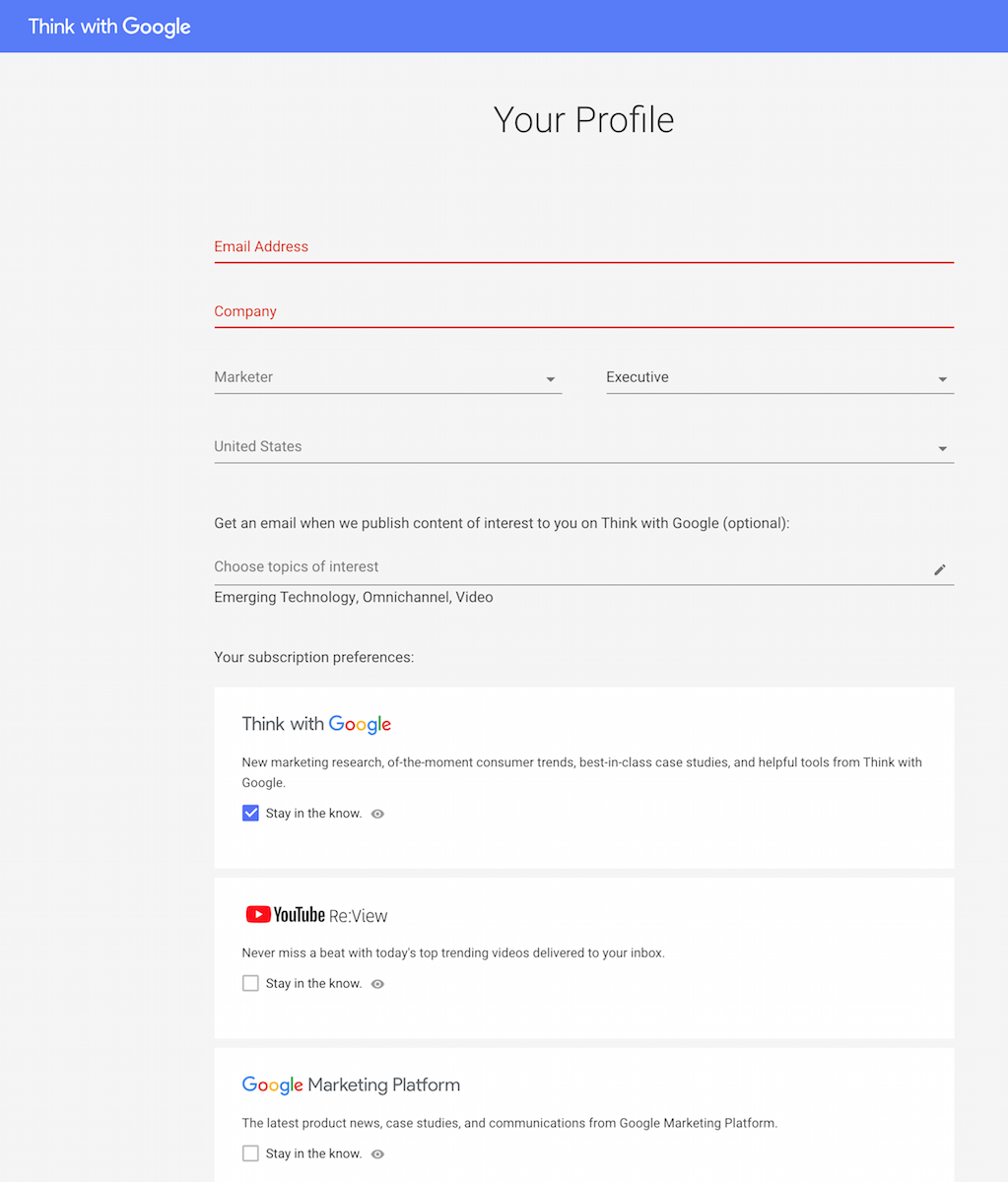 From modifying personal data or selecting specific topics, to changing the frequency, or unsubscribing from the list entirely, the preference center lets them do it all. This type of customization can help prevent unsubscribes and adds to the relevancy of the messages in the process.
6. Keep track of your performance
Simply sending personalized emails aren't enough because you must track performance, too. You can do it by analyzing the click through and open rates. Doing this gives you a clear idea of the content your prospects are most interested in so that you can make any necessary changes going forward.
However, remember the motto of email personalization is engaging the customer, not irritating them. So, you must know when to stop.
Mistakes to avoid
Look at these email personalization mistakes that you can avoid and give your subscribers a gratifying experience.
Spamming the subscribers
Your subscribers can get annoyed if they get too many irrelevant emails. Hence, you should only engage prospects with content they requested and not send random marketing emails or unrelated content.
Not optimizing mobile viewing
With mobile email users expected to reach 2.2 billion by the end of 2018 and an average user spending about 5 hours on their smartphones per day, you must optimize emails for mobile devices. In fact, 46% of people say they wouldn't opt to purchase from a brand again if their mobile experience was not good. Therefore, make sure you design mobile-responsive emails to provide subscribers with a wonderful experience.
Inappropriate sending time
No matter how great or relevant your content is, sending messages at the wrong time can ruin it all. The click-through rates will be high if you know the exact time subscribers are known to read your emails. Email marketing platforms can provide this insight by giving you the time and date your emails are being read.
This, in turn, gives you a clear idea regarding the appropriate time to send the email and target your subscribers effectively. Further, according to CoSchedule's study, the best time for sending emails is either 10 am or from 8pm to 12 am. That is only their data, however, and you should always look at your own content and data to determine the best day and time to send email messages.
Sending irrelevant suggestions
While nothing entices a subscriber more than emails suggesting they buy products of their interest, knowing their search and purchasing history helps you recommend relevant products only. In fact, recommendations based on less frequent searches should be avoided.
Wrapping up
Email personalization is all about letting your customers feel valued. But what happens when the prospect clicks through the email, do they still feel valued and that the offer is for them?
See how to personalize post-click landing pages at scale with and Instapage Enterprise demo here.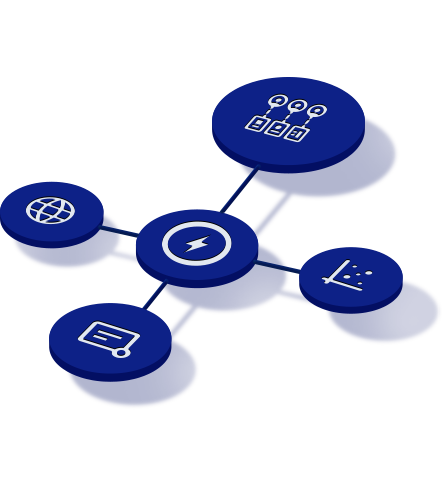 See the Instapage Enterprise Plan in Action.
Demo includes AdMap™, Personalization, AMP,
Global Blocks, heatmaps & more.