Today's online users expect a highly personalized experience, and digital marketers must be able to provide it for them. Marketers must leverage all available audience data to create personalized ads that micro-target audiences to maximize clicks.
Rather than sending those clicks to generic post-click landing pages, though, marketers should match their ads and post-click landing pages. Doing so leads to higher conversion rates and reduced cost per acquisition; and without 1:1 ad-to-page personalization, consumers may distrust a brand, let alone purchase from them.
In our recent personalization webinar, we discuss how to maximize conversions with one to one ad personalization, and why post-click optimization is essential for increasing your digital advertising ROI.
Here's a brief summary:

3 key takeaways from the personalization webinar
1) 96% of ad budgets are wasted on clicks that don't convert. Only 1% of budgets are spent on conversion optimization.
One of the problems that Instapage solves is abysmally low post-click conversion rates — only 3.65%, which is comparable to throwing away more than 96% of your ad spend: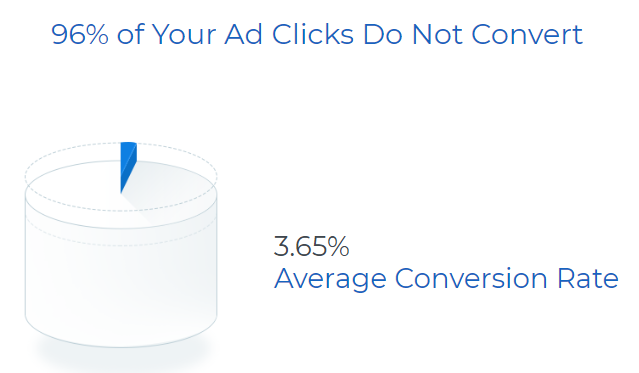 Here are even more surprising advertising statistics:
For every $92 spent on driving ad clicks, advertisers and PPC marketers only spend $1 on converting them.
62% spend less than 10% of their ad budget on driving conversions, and 44% spend less than 5%.
Only 15% of advertisers and PPC marketers have more than 5 conversion-optimized post-click landing pages to match their ads.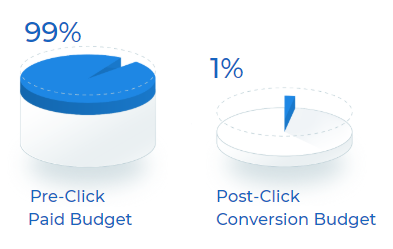 Instapage stresses the post-click landing page to get the most return from ad spend. Getting the click is important, the post-click landing page is where the conversion happens: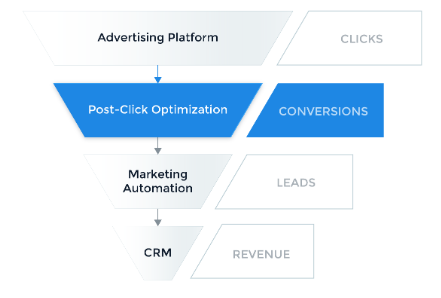 2) 80% of consumers are more likely to do business with a company if it offers a personalized experience.
Most online users pay more attention to an ad if it's specific to them (their location, job title, interests, etc.).
In fact: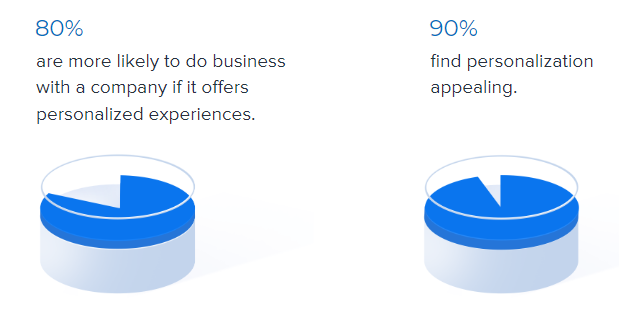 Not only that, but personalization generates:
50% reduction in acquisition costs
5 to 15% lift in revenue
10 to 30% increase in marketing spend efficiency
This all points to the fact that, creating highly relevant, message-matched post-click landing pages is integral to running efficient campaigns with stronger engagement and higher conversion rates.
3) You can iterate and optimize page experiences in real time and create highly personalized pages based on audience data.
Facebook alone has more than 2 billion audience data points (demographics, firmographics, online behavior, technology usage, and prior engagement with your brand). All of the audience data available to digital advertisers today totals just over one trillion data points.
This abundance of audience data allows you to focus on personalization in your campaigns. It enables you to:
Create contextually relevant audience experiences
Meet expectations visitor has from the ad
Deliver a cohesive message from click to conversion
Airbnb example
Consider this Airbnb example:
The company created two separate ad campaigns, one for New York and one for San Francisco. Upon clicking the ad, prospects probably expect to be directed to a page tailored to their specific location. Instead, each person lands on the same generic page, causing frustration due to the lack of personalization: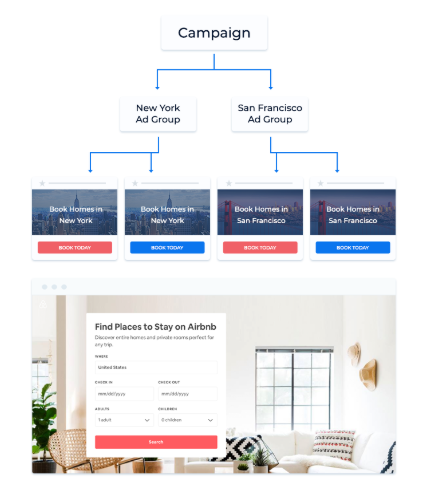 Airbnb should build each of their campaigns to be geo-location-based. Each post-click landing page should that match the ad, and the visitor expectation should remain relevant to specific use cases: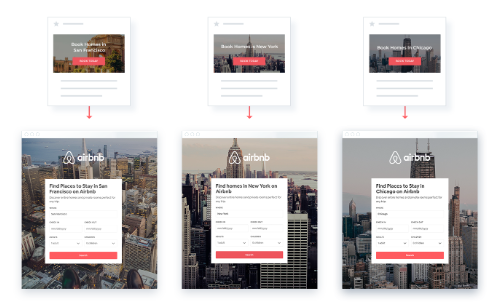 Most tools in the market don't allow advertisers to create, personalize, and optimize post-click landing pages as quickly as ads. The process usually takes too long or results in poorly designed post-click landing pages that aren't optimized for conversions.
Instapage provides a way to set up post-click landing page experiences quickly, test them, create more granular experiences, and apply the same iterative experimentation approach that you use for optimizing your ads.
2 great questions and answers
Q: How is Instapage Personalization different than dynamic text and content replacement features?
A: Two major advantages to using Personalization are that pages load faster without the extra code used for dynamic content replacement, and your Quality Score is rewarded for higher ad-to-page relevancy.
There are two main drawbacks to using dynamic content and text features:
It increases page load time because you're not just loading the contents of the page; you're also loading all of the logic it takes to choose the right content for that page.
It doesn't actually improve your Google Quality Score because web crawlers aren't looking at the dynamically generated content on the page; they're just looking at the routing codes of the page.
Personalization, on the other hand, allows pages to load much faster without the extra dynamic content coding. Quality Score is also improved due to higher ad-to-page relevancy.
Q: How many page experiences can you create for one campaign?
A: As many experiences as you like for one campaign.
For more granular targeting, you can create as many experiences as you wish for one campaign, simply by adding more UTM parameters. So you can personalize on deeper levels for keywords, demographics, etc., or you can personalize at a very high level.
1 compelling quote
Yon Xiao, Director of Product, Instapage:
By leveraging Personalization, you'll be able to match the messaging on your advertisements and keywords, which ultimately improves your Quality Scores, your ad rank, and drives down your bid costs.
Get a Personalization demo here
No two audiences are the same, so don't treat them the same. See how the Instapage Personalization solution allows you to create highly-relevant post-click landing pages for every visitor. Your advertising campaigns and conversion rate will both thank you.
Get a Personalization Demo
See how easy it is to create unique experiences for any audience you target.