Personalization might be the most overused word in digital advertising. Brands know they need to provide consumers with the best possible experience. Consumers expect a 1:1 experience, and if they don't get it, can distrust a brand and ultimately not purchase.
It's more than dynamic text and certainly more than including the recipient's name in an email subject line. For Instapage, our Personalization solution completes the post-click automation process we've been building in the product: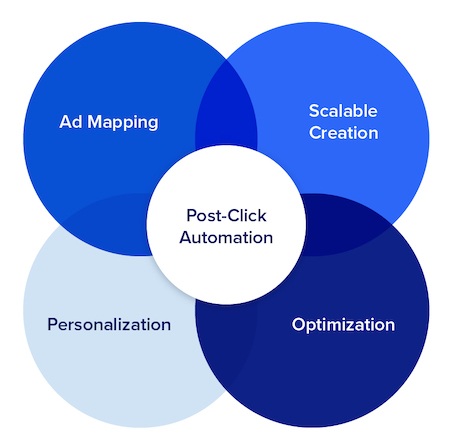 To give you more context about the new solution, we interviewed Instapage Director of Product Management, Yon Xiao.
*The Instapage Personalization solution was hunted on Product Hunt. Check it out and join the conversation.
What is the new Instapage Personalization solution?
YX: The new Instapage Personalization solution allows customers to target specific audiences with highly personalized experiences without having to create entirely new pages with unique URLs.
Why is personalization necessary for digital advertisers?
YX: We spoke to our customers and listened to marketing professionals across the industry, asking them how we could help their marketing efforts. The resounding answer was a need to personalize their campaigns and advertisements to target their customers more specifically. We learned that if marketers can deliver highly relevant, personalized experiences to their prospects and customers, they see higher conversion rates and reduced cost per acquisition.
Why did the team decide that UTM parameters were the best way to target personalized experiences?
YX: We wanted to make it as easy as possible to deploy personalized post-click landing pages, and since we know marketers already use UTM parameters for attribution and analytics, it seemed like a natural fit.
Our focus is always to build on top of existing behaviors to make digital marketers more successful in what they do. Anyone already using UTM parameters with their ads can start sending traffic to personalized post-click landing pages right out of the gate without requiring anything new to set up the targeting: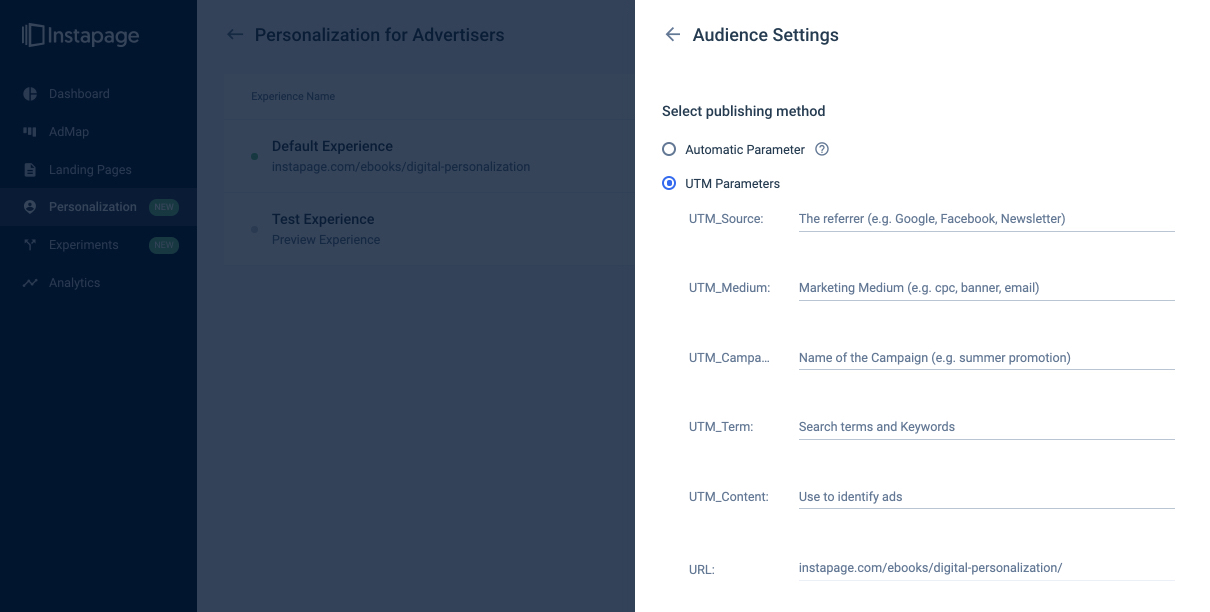 What else should customers know about creating audiences with UTM parameters?
YX: When you create a new experience, you'll be presented with the Audiences tab where you'll set the UTM parameters for this individual experience. You can leverage the existing UTM parameters that you've built out for your Google Ads, or you can set up new UTM parameters and add them into your ads after the fact.
Once the Audiences have been set for your personalized experiences, Instapage will route traffic to the appropriate experience based on the UTM parameters coming from the ad.
(Note: If our system sees a URL that contains no UTM parameters, or a URL with UTM parameters that doesn't match any of the Audiences you've set up for your experiences, the visitor will be routed to the Default Experience for that page.)
You can use as many UTM parameters as you'd like, and even add Custom Parameters as well to make sure visitors have the right experience: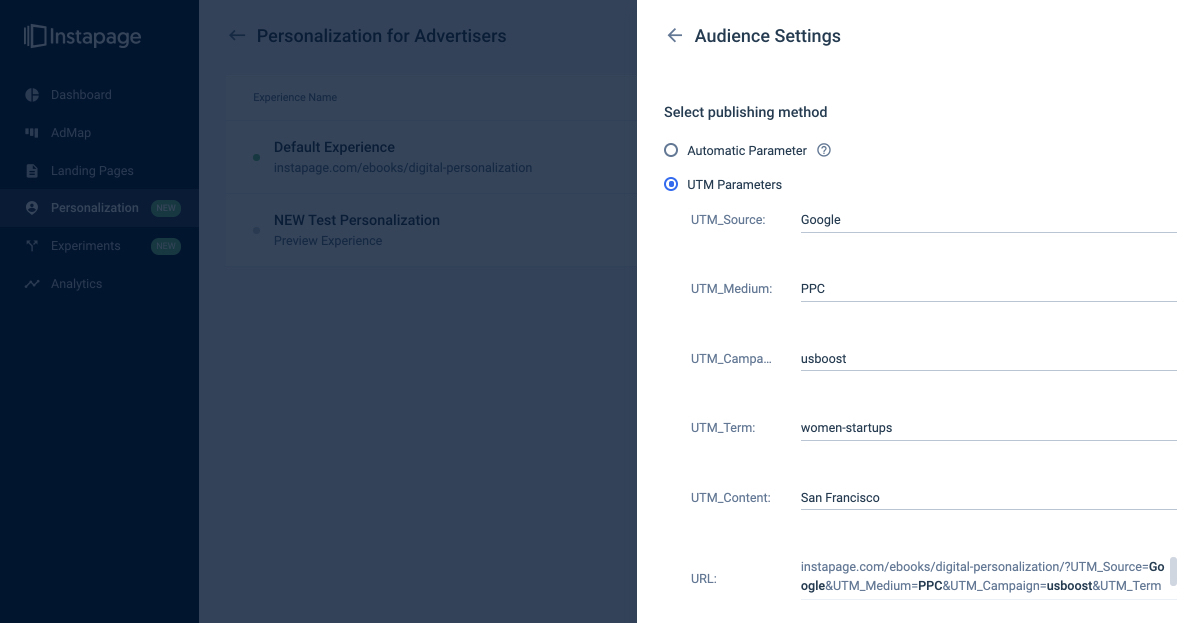 What happens if customers want to unpublish the default experience?
YX: The default experience is the foundation for the set of experiences in Instapage. It's used as a catch-all for all the experiences if the UTM parameters don't match the URL from the traffic source. So if you unpublish the default experience, all corresponding experiences will be unpublished as well: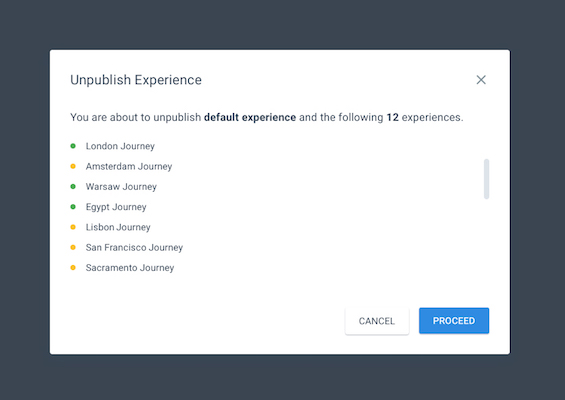 How are post-click landing page experiences different than A/B testing?
YX: In A/B testing, you randomly serve different versions of the same page to different people so you can see which one performs best with your visitors. Personalization allows you to make sure people see the exact experience you want them to see, allowing you to be as relevant as possible with your messaging.
Can customers review the analytics for each individual experience?
YX: Of course — our team reworked our analytics page to be able to measure results on any level that customers like. You'll be able to measure the analytics for individual page experiences, a single variation of that page experience, or even an entire group of experiences.
Do Instablocks and Global Blocks work with Personalization?
YX: Absolutely! Instablocks are core to our product, and we want to make sure customers have everything they need to be effective and successful when creating personalized experiences.
Is the Personalization solution applicable to AMP pages?
YX: You bet. Any personalized experiences you create for an AMP page will also take advantage of all the benefits of the AMP framework.
How does this new solution relate to Post-Click Optimization™?
YX: Instapage's main product goal has always been to help marketers increase their conversion rates. Advertisers spend a majority of their budgets on creating highly targeted, personalized advertisements — the pre-click — but they don't optimize the post-click landing page. This new solution bridges that gap by allowing our customers to quickly personalize post-click landing pages for every one of their ads, generating higher conversions, and ultimately making them better marketers.
Start creating 1:1 ad-to-page personalization today
No two audiences are the same, so it's best not to treat them the same. Create your unique audiences and give them the personalized experience they deserve. Your advertising campaigns and conversion rate will both thank you.
Get a Personalization Demo
See how easy it is to create unique experiences for any audience you target.