According to research from Epsilon, 90% of consumers find personalized experiences appealing, and 80% say they're more likely to purchase from a brand that offers them.
This leaves brands with an enormous opportunity. Yet, only 12% say they feel their personalization strategies are extremely effective. And for retailers, the challenge is even greater.
What is personalization in retail?
Personalization in retail is the process of using personal data to provide tailored experiences to shoppers of products in a retail environment. Every path to purchase is different, and, personalization in retail aims to serve each individual based on their needs and behaviors.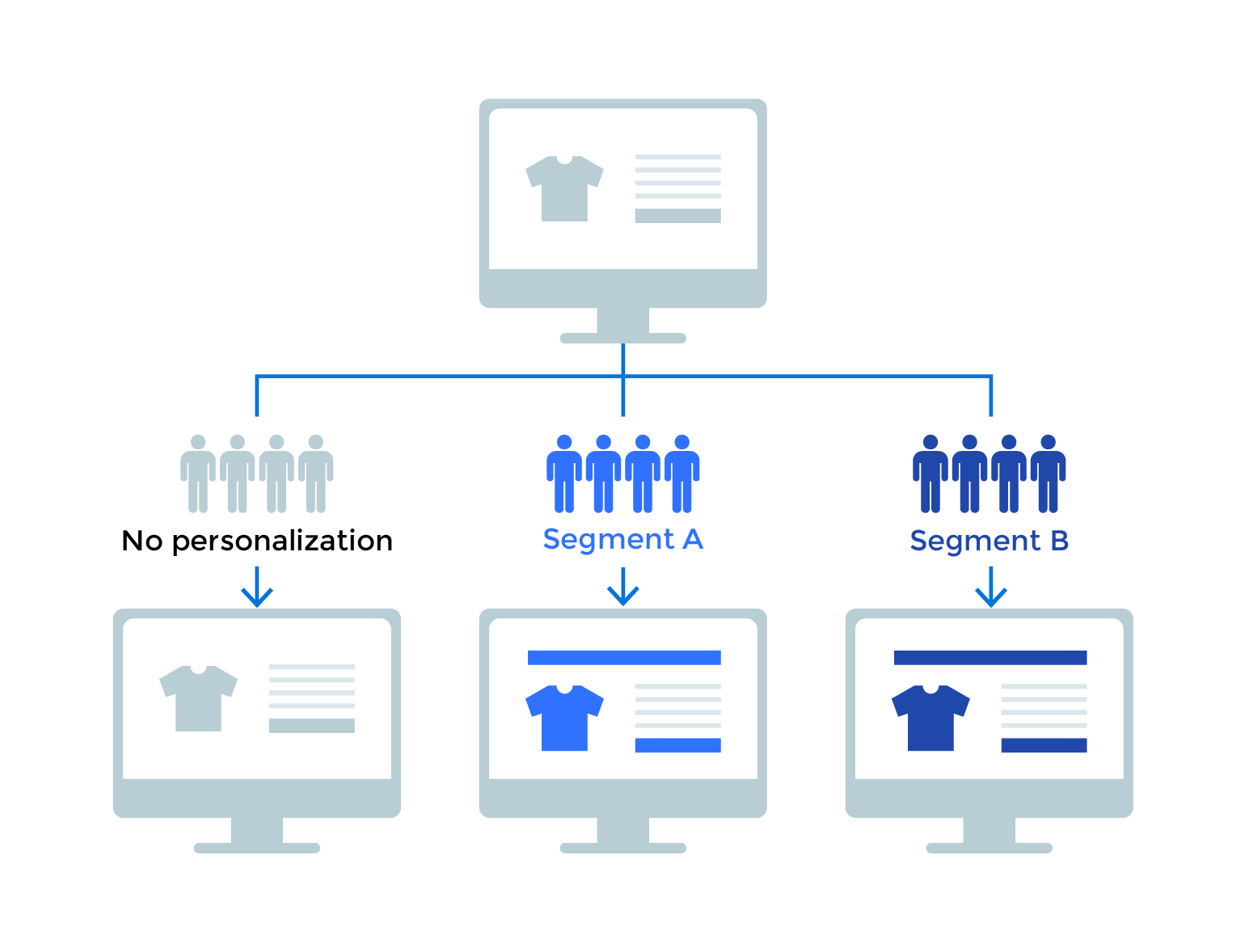 This is accomplished by:
Accumulating data on your customers, like location, browsing history, gender
Analyzing that data to determine their preferences
Serving a relevant, personalized customer experience based on that data
For retail brands, personalization is particularly tough due to the number of places, and ways, a customer can shop. In other industries, many companies providing personalization only have a few products, and one place to sell them: online.
Retailers, on the other hand, often have countless products and not just one brick-and-mortar location, but many. So, what are some tactics they're using to personalize?
Examples of personalization in retail
Retail brands everywhere are competing to offer the most relevant experiences to their customers. Here are a few tactics you may not be using:
Send out-of-stock recommendations
It's not often considered in the context of personalization, but the "out of stock" page should be. Even if you've removed an out-of-stock product from your navigation, catalog, hero images, etc., it can still be found through other means like search and social. When it is, and it provides only details of a product that's not available, the result is a wasted opportunity.
You're probably used to adding recommendations to your product detail pages, but, have you considered adding them to your out-of-stock pages? Try…
Displaying products that are similar to the one that's out of stock.
Up-selling a more premium version of the out of stock product
Cross-selling an accessory related to the product that is out of stock.
Popular items available on your site now.
As always, the goal is to keep the user from abandoning your site. Normally an out-of-stock product page is a guaranteed bounce. This is just one way to turn around a missed opportunity. Here's another way…
Retarget your customers before they go
Traditional, personalized off-site retargeting is popular with brands in every industry for its ability to draw customers back to the website. But what about on-site retargeting?
While many businesses take advantage of popups to keep their visitors from abandoning their site, too many of them are general offers that don't resonate with individual customers.
Today's tools allow you to set up personalized pop-ups based on things like cart content, session number, browsing history both past and present. So why wouldn't you?
For example, if your visitor has never ordered from you before, offer a discount on their first purchase. If they've added a bag to their cart, offer a discount on the bag, like this example: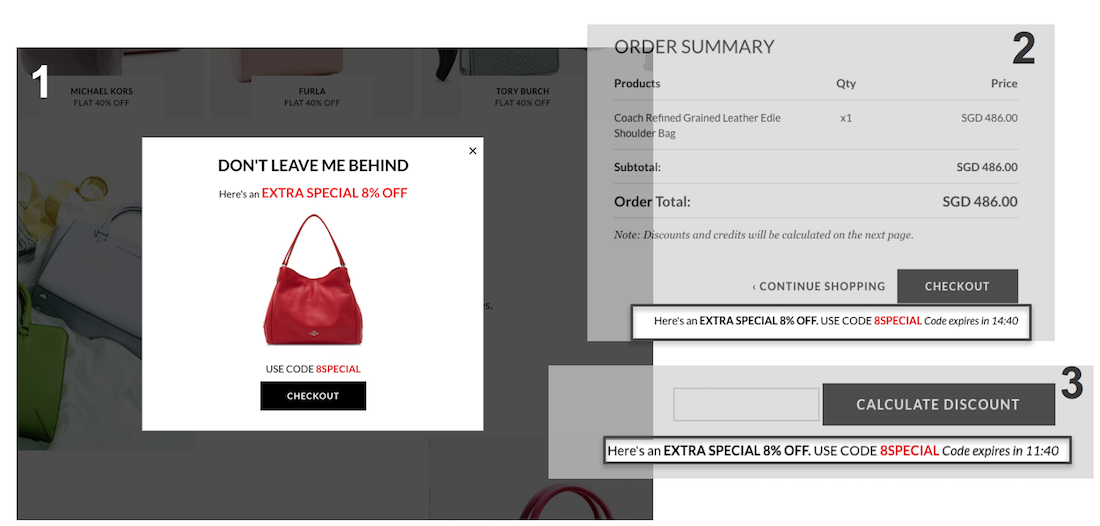 A little extra discount on a relevant product that your user is considering may be exactly what they need to push past checkout.
Personalize the homepage and navigation
With all the data currently available on website visitors, many, many retail businesses still send all their traffic to the same generic homepage, where every visitor has to slug through the same navigation for the products they want to shop.
When you consider how easy it is to track general location, no customer should ever have to select the country they're logging in from. Yet, this is still something major retailers make customers do: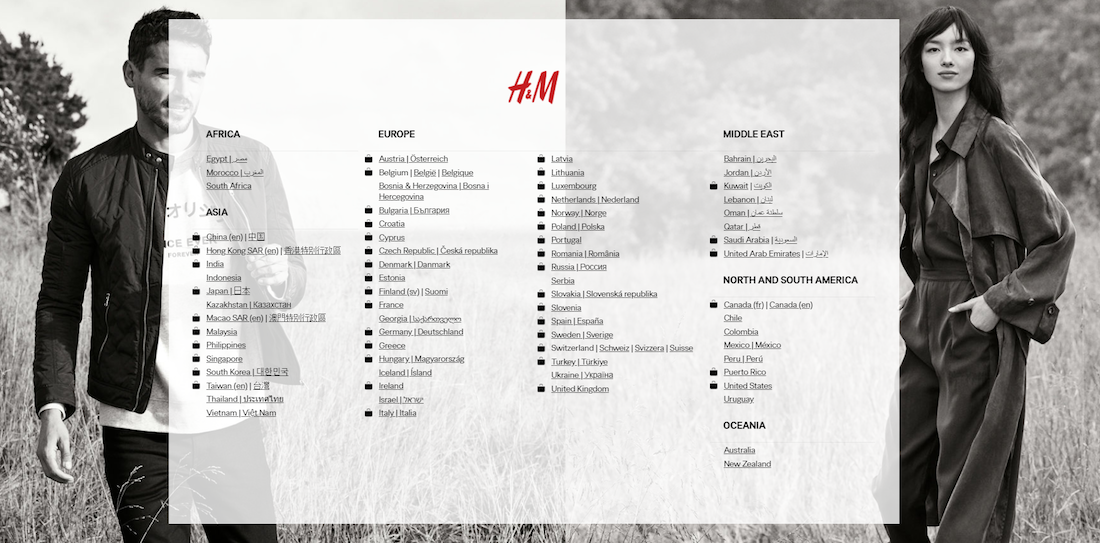 Instead, this page should not only take the visitor directly to the country page from which they're shopping, but also the category for the sex they've shopped for most often. This skips several steps ahead that the user does not have to navigate themselves through the menu.
When they arrive at that page, ideally, the categories of product they've shown preferences for should be highlighted, as might recommendations that up-sell and cross-sell previous purchases. Amazon does this well, but for many retailers, the experience is still highly generic.
Make your posts shoppable
Research shows that more than three-quarters of people have bought something they've seen on social media. That's good news if you're a retail brand, especially with the introduction of shoppable posts.
Shoppable posts feature images of products, accompanied by a link to a product page, that visitors can click on to shop: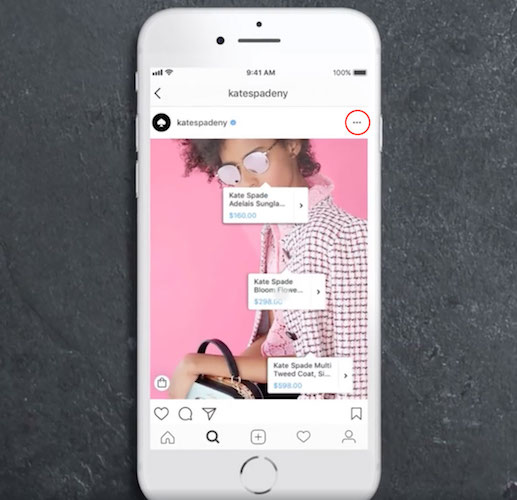 While, formally, shoppable posts were built for Instagram, that doesn't mean you can't create them on other platforms. They may not come complete with the same features, like clickable labels for each product in your image, but that doesn't mean you can't label designs yourself for say, Twitter or Pinterest, with a link in the description for shoppers.
This a great way to get products in front of an audience without being invasive. They've chosen to follow you, so they're expecting to see your posts. In this case, personalization is simply delivering on what they expected to see.
Allow for continuous shopping
When it comes to your customers, sometimes the best thing you can do is get out of their way. Most of them won't convert on their first trip to your website, so, allowing them to pick up where they left off can get them right back into the customer journey.
Big retailers are known for personalizing their homepage in this way. When prospects return to the website, whatever they were previously browsing will appear on the homepage. This is similar to customizing a homepage based on category like location, sex, product type, but it's very specific to the exact product that was being shopped before.
Shoeline used this method to personalize their homepage, and earned click-through rates as high as 26% and a conversion rate of 18%: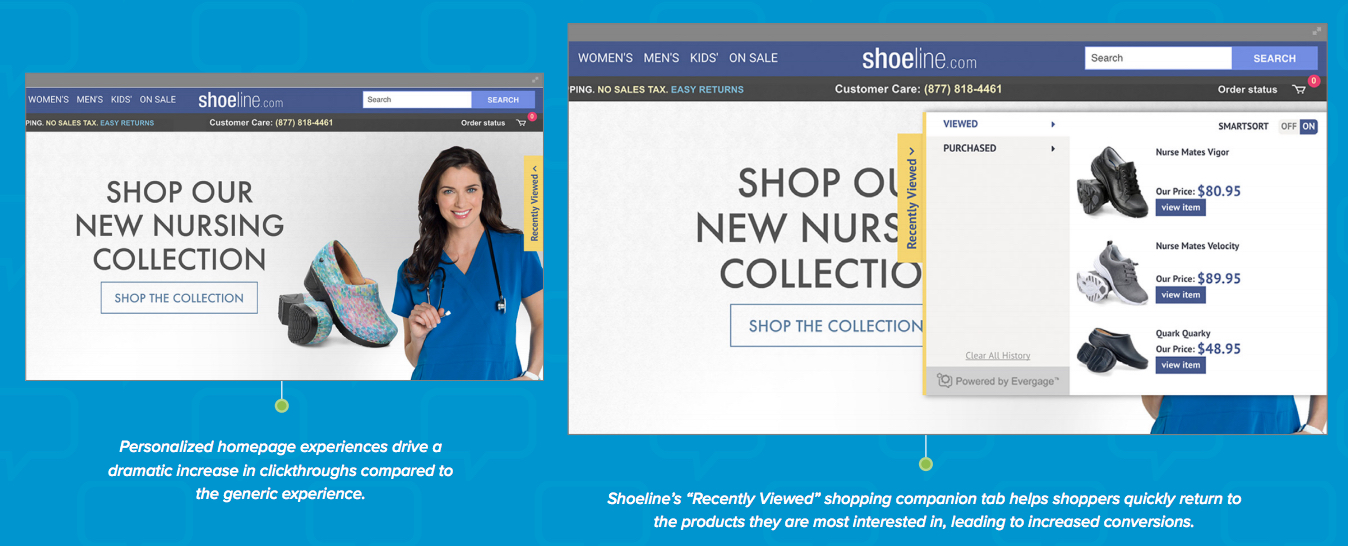 Go old school
When brands communicate with customers, the vast majority will do so through email. Sometimes, they'll call or send text messages (usually, to the annoyance of the prospect). Very rarely, you'll get what Francesca Nicasio did after a purchase from a Chanel boutique:
A few weeks after purchasing a pair of shoes from their boutique, I received a handwritten note from the associate who assisted me. In it, she thanked me for shopping with her and mentioned how she enjoyed helping me find the perfect fit. She closed by saying that I could call or text if I needed anything else.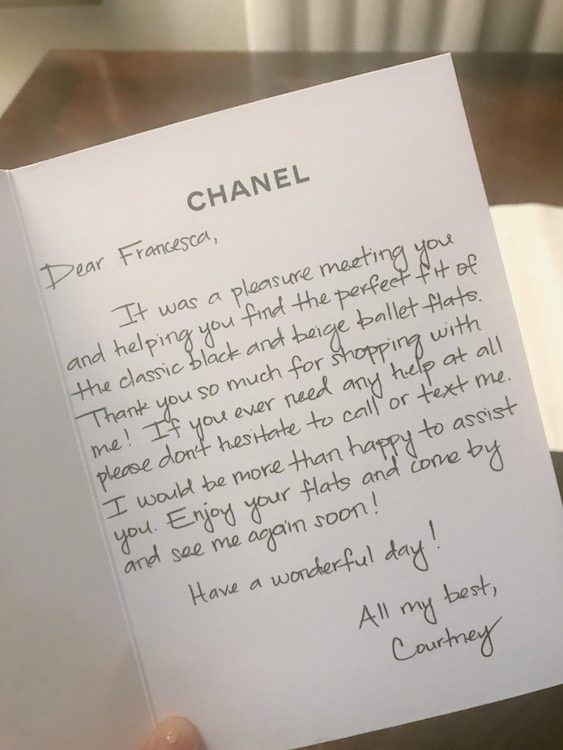 Yes, this is old-school, but it hasn't gone out of style. More than "personalized," it's personal. It offers the reader a sense of closeness with the writer that's hard to get via email or Tweet.
The fact is, it's much more trouble to hand write a card and send it in the mail than to write an email or Tweet. Additionally, the invitation to call or text puts this marketing collateral in a league of its own. It's not a technique that works for every brand, but Chanel isn't the only one to take advantage of it.
The future of personalization in retail
Today, most personalization focuses on very simple personal details, like age, name, gender, location. The future of personalization in retail aligns new technology, new strategies, and channels both online and offline to provide a seamless and individualized customer experience.
More training for customer service
So much is constantly made of new and emerging personalization technology that it's easy to overlook the benefit of a well-trained, human, customer service team.
Firstly, we all know the frustration that comes with trying to solve our problems by communicating with a robot via the dial pad on our phones. A human team that we can explain our problem to, and get immediate help from, is a major draw from the get-go.
Secondly, the more complicated the customer journey gets, the more it becomes necessary to train service associates extensively. That means on more than just traditional empathy and problem solving, but also on the tools, like CRMs, that sales and marketing regularly use.
When you combine both humanity and preparation, you get a story like this one from a satisfied J.Crew customer: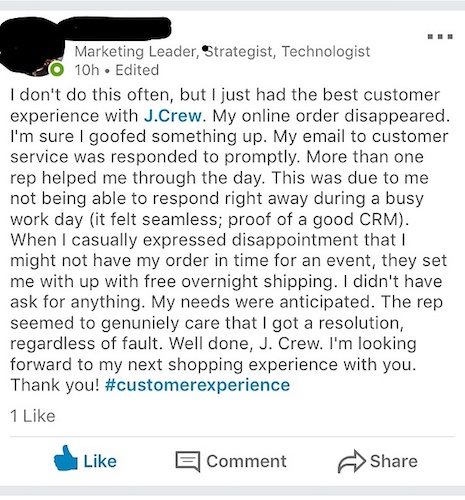 Online data will be used more offline
According to one study, 62% of respondents said they enjoy the in-store buying experience because it allows them to get exactly what they want, however, 31% said brick-and-mortar stores fail to provide the ease of access to detailed product information that websites do.
With his own research, Dan Hartveld, CTO at Red Ant, paints a clearer picture:
Our recent research found that one in three consumers will leave a store after waiting three minutes for an assistant and almost 40% believe a lack of product knowledge is the most irritating trait of a shop-floor assistant.
So, how do you close this gap between online and in-store experience? Hartveld suggests it will take the empowerment of employees by information gatekeepers at their company. He elaborates:
Smart retailers know that to drive customer engagement, service and loyalty, customer service needs to be of the same standard, whether online or offline. Providing shop-floor workers with customer information, real-time company updates and integrated communications across business divisions enables retailers to manage brand reputation, stock efficiencies and customer experience more closely.
Like helpdesk staff need to understand the customer journey, and how to use tools like a CRM, floor associates must own a knowledge of product and company that product detail pages can't offer. It demands a heavy training on the product from ideation to creation, along with daily company updates, and access to customer history.
Offline data will be used more online
When someone purchases a duvet cover online, a personalization-savvy retailer may send them offers on pillows, pillowcases, bed sheets, mattresses, or countless other products depending on their purchase history.
If they make that same purchase in a brick-and-mortar store, however, all they get is a paper receipt. Retailers are no strangers to collecting email addresses for newsletters and promotional purposes, so why aren't more of them cross-selling and up-selling the way it's done online?
At checkout, an email address should register to a customer profile with his or her purchase history, record of contact with customer representatives, and more. From there, personalized online communications, like this one, should be possible: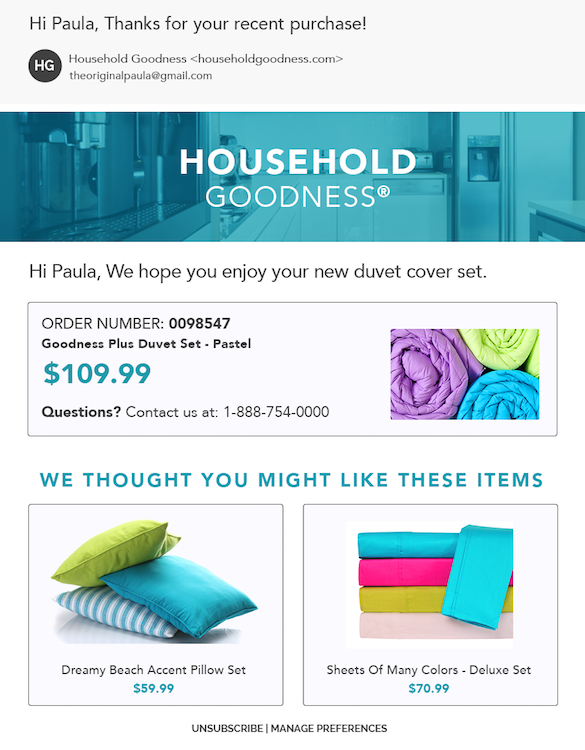 Chatbots will play a bigger role
With hundreds of retailers, a theme park, and more than a dozen movie theaters, the Mall of America is one of the biggest retail shopping spaces in the US.
For first-time visitors, navigating can be a daunting task. That's why the mall launched "E.L.F.," which stands for "Experiential List Formulator." ELF is a chatbot capable of creating personalized shopping itineraries for each customer.
What are you shopping for? Do you want to eat at the mall? Catch an afternoon showing of a new release? Through the Facebook Messenger app, the mall's website, and kiosks at the Mall of America, ELF will figure out a way to get you to all three.
More will optimize the post-click landing page
A major issue facing retail marketers (and all marketers, in general) is the personalization imbalance of most campaigns, in which the pre-click stage out-personalizes the post-click stage.
The pre-click stage is everything that happens before a user clicks through an advertisement. For example: ad creation, targeting, audience, etc.
The post-click stage is everything that happens after a user clicks through an advertisement. For example: page load speed, landing page design, conversion ratio, etc.
When the first half of the campaign is highly personalized, but the second half isn't, it creates a personalization gap.
It usually works like this: A prospect is targeted with a personalized ad for a particular offer, and when he or she clicks through, they're sent to a generic page, like the homepage, for instance.
In retail, it's common for a prospect who clicks an ad for "women's running shoes" to be directed the page for generic "women's shoes," or even worse, "women's clothing." This sets prospect expectations and does not meet them.
To meet those expectations, every promotion should have its own targeted post-click landing page. If you're a business running an ad for "women's running shoes," when clicked, the ad should drive users to a "women's running shoes" landing page. Your user should not have to work to find the offer you promised in the ad, because it's likely they won't. Instead, they'll abandon your site for another makes it easy.
Start personalizing the retail experience
To succeed at personalization in retail, you need not only a trove of data, but a deeper understanding of how your customers shop. Instead of focusing on exciting, futuristic technologies like VR, most retailers would be better served by organizing their data so that it's accessible both in-person and online to form a better picture of each customer. Only then will there be a foundation for future personalizations with new tactics and strategies.
Learn more about personalization strategies for today and tomorrow in the Instapage Personalization Guide.