If you look back at what used to pass for personalization, you may find yourself stifling a laugh. Imagine, this ad once boasted a 40% click-through rate:

Today? Doubtful.
Personalization has changed, drastically, since those days; and it continues to at a rapid pace. Driving these changes are the heightening expectations of consumers, as well as the capabilities of new tech. When cross-channel, cross-device experiences are possible, why should prospects expect anything less?
Research supports this. According to Evergage, 98% of marketers agree that personalization helps advance customer relationships, and 74% claim it has a strong or extreme impact. When asked about their prospects, nearly 90% say they expect personalized experiences.
However, only 12% of marketers say they're extremely satisfied with their personalization execution. Clearly, many are failing to keep pace with the evolution of digital personalization. In the new Instapage ebook, we surmise it's to do with technology, expectations, and one particular part of the modern campaign that's still largely overlooked.
The personalization guide for digital advertisers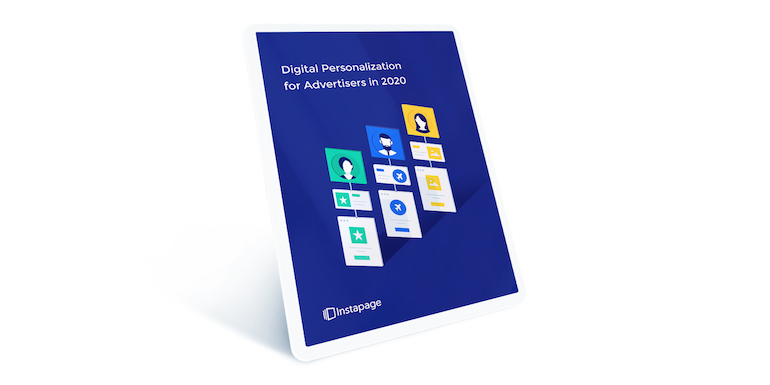 The new Instapage Personalization Guide looks into a number of aspects surrounding personalization. Particularly, it examines current trends and addresses personalization's "missing link," the post-click landing page, and how it can be used to boost conversion rate in the marketing funnel. Here's what you can expect in the guide:
Defining personalization
Often, industry buzzwords become bigger than their definition. They explode to blogs, reports, and ebooks around the internet, and it's not uncommon to lose sight of their meaning. In this section of the personalization guide, we bring some clarity to the discussion with a definition of personalization.
Traditional advertising goes non-traditional
Personalization as a tactic is controlled by the larger advertising landscape. What's personalization? It depends on when you ask the question.
In the next section, you'll read briefly about how, and why, personalization has changed since traditional advertising days of print and radio. Then, you'll find some of the major events that led to digital personalization as we know it today.
Early marketing tech enables pre-click personalization
Early marketing technology included big brands that are still booming today, like Eloqua, Infusionsoft (now Keap), and Salesforce. But, the majority of marketing technologies available to businesses now emerged after 2011.
In this section, you'll read about the pervasiveness of marketing tech and how it's enabled highly personalized pre-click experiences, along with some examples from today's biggest brands.
The lacking post-click landing page
While many report that personalization is a valuable tool, other research finds that personalization isn't identified as a top priority for organizations.
And even when it is a priority, it's often done poorly. Many times this is due to lack of resources, budget, and personnel. But, not always.
Sometimes, it's due to an emphasis on personalization as we've come to know it: in the pre-click stage. This leads to an out-of-balance personalization initiative that does a lot of promising to the user, and very little delivering on those promises. In this section, you'll read on the post-click landing page, and why improving it is key to meeting your prospects' expectations.
Uses for pre- and post-click personalization
Personalization as a term conveys hyper-specificity. It relies on individualized, relevant, one-to-one messaging to get visitors to click through.
However, personalization doesn't end at the click-through. In fact, it doesn't end at all. In this section, you'll find scenarios in which marketers today use personalization throughout the funnel's five traditional stages.
Prerequisites for post-click personalization
Knowing how it can be used and how to use it are two very different things. For example, you can know that personalization in the post-click stage can manifest in the form of a long-form sales page in the "purchase" stage of the funnel. But, knowing how to make that possible can still be confusing.
In this section of the Personalization Guide, you'll learn about what makes a great post-click landing page, and what you need to accomplish that.
A holistic view of the personalized post-click stage
If the previous section takes a granular look at the post-click stage, this one is a higher level, theoretical glance. Here, you'll learn about the three pillars of post-click optimization, and how they intersect to form a seamless transition from the pre-click stage to the post-click stage.
Tools for true post-click personalization
You might think there are many tools for post-click optimization, but, when you discover the three pillars of PCO, and what you need to achieve them, you'll learn your options are limited.
Still, the situation we're currently faced with is better than the one decades ago, when "HAVE YOU EVER CLICKED HERE? YOU WILL" passed for compelling advertising copy.
In this section, you'll use your newly acquired knowledge of PCO to narrow down the tools you'll need to create a great post-click landing page and to improve that experience going forward.
If you're ready to improve your personalization in 2020, download the Instapage Personalization Guide here.