Often, the thought of adopting a new technology can be intimidating, no matter how alluring it may seem. You have to get the team to buy in, then you have to learn the software — and for prospective Instapage users specifically, there's the imaginary point of no return:
"I have countless campaigns running now and I've already made too many post-click landing pages. I'm not going to remake them all with another platform."
If you're on the fence about switching to Instapage, you have one less thing to fear with page migration for enterprise customers.
What is a page migration service?
At Instapage, our page migration service allows enterprise businesses to turn all their existing post-click landing pages into editable Instapage post-click landing pages with no hassle. It doesn't matter if you're using another builder or creating your pages from scratch. Now you can worry less about losing conversions while you rebuild all your pages, and get back to what you do best.
How does the Instapage page migration service work?
The goal of the Instapage page migration service is to make switching over your post-click landing pages to our platform as simple as possible. On your end, all it takes is one simple step; we do the rest:
Provide your page's existing URL.
Our team will confirm the URL, then register your request to migrate it.
Once your URL is confirmed, the page will be assigned to one of our Template Conversion Experts.
When your page(s) are ready, we'll contact you.
The benefits of migrating your pages this way are obvious: less time spent rebuilding them with the Instapage platform, which means more time to create new pages and campaigns. And, you can rest assured that our conversion experts will recreate your post-click landing pages exactly as they appear now using the Instapage platform.
And as Instapage post-click landing pages, anything you see on the front-end of your post-click landing page will be editable.

If you're starting with Instapage, it's a no-brainer. If you're on the fence, the only question that remains is why sign up for an enterprise plan?
Why migrate your post-click landing pages to Instapage?
The Instapage page migration service is the result of conversations with customers who want to switch to Instapage, but feel stuck for a number of reasons.
Here's why they choose to migrate their pages to the Instapage platform.
1. Visually identical and editable pages built by experts
Migrating your pages doesn't just mean migrating to the Instapage platform — it means that your pages are rebuilt by experts who know the platform. So visually, those pages will look exactly as they do currently, and anybody — not just a developer — will be able to adjust them from the front-end.
For you, your copywriter, marketing manager, designer — changing the look and layout of the pages you've migrated will be as easy as dragging and dropping elements from the top menu and clicking to edit anything you see on the page.
Additionally, all the elements on your current pages — whether they're text blocks, images, widgets — can be saved by our experts using Instablocks™, which means you'll be able to drag and drop them into new templates to create variations of your current page when necessary.
2. A faster way to publish than building pages from scratch
If you're a business creating post-click landing pages from scratch, you know how quickly page creation can drain your resources. Time, marketing budget, and employee productivity can easily disappear when you have to manage an entire team from wireframe to publish. With the Instapage Collaboration Solution, work with your entire team on an Instapage template in real-time, and simply click to add or edit an element, then drag it to wherever you desire.
Then, comment on an element to give design feedback, track changes with an audit log, share the page with key stakeholders, and read all correspondence in a condensed comment feed on your dashboard.
3. Instablocks™
Most companies build their post-click landing pages based on the library of page templates they have, but advertisers and marketers must still duplicate work — recreating identical portions of templates across all similar post-click landing pages. This is time-consuming and prevents a company or agency from scaling their post-click optimization processes.
Instablocks is a whole new way to create post-click landing pages that will immediately improve your workflow. Now, advertisers and marketers can create page blocks that can be used as building blocks to quickly and easily create a high volume of post-click landing pages.
Save the page elements you've edited as Instablocks, and simply drag and drop them into new templates or duplicate pages to discover which combination of elements converts best.
4. Heatmaps and A/B testing
A/B testing isn't an easy process, and it's only made harder with the wrong tools or none at all. When page variations have to be built from scratch and traffic to them can't be easily tracked, it results in a waste of resources and poor business decisions. Using Instapage, you can easily duplicate a page with a click to find the local or global maximum using A/B and multivariate techniques.
One of the biggest reasons A/B testing is so difficult is that it's tough to dig for ideas to test. First, you have to analyze your data, and if you're not getting enough of the stats that matter, optimization is a shot in the dark.
With heatmaps, discover where your visitors are clicking and scrolling, and using pixel integrations, find out how they're behaving: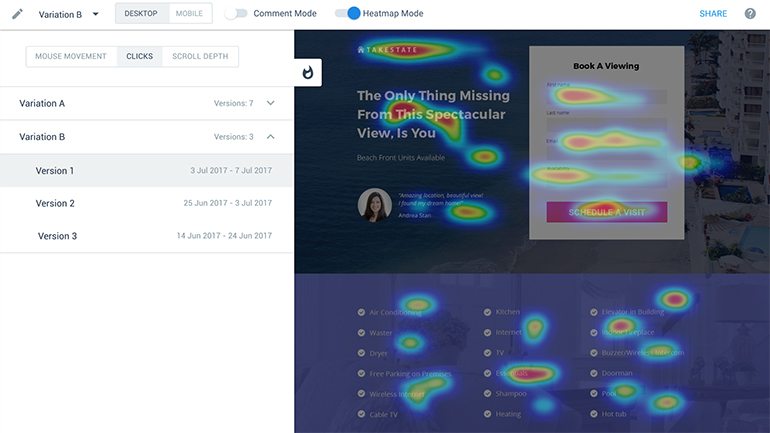 Then, test ways to fill the holes in your marketing funnel using optimization techniques like A/B testing and multivariate testing.
Our page migration service makes switching easy
There will always be hurdles to switching technology providers, but for post-click landing page designers, now there is one less. With the Instapage page migration service, you can simply send your URLs and let us do the rest. Keep on converting, and we'll handle your post-click landing page migration, sign up for an Enterprise demo today.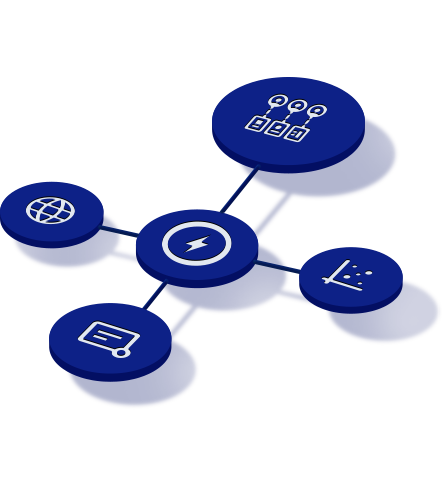 See the Instapage Enterprise Plan in Action.
Demo includes AdMap™, Personalization, AMP,
Global Blocks, heatmaps & more.