Today's consumers expect brands to know exactly who they are and what they want. To meet these expectations, drive customer engagement, and increase customer retention, marketers must make advertising personalization a top priority.
It's especially important to customize emails with strategies like marketing automation personalization and one to one emails. That's because personalized email content has been proven to generate:
6x higher transactional rates than non-personalized emails
58% of all email marketing revenue
An average ROI of 122%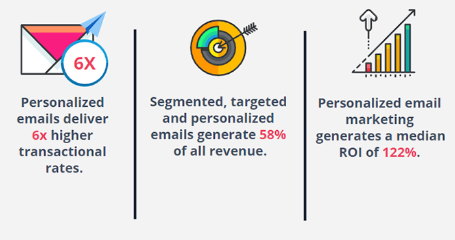 To reach the necessary level of email marketing personalization, brands need access to specific personal data on their prospects and customers. Thanks to the evolution of online advertising, we now have billions of data points about consumers: 215.6 billion from Facebook alone, and even more from Google.
Some of the B2C customer data points that are now accessible to help drive a strategy for B2C marketers include:
Contact information — phone numbers, address
Demographics — age, gender, education, marital status, religion, ethnicity
Lifestyle characteristics — type of car, family makeup, urbanicity category
Professional information — occupation, employer, title, business contact info
Real estate records — real estate value, number of properties, home ownership
Wealth data — net worth, income, total assets, propensity to spend
Interest attributes — charitable donations, political affiliation, hobbies
With so many data points available today, digital marketers can and should use personalized marketing automation and one to one emails to connect and engage with recipients.
The impact of marketing automation personalization today
Every company wants to provide a great experience for each of their customers. No matter what stage of the buyer's cycle the customer is in, engagement with them must be tailored to their specific needs and objectives, which requires intimate consumer knowledge. For smaller businesses, this is possible on an individual basis — contacting each consumer personally, and managing data profiles on their own.
For larger businesses, though, this isn't realistic and companies must use marketing automation.
Marketing automation has come a long way over time — from being a simple tool for marketers to automate repetitive tasks, to an essential way to understand customers. The technology advancements now enable marketers to use customer data to create highly personalized marketing communication.
Example
Integrations with other software and CRMs allow marketers to send targeted messages to specific lists. People can be tagged based on a variety of characteristics: job title, company size, geography, ad spend, location in the buying cycle, actions they take with your company/website/app, etc. Then, when people fit the set criteria, you can send them a very specific, personalized message to increase engagement or drive customer retention.
This idea of relevant content aimed at the right people, at the perfect time, via the best channel makes marketing automation projected to become a $5.5 billion industry by 2019.
You also need one to one email
Say you've used market segmentation to attract leads, nurture them through your funnel, and convert them into customers. You then use data points and personalized marketing automation to begin the customer retention process.
All great things, but is it enough? No.
One to one email adds even more personalization to your efforts. The automated and personal partnership — marketing automation plus direct, personal interaction — makes all the difference.
The process looks like this:
Track customer behavior — Collect customer data across multiple touchpoints to integrate into your personalized email marketing strategy
Create highly targeted customer segments — Use customer data to create segments based on their engagement with your brand
Automate personalized journeys — Use behavior from websites, apps, and platforms (captured in real time) to trigger automated emails
Create 1 to 1 email content — Based on each individual's actions, you can craft the perfect email, that's highly targeted and unique to their activity
One to one email is one of the most innovative and technologically advanced functions offered by marketing automation vendors today. It generates specific messages containing information about products or services perfectly matched to recipient's current needs, based on their unique behavioral and transactional profiles. Sent at the optimum time, 1 to 1 emails prove to be much more effective than mass sends, or even segmented email sends, with regards to open and click-through rate: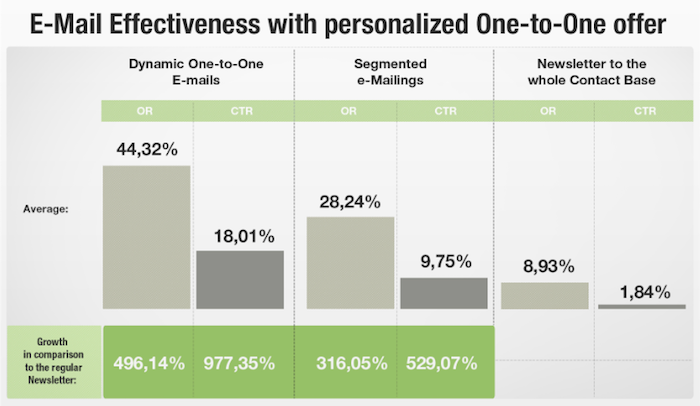 Here's how marketing automation works with a one to one email:
1. Software in this category track users' website behavior, and any transactional data that exists, to create a behavioral profile.
2. From a large database, the products that best match the recipient's current needs are selected and added to a message template. The message could contain products:
Viewed by the customer during the last visit
Viewed by the customer any time in the past
Purchased by the customer
Matching other products the customer has purchased
Recently repriced
3. Lastly, the email is automatically sent at a carefully selected time, based on:
The user's activity on your website (ex. 2 hours after the visit)
At regular intervals
Following a request from specific recipients
This Amazon 1 to 1 email includes the purchased product and was sent directly after the purchase: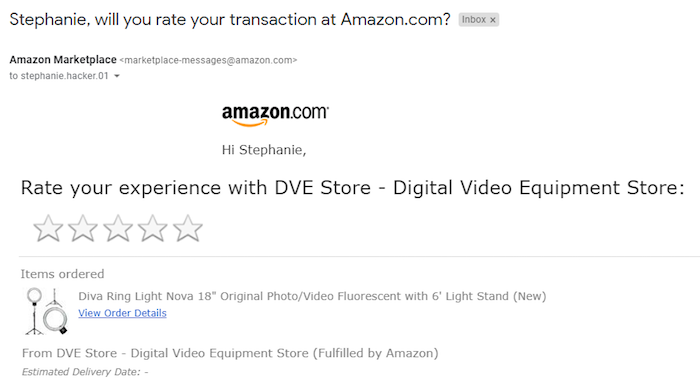 As with any marketing strategy, recognizing which promotional efforts are performing best allows for experimentation and optimization. One of the best ways to do this is to track the incoming traffic from emails with UTM parameters.
Using UTM parameters in an email
UTM parameters can be used in a variety of channels to determine which traffic source performs best for your audience. Knowing this can improve the overall performance of your efforts and your campaign's ROI.
Email provides five tags of UTM parameters you can add to URLs, allowing Google Analytics (or another analytics software) to track website visits from campaigns and other channels. Once a destination link with a UTM parameter is clicked, it's sent to Google Analytics and logged as a traffic source.
The five email UTM tags include:
Source — which site the visitors are coming from
Medium — which channels are generating visitors to your site (email, social, PPC)
Campaign — Indicates which campaign the promotion is associated with
Term — Indicates paid keywords you're targeting with your campaign
Content — Indicates the exact ad element that was clicked (for optimization purposes)
Using a combination of the five tags can provide valuable insights about which promotional efforts are bringing the most traffic to your site or post-click landing page.
To demonstrate, once prospects click this Facebook ad: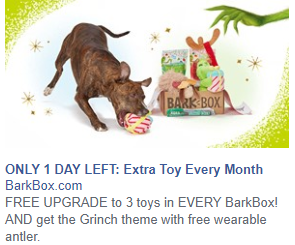 They're brought to the BarkBox website at this URL (picture below too):
https://www.barkbox.com/?utm_source=facebook&utm_medium=cpm&utm_campaign=BB_other&utm_keyword=grinchcy
bermuttday&url_coupon=CYBERMUTT18&&utm_id=5bed6ebcb5fbbc363d74da43&fbclid=IwAR
0B3D17T7SuUwoa7h983UNysQVgACC_8ArplGuJgi4lqk4P_nIHc30N53E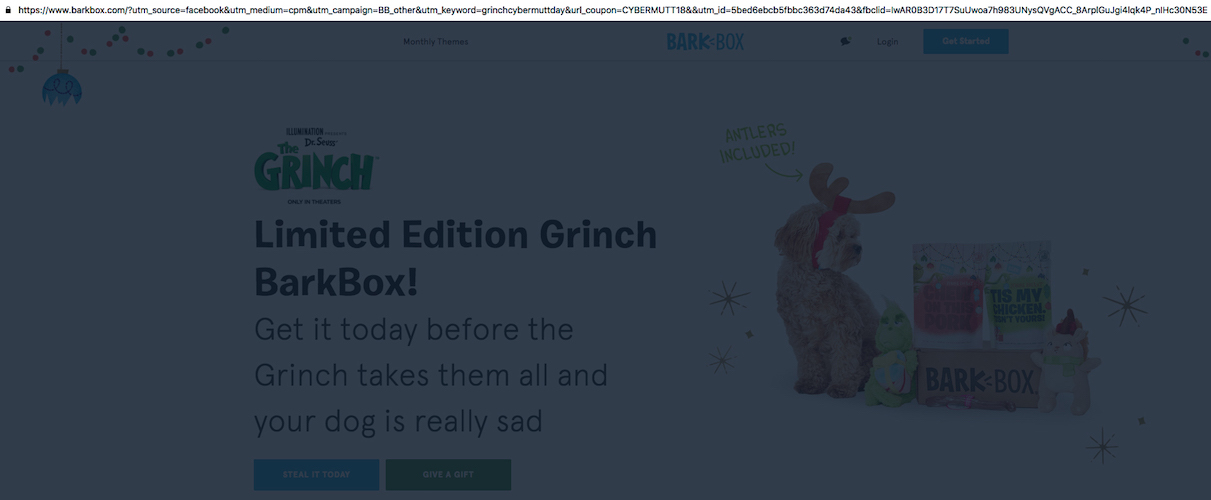 Starting with the "?," the parameter uses all five possible tags.
Note: Adding UTM parameters doesn't change the content of the post. It only allows for analytics to determine origin and basic engagement information about the visitor.
After one-to-one emails, what's next?
As you continue promoting content that people want to engage with, creating personalized one to one email content should be at the top of your to-do list. The more people feel connected to content, the more they'll engage and likely even purchase.
Your work doesn't end just because you've sent a one to one email, though. Ensuring the recipients' post-click landing page is optimized with a dedicated post-click landing page is just as important.
Always connect all your ads to personalized post-click landing pages to lower your cost per customer acquisition. Start creating your dedicated post-click pages by signing up for an Instapage Enterprise demo today.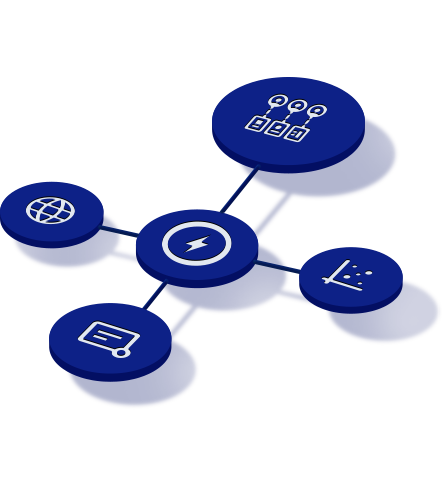 See the Instapage Enterprise Plan in Action.
Demo includes AdMap™, Personalization, AMP,
Global Blocks, heatmaps & more.