Today, simply recognizing your customer is no longer enough. You need to know them, wherever they are, whenever they are in their path to purchase.
With the ever-increasing number of ways they can find your brand and proceed to checkout, this creates a complex problem spanning countless channels. And the only solution is omnichannel personalization.
What is omnichannel personalization
Omnichannel personalization is a technique that involves offering customers a cohesive, seamlessly relevant buyer's journey across channels: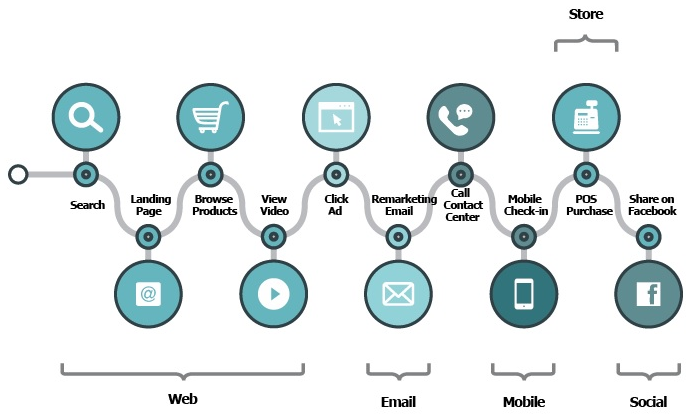 Increasingly, customers expect to be recognized at every step of their path to purchase, no matter where they are. This is not simply identifying your customer on a social media channel like Instagram and serving them relevant content based on the posts they've interacted with previously. In an omnichannel strategy, the buyer is recognized no matter where they are — be it Instagram, email, or in-store — and served content based on the sum of their interactions on other channels.
The difference between omnichannel and multichannel
While most brands struggle to implement omnichannel, at the very least, they have a multi-channel marketing strategy. These terms are sometimes used interchangeably, but they're not the same.
Multichannel marketing
Multichannel is a strategy that emphasizes being where your customers are. That includes your website, email, certain social media platforms, specific publishers, etc. If your brand has an established presence on multiple channels, you are running a multi-channel marketing strategy.
Omnichannel marketing
Omnichannel is a step up from multichannel marketing. With this strategy, marketers attempt to make their multichannel approach more relevant by seamlessly integrating the channels they're present on: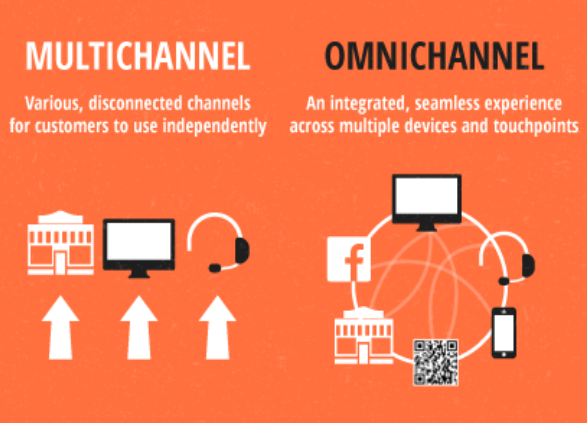 For example, if someone expresses interest in a particular product on your website, retargeting them on their favorite social media platform can draw them back. If they buy it, they may receive email promotions for similar or complementary items. This is a very basic example of omnichannel.
The best way to remember the difference comes from Kirsten McCabe in a blog post for G2 Crowd:
Think of the word omniscient, meaning "all-knowing." That's an accurate way to describe omnichannel marketing -- everyone at your company knows everything about the customer journey.
Personalization and omnichannel marketing
For most marketers, providing levels of personalization that border on "omniscient" is mere aspiration.
"In today's environment, [omnichannel] is extremely important, no matter what industry you are in," said a respondent to an omnichannel survey by Target Marketing. "Today's customers are self-educating and want the 'Amazon' experience. We struggle to provide anything close to this."
Other respondents echoed this. Of those questioned, at least 70% in every industry claimed that omnichannel was important to provide their customers: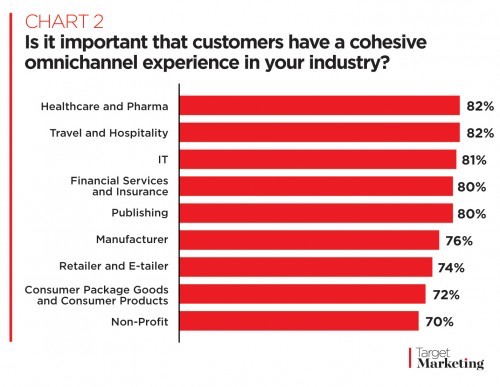 Actually providing the experience, however, was another story. Still, while many face challenges to implementation, the good news is that those challenges aren't all that hard to overcome: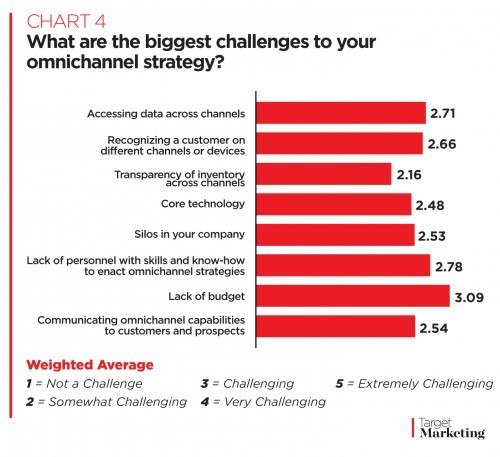 On a scale of 1-5, 1 being easy, 5 being extremely challenging, the most challenging aspect of omnichannel was rated a 3.09, and that didn't even have to do with organizational structure or know-how. It was lack of budget.
What's also encouraging is the number of respondents who say they're providing a good or very good omnichannel experience — 33%: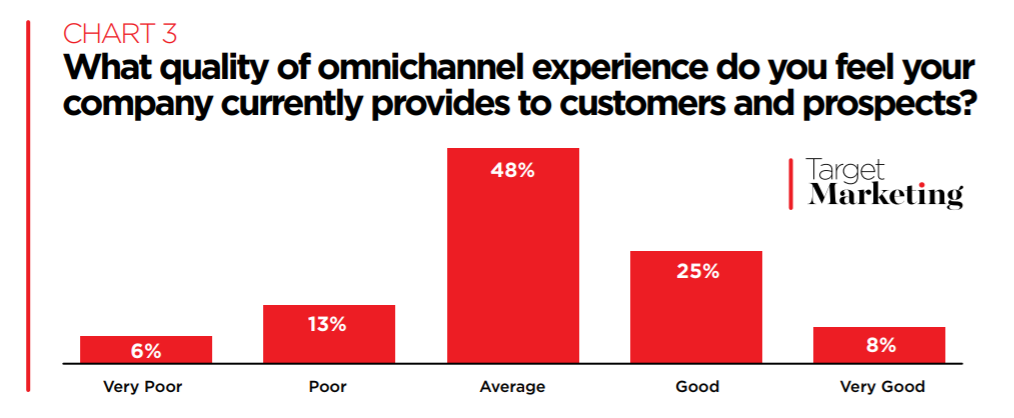 Nearly half say they're providing an average omnichannel experience, and only 19% say they're doing so poorly or very poorly. So, what does it take to move the needle from average to good?
Omnichannel personalization: Foundations for success
Just getting started with omnichannel personalization can seem like an overwhelming task. If this is you, here are a few foundational places to start:
Map the customer journey
If you're going to provide personalization throughout the entire customer journey, across channels, you first have to know what that looks like. This is where customer journey mapping comes in.
Customer journey mapping allows you to determine how your customers get to the stage at which they purchase your product. There are a few helpful strategies for this, for example:
Identify your customers and work backwards. How are they buying? Where are they coming from? Blog? Mobile? With basic analytics or customer journey software, this should be readily discoverable.
Take stock of your channels. How many channels do you actually have? Of those channels, which are most popular? How are they connected to your other channels?
Walk in their shoes. Attempt to make your way to the purchase stage through numerous channels to identify gaps or effective strategies that can be used for other channels.
Talk to your customer service team. They will know about the biggest problems your customers face throughout their journey.
Talk to your customers. Through surveys, face-to-face interviews, focus groups, and phone calls, it's easy to discover what your customers enjoy about the journey you offer, and where they find fault. Ask them how they shop your content. Do they read the blog? What devices do they prefer? What are their biggest objections to purchasing?
Read social media comments, reviews of your company. While talking to them directly is even better, if you have an abundance of online chatter about your business, this can be an even faster way to determine where you can improve quickly.
From all this, you'll be able to form a better idea of how your customers navigate their path to purchase, and how you can better connect your channels to offer a more personalized user experience.
Audit your data
It goes without saying: Behind any successful marketing strategy is data. Increasingly, however, businesses are drowning in data they don't know to use. This is where your work in customer journey mapping comes in handy.
Determining how your customers get from the first touch to purchase is crucial in determining exactly what data you need to provide omnichannel personalization.
In an ideal world, you would collect as much as possible and use it to personalize the user experience better. If, however, you're in the beginning stages of omnichannel, and you're not a major organization with disposable resources, this is an easy way to overwhelm yourself into paralysis.
With your customer journey research, you'll be able to tell how customers buy your product. And this is a great way to determine which data is most important to earning the sale. What data do you have, and which is most indicative of a positive customer journey?
From here, you can prioritize this data, and in the next step, figure out how to use it.
Ensure your channels are fully integrated
To provide omnichannel personalization, your tools need to be fully integrated. At the center of your marketing stack, data about each customer should be housed and ready for deployment in any channel.
Example 1
Your customer chats with an online company service representative about making a complicated return, when that customer arrives in-store to make the return, the details should be easily accessible by in-store associates. Your customer should not have to explain themselves twice.
Example 2
Your customer searches online, constantly, for the same category of product. A website well-integrated with social media will allow that customer to receive updates on similar products that are likely to be relevant to them. It will also allow them to shop those products through social media, easily, and find their way back to the website, where they can purchase. If they do purchase, an automated receipt could be sent to the user's email, which they may use to bring in-store to return the item if need be. Further email promotions can be sent regarding similar products as well.
How connected are all your tools? They should all be well-integrated to collect and process user data, then, with the next step, push it out through other channels.
Segmentation
As you better understand the customer journey and the crucial data needed to personalize it on a level that's doable for your business, the better you'll be able to segment your audiences.
Collecting data is only one part of the process. Segmentation is where that data is most productive in omnichannel. As you collect things like, location, behavior, demographics from your customers through their interactions with your brand, you can create personalization rules that enable the usage of that data on all your channels.
Take continuous shopping, for example: A simple way to incorporate data from browsing behavior is allowing customers to pick up where they left off on your website. If they were shopping for a particular category of product during their last visit, a rule for segmentation may dictate that product category be shown on the homepage when they arrive next. Or, if your customer has purchased a particular size, you may automatically populate that size during their next visit.
Further integrating this experience may involve the POS system in-store, so that if a customer browses online but makes all their purchases in-store, the POS system will know based on purchase history what a customer's size preferences are. The next time they're browsing online, the size will auto-populate, and the product detail page will let the visitor know if it's in stock at the nearby store they prefer to buy in.
Examples of omnichannel marketing
Crate & Barrel
One of the major needs for omnichannel comes from customers' unwillingness to trade the convenience and robustness of online for the confidence of in-store.
Online, you can find anything you want to know about a product with a few clicks — details like size and color, material, reviews, etc. However, it's still no substitute for experiencing the product in-store, where you can see it, touch it, try it on, and buy with confidence.
Understanding this, Crate and Barrel partnered with CloudTags to create a program that didn't compromise. Called their "Mobile Tote" experience, it puts tablets throughout their brick and mortars which customers can use to scan barcodes of products to learn more about them — like colors, reviews, etc.
They can also use the tablets to search for items and create wish lists. And if they so choose, customers can enter their email to send themselves the list, or to sales associates in store who will bring the items to checkout for them. If they create a list but don't check out, a cookie ID will allow Crate and Barrel to retarget them with display ads later.
Neiman Marcus
Using omnichannel marketing, Neiman Marcus provides all its customers with an experience as luxurious as possible. Here are just a few ways they're integrating across channels to do it on their website, in-store, and via mobile app.
On their website: There are a lot of little tasks that add friction to the buying process, and fixing them can make for quick wins. Neiman Marcus addressed one of them — sizing — to streamline the product search process. On the company's website, if you continually search for a particular size of clothing — shirt or shoe, for example — it will automatically search for those sizes in the future. This integrates with brick and mortar stock systems, geolocates ones nearby, and then displays which have the product available.
In-store: At fitting rooms in their brick and mortar locations, Neiman Marcus has installed what they call "Memory Mirrors." These are actual mirrors with video capability that customers can use to record themselves trying on clothing. The videos can be texted to friends or family for feedback, or to the user's Neiman Marcus app to review. Whether it's recalling how an outfit fits, or comparing the look of two, Memory Mirrors help visitors see exactly how the product fits on them, not a manakin.
Mobile app: The company's most innovative tool might be its "Snap. Find. Shop" App. In a blog post for Forbes, Barbara Thau describes it perfectly as "Shazam For Shopping." Customers on the go can use this tool when they see an outfit or an accessory they like, whether it's in another store or on someone's person. All they have to do is open the app and take a snapshot of the item. Then, the app, which is integrated with the company's products, will search Neiman Marcus stock to find something as similar as possible, then serve it up to the customer who can save it across channels.
With all these examples, the important aspect to focus on is that each informs the other. In this omnichannel strategy, the products a customer photographs with the app, the ones they record with Memory Mirrors, and the sizes and locations they search online are all taken into account when serving marketing messages to the customer.
Zappos shoes
It's not uncommon for us to use, on average, four devices per day. Often, when those devices are used for shopping, the path to purchase doesn't happen on them one at a time.
It's likely your customers are starting their research on your website on desktop, then they're moving to social on their mobile phone, then tablet, etc. In a blog post for Marketo, Mike Stocker describes an experience with Zappos that proved they understood how, where, and when to market to him:
Recently, I added a pair of shoes from Zappos to my shopping cart, using my mobile phone. Later, I viewed the same shoes on my laptop at home, but didn't purchase. Finally, on a weekend afternoon, I got an email from Zappos with the subject line "You snooze, You Lose." Inside the email, the big bold header said: "Don't miss out!" There was an image of my shopping cart, the shoes, and a bright orange tag that said: "Only 1 LEFT!" Needless to say, I bought the last pair of shoes. Zappos had just made my buying experience as easy as taking candy from a baby.
While the term "omnichannel" sounds esoteric and intimidating, at its core, it's exactly what Mike describes here: "Zappos had just made my buying experience as easy as taking candy from a baby."
Omnichannel can take many shapes and levels of sophistication, but it's mostly about making the buying process easier and more relevant for customers. Here, Zappos combines three relevant channels for Mike: email, website on mobile, and website on desktop.
This example drives home another point: Omnichannel isn't about using every channel in every interaction. It's about combining data from all those channels, determining which are most relevant to Mike, and serving them up when they're best received by him. In this case, what got Mike to buy was a retargeting email on the weekend.
For a different prospect, though, social media might be more effective at a different time. This is the strength of omnichannel: All channels connected, with data about the customer coming in, which informs the marketing messages going back out.
Value City Furniture
Purchasing furniture can be a high-friction experience, taking many combinations of in-store visits and online browsing that span days, weeks, months. Knowing this, Value City Furniture created a solution to simplify the process: Easy Pass.
Easy Pass is a platform that attempts to connect the online and offline shopping experience. With the tool, customers can create shopping lists online for furniture they're considering. Then, in-store, employees can pull those lists up, show customers each item, and answer whatever questions that stand in the way of their purchase decision.
Conversely, in-store, employees can add items to customers' wish list, which customers can then browse later online. Those listings come complete with key details like dimensions, product photos, the name of the associate that helped them in-store, and even a chat link in case they have questions later.
Take personalization to the next level with omnichannel
Omnichannel is still in its early phases, and as more channels become available to consumers, it will only get more complex. What might a store of the future look like? According to a report from Worldpay: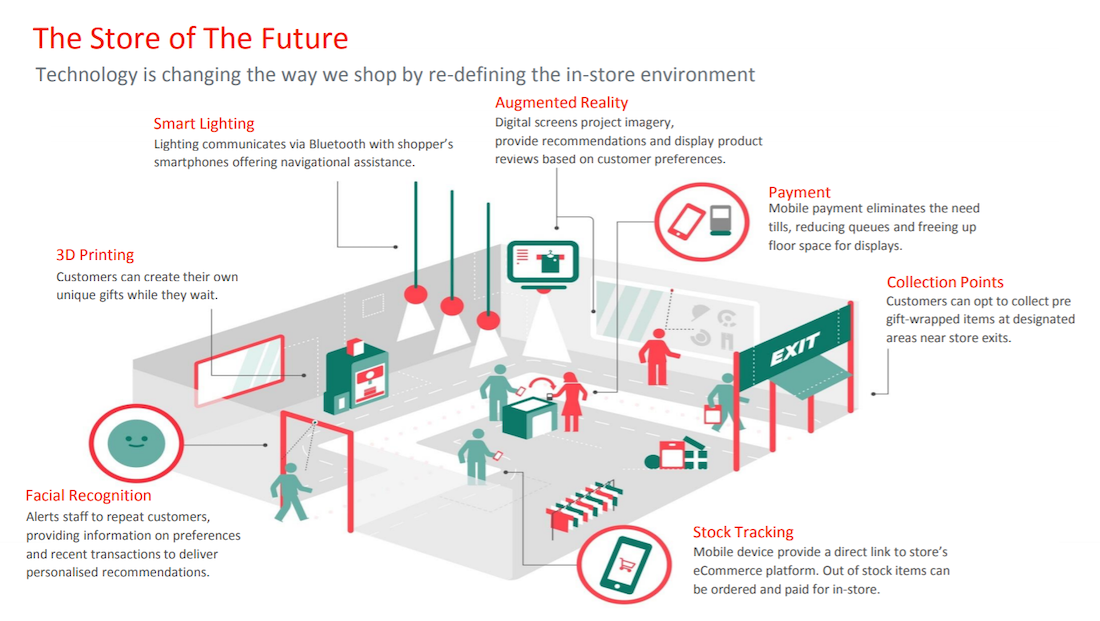 As complexity grows, though, excelling at omnichannel will benefit businesses greatly. According to one study, customers not only prefer to use multiple channels, but they also spend 4% in-store, and 10% more than buyers who only use one channel.
Ready to integrate the post-click stage to your omnichannel strategy? Learn this and more with the Instapage Personalization guide.