Growth is crucial for any startup. When it comes down to creating a brand new market, or battling for market share with an incumbent in an existing market, understanding the levers behind growth and using them in your favor is critical.
The Instapage team has grown consistently in the past two years, from an agile team of 3 to our current 125+ team members spread across the globe. With nearly a thousand new businesses and entrepreneurs joining Instapage daily, we're currently the fastest-growing post-click landing page platform on the market.
As a bootstrapped company, this would not have been possible without a deep understanding of what drives growth. Thanks to a lot of multidisciplinary collaboration across Product, Marketing and Customer Success, we've obtained a better grasp of what makes our users happy and learned a lot on how to optimize our overall user's experience.
Here are a few tips and tricks we used along the way…
Data Foundation: The basis for a solid retention strategy
There are a few frameworks available which are very helpful in understanding the customer life cycle for a typical startup and think through the most important metrics at each stage of the marketing funnel.
Among them, the AARRR framework by Dave McClure is one of the most renowned with its clear funnel breakdown into Acquisition/Activation/Retention/Referral/Revenue. If you're looking for a high-level snapshot, Tomasz Tunguz's 10 Most Important Metrics as well as A16z's Startup Metrics (Part I and Part II) are great choices.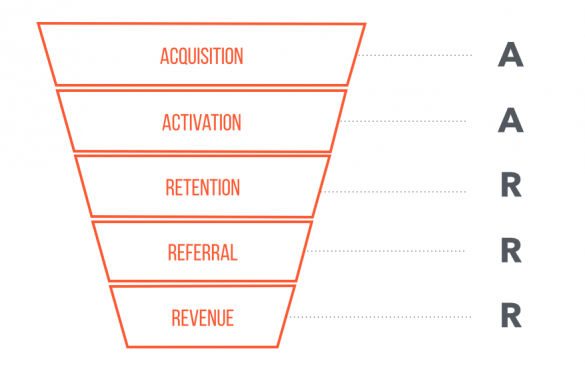 During the past two years at Instapage, we've been loosely following the AARRR framework. You can find some of our Acquisition tactics in this webinar, which we co-hosted with our friends at Autopilot.
In today's post, we will focus mainly on Activation and Retention with the assumption that measuring revenue correctly is a prerequisite for seeing how each of the remaining stages translates to the bottom line; therefore, avoiding waste.
At the base of any successful data-driven marketing strategy, it's necessary to have a reliable data collection foundation. Here at Instapage, we use Segment as our primary data hub to define and collect events and user properties from our app. This is very useful to avoid redundant work for our engineering team (no need to define and maintain custom tracking for each integration we use) and quickly evaluate new tools.
Some of these integrations, which are now part of our marketing stack, include:
With these integrations in place, we set ourselves up for success to activate new users and learn everything we can from them as soon as they begin interacting with our platform.
Activation
Once you've acquired a new user, how do you ensure the user fully understands your value proposition? This is what activation is all about, and it is often referred to as finding the "Aha!" moment for your user base.
To discover what represents this "Aha!" moment, we used a combination of quantitative and qualitative information:
Signups -> Subscribe data: By looking at both funnel analysis and user profile snapshots over the past six months, we discovered some insights on what features were driving the most engagement, and communicate the value of these features during our onboarding journey.
Casual Conversations: By talking to some of our new subscribers (both in-person and via follow-ups from our in-app and email NPS surveys), we were able to learn more about our customers' real needs, as well as validate our quantitative assumptions.
One of our main findings from our quantitative analysis was that free trial users who published at least one page on a custom domain — and started A/B testing it right away — were 15x more likely to remain engaged over time and upgrade to a paid plan (when compared to typical active users).
These kinds of insights, coupled with qualitative information gathered during our 1-on-1 conversations with current customers, informed the way we built our free trial onboarding journey. For example, the way we influence the sequence of messages to test in the journey and its overall structure.
In addition to finding out how activation is defined in terms of product features, we need to make sure that these same features are communicated effectively to our new signups. This involves continuous testing of all our messaging, including emails, in-app, hard-coded messages, push notifications, webinars, etc. If you have a minimum sample size (i.e. signup volume), it's very easy to reach statistical significance early and set quick iteration cycles — generally 2 or 3 days — to identify the top performing split, and continue improving over time.
In this regard, a very useful feature of Autopilot, which allows for fast iterations, is their 'Send to Segment' feature. This allows full-funnel analysis of email and in-app touch points, such as this example: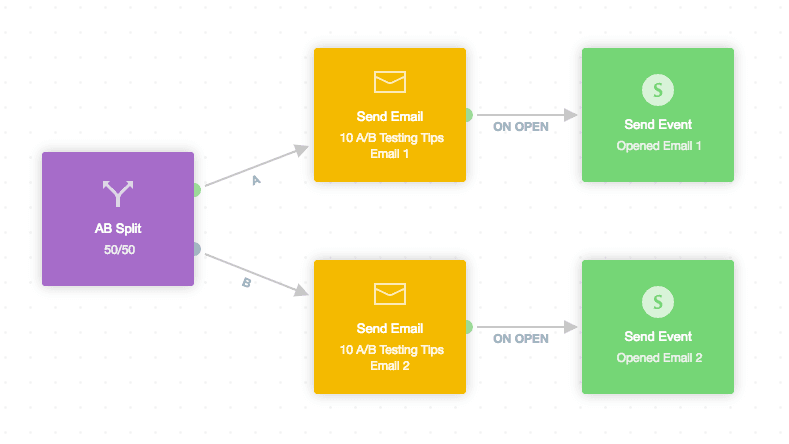 It becomes very easy to see how many people began a free trial, opened a particular email, and then upgraded to a paid account (as a simple example), and pick the winning email: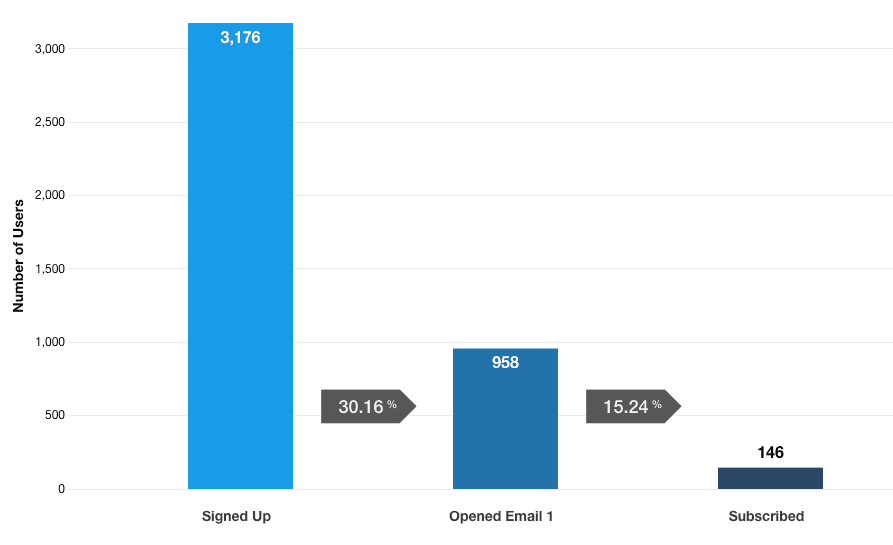 Retention
If Activation's main concern is communicating your core value proposition to first time users, Retention is all about keeping your customers engaged with your product after that first positive experience, and therefore, minimizing overall churn for unpaid users.
Measuring retention can be done in a variety of different ways, such as:
Counting the number of times users have logged in
How many times they have accessed our dashboard
Focusing on specific actions done within the app
At Instapage, we like to focus on the top 5-6 actions we identified and ranked over time (based on behavioral cohorts and classification analysis from historical data), including the number of pages created, the number of pages published, publish medium, etc. Based on these actions, we experiment with different onboarding experiences that promote these actions to verify how that affects overall retention (see image below).
Specifically, most of the optimization takes place within the first 72 hours after sign up, as that is the timeframe when the largest engagement drop takes place. Thanks to this continuous testing cycle, we've seen an average growth of 2% to 3% each quarter for some of these key customer retention metrics, indicating increased engagement within the app and possibly higher conversion rates down the road.
Again, iterating quickly is only possible if you have enough signups to reach statistical significance within a reasonable timeframe (less than a week in our case).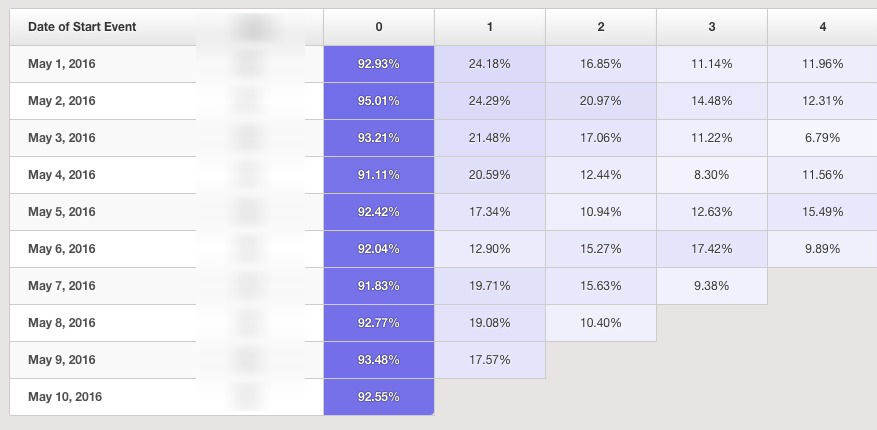 When it comes to communicating the value of these features over time; we use events, time-based in-app messages, and emails to drive engagement during our free trial period. We give preference to the former as their click rates tend to perform much better (up to 3x or 4x compared to emails), as well as avoid inbox fatigue. The idea here is to support beginner users while letting power users use the app and discover new features with minimal interference from our end.
We also like to send status emails on a weekly basis to reward our most engaged users, while giving some advice to less engaged users on the next steps to take to reactivate. This helps users to see where they stand, compare themselves to the "average Instapage user", and learn about those advanced features they're currently missing out on.
An example of one of these status emails is our ½ trial email, shown here: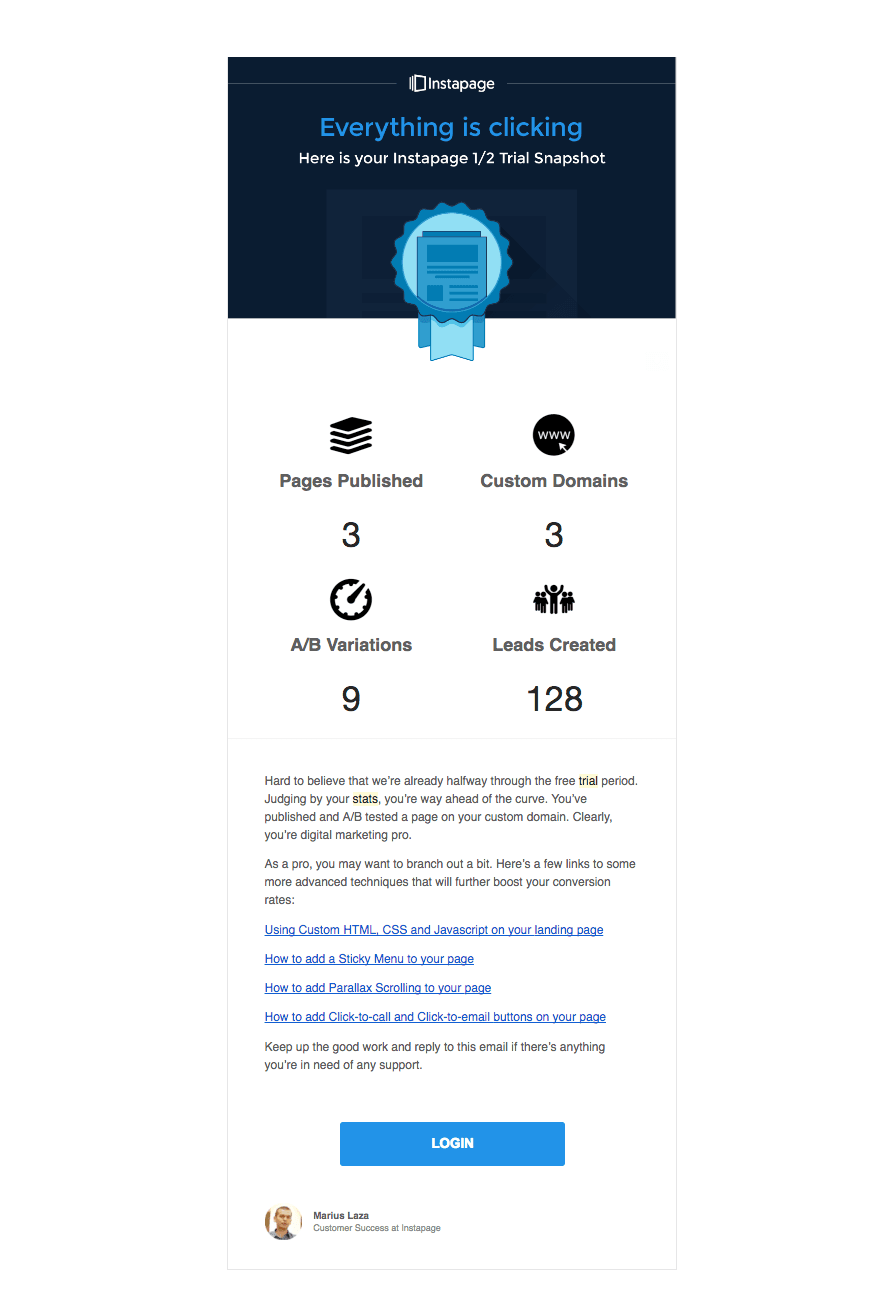 In this specific example, an Instapage free trial user, who has activated successfully and is testing multiple pages while collecting leads through an integration form, is rewarded for his/her effort, and receives some practical advice on what else can be done to improve their post-click landing page.
Finally, segmentation represents a vital part of our customer retention strategy, as it has been proven that personalized messages have higher engagement rates. During our onboarding sequence, we collect information about our user preferences at two distinct points in time:
The signup form
Via specific surveys (both in-app and via email — see image below as an example)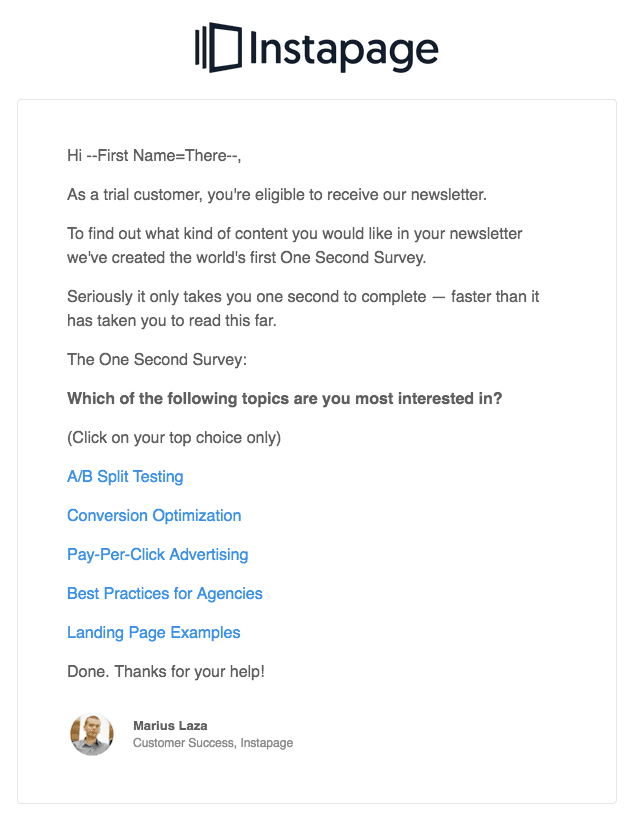 Additionally, we do enrich demographic data using third-party data sources on a constant basis. However, we tend to prefer a direct approach (i.e. asking questions on our signup forms) to obtain more actionable information.
By having users opt-in directly on the type of content that they want to receive, it becomes easy to drive engagement by using our top-performing content. In our specific case, we've seen open rates nearly double for each segment (from 35% up to 70%), with click rates often reaching 25%, which is about 4x higher than our average generic email blasts (without segmentation). This has been especially useful for reactivating disengaged free trial users by offering relevant, up-to-date information about what they can do with Instapage.
What does your customer retention strategy look like?
Activation and Retention represent two key steps to translate new users into customers. Without them, all efforts spent in acquiring new users are wasted. By leveraging historical data as well as qualitative insights from customers, it becomes possible to build personalized onboarding journeys to quickly explain what your product is about, and keep customers coming back.
How does the AARRR model fit into your business? To put it into place, you first need to acquire new users. And to do that, the most effective way is through an optimized post-click landing page. Start creating post-click pages, sign up for an Instapage Enterprise demo today.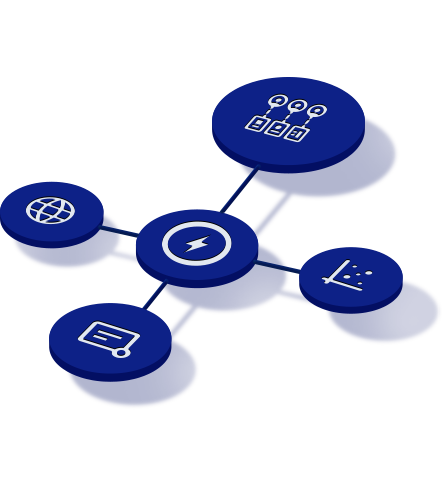 See the Instapage Enterprise Plan in Action.
Demo includes AdMap™, Personalization, AMP,
Global Blocks, heatmaps & more.