Digital marketing is always evolving. Meaning it's vital to a marketing agency's longevity that they keep up with the best business practices and trends.
Two critical questions that are continuously being asked among marketing professionals are:
What's new in the marketing world? And more importantly, what's coming next?
To address these questions, we've compiled a list of some of the newest agency trends of 2017. From cutting back on internal business operations, to relying more heavily on marketing technology, here are several new business trends to look out for this year.
9 new business trends in 2017
1. Less money spent on internal business operations
According to the 2017 RSW/US New Year Outlook Report, most agencies (89%) are planning to invest either "somewhat" or "heavily" in their internal business operations this year — people, marketing, and sales: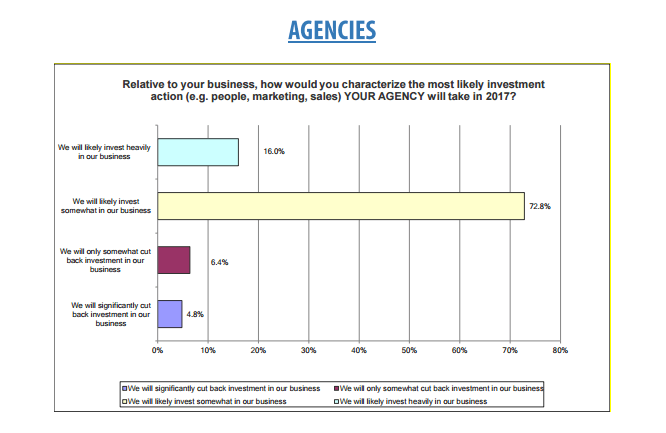 Although this number may seem impressive, it's a slight decrease from previous years. In 2014, for example, 96% of agencies reported investing "somewhat" or "heavily" in their internal resources:
What's causing this decline? Why now, do agencies feel more hesitant to invest in their own agency business operations than in years past?
The report points to three main factors to be the cause: the movement of work in-house, more work being distributed as project work, and more money being spent on marketing technology.
For instance, with marketing technology quickly on the rise, and more money being spent here (more on this below), it only makes sense that agencies will start to spend less money in other areas, such as internal marketing functions.
2. Increased spending on marketing technology
Previously, all marketing teams and agencies endured the same common issue: fragmented, slow, inefficient processes — "The Design Review Drag," or DRD, as we like to call it. But now, with marketing technology — a combination of marketing and information technology — teams can reduce DRD, and experience better, faster, and more fluid communication.
By investing in marketing technology, agencies can cut costs elsewhere. For example, when it comes to post-click landing pages, there is no longer a need to hire additional developers to build pages when you have dedicated marketing software to help.
Let's take a closer look at this.
The national average salary for a web developer is $66,238. In large cities, it's even higher — over $71K in New York City and nearly $88K in San Francisco.
But with a dedicated post-click landing page software that offers features such as 100% customizable templates, marketing integrations, and A/B testing, agencies can save that web developer salary and use it elsewhere.
Instapage offers that post-click landing page software. We also offer the industry's first and only post-click landing page collaboration solution, allowing users to share and respond to comments, provide feedback, and resolve issues right within the platform. By using the software, marketing teams and agencies can collaborate in real-time, cut back on scattered and fragmented communications, and save time during the design review process: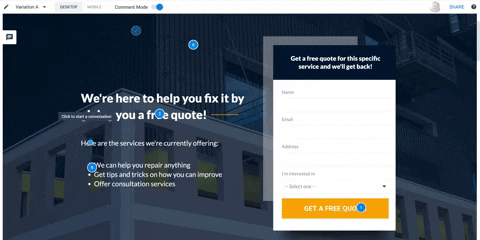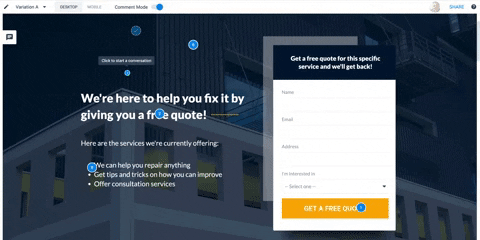 3. Increase in integrated agencies
2017 is sure to see a significant rise in agency integration because of the need to coordinate, and in turn enhance, different types of business marketing techniques. This is key because, even though all-inclusive marketing agencies do exist, it's still difficult for most individual marketing agencies to tackle every aspect of marketing on their own.
Instead, they will start to team up more frequently to provide each other with their own specialized benefits, to empower each other, and to enhance each other's capabilities.
4. Stronger relationships with clients
Nurturing leads is nothing new in the world of marketing, but by increasing communication with clients and contributing to their success (rather than viewing them as just a profit to be made), agencies will begin to see even more business from clients in 2017.
According to a 2015 study by the Association of National Advertisers (ANA), 97% of agency professionals either "agreed" or "strongly agreed" that a long-term client-agency relationship is important to their business. 89% of client-side marketers agreed: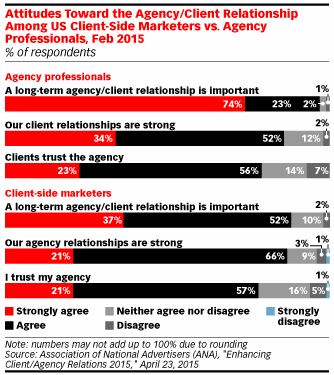 To develop a strong long-term client-agency relationship, a genuine relationship must be formed right from the onset. This requires an open communication style, respect, understanding, and a foundation of trust. By acknowledging and practicing these qualities, and treating your client as another business looking to thrive from this relationship, it becomes much easier to nurture and strengthen your relationship with them.
5. Agency services moving in-house
All businesses have marketing needs, but unfortunately, those needs aren't always met. When business owners become overly frustrated with their current marketing efforts, they typically have two main choices: hire someone in-house or an outside marketing agency.
Here the trend is to hire internal marketing employees to move some of the typical agency services in-house. In fact, nearly 80% of agencies surveyed by the 2017 RSW/US New Year Outlook Report predicted that their clients would be pulling some of their marketing services in-house this year: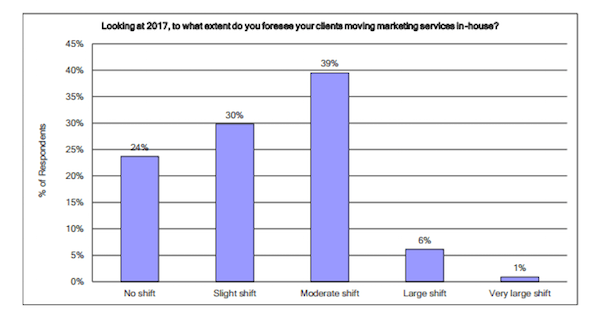 As an agency, this number probably seems incredibly intimidating; but before the panic sets in, consider this…
According to the same report, 84% of the marketing businesses themselves indicated that this in-house transition would include only 20% or less of the work that's normally assigned to agencies: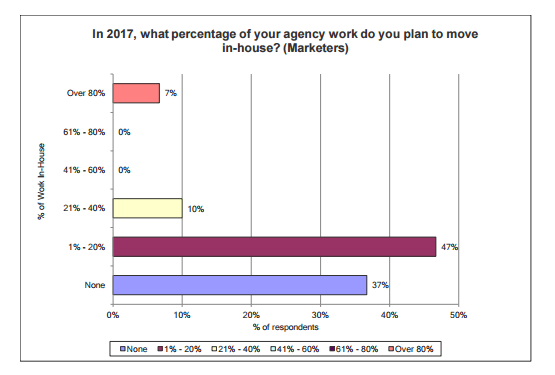 So as long as you keep the value of your agency offers high — something desirable that only your agency can provide (e.g. offering access to a Collaboration Solution) — there should be little to worry about.
6. Increase in remote work
Since various digital marketing talent and expertise can sometimes be limited in small cities, hiring enough of the right people for the job isn't always easy. To overcome the talent shortage, many agencies have started hiring remote employees. Because this new agency business trend also helps save on office expenses and increases employee productivity, it's safe to say that the trend will continue throughout 2017.
In fact, according to a HiveDesk survey of over 40 digital marketing agencies, 20% of agencies reported that every one of their employees work remotely. Of that 20%, more than 80% expressed that using remote employees improves work productivity, and all of them found significant savings on office expenses.
One example of an agency that hires remote employees is Acceleration Partners (AP). AP is a marketing consulting agency that focuses on high-end account management for companies like eBay, Target, and Adidas. The company has experienced a 3-year growth of 334%, and their employee satisfaction rating ranks at an impressive 4.9 out of 5.
The kicker? Their entire employment team works from home.
Emily Tetto, Director of Talent and Culture at Acceleration Partners, explains:
Robert Glazer started Acceleration Partners with a vision to build a great company while not sacrificing family time. So, our remote culture was born very intentionally right from the first employee.
Acceleration Partners is just one example of how having all of your employees working from one central location isn't always the best option. Some very successful agencies, like AP, take full advantage of remote work, and clearly reap benefits from this method.
7. Transition from AORs to project work
Another 2017 business marketing trend is the transition of companies away from the traditional "Agency Of Record" (AOR) model toward more of a project work model. With this shift, more and more clients will start to bring in agencies on an as-needed basis to address specific advertising issues.
The 2017 RSW/US New Year Outlook Report states that in 2016, only 20% of agencies indicated that the majority of their work was billed as project work. In 2017, that number increased 15 percentage points to 35%.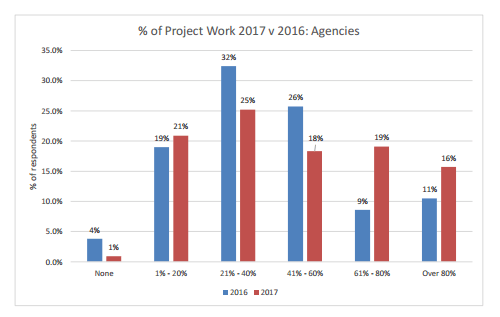 Working in an agency, you may be wondering what this transition means for long-term work.
Just because project work is on an as-needed basis doesn't mean it's a one-and-done type of deal. It means that for agencies to build long-term relationships with clients, they will simply need to analyze the initial project to decide whether or not they see a future in continuing to work with the client.
8. Leveling team dynamics
In all aspects of life, the most successful teams are the ones that recognize the need to communicate effectively and work together toward a common goal. Unfortunately, that hasn't always been the case when it comes to marketing. Instead, many marketing professionals suffer from an agency vs. client mentality.
Fortunately, 2017 will start to see the agency vs. client mentality slip away and people will begin to see the importance of leveling team dynamics — both between agencies and clients, and even within agencies. While there will always be imperfections, disagreements, and other bumps in the road, the main idea is that clients and agencies (and agency members) are on the same team, with a shared goal of creating great work to drive results.
9. Expanded data collection and analytics
Marketing has grown to become increasingly about data collection and analytics, and we will continue to see this business trend rise in 2017. So much so that 83% of agencies believe that the demand for marketing data/analytic capabilities will "rise somewhat" or "rise sharply" this year: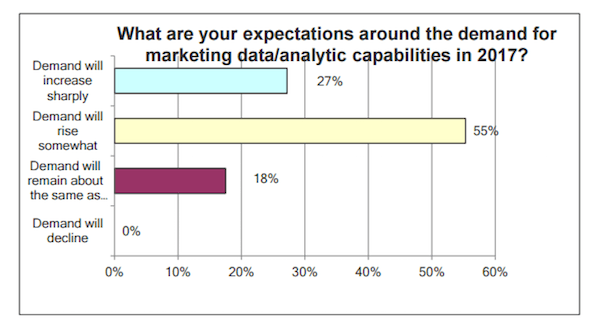 This should come as no surprise as data collection and analytics are necessary to determine why various marketing efforts are producing certain results, and to predict what is likely to happen in the future.
For example, without the help of data collection and analytics software, how else will you learn what website pages are visited the most and are most popular among viewers? The only way to know this is by collecting and analyzing data.
Which new business trend will you incorporate into your marketing strategy?
2017 has been and will continue to be a game-changing year for digital marketing agencies. It will bring about some changes to be cautious of, but will also introduce trends that will help your agency to become even more successful.
Keep an eye out for each of these digital marketing agency trends as you create and work toward your marketing goals for 2017. To help meet your agency's (and client's) goals, make sure you're creating dedicated post-click landing pages for each marketing campaign with a platform that offers 1:1 ad personalization for every audience you have. Try it out for yourself, sign up for an Instapage Enterprise demo today.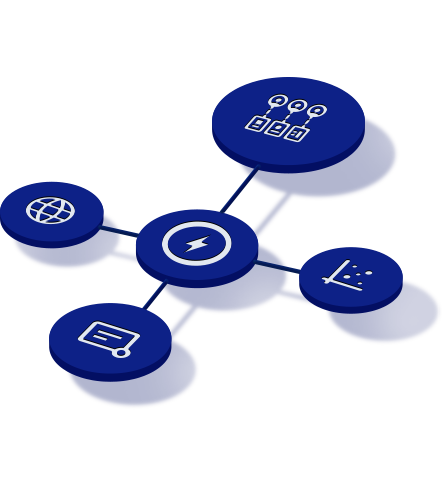 See the Instapage Enterprise Plan in Action.
Demo includes AdMap™, Personalization, AMP,
Global Blocks, heatmaps & more.