.Before business casual was introduced in the 1990s, the workplace was a rigid place where employees conformed to cultural norms like wearing a shirt and tie and working 9 to 5. Employees used to spend most of their time in the office working under a manager's direction, and at the end of their one year anniversary, receive a performance review.
Today's modern workplace, though, is a fluid, casual environment, where work-life balance is championed and, depending on your company culture, some employees might even come to work dressed in sweatpants from time to time.
Employers have found that the old, rigid style of thinking reduced efficiency and couldn't meet new age challenges, like employees collaborating effectively over long distances. The modern workplace environment has a blended workforce, is becoming more responsive to problems, and less tied down to physical locations. Employees now use modern collaborative software like Skype and Google Docs to communicate more effectively with their colleagues around the world in real time.
The workplace continues to evolve in order to meet the needs of both employees and employers. Let's take a look at 5 modern workplace trends and how they are changing the way we work.
5 Modern workplace trends to consider adopting:
1. Flexible workforce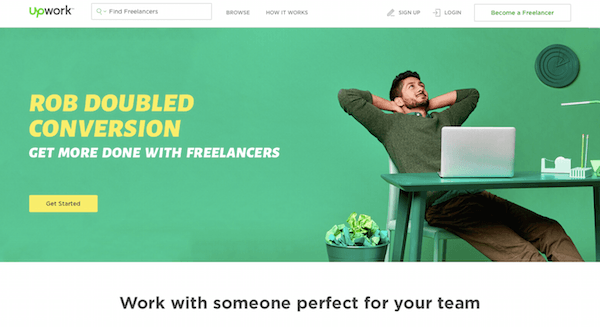 According to a study from Intuit, freelancers will comprise 40 percent of the workforce by the year 2020. The biggest reason for this growing trend is that employers are finding that freelancers can drive efficiency, especially with the savings on administrative and healthcare costs.
Freelance marketplaces like Upwork are helping to drive the shift towards the gig economy. Sites such as Freelancer, Fiverr, Guru, and even LinkedIn are providing specialized workers with opportunities to work remotely for a wide range of companies around the world.
The rise of the internet also has given rise to the gig economy. Sites like Upwork are connecting more people around the world. This give them the freedom and flexibility to choose the kind of work they want. Millennials, in particular, are trading in the traditional security and benefits of a full-time job for more freelancing opportunities where they have complete control over their schedule.
These outsourcing platforms are hugely beneficial for freelancers, too. Workers enjoy:
The flexibility to choose whom they work for and at what pay rates
The ability to set their own schedule
The freedom to work remotely
Freelancers can have a wide range of specializations. Writers, graphic designers, Photoshop experts, customer service specialists, accountants (and many more) can freelance by looking for work on sites like Upwork, Guru, and Freelancer. Companies benefit by getting access to a vast talent pool of specialized professionals.
Freelancers aren't just working with small businesses on a tight budget, either. Some of the largest companies in the world take advantage of freelancers for specialized talent. Companies like Facebook, IBM, and BBC Worldwide have used freelancer sites to get projects done on budget and on-time.
In summary, employers are becoming more dynamic and improving productivity. They prefer to hire from a rich talent pool of remote workers from around the world. And with that, there is an increasing need for managers who can skillfully manage both freelancers and full-time employees working alongside one another.
This brings us to trend number two.
2. Collaboration, and a lot more of it
Even in our digital age, collaboration can still be a difficult thing to master. As connectivity increases, so do the number of platforms which employees, employers, and clients communicate on. This can pose problems for teams that are working in the same office — let alone those that are working and communicating remotely.
Take a landing page for example and everything that goes into the creation process. Typically, you have a copywriter, designer, and ultimately a manager or VP that gives the final approval for publishing. With all of the necessary landing page elements required to create an optimized page, there is constant communication and changes to be made before a page is published.
Project managers would have to organize copywriters, editors, and designers as well as feedback from clients or other stakeholders. Copywriters might prefer to communicate through Slack or Google Docs, while clients may prefer giving feedback and providing suggestions through Gmail or Trello. Communication through multiple channels likely meant publishing delays and details lost in translation — all making collaboration inefficient.
With the Instapage Collaboration Solution, though, team members and clients can leave comments directly on the landing page, provide, and respond to feedback in real-time, and solve issues inside of a single platform. No hacky workarounds, no mocked-up screenshots to send — just simplified communications. This ultimately speeds up the landing page design process and makes the project more seamless for everyone involved.
Click on a hotspot, @ mention a team member, and comment directly within the Instapage platform: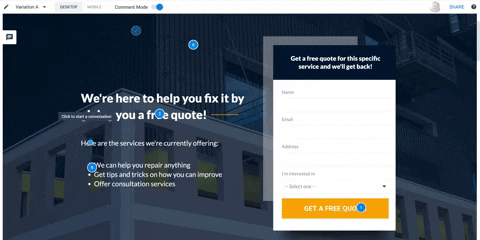 Also, find comments easily browsing the comment feed and even share the landing page with stakeholders via email. You can also passowrd-protect the page if you require an added level of security: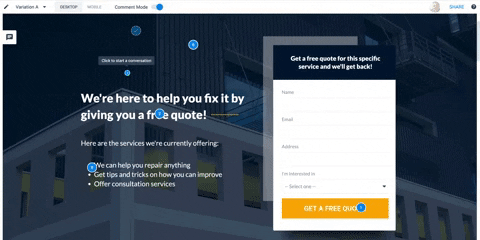 Instead of waiting for clients and team members to send feedback through multiple channels, the collaboration solution centralizes communications and reduces the inefficient, time-consuming portions of the landing page creation process.
Increased collaboration are what modern workplaces are trending towards. More offices are using freelancers who work remotely, and a streamlined process for communication simplifies what used to be a complicated design-feedback-approval process.
3. Greater emphasis on work-life balance
As companies have moved towards a greater reliance on technology. More employees find themselves working even after the work day ends. The need for employees to stay connected and a near constant business cycle has placed more pressure on employees to be connected at all times.
When employees are forced to work outside of the office, both productivity and morale can take a hit.
A report from Deloitte found that a good work-life balance is the most important thing for millennials when accepting a job. Millennials are less loyal to their employers than their older counterparts and put a bigger emphasis on their personal interests. Companies that are looking to acquire and keep millennial talent must offer good work-life balance and flexibility.
To help with that, employers can offer employees the ability to choose their own hours or provide work from home opportunities: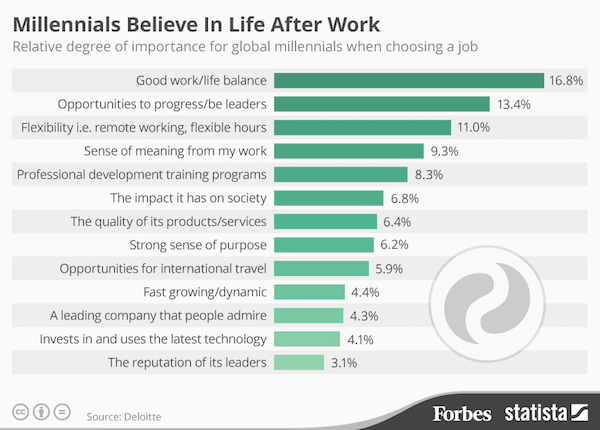 Employers understand their employees are under pressure. They understand that an employee who feels stressed and overworked is less likely to be productive. That is why more employers are offering flexible schedules to accommodate doctor appointments, family events, and other personal issues. Instead of focusing on hours in the office, companies are turning their focus towards deliverables and outcomes.
4. Alternative presentation methods
PowerPoint was the single best option for business presentations, but that seems to be fading. In 2016, one study showed that money spent by businesses hiring for PowerPoint decreased by 5 percent.
New, more attractive alternatives to PowerPoint are giving executives more options for their presentations, like Prezi and Keynote. Companies demand superior graphics and animation when presenting their content and "wow-ing" their clients.
Developing a corporate video can cost between $6,000 to $10,000, the cost of an animated video ranges from $2,000 to $5,000, and video developed exclusively for a web presenter can cost as little as $1,200. Those cost savings alone has undoubtedly helped identify spending for Prezi and Keynote increased 23 and 18 percent, respectively.
In an interview with MarTech Advisor, Prezi CEO Peter Arvai said companies see a significant increase in customer satisfaction after switching over to Prezi:
These small and midsize businesses are looking to not only tell their story, but do it in a way that's memorable and engaging. These differences can be measured: e.g. Salesforce says their audience satisfaction rates go up with 28% when they switch over to Prezi.
PowerPoint presentations can seem repetitive, especially with so many templates everyone has seen before. Keynote is more geared towards integrating multimedia. The animations and transitions allow users to create what is effectively a high-quality video instead of a rigid PowerPoint presentation.
Prezi's high level of customization makes it preferable to PowerPoint for many users. It allows users to start with a blank canvas and fill it in as they see fit. The zoom function sets Prezi apart from PowerPoint and makes transitions smooth. Instead of going to the next slide. Prezi presentations simply zoom in and out of certain areas on the canvas. This allows users to quickly access information instead of fumbling through presentation slides.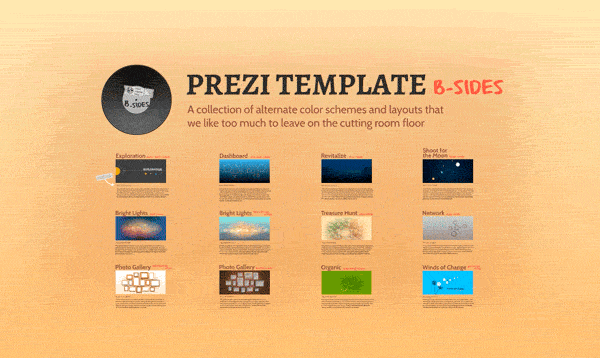 Now and moving forward, expect more businesses to shift from using PowerPoint to using Prezi, Keynote, and other modern presentation solutions. Because companies are looking for more fluid presentations that can incorporate multimedia smoothly.
5. Rethinking traditional performance reviews
Traditionally, performance reviews take place once a year. You would work all year, collaborate with colleagues, finish projects, and meet deadlines. At year's end, you would sit down with your manager and typically receive a score that detailed how well your performance matched the job's responsibilities.
Not only this was process inefficient, but it can also damage morale. As employees think they were performing well all year long.
Employers are starting to give their employees more responsive feedback through weekly or monthly reviews instead of annual reviews. In addition, Fast Company's Kris Duggan states that:
Today's employees want frequent feedback, open communication, and collaboration with their peers.
Jim Barnett, CEO and Co-founder of Glint, a cloud-based employee management tool, agrees:
We're in the early stages of a revolution... A lot of companies are doing this… and I think over the next two years we're going to see a profound shift in this area. Progressive HR leaders are realizing that they need continuous, real-time feedback and solutions.
Employers understand that more frequent performance reviews clarify objectives and help to improve employee morale. That's why a Deloitte study found that a majority of employers are looking to rethink their performance management. The study found that companies reviewing employee performance on a quarterly basis, or even more frequently, perform at a higher level than companies that review employee performance annually: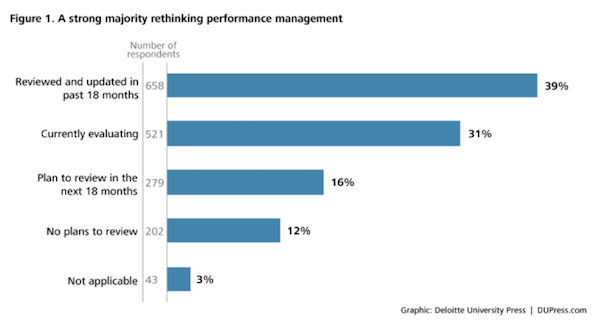 How will the modern workplace continue to change?
The modern workplace trends described above are some of the most prominent new changes experienced by employees and employers. Other trends like boomerang employees, organizations valuing team performance over individual performance, and employee well-being programs are also on the rise.
What new workplace trends will become mainstays that change the way we work?
Instapage Collaboration Solution reduce the complexity of communication on landing page projects with designer-friendly software that you and your clients can use. Request an Instapage 14-day free trial today.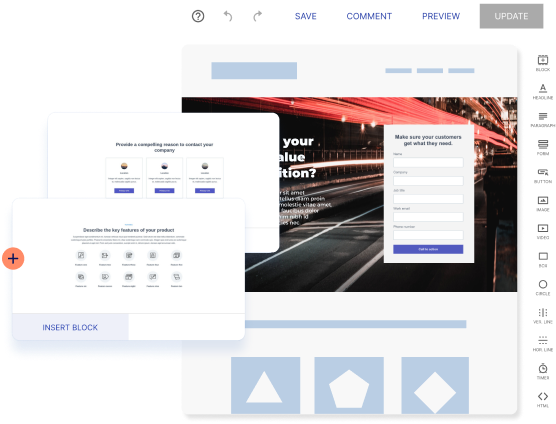 Try the world's most advanced landing page platform with a risk-free trial.