LinkedIn has come a long way since its 2003 launch as a simple professional networking site. Now it's the go-to social platform for all things business communication. And while it's been slow to introduce video to the platform, LinkedIn video ads now represent the next evolution of LinkedIn Sponsored Content.
What are LinkedIn video ads?
LinkedIn video ads are a Sponsored Content ad format allowing brands to engage with a professional target audience throughout every stage of the customer journey. Unlike pre- or post-roll video ads on LinkedIn, these appear natively in the newsfeed as a standalone post: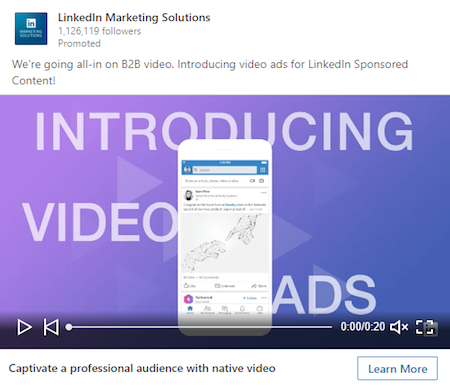 Video ads on LinkedIn offer the same targeting options as other LinkedIn advertising formats. They help brands achieve marketing objectives throughout the entire funnel by:
Building brand awareness with engaging, visual stories
Driving qualified traffic to websites or landing pages
Collecting leads with a CTA button or Lead Gen Forms
LinkedIn video advertising is possible with a Sponsored Content campaign to promote video content on your Company page, or a Direct Sponsored Content campaign to personalize video ads for specific audiences without publishing them to your page.
LinkedIn video specs
In addition to the traditional Sponsored Content ad specs, the video ad specifications are as follows:
Length: 3 seconds to 30 minutes (Most successful video ads are less than 15 seconds long)
Layout: Horizontal or vertical
File size: Between 75 KB and 200 MB
File format: MP4
Frame rate: Less than 30 FPS (frames per second)
Pixel and aspect ratio requirements:

360p (480 x 360; wide 640 x 360)
480p (640 x 480)
720p (960 x 720; wide 1280 x 720)
1080p (1440 x 1080; wide 1920 x 1080)
Ads with a 1:1 aspect ratio should have a minimum resolution of 600 x 600px, and a maximum resolution of 1080 x 1080px

Audio format: AAC or MPEG4
Audio size: Less than 64KHz

If a user unmutes the video in their feed and scrolls down within 2 seconds, the video will continue playing, even if less than 50% is visible on screen
Note: You cannot upload more than 25 videos in Campaign Manager within 24 hours, and you can only upload videos from a desktop, not a mobile device.
Best practices for LinkedIn video ads
Since their launch, LinkedIn members spend nearly 3x more time watching video ads compared to static Sponsored Content. That's why it's essential to follow these best practices to ensure you get the most return from your LinkedIn video ads.
1. Define your main objective
As with any marketing campaign, it's best to start with an objective. Ask yourself what your end goal is, and let the answer drive your video creative as this makes it easier to optimize your campaign. The best way to do this is to focus on the marketing funnel stage:
Awareness
If your main objective is awareness, inspire prospects to have trust and confidence in your brand while not yet giving everything away. Use your video ad to capture attention, showcase your brand, and generate curiosity.
Consideration
Since prospects in this stage are interested in your product or service and looking to learn more, use this opportunity to tell them why you're the best. Use your video ad to demonstrate market leadership and exemplify why your solution is the best for them.
Decision
Demand generation-focused videos are ideal here. Tell people why they need your product or service, provide even more context, and finally drive them to take action.
2. Create video content based on your objective
Different marketing goals require different video content, so once you've identified your objective, you can create content to align with the type of success you want to drive:
For brand awareness — Share about your brand's mission, and keep videos short (about 5-30 seconds) to leave the viewer wanting to learn more. A 2018 LinkedIn internal study found that videos under 30 seconds saw a 200% lift in view completion rates.
For brand consideration — Showcase customer successes or case studies through interviews/testimonials, and provide more information with longer videos (about 30-60 seconds).
For demand generation — Show a sneak peek or demo of your product to convince prospects to take action. Videos can be longer and more comprehensive in this stage (about a minute or more) as people who stick with it are more likely to become leads.
This LinkedSelling ad is a mix of brand consideration and demand gen. It uses a case study to showcase customer success: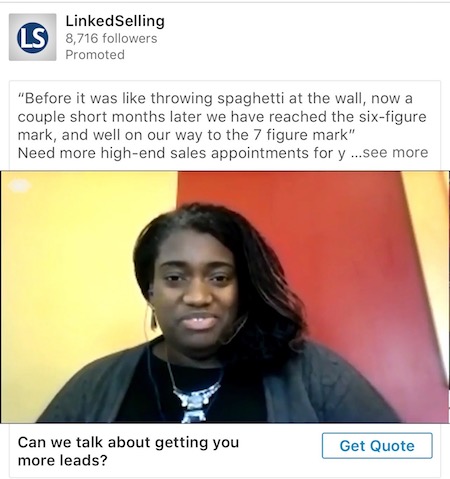 And then includes a Lead Gen Form to collect leads who are interested in collecting their own leads on LinkedIn: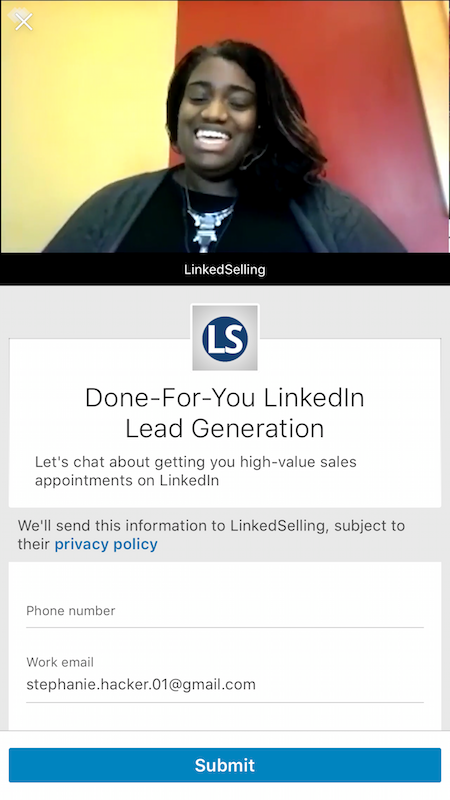 3. Use storytelling to humanize your brand
No matter your objective, create content that tells a story since this helps you connect with your audience. It allows you to speak directly to your viewer and create a message that resonates with your audience, much better than you can with text. Visual storytelling also makes your brand seem more humanized and personalized while still projecting a professional image.
Ways to humanize your video content include:
Adding a personal greeting
Showcasing your talent or brand culture
Highlighting relevant current events
Using humor or personal stories
4. Include captions
Although video ads on LinkedIn are set to autoplay, they are muted by default. So since many LinkedIn members will watch your video with sound off, create your ad assuming viewers will not be able to hear your audio. That's why it's a good idea to have your video narration appear as captions at the bottom of the video, like 3M does: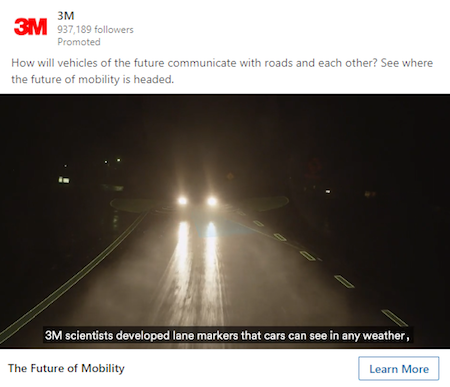 5. Measure success based on your objective
To determine the true success of your LinkedIn video ad campaigns, you must analyze the results based on your specific objectives. Commonly aligned video ad goals and metrics include:
Brand awareness: impressions, views, and view rates
Brand consideration: view rates, completion rates by quartile, clicks, and full-screen plays
Demand generation: conversion rates, leads, and cost per conversion
6. A/B test to drive higher results
After determining metrics and measuring campaign success, you'll want to A/B test your ads — different versions of the same ad during the same time period — to refine them and maximize results. Be sure to test different options for these key areas:
Content type
Video length
Audio and subtitles
Description copy
Headline
landing pages
Little tweaks can produce significant results, and this will allow you to decipher what is causing certain ads to perform better. Just be sure to test one thing at a time, or you won't know for sure what's causing the change in performance.
Don't ignore LinkedIn video ads
LinkedIn video ads complement any digital marketer's advertising strategy by offering a native ad format to fill in any gaps in their online presence. They are integral to engage with a professional target audience throughout every stage of the marketing funnel.
To create the best video ad on LinkedIn, sign up for an rInstapage 14-day free trial today.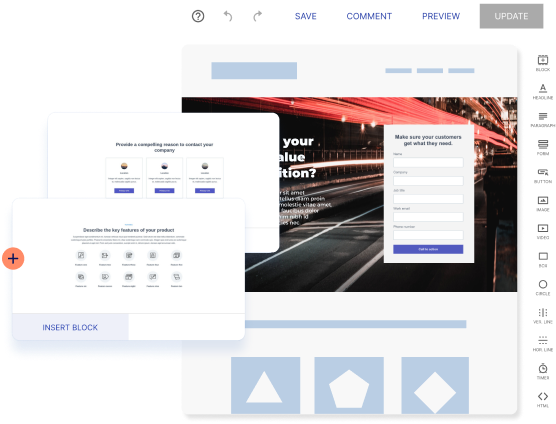 Try the world's most advanced landing page platform with a risk-free trial.