Today the world's savviest marketers are generating more leads by taking advantage of a little biological bias we're all born with.
Know what it is?
Before we reveal the answer, tell us — which of the interpretations below do you find easier to understand?

On second thought, don't. We already know the answer: the image on the left.
How'd we know?
Because our brains don't like to work hard.
When it comes to absorbing information, people not only prefer visuals to text, they have an easier time processing them, too.
And, as web psychologist Nathalie Nahai explains, videos take this ease of processing to a new level:
"Since we are instinctively attracted to stimuli such as motion, sound, and human faces, using video can be the most rapid way to communicate information, evoke emotion, and establish rapport with our audiences."
Marketers who understand our bias toward visual content are taking advantage of it to accomplish one of their biggest goals in 2016. According to data from HubSpot, that goal is to generate leads: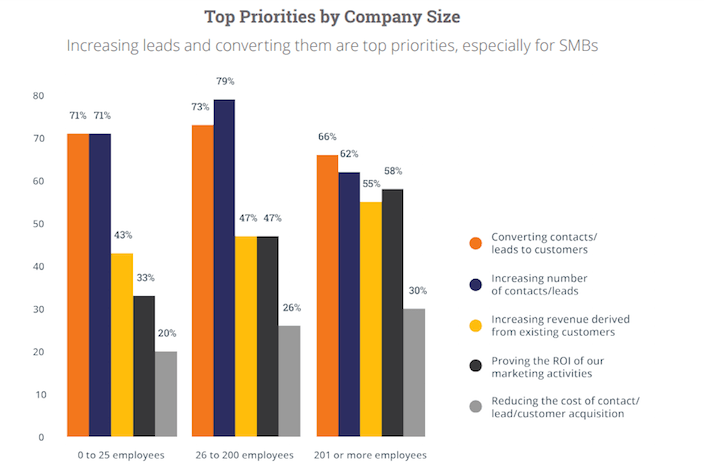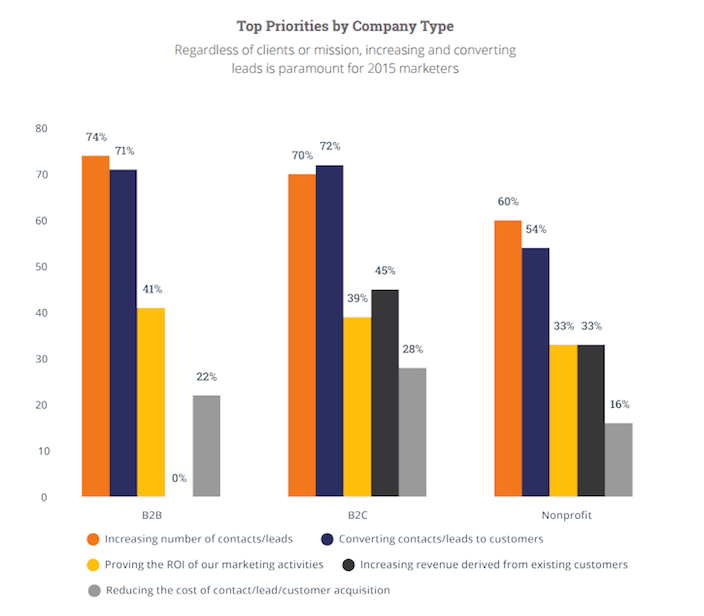 Even more data, tucked in a report from Vidyard, shows that 74% of B2B marketers say video converts better than any other type of content.
That's huge.
So if you, like most marketers, are trying to turn more prospects into leads, we're going to show you how to do it using video:
How to generate leads with your video marketing:
1. Gate your content
"Gating" is exactly what it sounds like. It involves keeping your video behind a metaphorical gate that your prospect can only open after giving you their info. This is a "direct" form of video lead generation, according to Vidyard, as opposed to an indirect method. Here's the difference:
In the direct method, the video is the offering that you make in exchange for a prospect's information
In the indirect method, the video helps to persuade the prospect to submit their information
Tools like Wistia's Turnstile help you add forms (which act as gates) to the beginning and middle of your video, and CTAs to the end of it. Here's what Brendan Schwartz and his team figured out after pulling data from 15,000 videos that used their service:
Turnstiles at the beginning of videos, initiated after the viewer presses play, had a 16% conversion rate. But they also likely limited the number of views that video received.
Turnstiles at the end of videos allowed for more views, but had only a 3% conversion rate.
Turnstiles during the video, placed at 10-20% of the way through, converted at a shocking 43%.
What can we take from this? Teaser videos seem to be the way to go when you're using the direct method of generating video leads. Hook your prospects in your video's opening by promising to reveal valuable information, and only deliver it after they fill out your form.
And don't give them any other option but to fill it out, or get out. Wistia's data also shows that required forms, as opposed to optional ones, produce the highest conversion rates: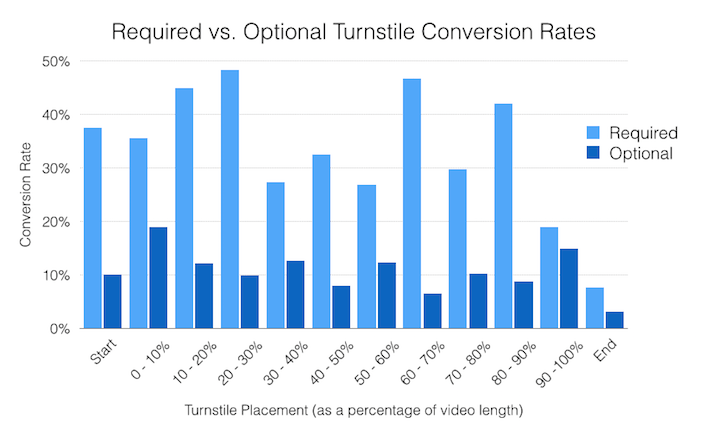 According to the graph above, if you want maximum conversions, you should place your form at 20-30% of the way through your video, or at 60-70%.
2. Add a call-to-action to your videos
If you don't conclude your video with a call-to-action, you're leaving it up to your visitors to seek out more information about you and your service. That's a bad idea.
You already know that our brains are inherently lazy, so making your prospect take extra steps to convert is likely to kill your conversion rate. But, by how much?
Vidyard decided to test this by splitting viewers of their homepage explainer video into two groups:
Group 1 saw the video, but got no call-to-action at its conclusion.
Group 2 saw the video and saw a call-to-action at its conclusion.
If you're thinking "Obviously group 2," you're right. But that's not the impressive part.
What was astonishing was just how much it boosted lead generation from the video. In group 2, Vidyard found that free trial sign-ups increased by 20%.
So how do you add these CTAs to your video?
Use YouTube annotations or cards to create highly specific CTAs during key moments of your video.
For example, if at:
1:05 you talk about your SEO tool, you can include a CTA to a relevant post-click landing page at exactly that moment.
1:34 you mention all the other services that your email tool integrates with, create a CTA that will send them to a page with more information, right then and there.
And don't forget maybe the easiest way to increase the odds your visitor converts on a video offer: Include a URL or a phone number where your prospect can find out more.
At Instapage, we use both annotations and text to help move prospects further down our marketing funnel: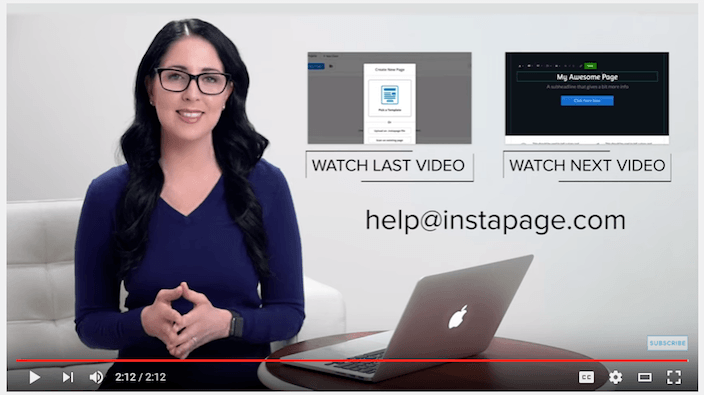 3. Slide-in CTAs and contact forms
You may remember these from our blog post on how to turn your blog into a lead generation machine.
At the end of a blog post, slide-in CTAs do just that — they slide into your field of view to present an offer related to the content you've just finished reading.
Here's one from Social Media Examiner: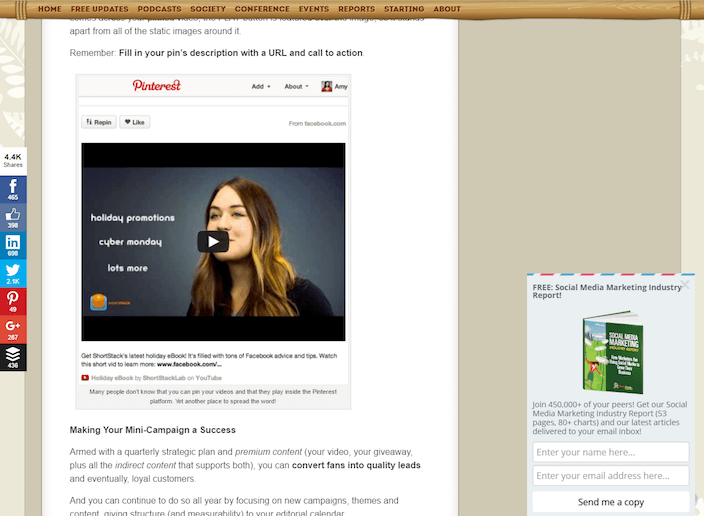 HubSpot is famous for using them, too: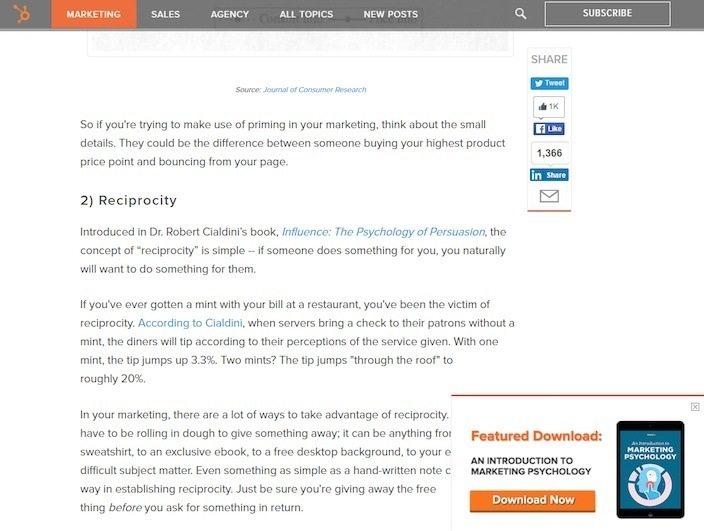 But what you may not know is that, with the right tools, these nifty little sliders are embeddable into your video.
Tools from Vidyard allows you to generate more leads by creating forms that pop out at specific times during your video. Here's an example from the video marketing service: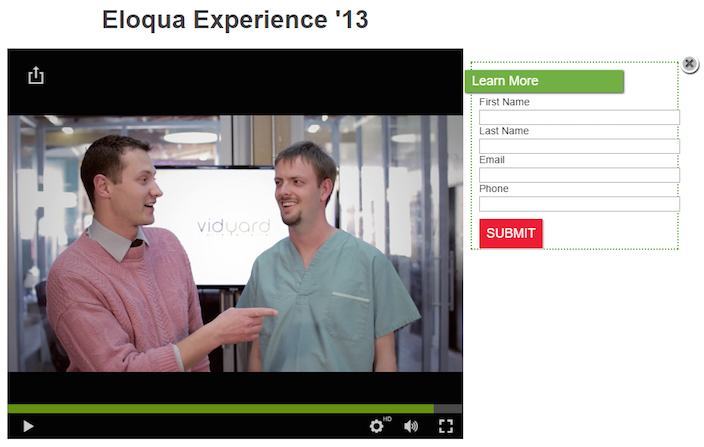 Forms like these can even be integrated with your CRM so you can more easily nurture your new lead through your marketing funnel.
4. Build a video post-click landing page
Video post-click landing pages are a great way to indirectly persuade your prospects to convert. And they're even more effective than driving conversions by slapping a video on just any old web page.
Why?
post-click landing pages are designed strictly to convert. They contain far fewer distractions (like footer links, sidebar ads, and navigation) than the average web page.
Not only that but on a post-click landing page you can include a built-in form that you might not have space for on other web pages, giving you an extra opportunity to convert your viewers.
Here are a few different types of videos you can leverage on your post-click landing page:
A video testimonial
Normally on a post-click landing page, testimonials feature a headshot, a brief quote, and a name along with a title. But evidence suggests that video testimonials could be even more effective at persuading your prospects to convert. Here's why…
We all have cells in our brains called "mirror neurons" that help us feel the emotions that we observe in others. Web psychologist Liraz Margalit explains:
"…when it comes to mirror neurons, there is no difference between the cinema and real life. This suggests that we could be experiencing (in small but significant ways) the pain (and supposedly also the pleasures) of those we witness on screen. This neurological activity makes the spectator much more emotionally involved."
So if you watch a video of an Instapage customer who starts off her testimonial by saying: "I was so frustrated at how difficult it was, and how long it took for me to build post-click landing pages. I didn't know how to A/B test manually, and as a result, I was losing out on a lot of conversions," you're likely to feel her frustration.
The most compelling videos are the ones that move you – that make you feel something. In this case, it's that emotional charge that has the potential to drive conversions.
An explainer video
These short, usually animated videos are a popular way to briefly give an overview of how your product or service works.
For this type we defer to Neil Patel, who generated an extra $21,000 a month in revenue for his service, Crazy Egg, using an explainer video. Here's how he recommends you make yours:
Create a great script
The script is more important than the video, so don't have the company who's making yours write it on your behalf. You know your service better than they do, so take the opportunity to ask yourself what questions your prospect may have about it, then use that as a guide to write your script.
Survey your customers
Before you can start writing your script, figure out what objections your prospects have about your service. Is it too pricey? Is it too difficult to use?
You can figure these out and more by surveying them (Neil recommends using a service like Qualaroo). When you do, ask them these questions:
What else would you like to see on this page?
What's the biggest thing stopping you from buying?
What's your number one concern about this product or service?
Is there anything that is confusing on this page?
What can we help you solve?
Getting these answers will lay the groundwork for a great explainer video. Next…
Write your script
For Neil, script-writing can be broken down into seven steps. Here's the framework he used to write Crazy Egg's:
Step 1: Briefly mention what your company does. For Crazy Egg, this was "The heatmap tool shows you why your visitors aren't converting."
Step 2: Push their pain points, a.k.a., remind them of the problem they're having. For Crazy Egg, Neil talked about how it was hard for businesses to figure out why prospects were leaving their website.
Step 3: Transition. Push their pain points even more with some of the phrases they used to describe their problems on your survey. Then transition to why you created your service (to solve their problems, obviously).
Step 4: Showcase features (AND benefits). Talk about the features of your product or service, but make sure each one is tied to a benefit. Using Crazy Egg as an example again: "Intuitive heat maps show you how people are escaping your website."
Step 5: Call them to action. Now that you've explained their problems and your solutions, it's time to get them to sign up or buy. When you do that, though, be prepared to conquer any objections you saw written on those surveys.
Step 6: Answer any last objections. Make sure you've addressed every major issue standing between your prospect and that CTA button.
Step 7: Use proof elements to hammer it home. These come in the form of authority badges, testimonials, and case study results. Briefly show your viewers who have used your service to improve theirs, and by how much.
Keep the script relatively short…120 to 150 words translates into about a minute of video. Try not to spill over that 2-minute mark.
Find someone to create your voice-over
Getting someone to narrate your video shouldn't take long, or be all that costly. Today, with services like Fiverr, you can quickly find someone to read your script for as little as $5.
Find someone to create your video
Go through a professional video service and you're looking at around $5,000 to $25,000 for the production of your video. Or, poke around on Upwork and see if you can find a skilled freelancer to help you instead.
A/B test your video
This is where using a freelancer over a professional video production company has its biggest advantage. Additional modifications to your explainer video can easily cost up to $20,000, whereas a freelancer likely wouldn't charge as much to create another variation. Use a service like Wistia to get video stats like plays and engagement statistics to figure out the best ways to optimize it.
Need some inspiration for your explainer video? Check out this compilation from HubSpot.
Introductory video
These videos usually consist of a brief sit-down, interview style video with the creator of a service or product. They're especially popular on sales pages.
The reason is that many sales pages, like this one from Tai Lopez, sell a system that has been used by its creator to change their own lives.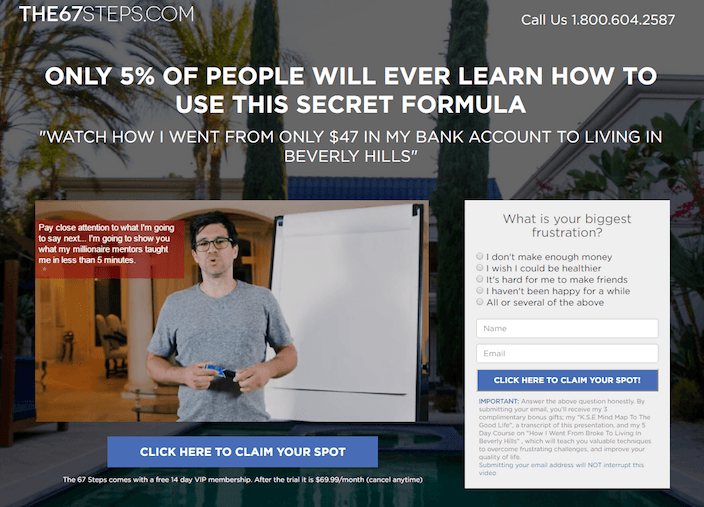 Wouldn't you be interested in hearing the rags-to-riches story of a man who went from having $47 in his bank account to living in Beverly Hills? Of course you would — especially if you could use his secrets to improve your life, too.
The other thing that makes these videos particularly compelling is that they include real people. Psychologically, we're hard-wired to respond to faces. An area of our brain called the "fusiform gyrus" lights up when we see them.
If you're going to make this type of video, make sure to speak into the camera often and tease the highly specific program you're offering. The result will be your viewer feeling like you're having an intimate, one-on-one coaching session.
Video case studies
These are just like video testimonials, but a little more in-depth. They're often a little longer and put more of an emphasis on the results you produced for a particular organization. This one from TouchBistro explains the benefits, in numbers, of an integrated POS system for the Crosstown Pub & Grill:
"During our highest periods, we're able to turn over 176 more tables, which equates to at least $2,000 a night, times four different nights," said Jim Nichols, the pub's owner. "Technology helped us reduce over 7 minutes of wait time of what it took to get the order," he added.
Results like these speak volumes when you're trying to sway a prospect towards signing up for a free trial or a consultation, especially if you highlight a customer in your target demographic.
Web psychologist Nathalie Nahai explains that we're more likely to respond to information when it's delivered by people similar to ourselves. So when you pick a case to highlight in your video, make it one that your target demographic can relate to.
And other studies reinforce this. The Hiring and Firing Insights Report from The Agency Management Institute states that businesses are more likely to work with your agency if they can relate to a customer that you've previously helped.
Use video marketing to boost conversions, and remember to create a video post-click landing page to generate maximum leads. Sign up for an Instapage Enterprise demo today.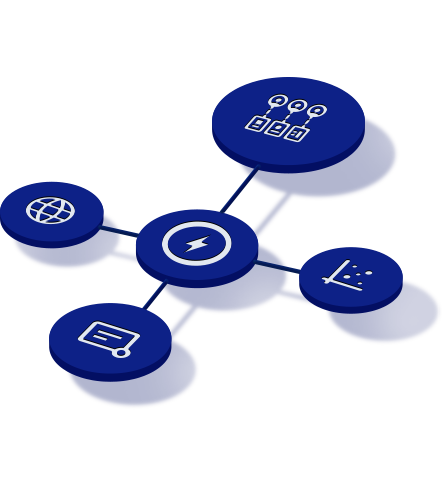 See the Instapage Enterprise Plan in Action.
Demo includes AdMap™, Personalization, AMP,
Global Blocks, heatmaps & more.