Here's a fascinating stat for you: By 2017, video will account for 69% of all consumer internet traffic.
Translation: a high percentage of consumers are already using videos to seek out information about solving a problem. And as the graph below shows, this trend is growing for landing pages.
Without video, you're missing out on a huge chunk of conversion opportunity. Video in general (and landing page videos, in particular), are the future of content marketing:
Why do videos wield so much power?
With the average user attention span in 2015 at only 8.25 seconds, adding video to your landing page has the potential to better engage your visitors — helping increase your total conversions by as much as 86%!
Exciting stuff, right?
Not to put a damper on things, but not all landing page videos are useful. Put some thought into the quality of your content. It's not recommended you just throw together some mediocre footage. Instead, be a professional and invest a little more — leave the shaky hand-held videos to the amateurs.
If you want it to be the real deal and assist your conversion rate, follow the five basic landing page video rules below.
But first…
What is a landing page video?
A landing page video is typically a 1-2 minute video that explains your offer in a more compact manner. Video allows your visitors to be more engaged than simply reading lines of copy — brief as the copy may be.
Here's one of our landing page videos we used to announce the Instapage pricing update in October 2015: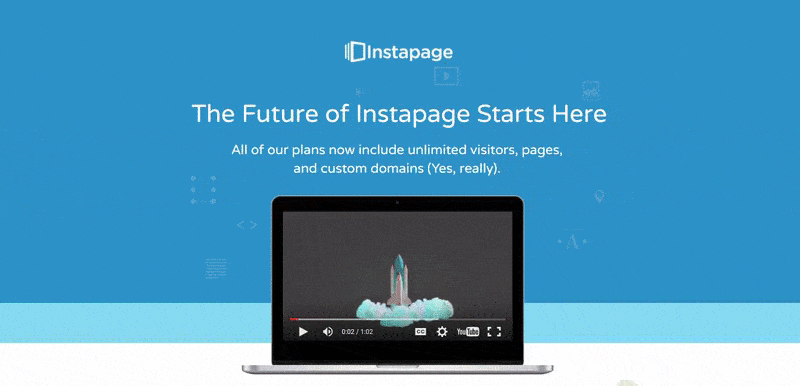 When creating a video, you have two choices: animated or live action.
Both types of videos work, and here's why.
After Crazy Egg added an animated explainer video on their landing page, they saw a 64% increase in their conversion rates. The short video helped them generate an additional $21,000 in monthly revenue: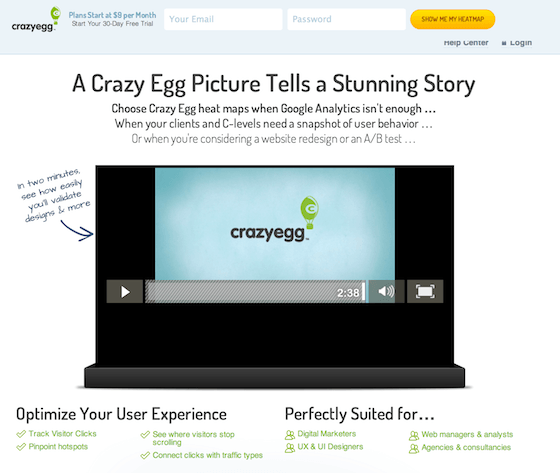 When GrowYourOwnGroceries.com A/B tested video on their landing page, they saw a 12.62% increase on their CTA button clicks: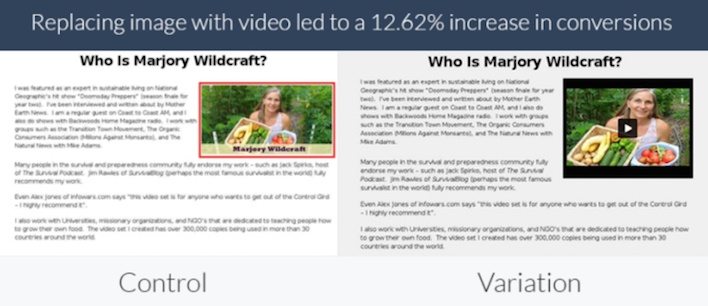 Now that we have some background let's get back to the landing page video rules.
Rule #1: Say no to autoplay
Setting your video to autoplay is equivalent to shoving your message down your visitors' throats. Yes, they arrived at your landing page looking for a solution to their problem. But give them the opportunity to digest your information at their control (pressing play) and not annoying them with your autoplay video.
If you feel that autoplay is appropriate, try using a silent full-screen contextual video instead. These videos act as a replacement for your landing page's image, establish a context for your offer, and help you tell a compelling story.
Go here to see how Story & Heart uses a silent full-screen video on their website:

A/B test the autoplay video option before you decide to stick with it (more on A/B testing later).
Rule #2: Make the video the star
When you add a landing page video, it's important you center the video around all other landing page elements. Accentuate your video, make it obvious to play that your visitors can't resist playing it.
The Panorama9 website has an intriguing video that I want to see because the character mimicking a superhero makes me want to click play:

On the other hand, the Marketing 360's homepage has such an obscure video that I can't even find it at first glance, let alone play it: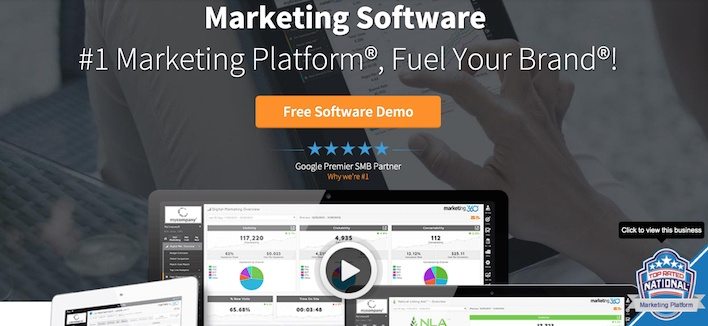 Can you find the video?
Oh, there it is: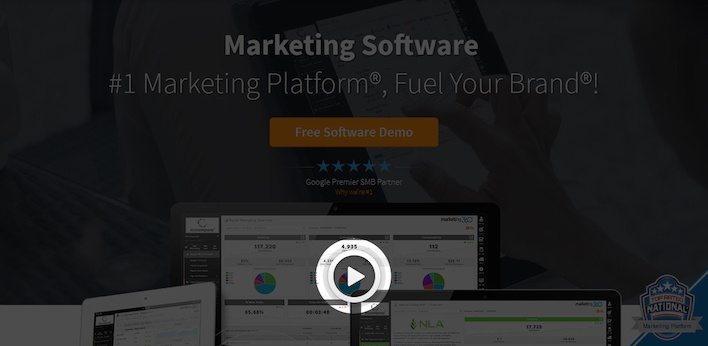 Don't disguise your landing page video, flaunt it!
Rule #3: Short and sweet is key
One of the main points in creating and uploading a video to your landing page is to speed things up — explain your offer faster than copy.
Video can provide information about your offer faster than copy. So why would you create a long, drawn-out video and ruin the whole point of your video's existence?
As a rule, keep your landing page videos under 2 minutes. If you insist it be longer, test it.
Wistia did a study to find out the attention span by different video lengths, and this is what they discovered: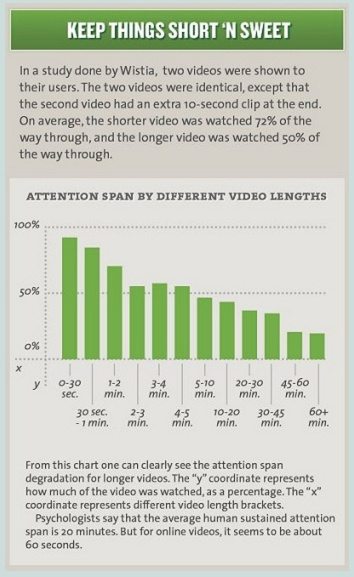 The shorter the video, the higher the attention span (vice versa). Keep your videos short, your conversion rate will thank you!
Rule #4: Aim for high-quality video
This is a no-brainer. Just because you have a webcam doesn't mean that you should have a video on your landing page. Always create a professional video for your pages, write out a proper script with no awkward pauses or breaks in the voice over. Hire a designer to do the graphics for you instead of randomly putting together a slide deck.
Gifs are good substitutes
If you feel you don't have the budget to create a landing page video, or simply feel that a video will distract your visitors from the main message, opt for a gif instead. Gifs play on a loop and demonstrate how your product is used.
This is what we do on one variation of our landing page to demonstrate our fully customizable builder: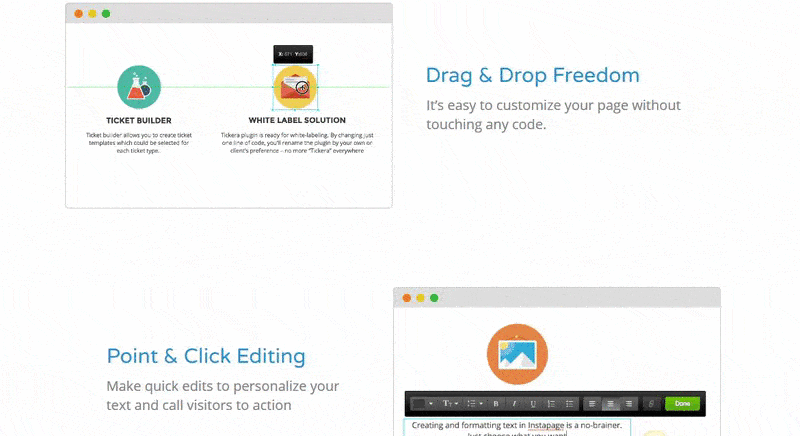 What's more, gifs are less expensive to create than animated or live action video, and there are many gif-creating apps that can assist you.
Rule #5: A/B test your videos
Your landing page video is one of the many landing page elements, and it should be tested just like your headline, copy, form, page alignment, etc.
Some video variations you can test are:
Autoplay vs. click-to-play
Gif vs. video
Animated vs. live action video
Short (1-2 minutes) vs. long (greater than 2 minutes)
Full-screen background video vs. click-to-play video
Landing page videos are the future of content marketing. Get with the program now and start creating videos for your pages that help you capture leads like crazy.
P.S.: Instapage allows you to seamlessly add videos to your landing pages in just a few clicks. Excited to add a video to your landing page, but don't have an Instapage account? Create one here.