According to a report from Nielsen, 70% of people will trust a review from someone they've never even met. Consumers have more access to information than ever before, and they put a lot of stock into what their peers are saying about the brands they use. Most consumers are researching products and services before they even engage with your business.
The power of social proof is undeniable, and it could be the key to optimizing your next marketing campaign.
What is social proof?
Social proof is like positive peer pressure. It is the reason why people gravitate towards things that are already popular, like visiting a restaurant that has hundreds of five-star reviews on Yelp or buying a shoe that is endorsed by an NBA athlete.
Social proof is the online version of word-of-mouth where brands build trust with customers and prospects. Establishing trust is paramount since online users have shrinking attention spans and appreciate a great experience from casual product searching to purchase.
Humans are hardwired to be persuaded by individual stories and connect with faces more than numbers and statistics. That's why positive social influence can be more effective at persuading people to act than statistics about saving money. And it is even more effective when influencers speak on your product's behalf.
Psychologists discovered that consumers are likely to judge a person's opinion based on their established impression of that person. Since influencers are already established and respected in their given field, the brands they endorse benefit from their positive reputation. To that point, Pipedrive is a CRM company that uses influencers as social proof:

Generally speaking, Founders and CEOs are better-known than the average consumer, and their recommendations hold more weight with others in their industry.
Visual cues also play a role in getting consumers to see social proof. Wrike places customer logos above the fold and near the CTA. The woman looking downward is a visual cue that shifts the prospect's gaze towards the CTA button and the customer logos: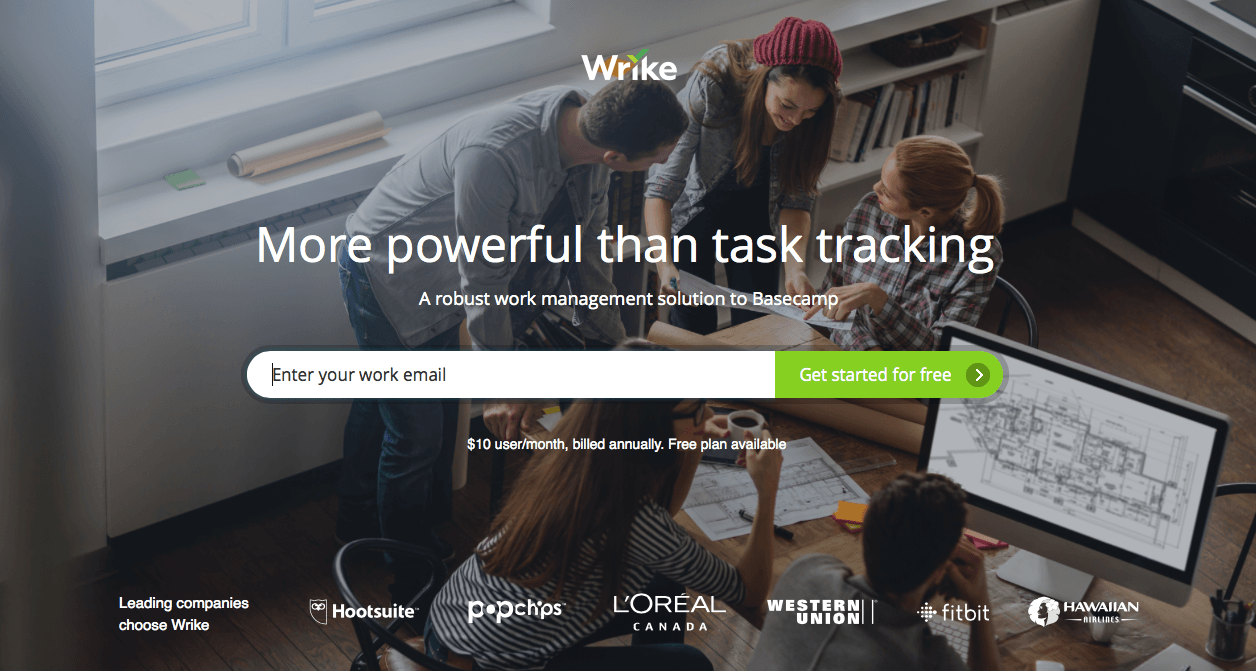 Different types of social proof
Testimonials aren't the only example of social influencing. There are a variety of ways post-click landing pages push visitors to take action.
Here are some of the most common ways marketers use post-click landing page social proof to build trust and ultimately persuade visitors to convert.
1. Counters
Counters are based on the concept of the herding effect. This is the idea that people will follow the crowd, and you can use that mentality (crowd) to your advantage when marketing to new prospects. Here are a few examples of companies using counters to influence visitors.
Freshdesk smartly combines their counter with another two other persuasive elements: customer logos and testimonials. They designed the page purposely to showcase how many customers already use Freshdesk and listing some big-name brands. Once visitors scroll below the fold, they can't help but notice the positive social proof: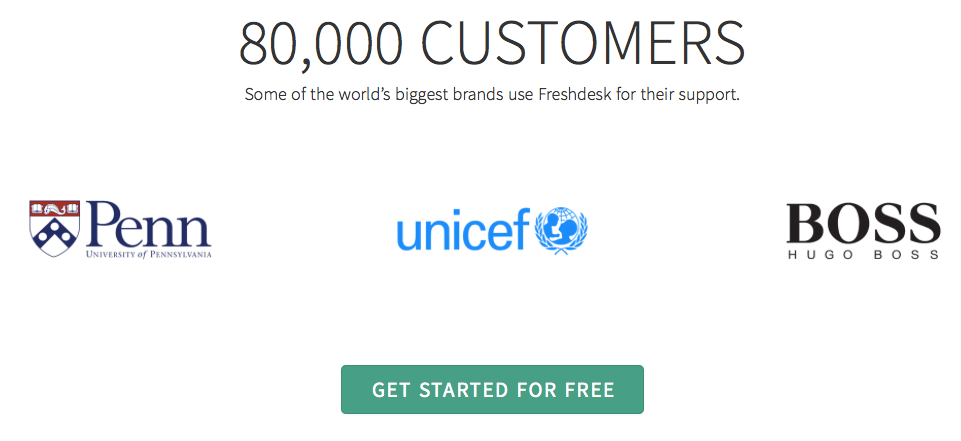 LifeLock does something similar to Freshdesk in that they combine the 4 million members counter with customer reviews. Usually, reviews and testimonials leave a stronger impression and are more persuasive when accompanied by the person's headshot. But since LifeLock's appeal is keeping its customer's data and anonymity protected online, it makes sense not to include photos here: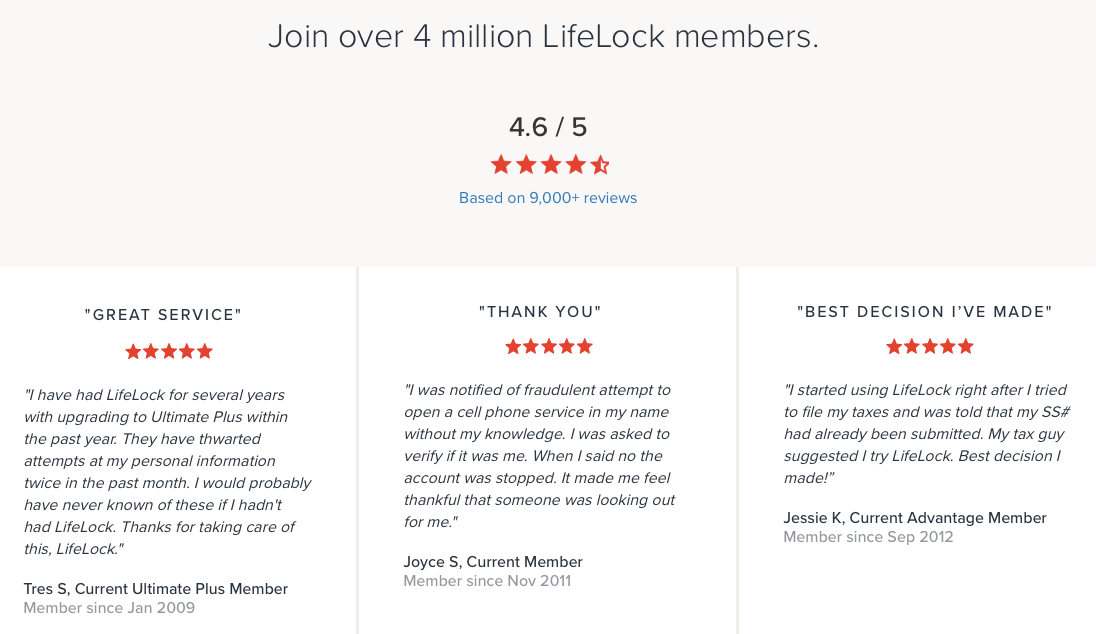 PipelineDeals
Placing social proof in the header can catch a visitor's eye immediately. PipelineDeals understands this and uses a counter to the right of their logo on their free trial post-click landing page. They showcase the number of customers in the visitor's line of sight so that they will be convinced right off the bat that PipelineDeals is a quality, trustworthy CRM platform: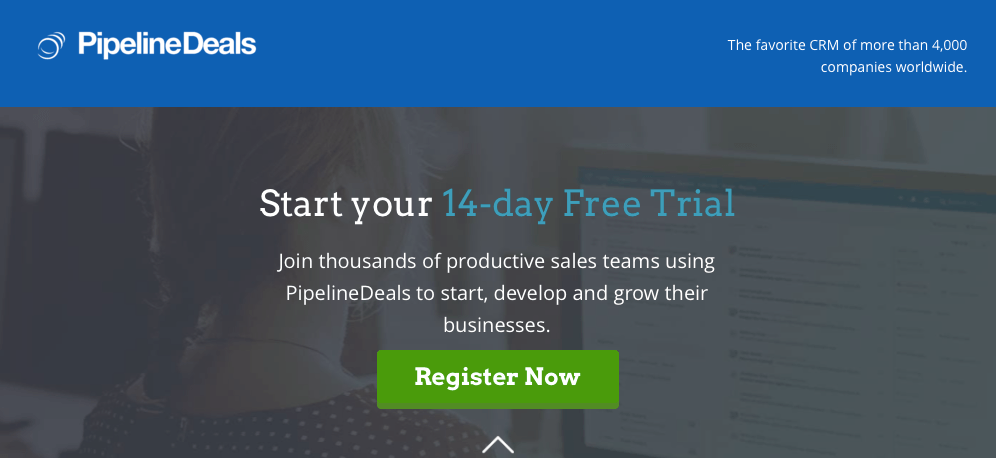 2. Testimonials
Testimonials can have a strong influence on prospects because they tell a positive story about your brand. A good testimonial will include a detailed quote and the subject's affiliation. A great testimonial, though, will also feature their headshot and title. The photo is important because studies have shown that looking at human faces increases a visitor's level of trust in the claims being made while offering a human connection.
Let's look at a few examples of how brands use testimonials to influence prospects.
Hatchbuck does a great job with their demo post-click landing page testimonial by using a name, photo, title, and an informative quote. The only issue is the testimonial isn't near the form or CTA, so prospects considering a live demo with Hatchbuck might miss it:

DexHub
It's one thing for a testimonial to include a photo, but it's even more persuasive to have a video testimonial. DexHub's video testimonial from Buis Roofing proves just that. The testimonial is strategically placed above the CTA, which helps convince visitors to convert: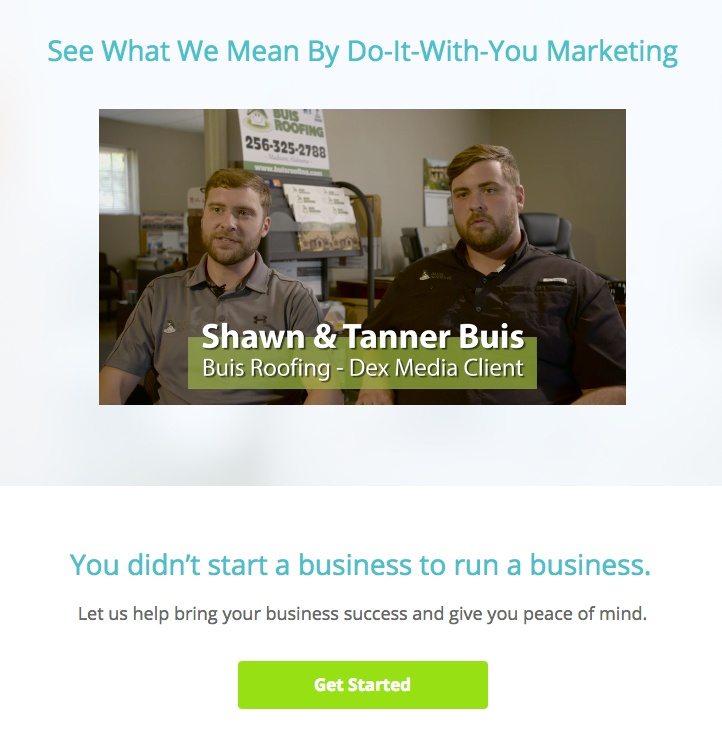 This testimonial from Charity: Water on Emma's signup post-click landing page could be a bit more compelling. The image isn't a headshot — instead, it is from Charity: Water's work bringing clean drinking water to developing nations. The image is compelling, but a headshot could better connect visitors with the subject. The quote is rather generic as well, with phrases such as "the best solution," "a great product," and "really great people." A more impactful quote would detail precisely what Emma did for charity: water's email marketing and how the service differed from the competition:

3. Reviews from other sites
Reviews from other sites are effective for two reasons. First, they appear objective. This isn't just your company promoting itself — these are other brands putting their name on the line. The second is the herding effect, which we discussed earlier.
Once other brands rate you favorably, there will undoubtedly be a trickle-down effect to your prospects when it comes time for them to convert. Here are a few examples how companies display external reviews as a persuasive technique:
Highfive displays the ratings from software review platforms such as G2 Crowd and Capterra. Capterra is a company that helps businesses find software, and G2 Crowd helps companies find business solutions. Strong reviews from these objective sources can be a powerful influencer for visitors, especially since the reviews are displayed directly above the CTA: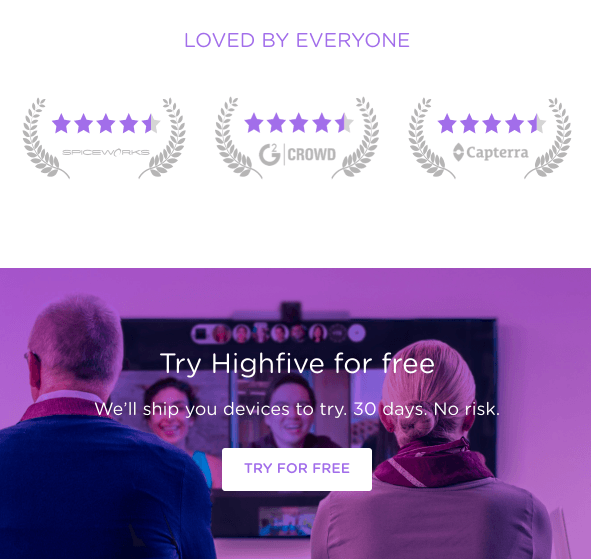 In this example, SugarCRM places a review from PCMag next to the form and CTA to help persuade visitors to convert. This is particularly effective since it's not just a favorable review; it compares them against other popular CRM systems, and SugarCRM is the clear winner: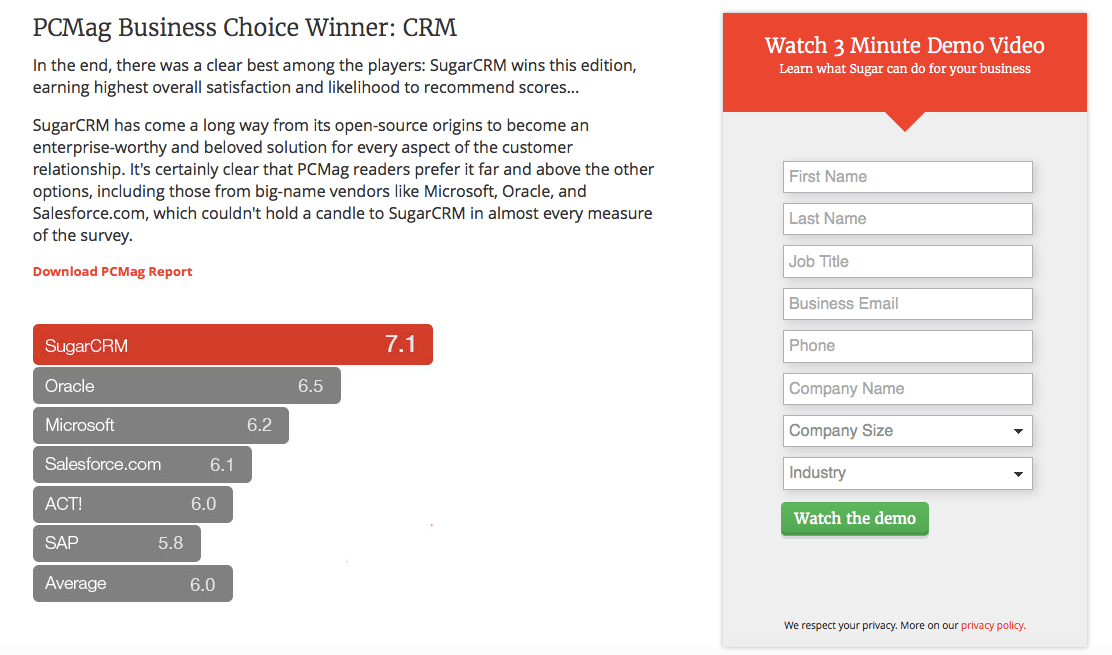 4. Customer logos
Customer logos are useful for the same reason celebrity endorsements are. When people have a positive impression of well-known brands — and those brands are using your service — they're likely to view your company more positively as a result. Here are a few examples to demonstrate:
Smartsheet places customer logos in their post-click landing page footer. With brands like Sony, ESPN, and Hilton, Smartsheet is essentially saying, "these big-name brands trust our service, so you can too." However, this section would be more convincing closer to the CTA so that visitors would see them at a critical moment:

Sendloop doubles down on their post-click landing page social proof by adding customer logos and a counter of how many businesses use the service. Having them both near the form and CTA also helps increase the persuasiveness of this page: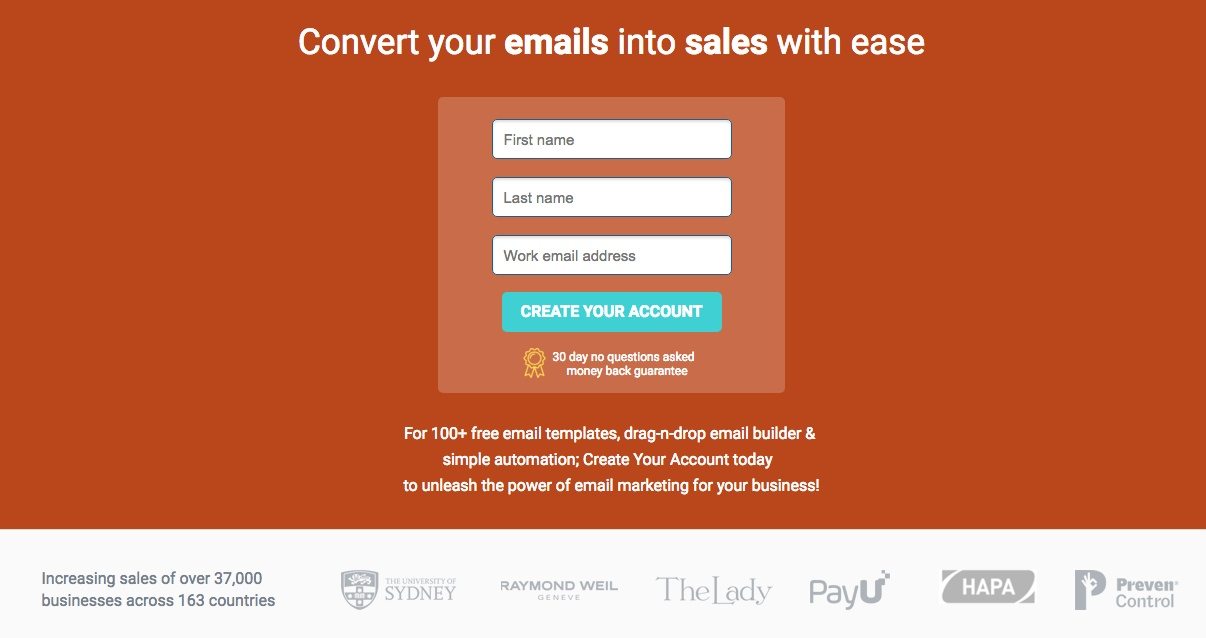 Start using post-click landing page social proof effectively
Is your brand using post-click landing page social proof to tell stories that your visitors connect with? Are you taking advantage of it in the most effective places that persuade your prospects to convert?
Use the examples above as inspiration for your next page design, sign up for an Instapage Enterprise demo today.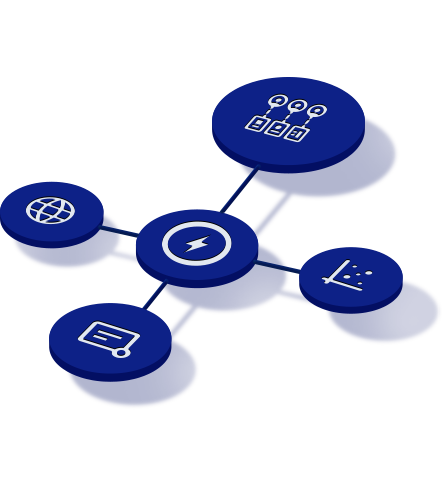 See the Instapage Enterprise Plan in Action.
Demo includes AdMap™, Personalization, AMP,
Global Blocks, heatmaps & more.