An outstanding 98% of marketers agree that personalization helps improve customer relationships, with 74% claiming it has a "strong" or "extreme" impact. However, only 22% of consumers are satisfied with the level of personalization they receive from brands.
Gone are the days of adding a first name to an email opening line — it's simply not enough anymore. Today's consumers expect a heightened level of personalization — products, communication, and marketing tactics explicitly tailored to their individual preferences.
So as personalized service has quickly become the new norm, marketers must now move into hyper-personalization as the next step.
What is hyper personalization?
Hyper personalization in marketing combines behavioral and real-time data extracted from multiple channels and touchpoints, for brands to create an extremely customized marketing strategy. This allows them to tailor products, services, and advertising content to each consumer for maximum relevance and conversion potential: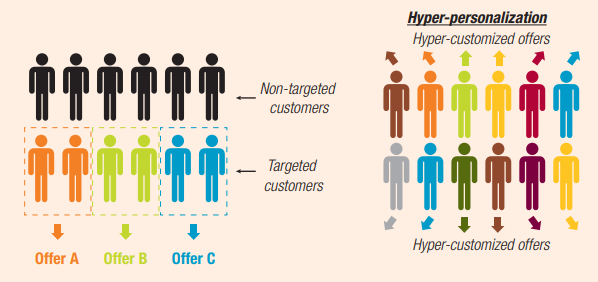 This demonstrates the difference between personalization and hyper-personalization, but let's put it into context for a deeper understanding.
Personalization vs. hyper personalization
Hyper-personalization takes personalization to the next level by leveraging advanced technologies — such as AI, machine learning, and IoT enabled devices — to deliver more relevant offers and experiences to each user.
While traditional personalization might include advertising a customer's name, location, or purchase history, hyper personalization also considers browsing, purchasing, and other real-time behavioral data to hone in on what the consumer wants or needs. It's more involved, complex, and useful than traditional because it goes beyond basic customer data.
For example, personalization may include advertising winter weather gear to consumers who purchased similar gear online the year prior. Hyper-personalization, on the other hand, could include advertising that same winter gear with optimized ads based on the exact purchase location and time, payment method, coupons used, social media activity, and more.
With all of the additional data taken into account, the hyper-personalized campaign has the potential to be more relevant and lead-generating.
Another example of personalization would be sending an email to a user with their first name in the subject line. Although this is good practice, it's not as advanced as a hyper-personalized campaign would be.
Say a user spent 20 minutes browsing your website or mobile app for black pants on Friday evening, and left without purchasing. A hyper-personalized campaign would then send an email or app notification to that user on Friday evening, advertising an upcoming sale on certain brand's black pants. Can you see how this type of campaign would be much more effective than just a personalized email subject line?
For more on digital advertising personalization — including use cases for marketing personalization at every funnel stage — download the new Personalization Guide: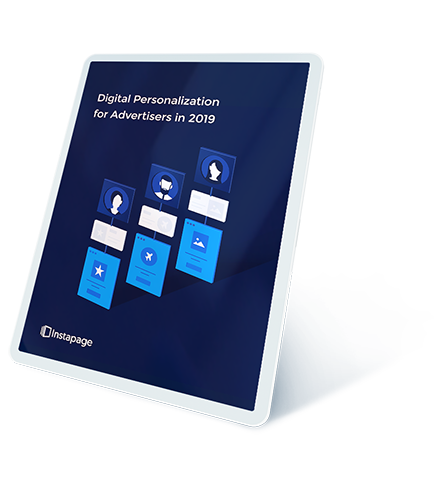 How can advertisers use hyper personalization in campaigns?
There are 6 main components that advertisers and marketers must consider in their strategy: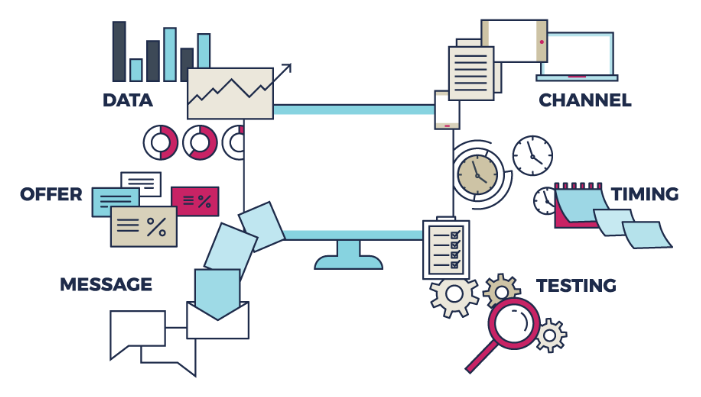 1. Data collection
The very first step is to collect the right type of data, because your personalization is only as good as the quality of your data.
The better data you collect, the more segmentation you can add, and the more personalized you can make your offers. This also ensures that the right eyes are seeing them, and as a result, these people will be much more likely to purchase.
2. A customized offer
Nearly 79% of consumers will likely only engage with a brand's offer if it is directly tied to their previous interactions with the brand. Therefore, it's a good idea to start with some simple personalization — age or gender — and then slowly start adding more segments based on who consistently buys certain products or when they purchase.
For example, if you have a group of repeat customers who always buy in April and October, start sending them hyper-personalized messages — tailored to their previous purchase patterns — with specific products in March and September.
3. Personalized messaging
For the most appropriate messaging, you can choose to use advanced personalized marketing software. This is ideal for sending contextualized emails, including:
Content that changes based on when/where the email is opened
Dynamically changing SKUs when a product goes out-of-stock
Real-time pricing
Products that someone was browsing for previously
4. Various channels
Combining the vast amount of consumer data with multichannel marketing take hyper personalization even further by helping you create one-to-one relationships with users. Email, websites, social media, and smartphones all offer various levels of customization and personalization for you to take advantage of.
5. Perfect timing
Attempting the process manually can be difficult since there are mountains of data to sift through and countless messages to be created. There are several options for making the process easier, though.
In addition to using an automated marketing team or platform, you can also use predictive analytics to help you better determine optimal times to deliver specific messages and drive desired responses.
6. Consistent testing
Multivariate testing can make identifying the most compelling elements of your messaging considerably easier. What's more is that beyond simple A/B testing, you can also gauge the combined effect of several elements at once (headlines, images, copy, etc.) to determine which combinations perform best.
Measure the results of your initial personalized campaigns — and even your hyper-personalized campaigns — and based on the results, begin sending even more accurate messages.
Here's a look at how some widely known brands have moved past traditional personalization and into a more hyper approach.
3 hyper personalization examples
Top brands like Amazon, Starbucks, and Spotify have begun using predictive personalization, where AI and machine learning power their individual recommendation engines: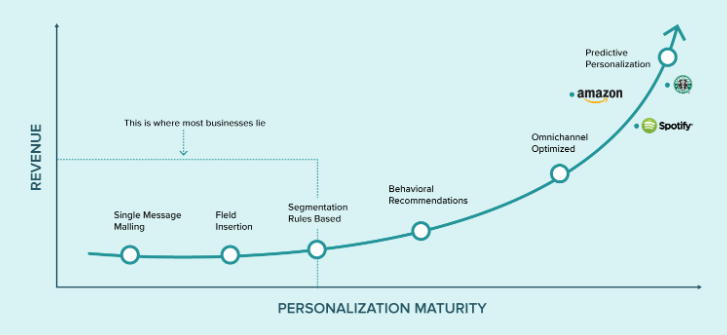 Let's see how each brand does it.
Amazon
Over 35% of Amazon's conversions are powered by their recommendation engine because they create unique, hyper-personalized experiences for each consumer.
This one-to-one email was sent to a user who searched for olive green running shoes, but then closed the search without purchasing: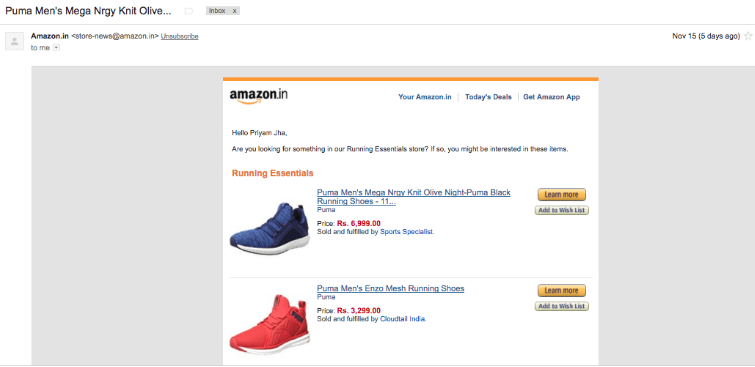 While many "regularly" personalized emails would include the person's name, this one takes it much further, as Amazon has access to a vast amount of data points including (but not limited to):
Full name
Search query
Average time spent on search
Past purchase history
Brand affinity
Category browsing habits
Time of past purchases
Average spend amount
The platform's recommendation engine algorithm is called 'item-to-item collaborative filtering' and it suggests products based on 4 data points:
Previous purchase history
Items in the shopping cart
Items rated and liked
Items liked and purchased by other similar customers
Using all of this information, Amazon can create a user profile and craft a highly contextual email highlighting olive green Puma shoes (Puma footwear was purchased previously) for this shopper.
Starbucks
Starbucks stepped up their personalization game with AI, using real-time data to send over 400,000 variants of hyper personalized messages (food/beverage offers) to users. Every offer is unique to each user's preferences, based on their past activity on the app: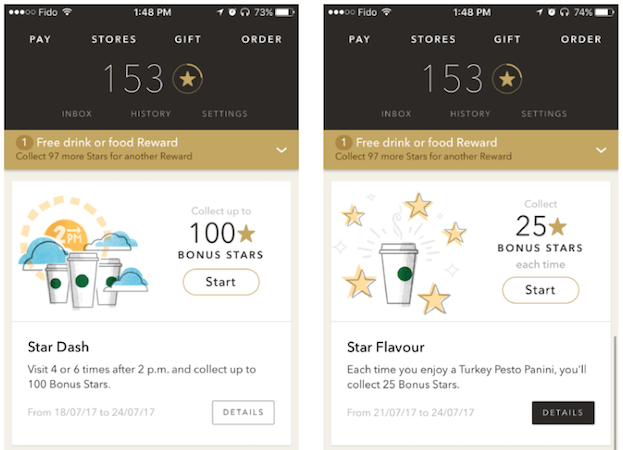 The company also engages loyalty program members with personalized games on email and mobile, informs mobile app users about nearby stores that accept the Mobile Order & Pay option: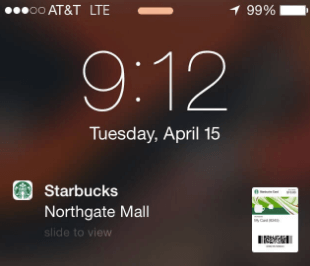 Starbucks' results from this campaign include:
3 increase in marketing campaign effectiveness
2X increase in email redemptions
3X increase in incremental spends via offer redemptions
24% of total transactions coming from the mobile app
Spotify
Spotify implements hyper personalization in their marketing campaigns with the Discover Weekly feature. This feature considers individual music choices, cross-analyzes that with the preferences of others who listened to the same songs, and then creates a highly-personalized playlist for each user: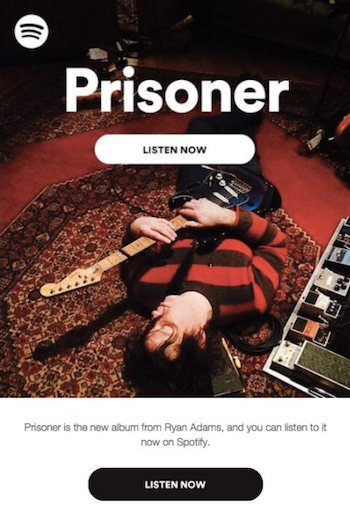 The brand also has a Live Concert feature, which sends emails about live events with their favorite artists, along with an option to buy tickets. This feature is also personalized based on individual music preferences: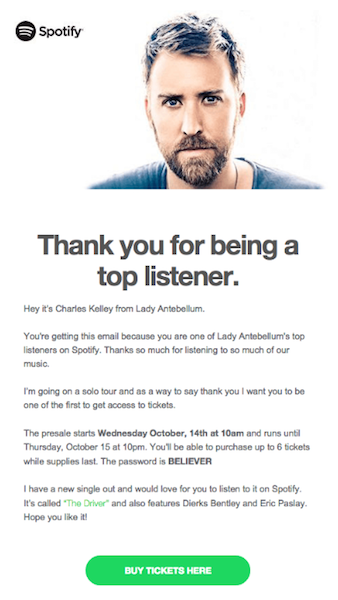 Move from personalization to hyper personalization
Hyper personalization is the next major phase in the evolution of digital marketing since customers increasingly expect tailored experiences and highly curated offers.
It's important to note that there is no absolute definition of hyper personalization, and that it varies from brand to brand. Simply evaluate your current personalization campaigns, consider the data that isn't being used, and recognize the opportunities to collect that data. This will enable you to deliver hyper-personalized experiences, which is exactly what your customers want and expect from you.
Get more details sign up for an Instapage 14-day free trial today.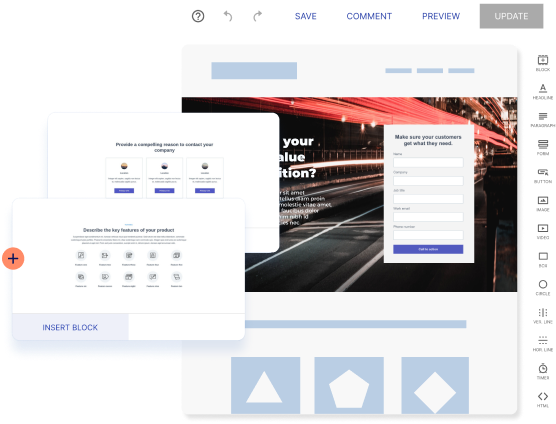 Try the world's most advanced landing page platform with a risk-free trial.