Chatbots are quickly becoming the next big thing in lead generation for the simple fact that people seek immediacy with everything online. People are spending more time in messaging apps than social media platforms, they expect information to be delivered quickly, and will ultimately turn to competitors if you can't meet their demands.
Our recent HubSpot webinar helped show how chatbots can drive growth and how to utilize them in your own demand gen strategy. Before we recap the webinar, let's start at the top.
What is a chatbot?
A chatbot (aka bot) is any kind of automated computer program that holds a conversation with human users by text or auditory methods. The goal is to give users an immediate and convenient way to interact with businesses:


If you think about any live chat experience you've had with a company online, most of the time, that live chat has been handled by a chatbot. Think back to any customer support call you've made, you were probably greeted by an automated voice recording. Again, a bot.
The evolution of chatbots is bringing business sophistication to the next level, and if you're not using them yet, you're already behind the times.
Why use chatbots?
There are five primary reasons to use chatbots to engage with prospects:
They can provide exceptional customer service experiences
They streamline marketing operations
They accelerate some work process and can boost sales
They serve as a great content delivery channel
They can drive high-quality leads
With those benefits, it is easy to get carried away using chatbot automation for many different purposes. But, some dangerous pitfalls exist, too:
Blindly jumping on the bandwagon
Losing focus of the bot's main marketing goal
Over-automation
Failing to continually A/B test and optimize the bot
Failing to meet consumers where they are
So although it may be tempting, chatbots shouldn't be viewed as a silver bullet for all your marketing strategies. If you don't perfect the core fundamentals of your marketing campaign first, then a chatbot won't help generate more leads.
Creating a conversational flow
There are four main parts to creating a great conversational flow: building, understanding, collaborating, and delivering — all of which fall under two overall categories: contextualization and personalization.
Contextualization
Building: When you think about contextualizing conversations, chatbots should engage in a conversational tone with your audience. If you have an existing contact record, use that to add context.
Understanding: Your bot should also be able to understand conversations. Design a conversation with filtering questions to understand the user's intent.
Personalization
Collaborating: Based on information gathered from previous user interactions, continually A/B test and optimize your conversational strategy.
Delivering: Once optimized, you can deliver users a solution without persuading them to leave the messaging app.
When developing your conversation flow, keep in mind that the goal is to create the shortest path for users to provide you the information you want and need.
Chatbot experiments
Over the past several years, HubSpot has performed multiple chatbot experiments to see how well they assist lead gen efforts:
Facebook Messenger to deliver content & generate leads
The first experiment compared Facebook Messenger's ability to deliver content and generate leads to that of email. While email is often used to deliver new content, that content is often gated behind a lead capture form. Meaning, email uses two different touch points: one to promote the content and the second to deliver it.
The experiment was designed to eliminate one of those touch points, by providing two options:
Submit a form and receive the content immediately via email
Skip the form and get immediate access via Facebook Messenger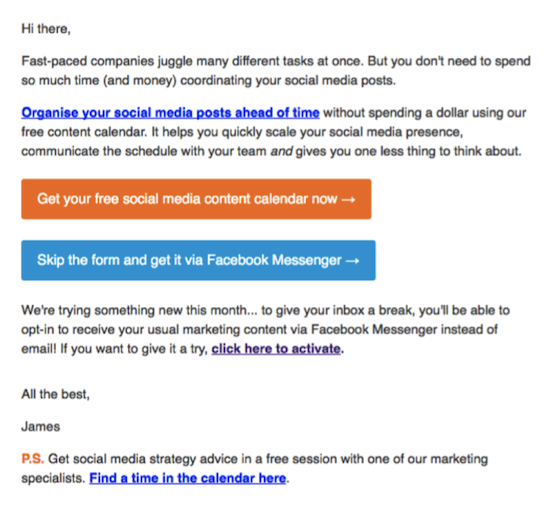 After four weeks, the Facebook Messenger option had an average open rate of 80% and an average CTR of 13%, which was 242% and 609% more than the email option, respectively:

The results of this experiment showed that as a content delivery channel, Facebook Messenger can be a lot more effective than email in terms of engagement.
Live chat & chatbots (in place of forms) to generate leads
The second experiment was based on the idea that conversation is a natural way to collect information because it feels less demanding for the user. It's a relationship-building experience, rather than another irritating task to complete.
This experiment tested two different lead gen methods for a HubSpot webinar:
Facebook Ads with a direct click-through to a signup form
Facebook Messenger Ads to first communicate with, and then register prospects, both directly in the app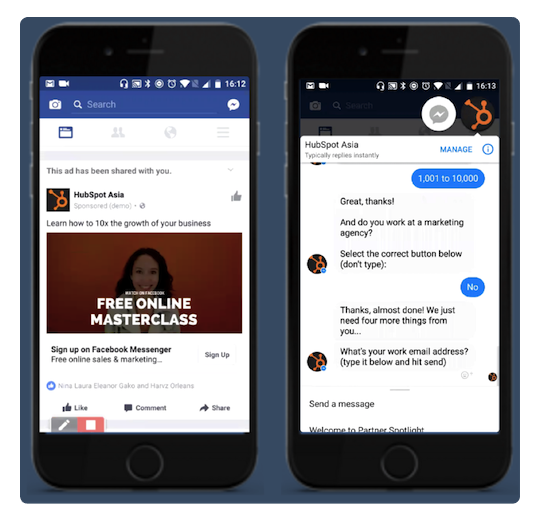 The results showed that while HubSpot spent 70% less per lead with Facebook Messenger Ads than Facebook Newsfeed Ads, they received more signups via Messenger bot than with a signup form. As an added bonus, users even shared the webinar ad and encouraged others to check out the Messenger sign-up interaction.
Metrics to track when running chatbot experiments
There are five categories to consider when tracking your chatbot experiment metrics:
Goal completion rate (GCR)
Confusion triggers
Activation rate
Retention rate
Fall back rate (FBR)
Goal completion rate depends on your specific goal, whether it be form submission rate, checkout rate, etc. If your experiment shows that a chatbot doesn't provide your desired results all the way through the funnel, it might not be a good implementation of a chatbot.
Confusion triggers help identify where and how a chatbot needs to be improved by identifying certain parts of a conversation where users are consistently dropping off. Each trigger tells you something different about the chatbot's performance, and will all play into the total confusion rate (number of times the chatbot had to fall back / total number of messages received).
Activation rate is the rate at which a user responds to a chatbot's message with a response that relates to your business goal.
Retention rate refers to the percentage of users who return to a chatbot over a certain period of time (which depends on the bot's purpose).
Fall back rate measures the amount that a chatbot fails at delivering, or comes close to failing. This typically relates to the user not being able to understand the chatbot's questions or answers.
All of these metrics are associated with providing a more streamlined experience for users, or if a chatbot is adding more confusion to the process. Be sure to track each of these details to generate more leads, rather than push them away.
Using chatbots on post-click landing pages
Using chatbots on post-click landing pages takes personalization to the next level through conversation, which can generate more leads: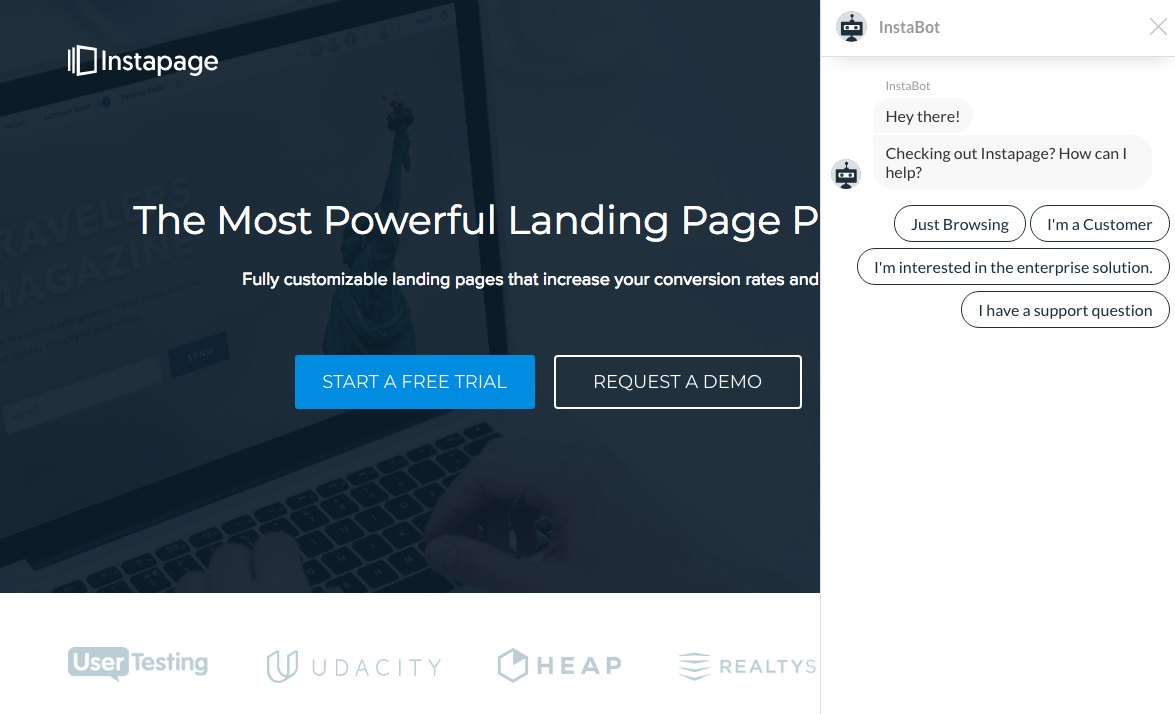 post-click landing page chatbots help improve the overall post-click landing page experience by:
Relating specifically to the campaign or promotion, personalized to a target audience
Focusing on high-quality accounts and determining which leads need immediate attention from a human being
Using automatic detection to help provide case studies based on industry
Bots are especially useful for repeat post-click landing page visitors because you can use the information already collected to personalize and contextualize the subsequent conversation. You're able to say, "Hey, James! I noticed that you visited our website and signed up for this webinar a few weeks ago. Now that you're viewing a product, is it a good time to talk to sales?"
You can then use these responses as a way to filter out prospects who are less interested or not sales-ready. If the user says they'd rather download an ebook, direct them down a separate funnel. If they show interest in speaking to sales, hand them off to a live person as quickly as possible: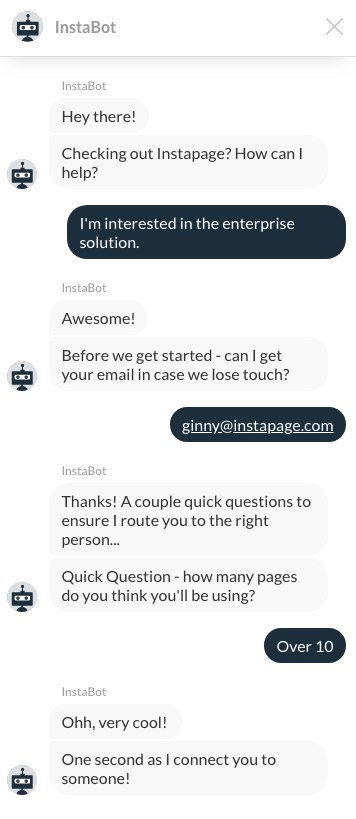 Get even more in the HubSpot webinar
Chatbots should be useful first and always useful. Useful chatbots don't mimic, rather they empower users to find exactly what they're looking for using a natural instinct — asking.
Watch the HubSpot webinar replay and see how to implement chatbots into your demand gen strategy.