If retargeting ad campaigns are part of your digital strategy (and by now they should be), you need control, transparency, and easy navigation:
Control the ability to manage every important aspect of your advertising campaigns
Transparency for measuring results effectively
An easy user experience to help you on-board, adjust, and share with your team
Whether you're new to retargeting or a seasoned pro, Perfect Audience (a Marin Software company) has the tools you need to run effective campaigns while staying in total control of your budgets, creative, and more. And regardless of your company focus, our platform is suitable for B2B and B2C initiatives:
What is Perfect Audience?
Perfect Audience is a web-based DIY approach to retargeting that puts the buying power of the web's entire ad inventory in your hands. If a display ad has ever "followed you" around the web until you returned to that site and made a purchase, you know it works. Now make it work for you.
You've probably read various percentages from multiple online sources, but the harsh truth is this: at least 90% of your web traffic will leave without converting. It doesn't matter how great your site is; the overwhelming majority of site visitors won't convert on their first visit.
Perfect Audience is in that sweet spot between your SEO/Google Ads/social media/press releases at the top of the funnel, and your converted leads and sales at the bottom of your funnel. This is your chance to gently poke those people who are on the fence about buying from you, and remind them what initially led them to your goods and services.
What types of companies use Perfect Audience?
The platform is great for big brands, agencies, small and medium-sized businesses — essentially anyone who uses a website to generate interest, capture leads, or sell merchandise. An advantage of using Perfect Audience instead of going direct to Google or Facebook is that we let you manage web display retargeting and Facebook retargeting campaigns in one dashboard, with easy-to-read reports and insight into where your ads are performing best.
Our flexible budgeting means that companies of all sizes can use the platform and get the same attentive, friendly service. Whether you're spending $50 or $5,000 per week, Perfect Audience works the same way to buy ads for you.
Is it only applicable for ecommerce?
Some B2B outfits may be under the impression that retargeting is best for ecommerce or other industries where click-through conversions rule the day. That is false because retargeting ads are applicable to any business spending money on digital ads or generating organic traffic.
Retargeting enables you to stay top-of-mind while deciding how long to target a prospect with your message. Let your ad message or your call-to-action evolve over time, and give visitors new pieces of content or information the longer they look.
Beyond following people to their social networks like Facebook, Twitter, and Instagram, Perfect Audience allows you to take advantage of the ad inventory available on 100,000+ websites that participate in the Google Display Network and other major ad networks. You can also use our cross-device retargeting to follow them from desktop to their mobile device.
Brief product overview
Perfect Audience was founded in 2011 and acquired by Marin Software in 2014 to bolster its product suite in search, social, and display ad marketing. There are no limitations either as our platform can be used as a standalone or alongside other Marin products.
How we distinguish ourselves from competitors
Transparency: You'll know where and when your ads are serving, getting clicked, and converting.
Timely support: Our team responds quickly to your emails and we take a team approach to resolving issues that gets you the right answer sooner, so you can get more done.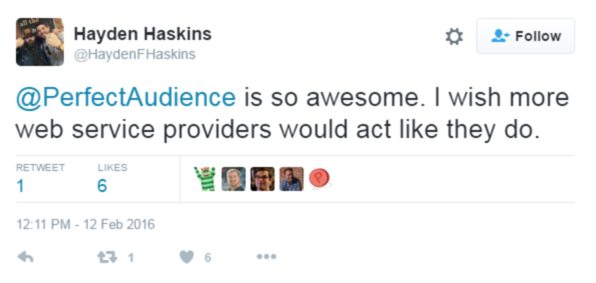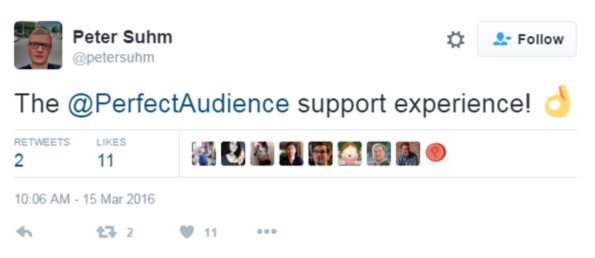 Personalized attention: No matter how big your budget is — we have a wide variety of resources available to help you, from our knowledge base to videos to individual strategy sessions.
Manage Facebook and web campaigns in one dashboard: Fewer logins and tabs make for an easier workday.
Twitter too: We can share your audience data with Twitter so the people in your Audiences see your Promoted Tweets after you cookie them.
HubSpot, Shopify, WordPress user? We've got the plugins to integrate with the advertising stack you already have in place.
The feature set you need
Rule-based tag manager: One tag to rule them all — a single tracking tag builds audiences and tracks conversions. Are you ecommerce? Edit the tag to dynamically pass through varying revenue values.
Conversion and revenue tracking: Track click-through and view-through conversions, assign values to order IDs, and measure your ROAS.
Manage multiple sites: Are you an agency or managing multiple sites? Keep everything separate and clean, and add new advertisers any time.
Transparent billing: Detailed invoices sent to your inbox, and the inboxes of the team members you determine.
Detailed analytics: Clicks, conversions, CTR, CTC, CPM, CPC, and lots more, updated every 2 hours and available as automatic reports emailed to you.
Powerful segmenting: Track users based on pages visited, query strings, actions taken, and more.
Cookie freshness: Focus your ad spend on the most recent visitors, not the older ones who are less likely to convert.
You can divide your audience into segments and offer specific messaging and content to them, based on what they've viewed on your website. This way you can go after your most recent visitors (those most likely to convert) more aggressively:
Getting the most out of Perfect Audience
For creative design, your post-click landing pages should match your ads. This is all about post-click optimization because providing a consistent user experience is highly recommended to increase your conversion rate. Don't send people back to your homepage and make them start all over again the second time they see you.
If, for example, your ad promotes a Winter Sale or a conference registration ticket, then take them directly to "Big Winter Sale" or "Conference Registration" (not an irrelevant product page or homepage). Look around Instapage's blog for best practices related to post-click landing page design.
Best practices when using the platform
Great creative has clear branding, a short and persuasive message, and a clear call-to-action. With those as a foundation, we recommend combining the following best practices to get the most out of your retargeting campaigns:
Use at least one of each of the most popular five ad sizes in web campaigns: 300×250, 728×90, 160×600, 300×600, and 970×250. If Perfect Audience comes across an impression you should win but you're not equipped with that size, someone else gets your spot and we'd rather win it for you!
Run A/B tests with your creative to see which images and messaging gets a higher CTR. Change up the text, the CTA, and the colors as long as they stay within your brand guidelines.
Stop ads for users who've converted from your campaign because no one wants to see an ad for something they just bought! You can also build an audience of those who've converted and run a special campaign encouraging them to come back with a special offer. Or, try an upsell/cross-sell approach.
Pause your ads serving on domains that serve a lot of impressions but have a lower click-through rate or conversion rate than you'd like.
Tailored to fit your business requirements
Agencies
For agencies, we have customized automated reporting, streamlined billing, and easy control over all the accounts you manage. Some of our clients manage 100+ accounts in Perfect Audience with ease. Here's an example of the reporting dashboard:

Customer success manager
More customized strategies are available by contacting your Perfect Audience customer success manager. For instance, you can pause your ads on certain domains with a lower conversion rate, or to run special seasonal campaigns when they have the best chance of success.
Customer support
Our support team is fast, friendly, and knowledgeable. Our knowledge base is detailed and updated frequently, which includes video tutorials that are detailed and easy to implement.
What about the day-to-day maintenance? You don't have time to spend a couple of hours a day on another platform. Perfect Audience is the ideal balance between self and managed services for display retargeting. Our clients appreciate being in the driver's seat while knowing they can always reach out to us any time if they need assistance. Support hours are 9-5 EST, Monday thru Friday.
Whether you "set it and forget it" or monitor campaigns daily, we recommend swapping out your creative from time to time and setting aside time to measure results (and performing some A/B tests too). It's always to your advantage to optimize, and our Customer Success team is here to help you do that.
Billing
For billing, we only charge what you spend on the campaign budgets. No setup fees or administrative charges. We also bill on a CPM basis, so we're not charging for clicks that came from mysterious locations that you can't see.
If you're a weekly-billing advertiser using a credit card, you adjust your budgets any time you like (billing occurs weekly). Plus you can start and stop campaigns at your discretion. If you're high-volume and/or an agency, please let us know and we can share some other options. And as popular as it may be, Bitcoin is not accepted.
Consider Perfect Audience for your retargeting campaigns
Try a Perfect Audience free trial today with $100 credit so you can see the platform work for you before making an investment. Or talk to our friendly staff about what you'd like to improve about your retargeting campaigns.
About the author
Max Stewart is a Customer Success Manager with Perfect Audience. He and his team help new and established clients with onboarding, optimization, and best practices. He is a die-hard Chicago Cubs fan and a very average guitar player. To get in touch, you can contact Max at the email address here.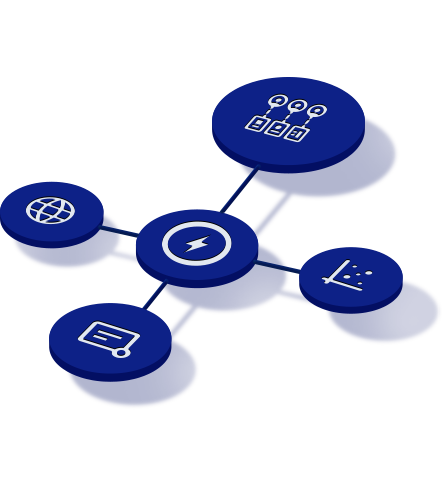 See the Instapage Enterprise Plan in Action.
Demo includes AdMap™, Personalization, AMP,
Global Blocks, heatmaps & more.