To promote your brand on social media, you have to know how to use hashtags. The hash symbol, once known as the pound sign, is used by social media users to make their content discoverable.
The first hashtag was created on Twitter in 2007, suggesting people start using hashtags to create Twitter groups:

After its introduction, the hashtag quickly became a cultural icon, now used by 75% of users across many social media platforms. Today, brands use hashtags to engage audiences, gain new followers, be a part of relevant conversations, increase their social impact, fuel social movements, inform content creation strategies, and more.
Before we detail specific platforms, you should know how to use hashtags properly, because once you do, you'll see they're a powerful tool to grow your brand.
How to use hashtags
Hashtags are keywords or key phrases with the hash symbol placed in front. They are written without spaces, can include numbers but not symbols or punctuation, and can be inserted anywhere within a social media post or comment.
Using hashtags lets your post be indexed by the social media network. This allows anyone to find your content based on the hashtags used — even people who aren't already your followers. So using the right hashtags can expand your social media reach to millions of potential followers.
Incorporating hashtags sounds simple enough, but they only make a difference in your marketing strategy when used correctly. Three popular hashtag categories include:
Content hashtags
Words or phrases directly related to your product, service, or industry are "content hashtags" because they relate to the content that your content would naturally be associated with. At Instapage, we primarily use content hashtags related to the landing page, such as #landingpages, #postclickoptimization, #CRO, and #PCO. In the end, content hashtags are fantastic for exposing your brand to potential customers who weren't previously familiar with your brand.
Trending hashtags
These are existing hashtags that have grown popular among millions of users. When using a trending hashtag, make sure your post adds value to the trending conversation. If it doesn't, it's likely to be ignored.
Brand-specific hashtags
Sometimes using generic content hashtags or popular trending hashtags can cause your posts to get lost. That's why it's a good idea to create unique brand-specific hashtags. These can be used for branding, promotions, events, contests, or other marketing campaigns.
Keep in mind that selecting the best hashtags is dependent on the social platform because the rules and best practices vary.
Using hashtags on Instagram
Using hashtags should be part of your Instagram marketing strategy since this is the best platform for multiple hashtags. It allows 30 hashtags maximum per post and even though it's not recommended to use all 30 — you can experiment to find what performs best for your brand.
The more hashtags you use on Instagram, the more engagement you see — up to a point. TrackMaven reports that 9-12 hashtags generate the highest engagement levels on average: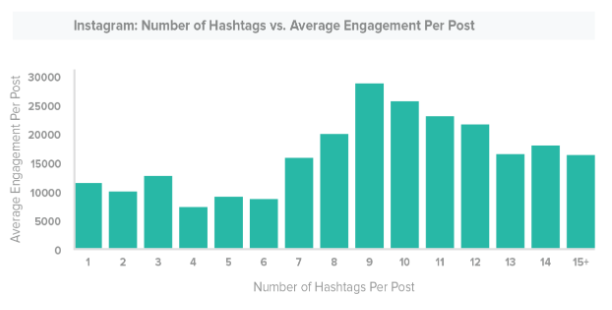 For length, longer hashtags between 21 and 24 characters perform best: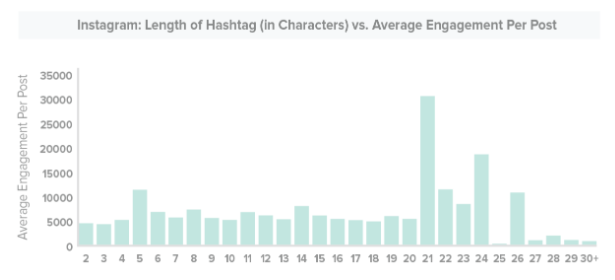 Different ways to use hashtags on Instagram include:
Adding them to your biography section to lead to a hashtag page on the topic
Creating unique ones for user-generated content campaigns
Using them in Instagram Stories to drive more visibility
Following hashtags to discover content that's relevant to you and your audience
To keep your content neat and organized, place hashtags at the end of the caption: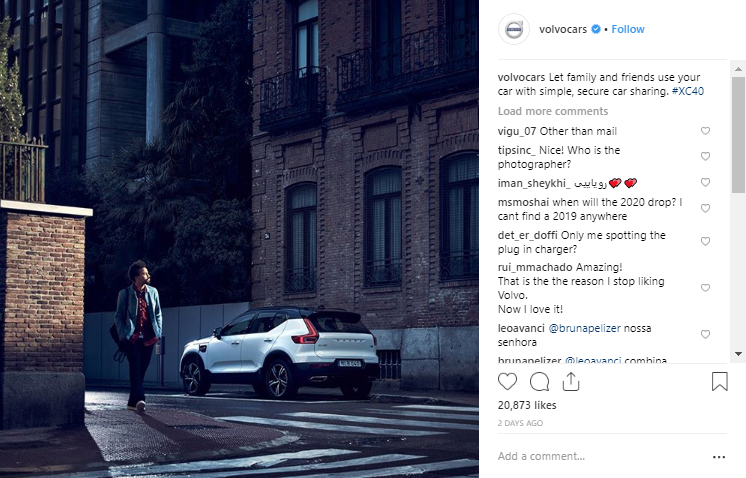 A common trend is to separate your main caption from your hashtags to make it look even cleaner by putting dots or asterisks in between: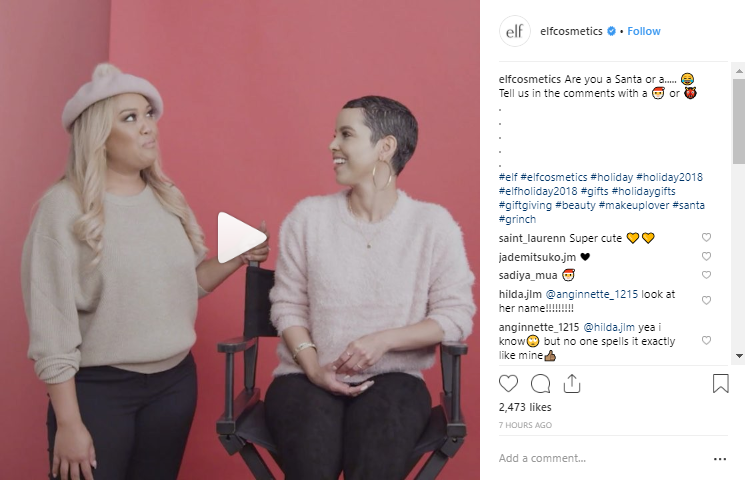 Or leave them out of the caption altogether and add them as a comment instead: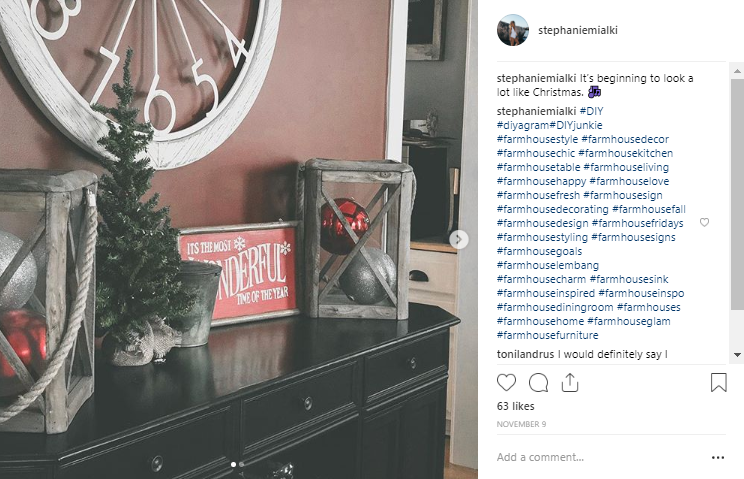 To find the best hashtags, use the search function to see what your audience, competitors, and industry leaders are using. Bonus tip: pay attention to the number of likes the first images received.
Plus, due to the 2017 Instagram "shadowban" (users' posts were hidden if they seemed spammy) and the 2018 algorithm update, you should only use hashtags that are relevant to your brand or post.
Take photography businesses as an example. These brands should only use photography hashtags or tags related to the specific post/image itself. Copying and pasting the same ones on every post could be flagged as spam, negatively impacting the post's visibility.
Using hashtags on Facebook
Facebook allows hashtags although they're not as popular as they are on other social networks. In fact, Facebook posts with hashtags don't tend to perform as well as those without. However, there are specific use cases like events or promotions where brand-specific hashtags are beneficial. In these cases, using hashtags on FB can get your posts more exposure.
The most important thing to remember is not to use too many. Since Facebook isn't as hashtag-oriented as Instagram, your brand could come across as annoying or spammy by including too many. Only 1,2, or 3 per post are recommended: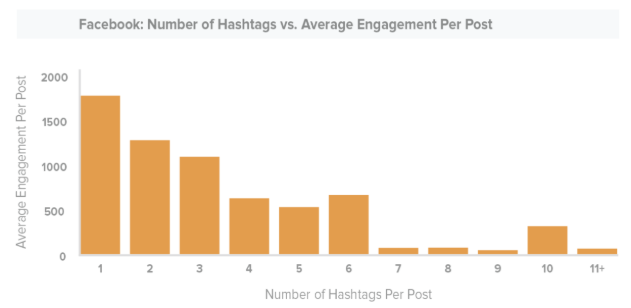 In this Facebook post, The Honest Company used a brand-specific hashtag (#HonestDelivery), and a trending hashtag (#MomLifeMonday) for optimal visibility and engagement: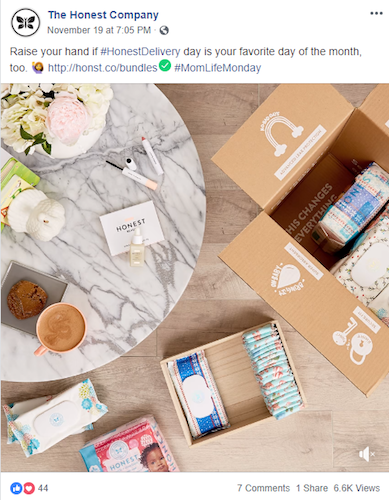 Finally, don't forget to make your Facebook post public so anyone can find it if they search for a hashtag you've included. Otherwise, only friends and followers will be able to see it.
Hashtags on LinkedIn
LinkedIn hasn't always supported hashtags because until recently they were a telltale sign of cross-posting from Twitter. Yet, since LinkedIn is known as the premier social network for professionals — and because its database is now enormous — they realized the need to categorize better, organize, and filter user content.
Now, LinkedIn hashtags are used similarly to Instagram hashtags. Brands can use the most popular hashtags to provide a better user experience and people can use the search bar to search for specific ones. A primary difference, though, is that they're only clickable on the mobile app, and not desktop.
When using hashtags on LinkedIn, you can:
Add them to your profile for more visibility across the platform
Weave them into the body of your LinkedIn Pulse articles, or list them as article keywords at the end for wider reach
Incorporate them into comments on other people's posts to associate your name with certain hashtags
Include them in status updates to make your posts searchable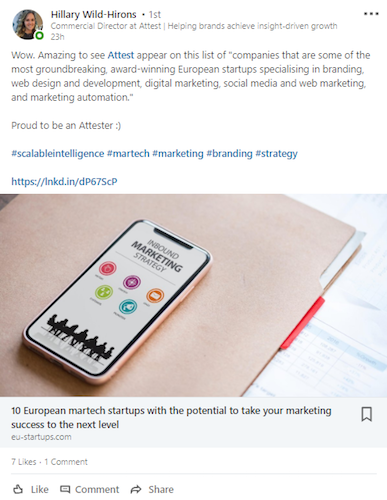 Using hashtags on Twitter
Tweets with hashtags generate more retweets than those without any at all. Even as the birthplace of the hashtag, though, the optimal number for Twitter is only one, followed by two, per post: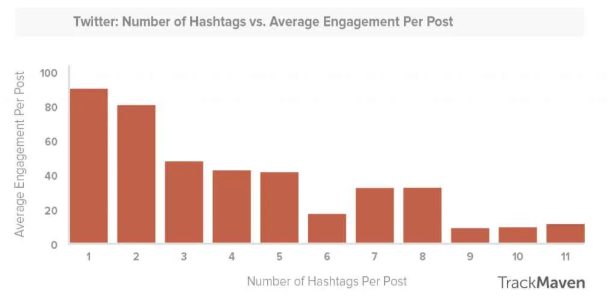 Marketo has the right idea, as they typically only use 1-2 hashtags per Tweet: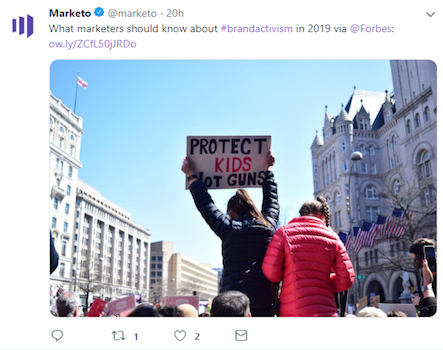 Aside from normal Tweets, other common ways to use hashtags on Twitter include:
Using a single hashtag consistently to categorize all of your content over time
Hosting or contributing to a Twitter chat
Being a part of Twitter Moments to create or curate a story
Researching trending or competitors' hashtags
Regarding Twitter ads, it's best not to use hashtags because you'll likely generate more ad clicks by omitting them altogether.
Hashtags on Pinterest
Hashtags on Pinterest identify pins about specific topics:
Related Pins can then be discovered by clicking on a hashtag in a Pin description, which takes users to all the Pins that share that hashtag: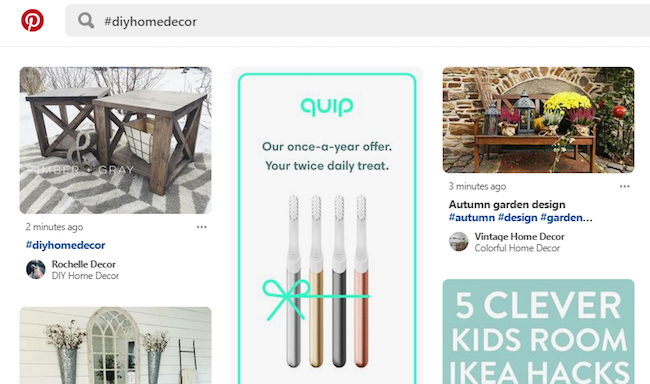 When using hashtags on Pinterest, don't add more than 20 hashtags per Pin and ensure they're all relevant, specific, and descriptive.
Finally, unlike the various placement options on other social platforms, Pinterest hashtags only work within the Pins' descriptions.
Using hashtags on YouTube
Hashtags are an easy way for YouTubers to find videos about popular topics.
To add hashtags to YouTube videos, upload your content and enter a hashtag in the title or description: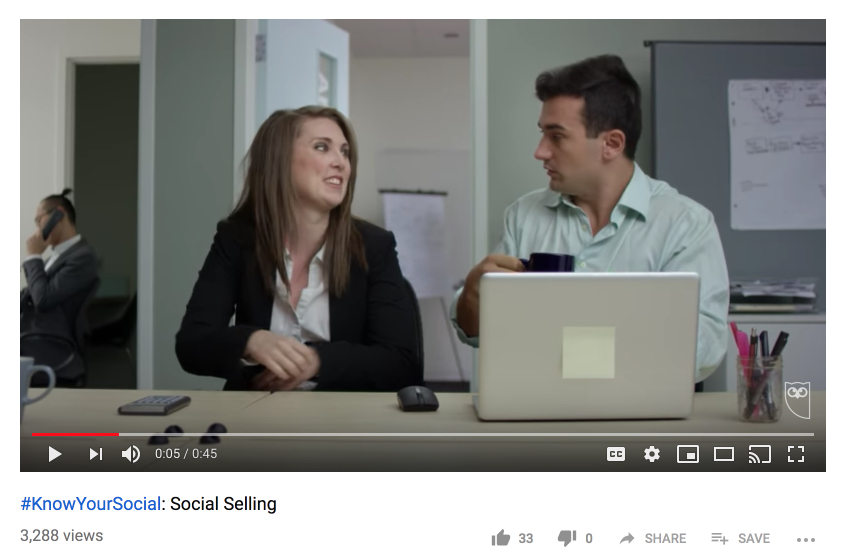 These are hyperlinked, and similar to Pinterest, are clickable to bring up related videos with that tag: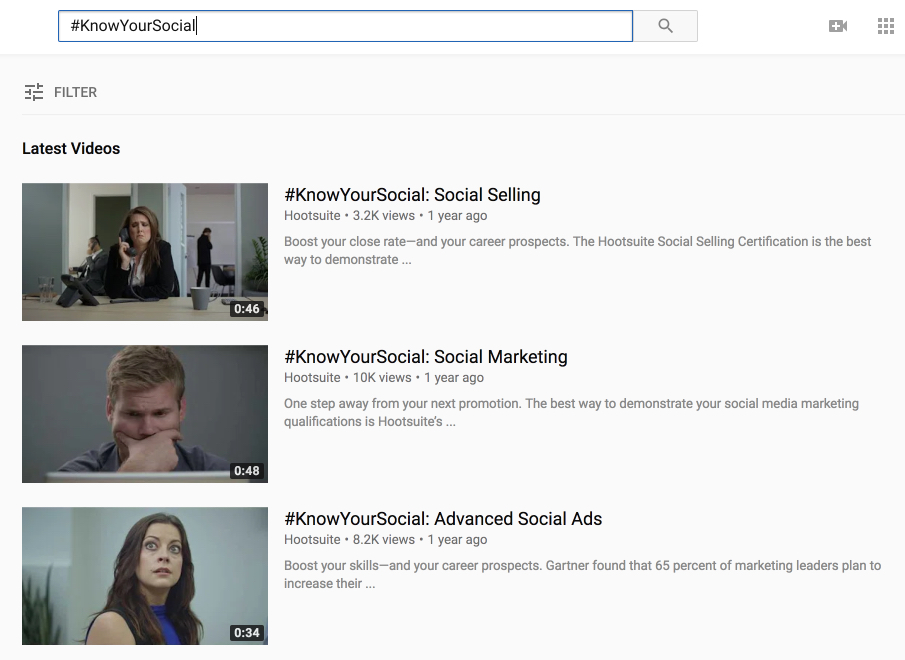 If there are no hashtags in the title, the first three hashtags in the description will show below the video, above the title: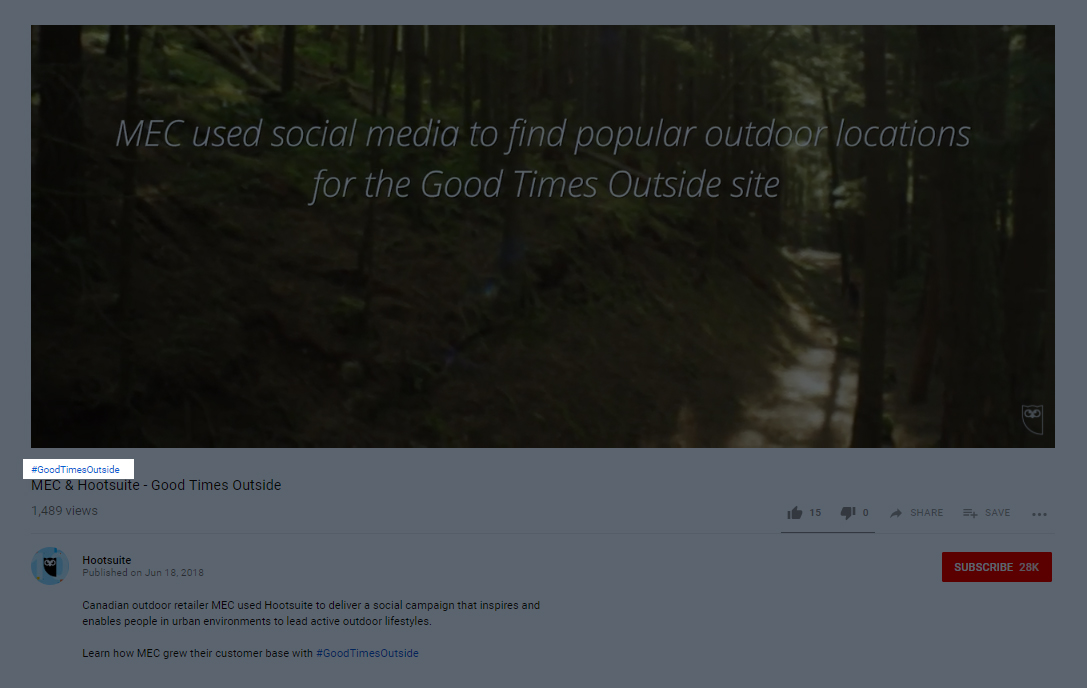 Add hashtags sparingly and make sure they're directly related to your content. The more tags you add, the less relevant they become. If a video has more than 15, chances are they'll all be ignored and can even get your video removed from your uploads and/or from search.
One final note is that YouTube prohibits hashtags that contain hate speech, are unrelated to your content, misleading, sexual, explicit, profane, or meant to harass or humiliate someone.
Establish your hashtag strategy
There are no absolute answers regarding the best hashtags for your brand. A successful hashtag strategy starts with knowing your audience and recognizing what works on each social platform. Beyond that, it's a learning game. Learn what works and what doesn't by experimenting and analyze the results.
The key thing to remember is that by putting in the time and research, using hashtags can help your brand expand its reach, get more engagement, and gain followers across all social platforms. Another way to get more engagement is to create dedicated landing pages. Sign up an Instapage 14-day free trial today.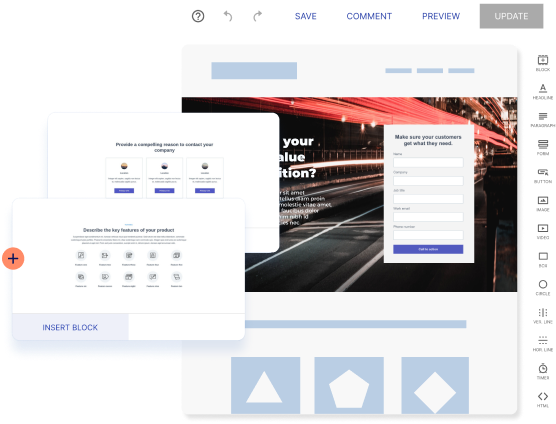 Try the world's most advanced landing page platform with a risk-free trial.