If you're looking to hire a marketing agency, what can a full-service agency offer your business?
Full-service agencies manage every aspect of a company's online presence, from branding to advertising. There are many advantages to trusting these agencies to provide results for your company, but beware — not all full-service entities are built the same.
Some pitch themselves as a one-stop shop but may be adding on services they aren't as experienced in just to get your business.
This guide will dive into what a full-service agency is, when you need one, and when they're a better option than boutique or niche agencies.
What is a full-service agency?
A full-service agency is one that provides clients end-to-end marketing services that cover every aspect of their online brand: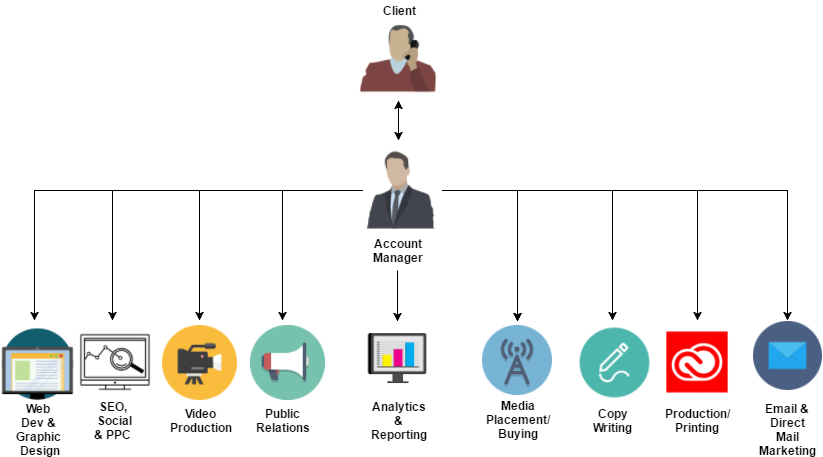 They take a big chunk of the marketing pie, too. In 2018, full-service marketing agencies were responsible for 65% of total fees taken for marketing services, with Design & Build (18%), Technical (15%), and Creative (2%) making up for the rest.
Ecommerce, home services and real estate are among the top industries agencies tend to work with to reach their marketing goals: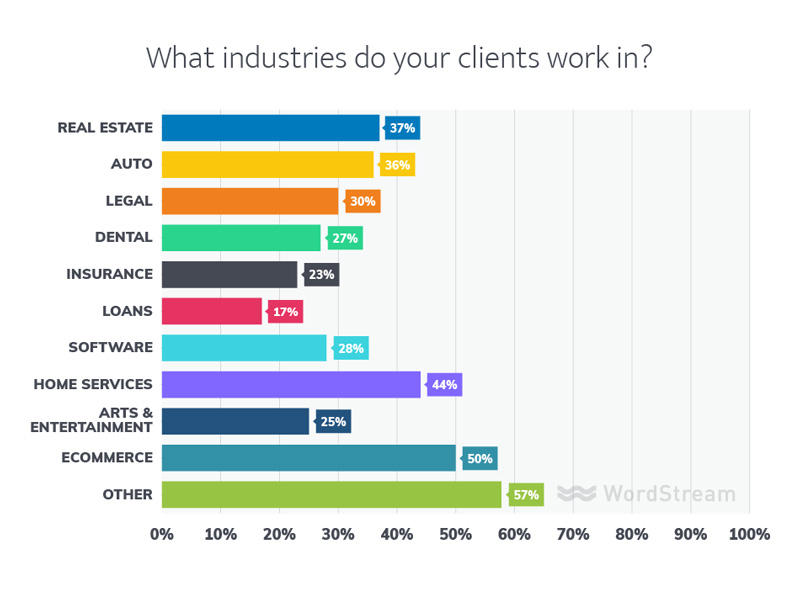 If you're looking at hiring a full-service agency, you aren't alone. Many businesses are either currently working with a full-service agency, or signed with them in the past. A study by Growth Sandwich interviewed 230 small businesses and found over half of them (65.71%) had worked with a marketing agency in the past: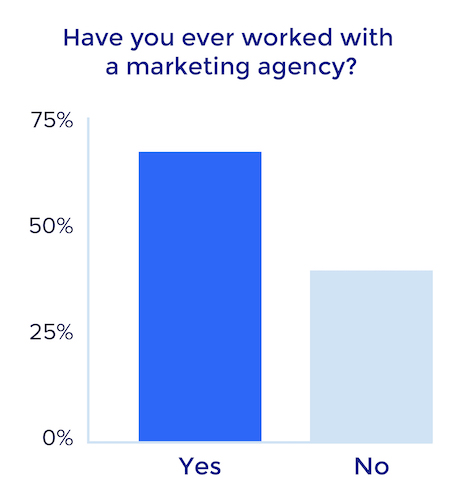 So, why do companies turn to full-service agencies?
For one, these agencies guide companies through the daunting task of setting up and managing their online presence.
A full-fledged service agency will provide some, if not all, of the services below. Once you've met with an agency, they'll typically develop a marketing strategy that includes:
Design and UX
SEO
Content
SEM
Social Media
On top of that, the agency will organize and handle everything from strategic planning, creativity, marketing production, and advertising campaigns. Once campaigns are set up, the agency will monitor, A/B test and update campaigns, and report back on their success (or failure).
What makes a full-service agency superior to boutique agencies?
When deciding between hiring a full-service or boutique outfit, there are some key questions a company needs to ask itself:
What kind of business is it? Is it B2B? B2C? SaaS? Brick and mortar?
What is the main goal?
Where does the company stand in its industry? Is it a startup, or is it established but looking to change up its brand perception? What does it need from an online presence?
This will help a business figure out where their audience is, and what their marketing goals are. It's only then they can determine whether a full-service agency or a boutique agency is best. If a company is looking to boost it's entire presence online, then signing with a full-service agency is more advisable.
The benefits of a full-service agency
Hiring different agencies to cover each aspect of a business can be a nightmare. For each agency you hire, it means another person to contact, and passing on information and ideas to yet another department. That can add up to a lot of people: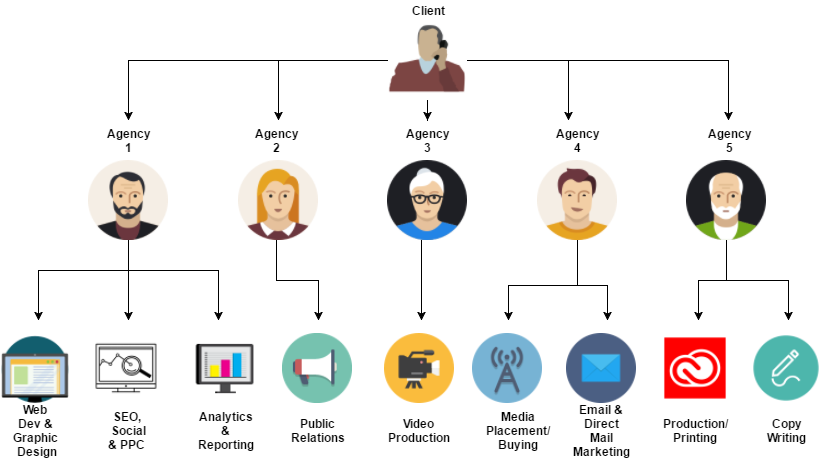 Since full-service encompasses everything under one roof, you'll likely have one point of contact within the agency who takes care of everything. Companies typically lean on full-service agencies to provide everything from SEO to content marketing and CRO: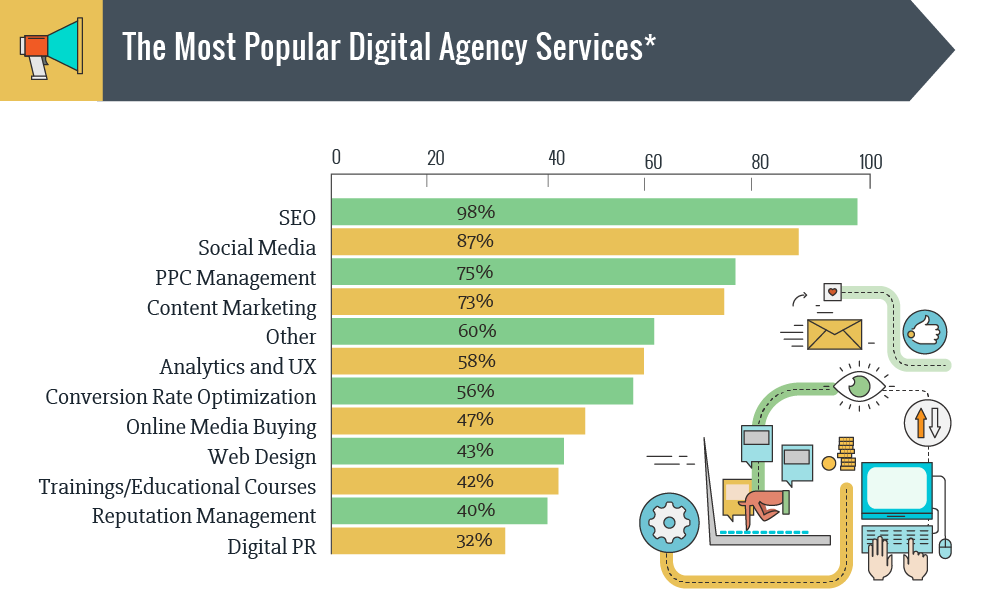 Of course, niche agencies work for some businesses. They live and breathe their specific channel of marketing. For example, if most of your audience lives on Facebook and Instagram and you've found no other channels provide results — then hiring a boutique agency that focuses exclusively on Facebook and Instagram marketing may be your best option.
A full-service agency will be a better option for companies who want most, or all of their marketing operations handled externally. These agencies have the resources, team members, and experience to provide a complete package.
Gina Rodriguez at full-service agency Keenability offers her explanation:
Not only does it make it easier for the client, but also for the agency — especially if the agency manages the website as the SEO team, social media manager and content writer all need to work in sync with one another to be successful...

A marketing team functions much better as a unit and provides an all-in-one solution while maintaining a diverse group of talented individuals with different disciplines working together to ensure results.
How to find a full-service agency
Once you've decided to hire a full-service team, find one that ticks all your boxes. That means finding an agency that is reliable, efficient, and will work with your brand to make the most out of your marketing spend.
Before making a decision and signing with a full-service agency, make sure to get all your questions answered. Find out:
Exactly what services the agency offers (and if they're all included in the price you've negotiated)
What areas of marketing/advertising they think will provide your company with the best results
Do they operate on a retainer fee structure or percentage of marketing/ad spend?
Can they help your company with media outreach?
How will the agency interact and communicate with your company? Will you have one agent who handles all communication?
How does the agency hierarchy is like and how roles are structured?
Don't be fooled into thinking the more services an agency offers, the more experienced they are or the better the services will be. Sometimes this is not the case. Marketing agency Helios Media's Alexandra Golaszewska said working with an agency is only a good solution if the agency is good at all of the services it offers.
It isn't uncommon for an agency to have one thing -- or maybe several -- at which [it excels] and then to offer other services because they think clients want to get everything in one place. It doesn't mean that they're equally good at all of those things.
For that reason, companies must take the initiative to dive deeper and look into the agency's capabilities and results produced for other clients.
How renowned are they?
Search around for their recent campaigns, and find out which team agency team members contributed to the campaign results. Then, look at the feedback from their current or past clients about their satisfaction levels.
For example, marketing agency 360i looks remarkably impressive online: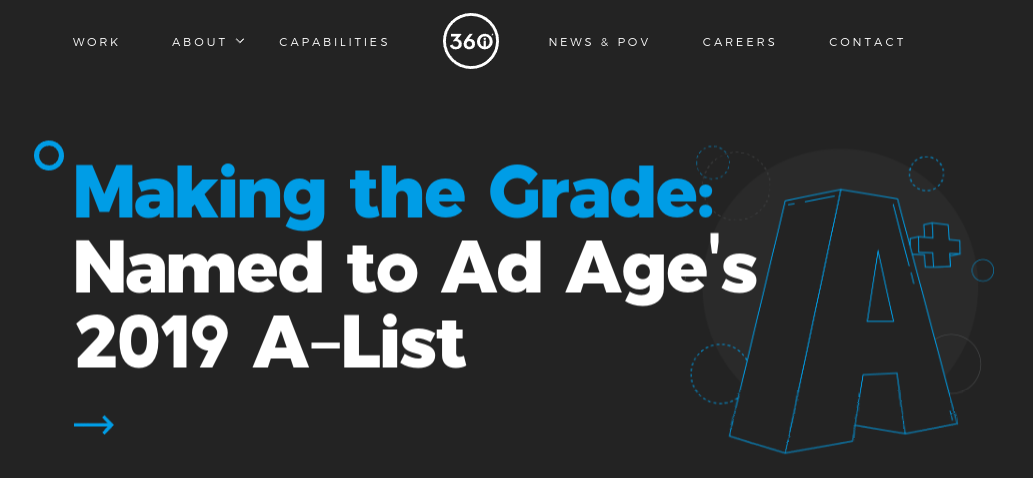 But how does their work stack up in customer reviews? With 475 ratings, they've earned a 4.7, so the recognition seems to be well-earned: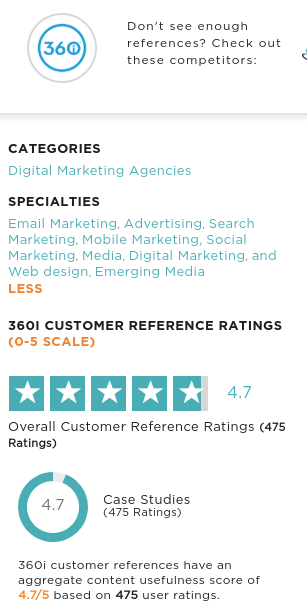 A full-service agency has to be more than well-known and established, though. They must be skilled in concept knowledge, graphic design, copywriting, studio work, and brand engineering to pass this test.
How strategic are they?
Any full-service agency worth their money thrives on creating strategic plans that benefit their client. To do this, check out the agency's previous media campaigns, brand positioning techniques, and how they tracked metrics for each campaign.
Review their overall strategy… Did they use post-click landing pages for ads and content marketing for organic brand awareness? How cost-effective was their PPC spend? What results did they see from automated triggered emails?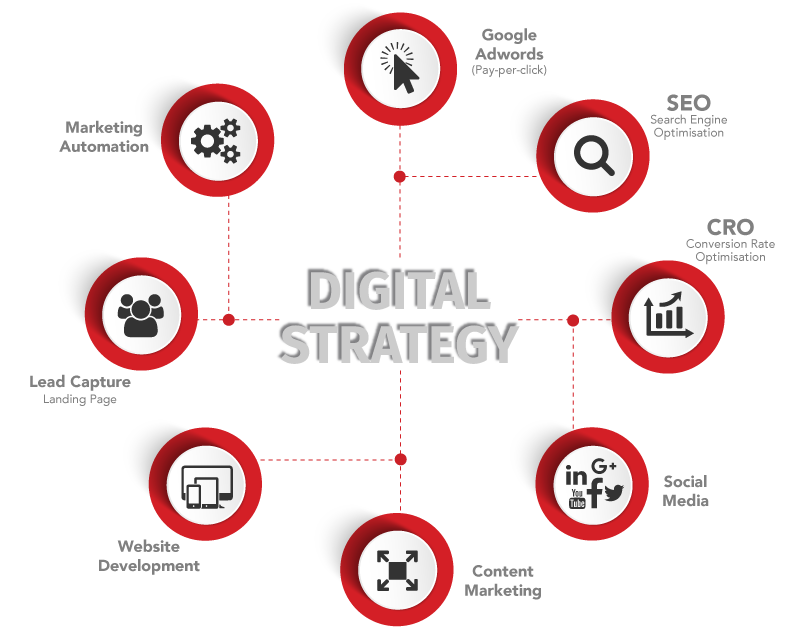 A strategy should involve every aspect of the agency working towards the same goal, like launching a new product or rebrand.
Request a copy of a previous campaign or company similar to yours so you can evaluate their performance. They should have several case studies they can send you to showcase their impressive results.
Do they do production in-house?
A full-service agency should have the capabilities to handle all of your marketing operations from web development to digital printing in-house. If they don't and have to outsource it, it defeats the whole purpose of hiring them.
If they're outsourcing, there's a good chance this could hinder your timelines at some stage throughout your working relationship.
The final say on full-service agencies
If your company is looking for a way to manage every aspect of your online presence — from Facebook to Google ads, web design, SEO, content marketing, and more, a full-service agency is likely your best option.
They're geared for companies looking for a complete package. Full-service agencies are popular because they take the headache away from marketing and in a lot of aspects, make informed decisions about campaigns so you don't have to.
Turn more of your ad clicks into conversions with the Instapage Advertising Conversion Cloud. With AdMap, 1:1 Personalization, built-in collaboration, pixel-perfect designs & more, no other solution can compare. Sign up for an Instapage Enterprise demo today.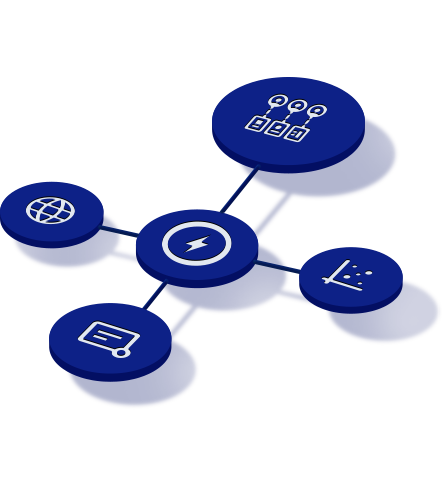 See the Instapage Enterprise Plan in Action.
Demo includes AdMap™, Personalization, AMP,
Global Blocks, heatmaps & more.