Facebook Stories Ads were officially launched to global advertisers in September 2018, offering a new way to engage users and promote an offer. This is especially significant when you consider over 300 million people use Facebook Stories, with 68% of users utilizing stories regularly on at least three apps.
In addition to all other Facebook ad formats, Stories Ads give marketers an intriguing placement to consider.
What are Facebook Stories Ads?
Facebook Stories Ads are vertical, visual advertisements placed in the Stories feed on mobile devices. Image ads in this format can appear up to 6 seconds, while a video ad can potentially be 15 seconds long. To visit an external page (e.g. post-click landing page), users need to swipe up on a call-to-action.
Facebook Stories were introduced for users to share and discover content, interact and engage on a vertical screen. They look similar to Instagram Stories creating an immersive full-screen experience: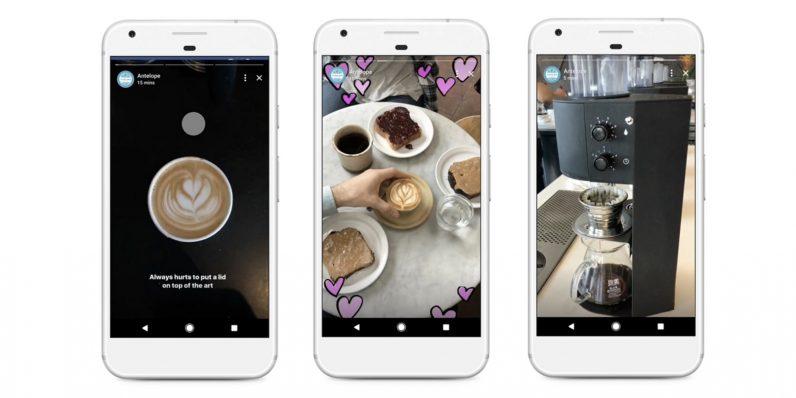 On Instagram, ads in stories were officially introduced in March 2018 and were an immediate success. Airbnb reported a double-digit point increase in ad recall. On Facebook, they give marketers an additional way to boost conversions on the web's biggest social network.
While Facebook revenue has grown year-over-year, forecasts have predicted that its operating margin will decline — Facebook's operating margin in Q3 was 2% lower than the previous year at 42%. This may explain Facebook's plan to invest in stories, which have shown increasing popularity on Instagram with over 400 million users sharing stories.
Facebook Stories Ad specs
This is how an image appears as a Facebook Stories ad: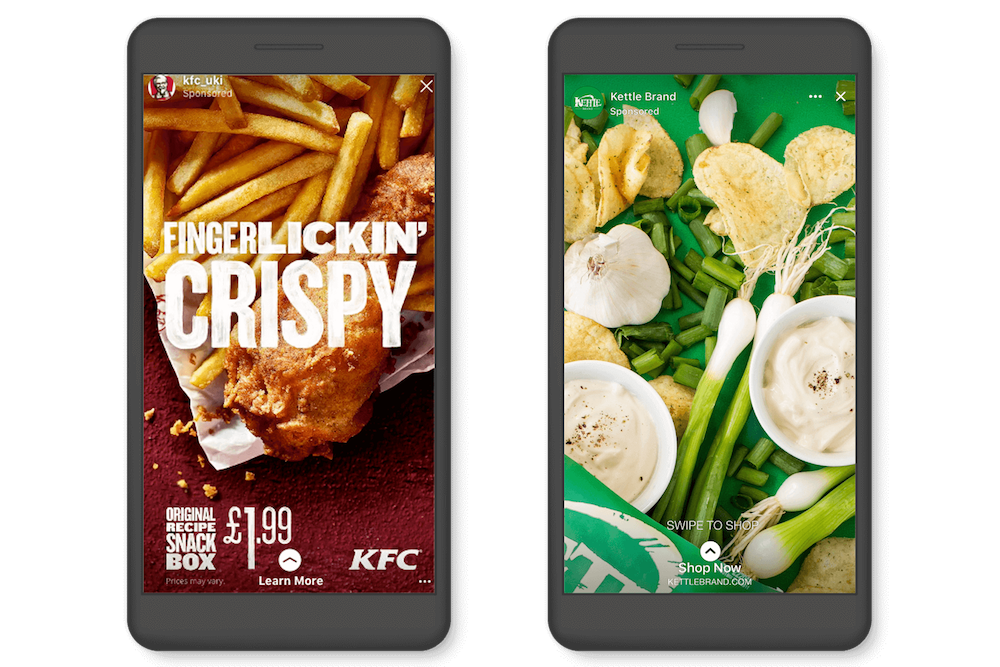 Image ad specs:
Image: 500 X 500px minimum
Image ratio: 1.91 minimum to 9:16 maximum
Aspect ratio tolerance: 1%
Available call-to-actions: shop now, book now, learn more, get showtimes, sign up, download, watch more, contact us, apply now, get quote, request time, see menu
Avoid using text or a logo in 14% (250px) area at the top and bottom of the image
Ads with more than 20% text may have limited delivery
Vertical ads are viewable for 5 seconds or until a user swipes from the story
Marketers can also use video on Facebook Story Ads. Here is how the video format plays: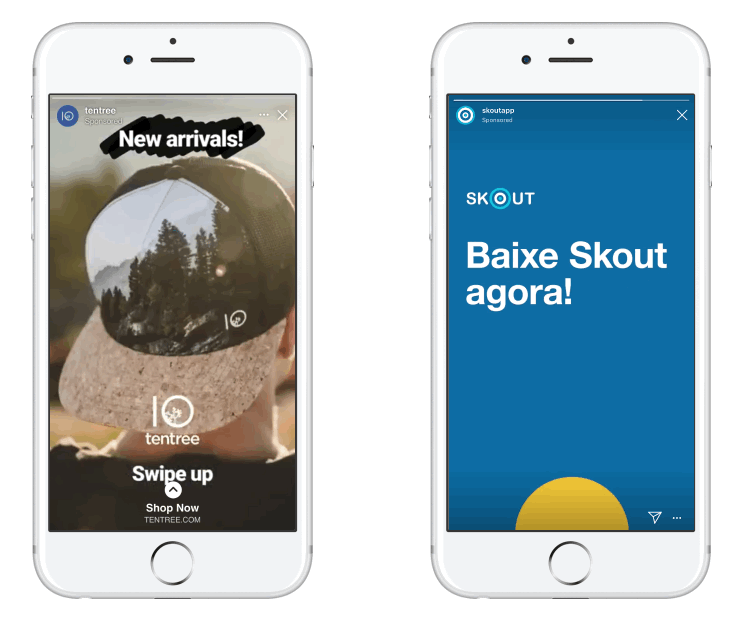 Video size: 500 x 500px minimum
Video ratio: 1.91 minimum to 9:16 maximum. Videos under 9:16 have colored gradient bars rendered below and above. Text field appears below video.
Aspect ratio tolerance: 1%
Video length: 1 to 15 seconds
File size: 4GB maximum
Available call-to-actions: shop now, book now, learn more, get showtimes, sign up, download, watch more, contact us, apply now, get quote, request time, see menu
Optional sound
Avoid using text or a logo in 14% (250px) area at the top and bottom of the video
Ads with more than 20% text may have decreased delivery
Video ads are viewable for up to 15 seconds or until a user swipes from the story
Advertisers can use Facebook Stories Ads for the following objectives:
Traffic
Conversions
Reach
Video views
App installs
Lead generation
Brand awareness
Note: Facebook Story Ads can't be chosen as a standalone placement. Currently, the only way to run them is by selecting 'automatic placements' and choosing an objective that Facebook Stories support.
Why are Facebook Story Ads a big change for advertisers?
The ad type provides businesses with another weapon in the battle for user attention. Chris Cox, Chief Product Officer at Facebook expects stories to be shared more than news feed content in the future, while Mark Zuckerberg notes that ensuring ads are as good in stories as they are in the news feed is one of Facebook's objectives.
For now, Facebook Stories Ads present lower CPM rates due to lower competition. With Facebook seemingly turning their attention to Stories Ads, this placement presents a beneficial opportunity for advertisers hoping to boost leads, conversions, traffic, or brand awareness.
Research has shown that 62% of people have more interest in a product or brand after viewing a story. Additionally, more than 50% of people surveyed make more online purchases after viewing story content.
With 38% of survey respondents talking to another about a product or service viewed in a story, Facebook Stories Ads present a method of increasing brand awareness by word of mouth. The stories format can deliver your brand message in full screen, allowing users to focus entirely on your ad.
Facebook Stories Ads also give advertisers the potential to repurpose their advertisements for both Instagram and Facebook platforms, saving time and money on creating extra content, and enabling A/B testing over both platforms.
KFC UK noted their Stories campaigns delivered 33% lower cost per view and 19% lower cost per impression while still using high-quality content and controlled targeting. But in the future, utilizing stories for ad placements potentially means more money spent on visuals and improved video content.
A significant benefit for advertisers would be if Facebook introduced unskippable ads, which would ensure an ad could not be swiped through. Snapchat introduced this feature in May 2018, which meant advertisers had less pressure to make highly creative content to compel users not to swipe away. The drawback though is user experience since they lose a little bit of control.
Best practices in creating Facebook Story Ads
The best Facebook Stories Ads all have certain elements in common. To make yours perform their best, consider the following best practices…
Use clear visuals
Displaying an ad in Facebook Stories means you can't compromise on lackluster visuals.
With users currently able to swipe off a story, an ad must be compelling, engaging, and motivate the user to click on the CTA. Minimal text should be used — Facebook suggests no more than 20%.
See how Oculus uses clear visuals and only a small amount of text to promote their offer: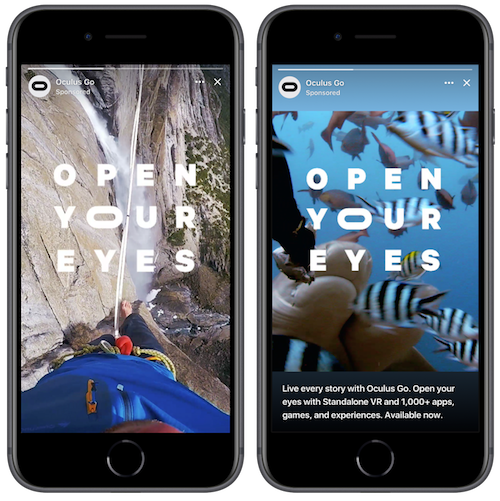 Use an obvious call-to-action
Using a clear call-to-action in your ad encourages a user to take action, and Facebook provides advertisers a variety of options. Use the call-to-action that relates to your overall campaign goal. For example, with an ebook, the "download now" will help drive users to download your offering.
Notice how this Tentree Facebook Stories ad uses "Shop Now" to encourage users to buy a product from their new arrivals section: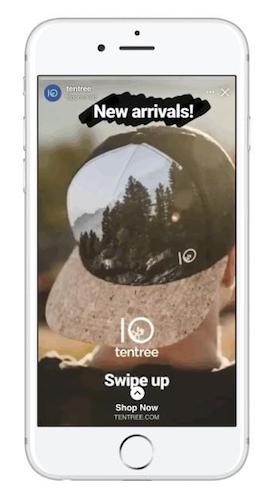 Optimize your ad for mobile
U.S. adults spend an average of 3 hours 35 minutes on mobile devices each day, so any ad you show has to be optimized for mobile.
Since people consume content faster on mobile, it's important to deliver your brand message in the first few seconds of your ad to boost engagement and click-throughs. Use vertical ratios to ensure your ad is optimized for full-screen viewing, and don't rely on sound to deliver your message, as some mobile users may opt for silent viewing.
Optimize the post-click stage with a relevant post-click landing page
Taking advantage of high-quality visuals and a clear CTA means nothing if you don't complete the conversion process with a relevant post-click landing page. With Facebook Stories Ads, users can swipe up to visit a landing or product page. When looking to generate leads or conversions, your post-click landing page should reflect the same branding and message in your ad, coupled with a lead capture form.
This post-click landing page is a great example of using an email capture form: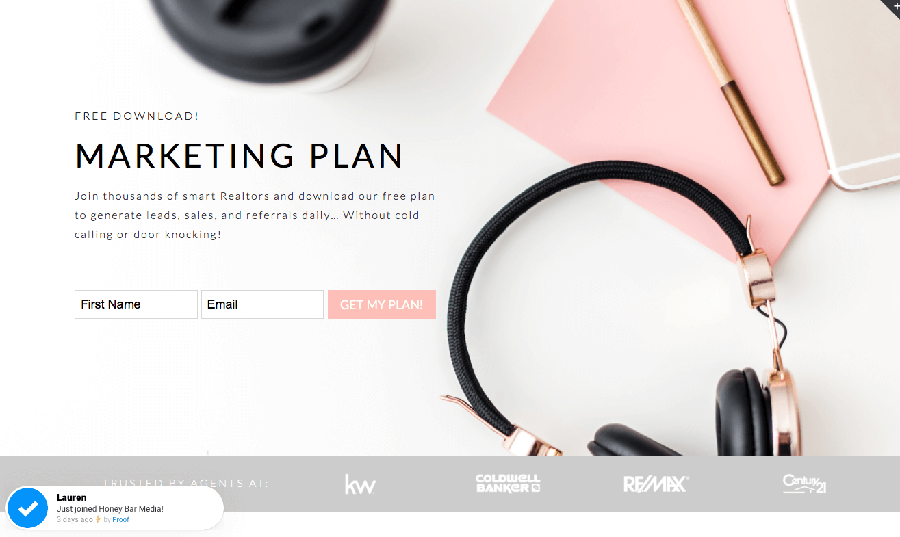 Furthermore, ensure your post-click landing page is linked to your call-to-action. If you use "See Menu" then users should be able to view your menu. With "Get Showtimes" users should see the showtimes for the advertisement (and so on).
Ready to make Facebook Stories Ads part of your ad strategy?
Perfect for showcasing your offer in an immersive visual format, Facebook Stories Ads are a great option because they typically experience low competition and potentially lower advertising costs. Now all that's required is you build your own and analyze the results.
For additional ad types and targeting options available on all major networks, download the Instapage Ad Specs guide here.