With over 1.8 billion people using Facebook every month, Facebook ads are necessary for any digital marketer looking to reach audiences where they're already spending a significant amount of time.
Facebook's business platform has expanded so much over the years that advertisers have a wide variety of options to reach their target audiences. One of the newest, most impressive additions are Facebook Playable Ads.
What are Facebook Playable Ads?
Facebook Playable Ads let advertisers give Facebook users an interactive preview of apps before downloading. Users can also trial the app or game right within their Facebook feed, before clicking through to install. The ad starts with a lead-in video of the app, and then offers interactivity and/or playability: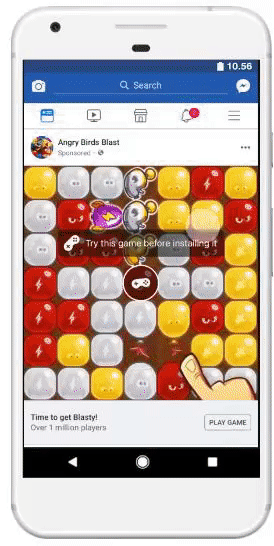 While Facebook allows you to select extra placements on News Feed, Instagram Feed, and Instagram Stories at the targeting group level, the playable experience is only available on News Feed. Only the lead-in video displays on the other non-playable eligible placements.
3 Reasons to use mobile playable ads
1. Unique targeting capabilities
Facebook only shows playable mobile ads to prospects who can instantly download the app onto their mobile device.
On top of that, these ads show among highly relevant content. For instance, if someone is reading an article about French culture and travel in their news feed, your French language training app could show. And since the content is relevant to that person's interests, they're more likely to download the app after sampling it.
Which leads to the next benefit…
2. Higher-intent installs
Since Facebook Playable Ads offer users a try-before-you-buy experience, they're more likely to drive higher-intent installs and higher-quality customers. In other words, since they've already tried and enjoyed your app, they're more likely to continue using it after installing.
Rick Kelley, Vice President of Gaming at Facebook explains:
With 6 million apps on the app stores, it's super hard to get discovered. Companies are shifting from volume to quality users, and it's imperative we give them the tools to do that.
3. More ROAS
Acquiring higher-value users leads to higher return on ad spend.
Game developer Bagelcode, for example, tested mobile gaming ads and saw 3.2x improvement in ROAS on Android, and 1.4x improvement in ROAS on iOS. Additionally, Rovio saw a 40% lower cost per paying user, and a 70% lift in day seven ROAS.
What about playable ads for non-gaming apps?
Although playables were created primarily as ads for mobile games, other industries can benefit from this ad type too.
Audible France is one non-gaming brand that tested the ad format, looking to drive downloads of Amazon's Audible app.
Their campaign promoted a series of audiobooks, with an invitation in the ad text to "discover the audiobook by scratching on the image." This intrigued users to rub away the orange screen to find an image of the audiobook, as well as some detail about the book. At the bottom of the ad was a CTA button, encouraging users to download the Audible app: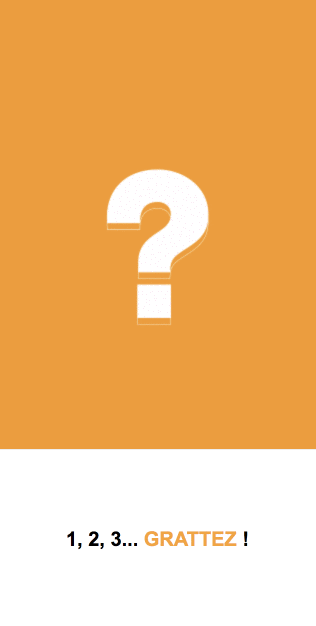 One of Audible France's major findings was that users who installed Audible after engaging with the playable ad were more likely to make purchases in the app later on. Compared to their average conversion rate of 5.32% for classic Facebook video ads, their conversion rate for playable ads was 6.15%: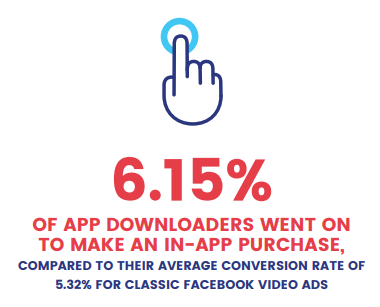 The company attributed this improvement to users being more engaged with the app after interacting with the playable ad. These results show that the playable ad format is not only reserved for gaming advertisers but is suitable for any brand that can provide an interactive preview of their app.
Best practices for Facebook Playable Ads
Capture attention with the lead-in video
Show a high-quality preview or a short tutorial of your app or game to grab users' attention immediately.
Make your app demo clear
Provide text or image instructions at the very beginning of the preview, so prospects aren't confused about how to use the app or play the game: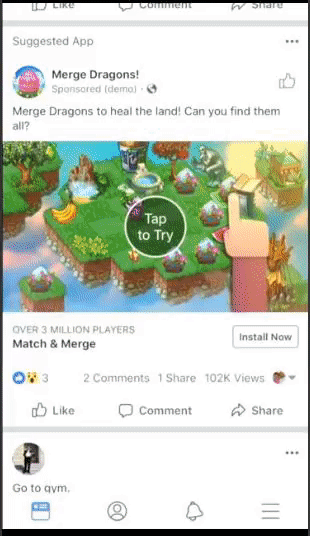 Consider new players
It's important to represent the app as a whole, rather than specific features that only experienced users would be interested in.
Test multiple assets
Experiment with different creative approaches for your demo and lead-in video to see what performs best.
How to make playable ads
Create your ad
Playables are made up of three main parts:
1. Lead-in video
This autoplays as someone scrolls through their News Feed, with an overlaying game controller icon and a tap-to-try indicator.
2. Game/app demo
After tapping on the video, a short interactive demo lets people experience your app before they install it.
3. Call-to-action
Following the demo, a CTA encourages users to click through to install the app from the App Store or Google Play Store.
Note: You have the option of working with a Facebook Marketing Partner to help you build your HTML asset. Developers include: Bidalgo, CrossInstall, ConsumerAcquisition, CyberAgent, Kaizen, Kenshoo, MakeMeReach, Nanigans, Septeni Original, Smartly.io, Soft-World, TreSensa and Wisebirds.
Ad specs
Facebook Playable Ads must meet these specifications and requirements:
Playable asset should be HTML5
Ad should not require mraid.js
A single file for playable ad that contains all assets as part of that single HTML file and assets should be data uri compressed (JavaScript, CSS, images, sounds)
The playable code should use the JavaScript function FbPlayableAd.onCTAClick() when a person interacts with the call-to-action in the ad (Facebook uses the code to handle navigation to the correct app store page for the app)
Playable asset size should be less than 2MB
No dynamic asset loading through external network is permitted
Tips for combining into one file – encode image into base64 string, integrate js into index.html
Ad must have an aspect ratio of less than or equal to 1 (no vertical videos)
Ad should be in portrait mode
Ad should have a responsive design because it needs to support multiple types of devices which have different resolutions
Ad HTML5 should not contain any JS redirect
Ad should not make any HTTP request
Lead in video must be horizontal or square video aspect ratio
Once you've created your ad according to best practices and ad specs, you must upload it. You will see a preview next to the upload dialog before you confirm.
Drive more app installs with Facebook Playable Ads
With their interactive nature and unique targeting capabilities, Facebook playables have quickly gained major popularity in mobile advertising. They are the perfect asset to leverage if you're looking to drive higher-intent app installs, gain higher-quality users, and see higher return on ad spend.
To create a fully optimized Facebook playable ad, download the Instapage digital advertising reference guide for the most up to date ad specs, targeting options, best practices, examples, and more.