45 minutes and 800,000 views later, Facebook Live burst onto the scene like the watermelon in this Buzzfeed video. Now watched over 10 million times, it highlights what's become a sensation in the last year for Facebook.
Today, both brands like Buzzfeed and individual users like Candace Payne, aka "Chewbacca mom," use Facebook Live to connect with audiences in real-time. With their offering, Facebook has joined Periscope, Snapchat, Meerkat, and Blab, as the newest kid on the live video block.
We asked our social media manager, Taylen Peterson, more about Facebook's new service:

Facebook sees video as the future for their platform and also the future for its main source of revenue: ads. People want to engage with things that are happening right now, which is the advantage of Facebook Live. It's natural, it's social, and it's video which are all things that are easy to engage with.
His words echo those of Mark Zuckerberg, who said in 2014, "In five years, most of Facebook will be video." Looking at the numbers, it's easy to see why:
As Facebook continues to evolve into a video-first network, it's crucial businesses get on board with the new service — especially now that its algorithm gives priority to live posts in news feeds.
The following brands understand that, which is why they've weaved Facebook Live content into their marketing strategy over the last year.
How brands are engaging audiences with Facebook Live
Dunkin Donuts
Dunkin Donuts was among the first to use Facebook Live in February 2016, giving their viewers a behind-the-scenes look at their kitchen on Valentine's Day, and offering couples the chance to win $10,000 for sharing the story of how their significant other proposed.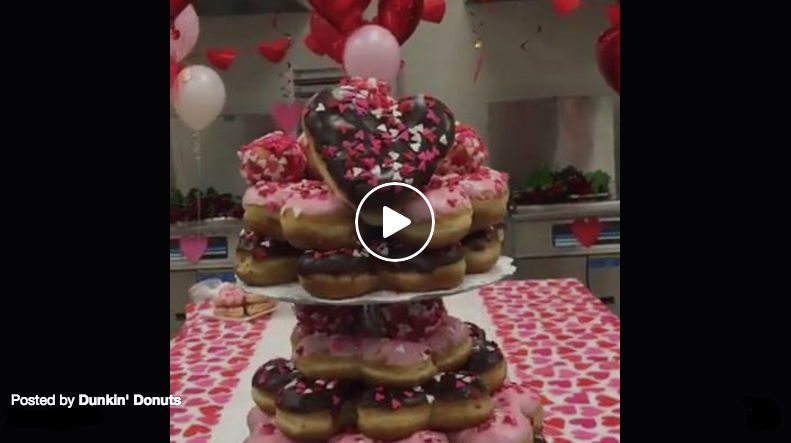 Melanie Cohn, Social Media Manager at Dunkin Donuts, had this to say about the brand's first experience with Live:

During our first Facebook Live session, we garnered great engagement and thousands of views, comments and likes in just a matter of minutes. Within 13 minutes, we had 21,000 viewers, which proves the stickiness of live video and wanting to know what's next.

We saw one of our highest average view times ever on our Live video compared to pre-recorded video. This demonstrates the stickiness of live video.
Tastemade
Tastemade, a brand dedicated to all things food, shot their first Facebook Live video at the cafe next door to their Santa Monica studio. Taking advantage of the mesmerizing draw of cooking videos, they filmed a latte artist while he created some familiar designs in people's beverages.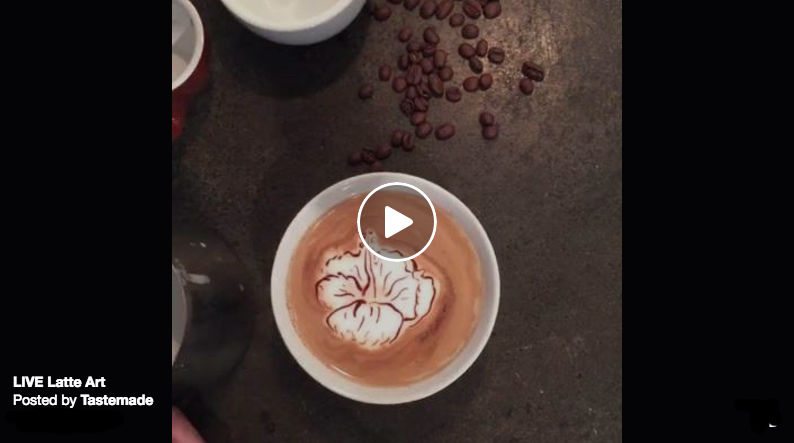 "Some of the latte art we've done performed very well. During just the Live portion of the show, we did over 1.4 million views," said Oren Katzeff, Head of Programming at Tastemade. "That's why we've repeated that format because the audience was really taken by it."
The Young Turks
For The Young Turks, Facebook Live is a way to connect audiences with important news and inspire action. This April, they broadcast live from Democracy Spring, an event at which progressive leaders protested issues they felt the government got wrong. The reactions from fans during the live stream, Chief Business Officer Steve Oh says, was overwhelmingly supportive:

That was a multi-hour, multi-day event, so we didn't know what to expect. We didn't know if we would have 15 people watching or 15,000 people watching, but we can see, as Cenk [The Young Turks founder, Cenk Uygur] was walking — it was a march basically to the Capitol building — that engagement was growing with each step he took toward the Capitol.

You can feel the energy, and you can see the growth of the live stream. That was pretty interesting, and that was still pretty early on in our live streaming, so we really didn't know what to expect.

There were a lot of comments, a ton of love and respect being shown to Cenk and others who were there. That was actually pretty inspirational.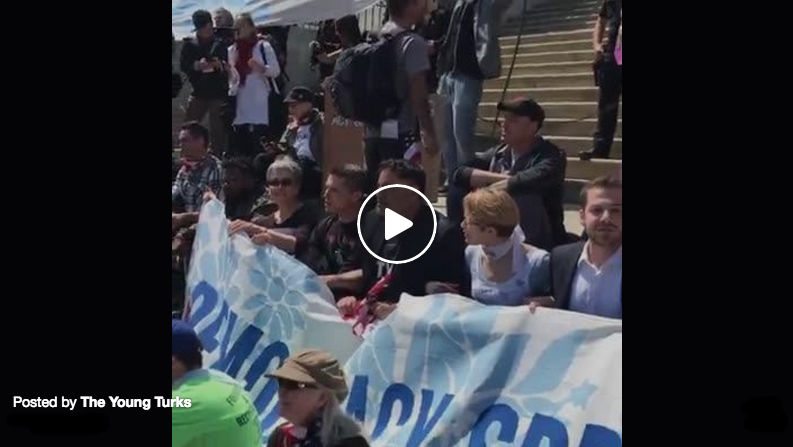 How you can use Facebook Live with your post-click landing pages
1. Show your customers what you do best
What better way is there to give your customers a taste of your service than by showing them what you do best? Liz Cook, a tattoo artist, does just that by broadcasting sessions while she tattoos customers.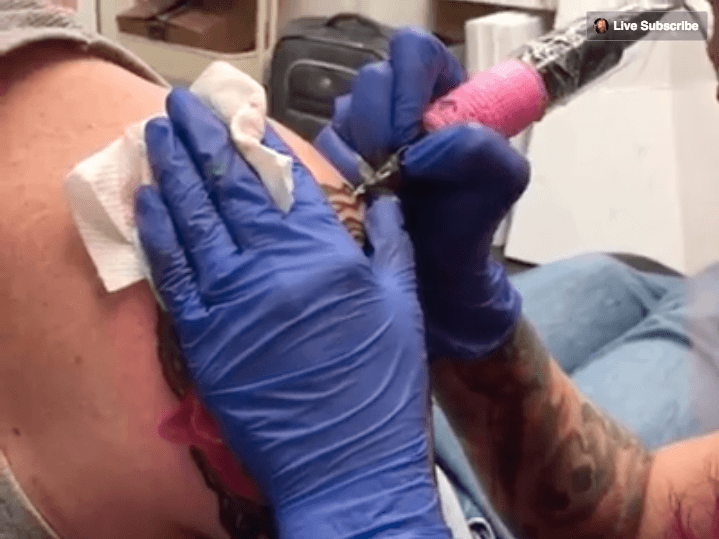 "I thought it'd be a good way to get a little more interactive with fans," she told Business Insider. "It's definitely drawn some people to my page that typically might not have looked at just photos."
Live stream yourself in action the way Liz does, then drive your viewers to a post-click landing page where they can buy your product or sign up to use your service.
2. Build your team with a behind-the-scenes video
Want to attract employees who are a great fit for your company? Show them you office culture. Use Facebook Live to stream company events, office shenanigans, or even short brainstorming meetings between you and your team.
At the conclusion, drive them to a post-click landing page where they can sign up to your newsletter to be notified of company news and open positions.
3. Conduct interviews
Interviews always serve as a valuable source of information for fans. Get together with an industry insider and talk with them about new and upcoming trends. Then, finish the video with a call-to-action to visit a post-click landing page where they can subscribe to your company's updates, or download an ebook relevant to the content covered in the interview.
4. Broadcast events
At Instapage, we've used live to broadcast Meetups, talks by members of our team, and company seminars. A few weeks ago we went live with Jesus Ramirez, Head of Product at Tallwave, as he discussed building products with personality: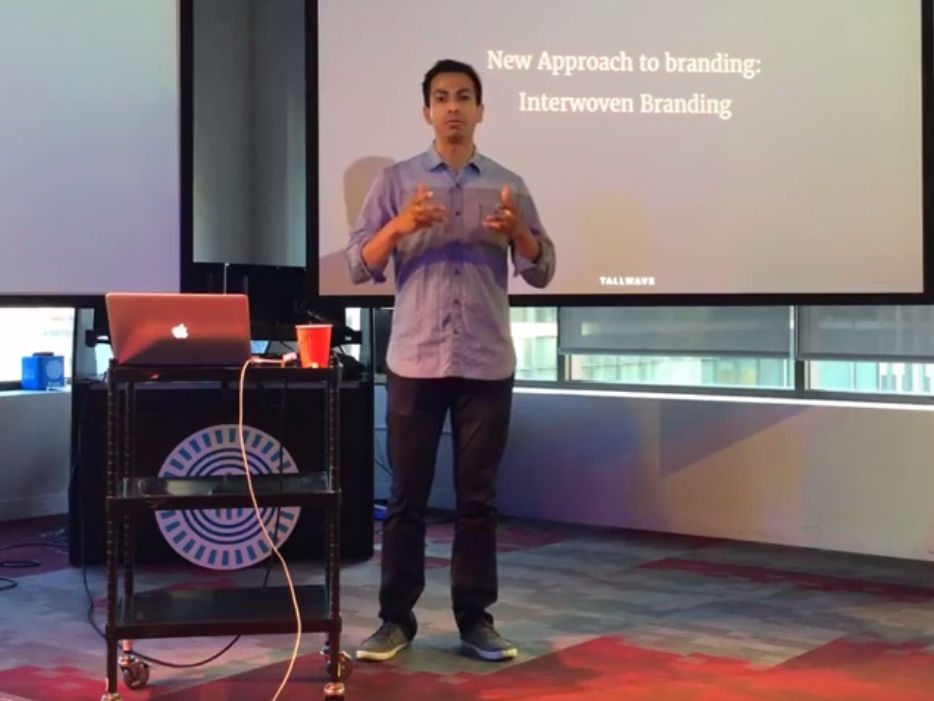 It's events like these that you can use to engage viewers and then drive them to a post-click landing page where they can give up their personal information in exchange for a relevant offering, like a slide deck of the speaker's presentation.
5. Host a webinar
Over the past few years, webinars have emerged as maybe the best way to engage with audiences online. In 2015, the average viewing time of a webinar was a jaw-dropping 56 full minutes — nearly 20 minutes longer than it was in 2010. And even more data shows that not only are audiences watching, but interacting as well:
82% of users participate in question and answer segments
35% engage on social media
24% answer polls
22% collaborate, chat in groups, and respond to surveys
Facebook Live makes hosting a webinar on the social network easy. Simply pick a topic relevant to your audience, promote your talk, educate them on it, and then drive them to a post-click landing page where they can learn even more about it with a tip sheet, or a one-on-one consultation with you.
6. Show a live product demo
Demo-ing your product is a great way to drum up interest by showing your audience what it's capable of. Follow the example of Benefit Cosmetics, and show users creative ways to use your product, like they do with their "tipsy tricks" segment: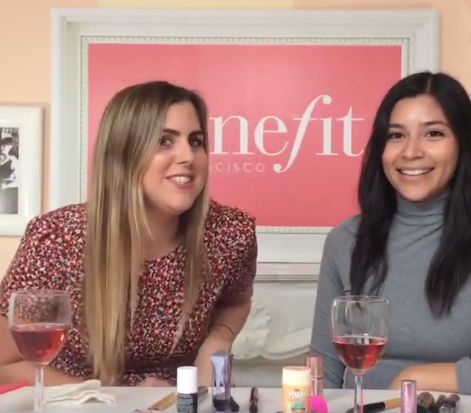 7. Make an announcement
Have an exciting new offering? Did you just finish renovating your new office space? Share it with your audience via live broadcast, the way Jason Carr did. A former anchor for Fox News, Carr created a video that chronicled his first day of work at WDIV-TV Local 4 News.
Maybe the most compelling part of the video was the element of suspense. Filming from the inside of his black Cadillac, he didn't let his viewers know exactly where he was going until the end of the video. Check out the big reveal below.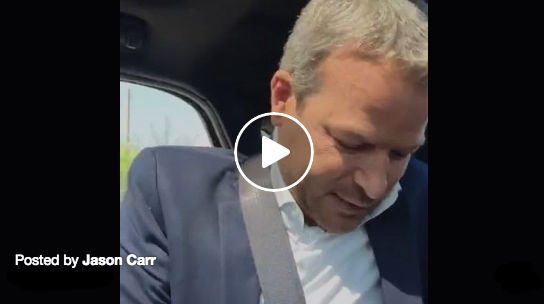 The uses for Facebook live are limitless, and soon you'll be able to do even more with the service.
The future of Facebook Live video streaming
Facebook Live is still young. Officially it's been around for nearly a year, and it's quickly growing with new additions being developed every day. Here are just a few new ones to get excited about:
More branded content
Just recently, reports of Facebook paying out $50 million for live content from public figures like Gordon Ramsay, and publishers like Mashable, were confirmed by the Wall Street Journal.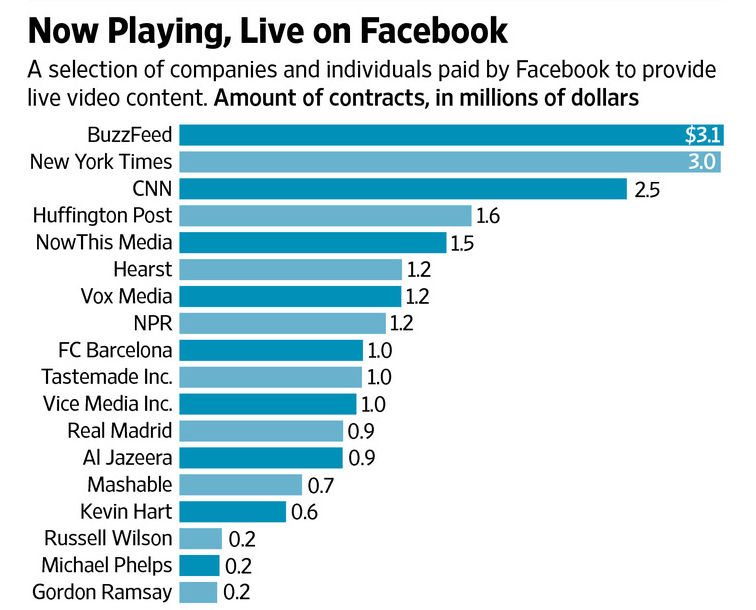 Nearly 140 agreements have been reached, with the highest-paying contracts going to Buzzfeed ($3.05 million), The New York Times ($3.03 million over the year), and CNN (2.5 Million).
Virtual waiting rooms
Right now, when users join a stream before it's begun, they'll likely see a timer that counts down to the moment it goes live. Soon that'll change with Facebook's virtual "waiting rooms."
Instead of being forced to watch a countdown timer, users will be able to chat with each other before the stream begins, making the wait more enjoyable.
Pre-scheduled broadcasts
Currently, broadcasters choose when they go live. A user may say they're going live at 9AM, but many times they delay as as they wait for more people to join the stream. This caused, what TechCrunch calls, a "chicken and egg" problem:
"…broadcasters don't want to actually start their broadcast until a lot of people have tuned in, but early viewers leave because they get bored with watching the broadcaster wait for new users.
Soon broadcasters will be able to pre-schedule their stream, which means their viewers will no longer have to wait to watch them live.
Masks and effects
If you're familiar with Snapchat filters, you'll recognize the new MSQRD tool right away. With it, transform yourself into a cheetah, shoot laser beams from your eyes, or terrify your audience as an evil clown. Check out how Priyanka Chopra used it during one of her live streams: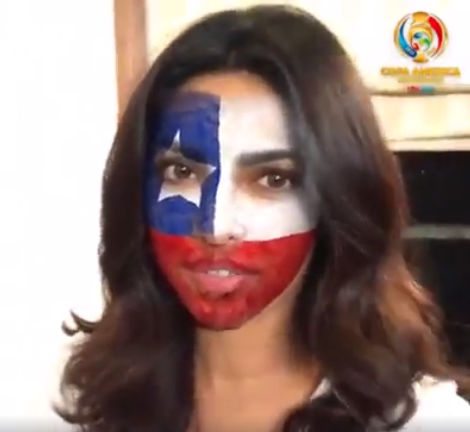 Two-person remote broadcasting
Facebook's cherry picking from smaller social networks started with hashtags a few years ago, and the most recent example is the two-person remote broadcasting idea they snagged from Blab.
If you're unfamiliar, Blab is a social network that allows audiences to watch and interact with speakers as they live stream conversations, debates, hangouts, etc. That's very similar to what this new two-person broadcasting tool will do — allow two people to broadcast simultaneously. It'll be valuable for brands who regularly conduct interviews with people who aren't nearby.
Facebook live best practices
For beginners, Facebook offers a few tips for broadcasting with Live:
Tell your audience ahead of time when you're going to broadcast
Let people know on Facebook, Twitter, via email, when you're going to be broadcasting live. The more of your fans who know, the bigger your audience will be.
Go live when you have a strong connection
It's best to go live when your internet connection is at its best. If you don't have a WiFi connection, Facebook says you'll need 4G. Without it, you won't even have the option to go live, as the button will be grayed out.
Write a compelling description
The best way to get your audience interested in what you have to offer is by letting them know what they stand to gain from watching your live stream. Will you be giving them marketing tips? Entertaining them with a story? Covering an event? Tell them why they should join and it's more likely they will. And they may even share with the rest of their network.
Ask your audience to follow you
When your audience hits the "follow" button, they'll get notifications the next time you go live, making it more likely they tune in to your next broadcast.
Engage with commenters
While live, you'll be able to see people commenting on your broadcast. Answer their questions, solicit responses, and engage with them as much as possible. Giving a commenter a simple shout-out can make their day, and position you as a down-to-earth brand.
Broadcast longer for higher reach
According to the social network, "The longer you broadcast, the more likely people are to discover and invite their friends on Facebook to watch the video." Facebook recommends you broadcast for at least 10 minutes and stay live for as long as 90. The longer you broadcast, the more time you give people to join your stream. Not only that, but while you're live, Facebook's algorithm adjustment boosts your video to the top of your fans' news feeds for better visibility.
To get started with Facebook Live, or to get more inspiration for your own campaigns, go here.
How will you use Facebook Live?
Have you had success with Facebook Live? How have you used it to engage your audience?
Start creating a post-click landing page for your own Live campaigns with Instapage, sign up for an Enterprise demo now.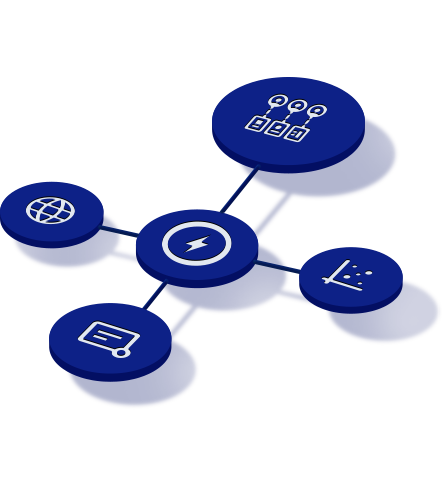 See the Instapage Enterprise Plan in Action.
Demo includes AdMap™, Personalization, AMP,
Global Blocks, heatmaps & more.