Facebook is at it again. This time, the team at the social network has solved a problem that's plagued advertisers since, well, the dawn of advertising: identifying the highest performing combination of headline, body copy, visual, and CTA.
What is Facebook Dynamic Creative Ads?
According to a new release from Facebook:
Dynamic creative is a tool in Power Editor and the updated Ads Manager (Quick Creation workflow only) that automatically delivers the best combinations of your creative assets. It finds the best ad creative combinations by taking the components of the ad (images, videos, titles, descriptions, CTAs, etc.) and running different combinations of these assets across audiences.
Before the recent update, to figure out your best ad creative, you had to build out and run every combination of elements manually. That meant if you had two headlines, one image, two CTAs and two versions of your body copy, you needed to, one-by-one, make all these ad combinations to see which performed best:
Ad 1: Headline 1, body copy 1, image 1, CTA 1
Ad 2: Headline 1, body copy 2, image 1, CTA 1
Ad 3: Headline 1, body copy 1, image 1, CTA 2
Ad 4: Headline 1, body copy 2, image 1, CTA 2
Ad 5: Headline 2, body copy 1, image 1, CTA 1
Ad 6: Headline 2, body copy 2, image 1, CTA 1
Ad 7: Headline 2, body copy 1, image 1, CTA 2
Ad 8: Headline 2, body copy 2, image 1, CTA 2
That's eight different ads, each of which you had to adjust the copy and the headline and the image for on your own. And this example only uses two headlines, two versions of body copy and one image. Most advertisers test much more, which meant even more wasted time. But all that's changed with Facebook Dynamic Creative.
Here's how it works, according to the social network: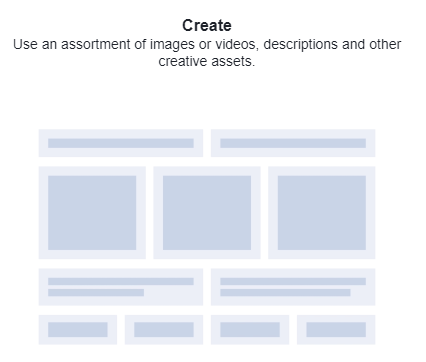 The creative assets you can upload to be tested are the following with their corresponding limits:
Headlines — 5 total variations
Images — 10 total variations
Videos — 10 total variations
Text — 5 total variations
Description — 5 total variations
CTA — 5 total variations
(Note: When it comes to media, you can only choose images OR videos. Currently, there is no option to upload and test both with Facebook Dynamic Creative. You can upload a maximum of 30 creative assets.)
Facebook will then run your ads to the selected audience.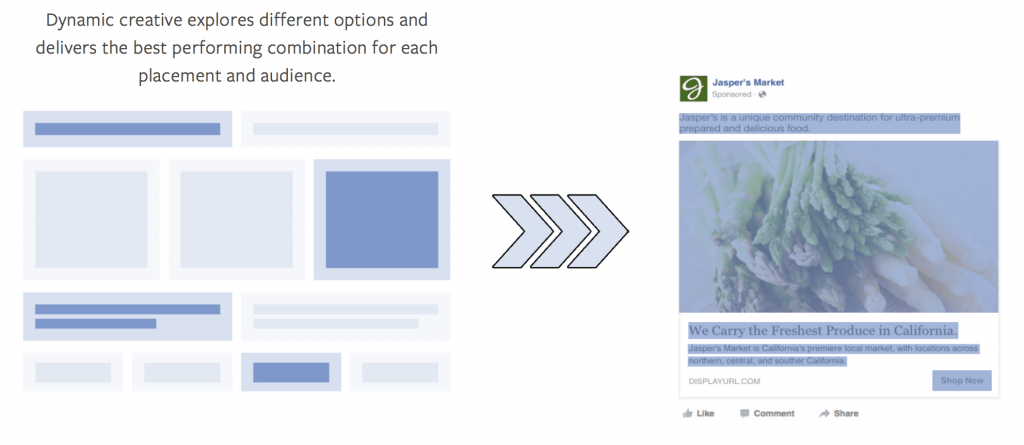 Your audience will see every combination, and then, Facebook will report back the result of the test.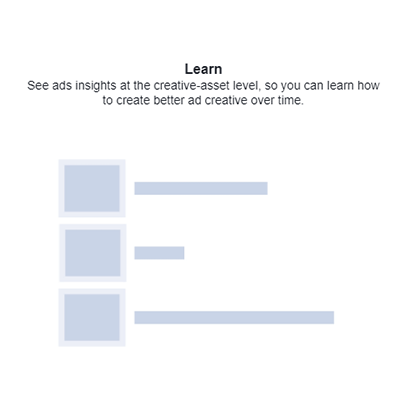 The whole process will save you time because, with Facebook Dynamic Creative, you won't have to build any of the ads yourself, but instead simply upload your creative assets and let the social network's technology do the rest. What's "the rest"? Here's what you'll be able to do and see with Facebook Dynamic Creative:
Capabilities of Facebook Dynamic Creative
Since Facebook Dynamic Creative is brand new, for now, its capabilities are limited to, according to the social network:
Objectives: Conversions, mobile application installs, website traffic
Formats: Single image, single video
Insights metrics: Basic asset-based insights
Breakdowns by asset type: Video, image, title, description, body, link for all non-unique metrics
Breakdowns per asset plus demographics: Image, age, gender, title and so on
Placements: Desktop and mobile Facebook News Feed, right-hand column, Facebook Audience Network, Instagram feed
How to get started using Facebook Dynamic Creative
Currently, to get started using Facebook Dynamic Creative, you must do so via the Power Editor or Quick Creation tool (it's inaccessible via Guided Creation). When you get there:
1. Select "Create New Ad Set"
2. Choose "Save To Draft"
3. Click "Ad set, " and you'll see that at that campaign level, you have the option to switch a toggle on to enable Dynamic Creative:

4. Specify your ad sets options like budget and audience, then upload your campaign draft and ad set. If you've entered any ad or ad set settings that aren't compatible with Facebook Dynamic Creative, they will be nullified, and you'll be able to edit them later.
5. Select "Create New Ad" just like you would normally.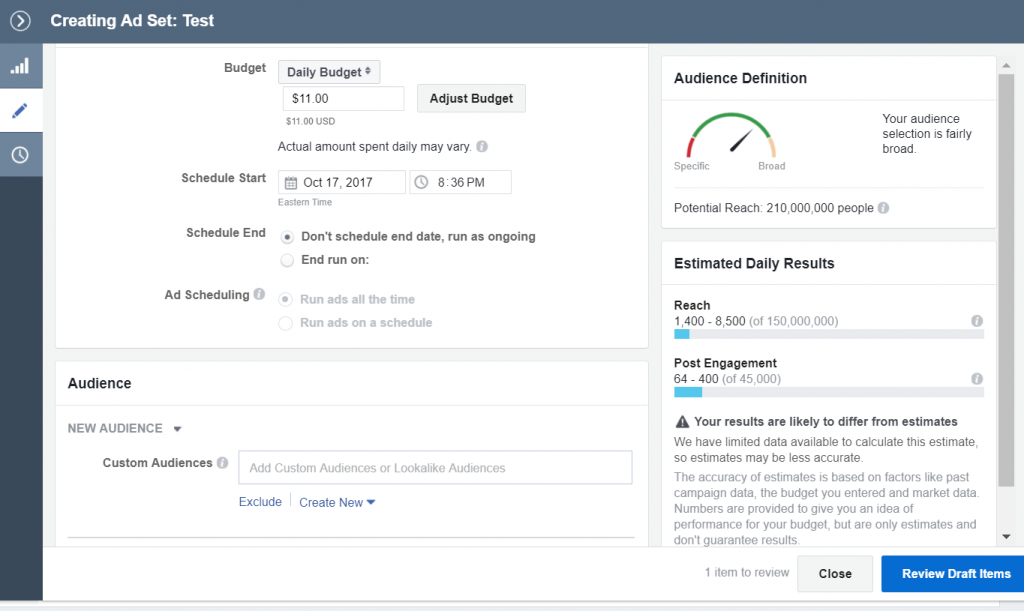 6. Now, at the ad level, you'll notice the option to add multiple assets to one particular ad. Remember: The max number of creative assets you can upload to one ad is 30. So, if you use five images, five variants of text, five descriptions, five titles, one link URL, 1 CTA, and 1 ad format, you have 23 assets.
If you want to upload more than one image, click "Select Images." If you want to upload more than one video, click "Video/Slideshow." Keep in mind; you can only select one video at a time. That means once you've added one video or slideshow, you'll need to click "Video/Slideshow" again to add another. Also, remember that you cannot upload videos and images to one ad.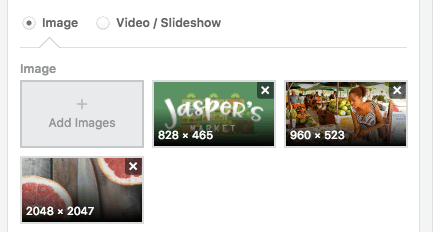 To upload more than one body of text, or headline or description, click "+Add."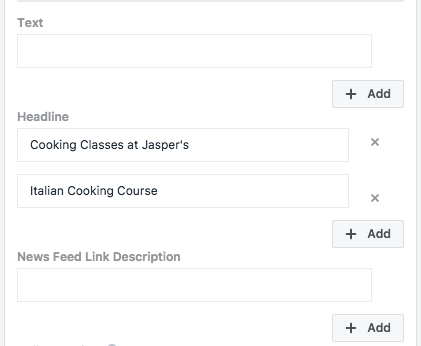 Uploading several calls-to-action is easy by selecting them from the drop-down: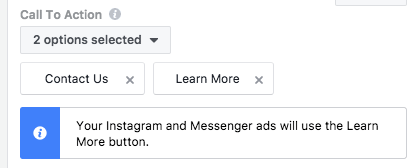 4. After you've uploaded all your creative elements — headlines, images, text variations, etc. — you can preview what they'll look like to your selected audience. Just click "View More Variations," in the preview section to see more combinations of your ad created by Facebook Dynamic Creative.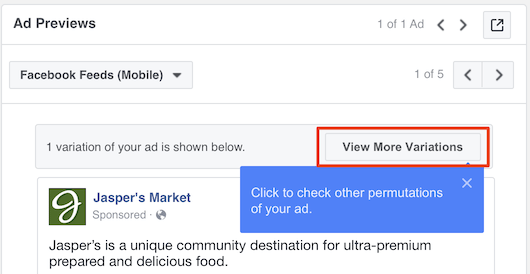 5. Then, just click "Review Draft Items" to review your campaign and run it.
What to be wary of when using Facebook Dynamic Creative
New features and tools are exciting, but they can also be intimidating and misleading. This looks easy at a glance, but can you be sure Facebook Dynamic Creative is finding your highest performing asset combinations? Are there any pitfalls to using this new tech?
Complementary assets may not work together
The first and most simple problem you may have already considered is that all your creatives have to work together. That means if you're a clothing retailer advertising shirts and pants, and you have text that reads "Our signature short-sleeve button-down for half the price," it can't be accompanied by an image of pants.
So if you're using specific text and images and descriptions that complement each other, you should not lump them all into one ad and flip the switch on Dynamic Creative. In this case, your ads should be made manually to eliminate your images and headlines from being mixed into a nonsensical creative combination.
Message match may not work with every combination
When your prospect sees an ad and clicks it, they're sent down a digital scent trail — they have the scent of whatever it is you've offered — an ebook, t-shirt, etc. So, when they get to the corresponding post-click landing page, they need to be assured that they're in the right place and that they'll find what you promised them in the ad.
Fulfilling that promise starts with the ad creative and ends with matching post-click landing page creative like the headline, image, and text. If Facebook Dynamic Creative is matching random creative elements to random post-click landing pages, that makes delivering on your promise difficult.
The feature may not be as effective as we assume
The third issue, without getting too complicated since we've already written plenty of articles on how to test creative elements on internet users, has to do with what Facebook is doing when they run ads created with Dynamic Creative: automating a multivariate test.
Multivariate testing can be a powerful tool when used correctly, but the process of setting up and running the actual test requires a lot of attention and skill. You have to know about calibration of tools, statistical significance, validity threats, and all sorts of things that can affect the outcome of your test.
So, does Facebook take all that into account? Does the test run long enough to reach statistical significance? Can you be sure that when Dynamic Creative spits out the winner of the test, that it was the winner of the test?
The "How It Works" section of Facebook's article on Facebook Dynamic doesn't cover all that, so we're a bit skeptical. A good way to test it might be to create ads with Dynamic Creative, then duplicate them manually. After Dynamic Creative notifies you of a winner, run your manually created ads longer to see if the winner is still the winner after its run longer against its variants. If you do, please let us know the results!
Get started with Facebook Dynamic Creative
When we heard the news about Facebook's Dynamic Creative feature, we were both excited and skeptical. It's still new, and while Facebook marketers may be loving its ease of use, there's still much to be learned about its effectiveness. So get out there and test it!
Then, create a professional Facebook post-click landing page to optimize ad spend with the web's most designer-friendly platform.