Since their 2014 launch, Facebook Carousel Ads have allowed countless businesses to accomplish a variety of goals, including 30-50% lower cost-per-conversion, 20-30% lower cost-per-click, and substantially higher engagement and sales than single-image link ads.
No matter your industry or campaign goals, Facebook Carousel Ads can help you better connect with your audience and reach your objectives by providing a larger canvas for advertising your story, products, or services.
What are Facebook Carousel Ads?
Carousel ads allow you to showcase 2-10 images or videos within a single ad — each with its own external link. Users can scroll through each image or video by swiping on mobile devices or clicking the left-right arrows on desktop.
As this Facebook Carousel Ad template shows, carousel ads also display post text, a headline, link description, call-to-action, and link to your website or post-click landing page, similar to other Facebook ad formats: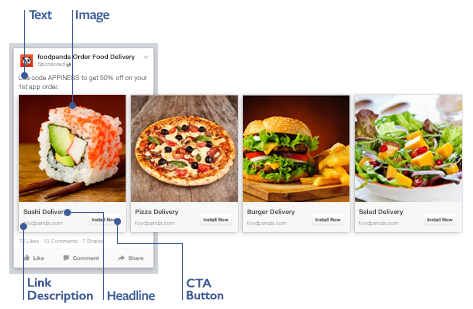 While Facebook image carousel ads are already effective at boosting engagement and driving website traffic, Facebook video carousel ads offer you the creative flexibility to leverage the most engaging, powerful Facebook in-feed ad format. Their ability to add motion and sound inherently make them more scroll-stopping, which help get more eyes on your message.
Making the business case for carousel ads
Facebook Carousel Ads with either image or video cards are great for any business looking for more creative ad space and perfect for the following objectives:
Highlighting multiple products, services, or apps that all link to different post-click landing pages. This gives users more options and helps boost click-through rates.
Showcasing more information about a single product, service, or app. Displaying different details, angles, or features to better inform customers of how it works.
Promoting an event or series of events, using the cards to deliver important event details, such as date, time, location, speakers, and content highlights.
Explaining processes and benefits. If your brand doesn't sell any physical goods, provide an explanation of how your business works, and show the benefits of being a customer.
Telling your brand's story through successive image or video cards, or creating a single long image: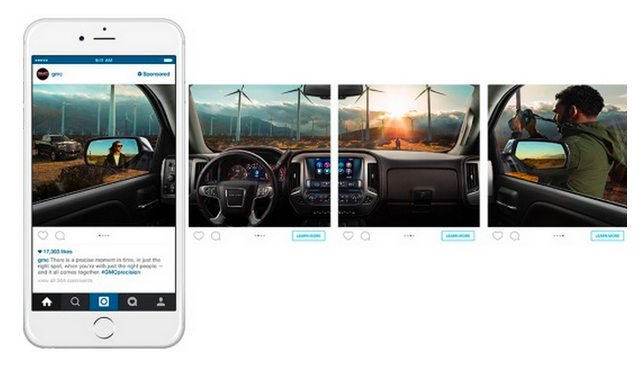 Another compelling reason to use carousel ads is that they don't cost extra. Like all Facebook ads, the ad format is unrelated to what you pay. Instead, you decide what you're charged and how much you want to spend.
Facebook Carousel Ad specs
Carousel ads can be created from your Facebook Page or in Ads Manager. The difference is if you want each carousel card to link to a different URL, you must use Ads Manager.
Along with a variety of supported objectives, ad placements, and CTA copy options, there are specs for Facebook Carousel Ad size, design specs, and technical requirements:
Design specifications:
Minimum number of cards: 2
Maximum number of cards: 10
Image file type: jpg or png
Video file type: MP4 or MOV is recommended, but other formats are accepted
Image maximum file size: 30MB
Video maximum file size: 4GB
Video maximum length: 240 minutes
Recommended resolution: at least 1080 x 1080px
Recommended ratio: 1:1
Text: 125 characters
Headline: 40 characters
Link description: 20 characters
Images with more than 20% text may experience reduced delivery
Technical requirements:
Aspect ratio tolerance: 3%
Note: For the all-in-one list of advertising specs on every major platform — dimensions, file formats, examples, and more — refer to the Instapage digital advertising specs guide.
5 Carousel ad best practices
With those ad specs in mind, consider the following creative tips with your Facebook Carousel Ads:
1. Select a scroll-stopping creative
Capture users' attention by using a primary image with a strong focal point and depth of space, or a video that's well art-directed and thoughtfully composed. Consistency and cohesion should also be maintained because if it feels disjointed it takes away from your story.
Make sure every image or video has a similar style (lighting, composition, color scheme, etc.). Most importantly, your images or videos should evoke an emotional response from users that inspires them to take action.
2. Utilize all available ad components
Images and videos may initially capture users' attention, but other ad elements (headlines, descriptions, CTAs) add context and persuade people to click. Ensure your copy matches your brand's tone and A/B test each element to see what performs best for your business and ad campaign.
3. Tell a story through your images
Showcasing multiple products is just one way to use the carousel ad format. You can also develop an engaging narrative through each sequential image. Reveal something in one image that was hidden in the previous one, or imply continuation by using your first image to tease your second one, and so on. This compels the user to continue scrolling through and makes them feel like they're progressing through your story as they scroll. Linking your images together panorama-style to share an even bigger story is another idea.
4. Optimize the order of your cards
One of the main benefits of the carousel ad format is that multiple images and videos can be used simultaneously, and Facebook will test and order them based on performance. You can then replace or remove the lowest-performing cards to improve your overall campaign performance. (Note: If you're telling a story using a carousel, be sure to opt out of the automatic optimization feature when creating the ad).
5. Link each card to a post-click landing page
The post-click landing page is where the conversion happens, so be sure to send your prospects there with every ad campaign. For example, if you're selling an advanced copywriting course, take prospects who click your carousel cards to a sales page where they can purchase the course.
Below are some of the best Facebook Carousel Ads and impressive campaign case studies.
Facebook Carousel Ad examples
Audible
This Audible mobile ad is likely a retargeting ad because I was recently searching for personal development audiobooks on my phone, and that's what all of these carousel cards promote: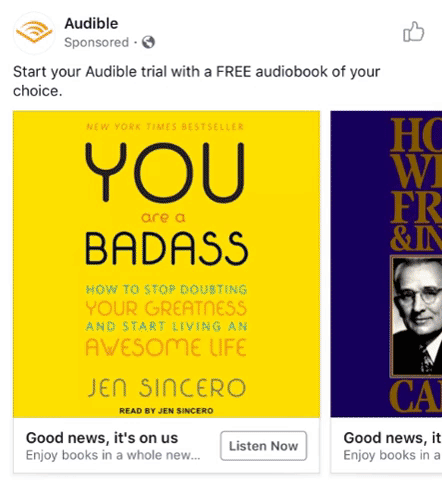 The ad only contains 5 image cards (each with the same headline since it's all the same promotion) that all link to the same free trial post-click landing page: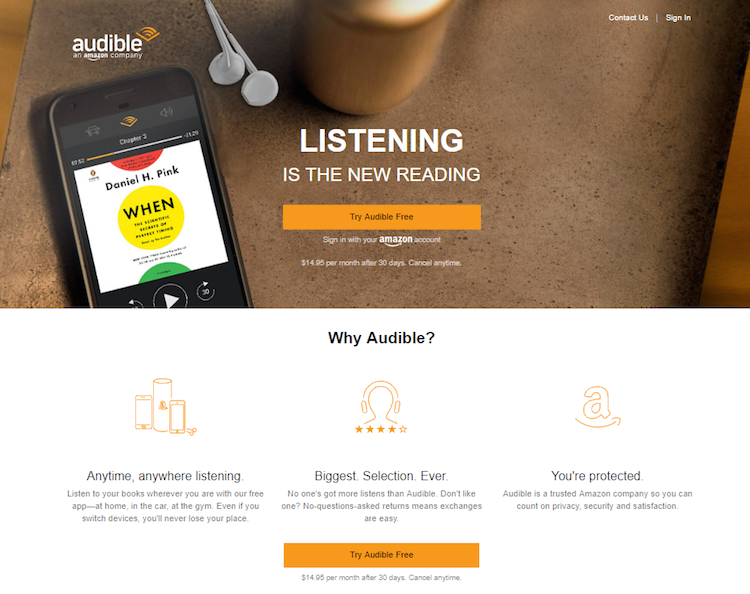 Cupshe
Cupshe's desktop carousel ad utilizes all 10 card spaces to promote their trendiest swimsuits: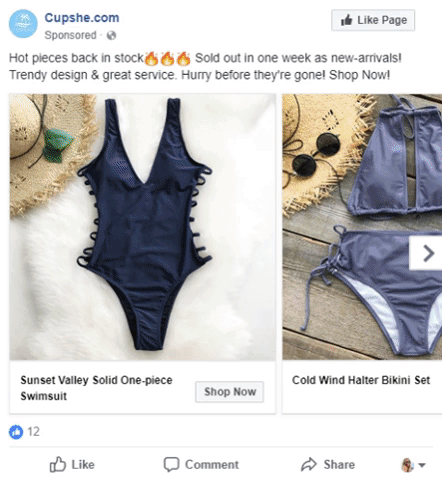 Each card features a different product image, with headlines specific to those items. Plus, notice how every image has a very similar style, with the same lighting, composition, etc. They also each link to a different product page where prospects can learn more and make a purchase.
Spindrift
Rather than advertising a product, Spindrift's Facebook Carousel Ad tells a story through sequential images to build brand awareness: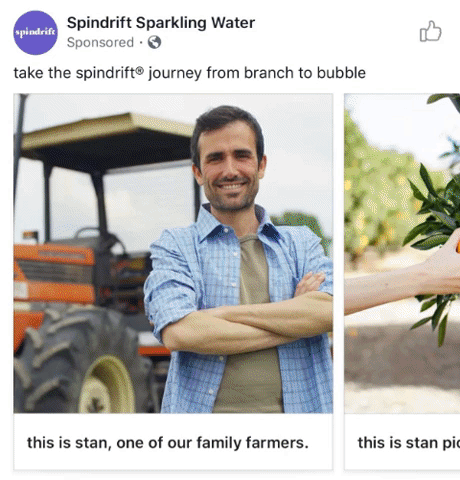 The sense of humor conveyed throughout — especially with the headlines — makes it especially engaging, so users are more likely to click through to their homepage to learn more about the brand.
Some case studies from noteworthy brands
Lands' End's campaign focused on one very specific objective: to boost online sales among women aged 18-65 who had never bought from the company before, but who could be interested in the brand's products.
The Lands' End marketing team created a series of carousel ads, each featuring 5 product images focused around a different visual theme, such as "Global Traveler" (below). This allowed prospects to see the company's various styling options for its summer collection: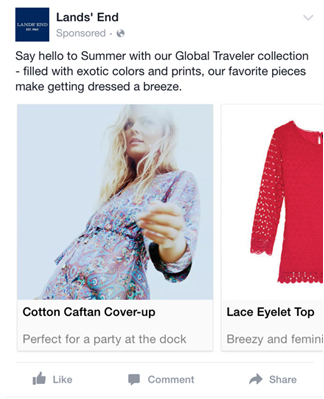 The team measured their campaign's success by tracking conversions and website traffic generated from carousel ads. In just one month, they saw a 35.1% increase in new website visits, 3.2% increase in new customers, and 4.4% total increase in sales.
Reaching more high-value customers, reducing cost per engagement, and achieving a better ROI was the focus for Wayfair.
To showcase their vast product catalog, the company ran an experimental Facebook Carousel Ad campaign, with each card focused on a product from a different category. This ad featured three different best-selling products from the bedding, outdoor, and accent categories: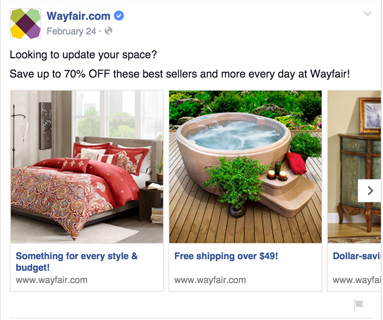 Wayfair's ad campaign helped them accomplish their goal in reaching more high-value customers for less ad spend. By promoting several products at once, they achieved an 88% higher click-through rate and 20% lower cost per acquisition than standard Facebook link ads.
Tap4Fun had a different type of goal — to take their game Invasion from primarily English-speaking markets (North America, the UK, and Australia) to more high-value users in top-gaming markets around the world.
Since the company began advertising on Facebook in 2013. The initial strategy focused on increasing game installs and lowering cost per install. However, in April 2015 (shortly after carousel ads were introduced), Tap4Fun felt compelled to identify the gaps in their strategy. Their new goal became acquiring as many hardcore gamers as possible by highlighting game design as one of Invasion's biggest strengths — and carousel ads were the perfect way to do this.
Tap4Fun marketers invested in high-quality carousel ads to replace the simple Invasion screenshots used prior. Now, the carousel format displayed the game's hyper-realistic landscapes across a series of image cards: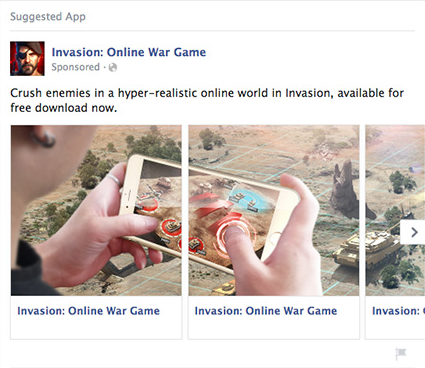 By running Facebook carousel mobile app ads to showcase the game's high-quality design. The company achieved 60% more daily installs and 20% lower cost per install. They also yielded a 20–30% increase in click-through rate and a 30–50% increase in conversion rate.
LinkedIn carousel ads now available, too
Following in the footsteps of Facebook, Instagram, and Twitter, LinkedIn recently announced their own version of carousel ads in June 2018.
The carousel ads for LinkedIn Sponsored Content provides advertisers with a new way to tell their brand story. Similar to Facebook's carousel ads, LinkedIn's allow you to add context to your ad campaigns by featuring up to 10 visuals that users can horizontally swipe through in their LinkedIn feed.
The key difference: Unlike Facebook, videos cannot be added to LinkedIn carousel cards, only images (as of this article publishing, July 2018).
As time goes on, though, it is hard to imagine LinkedIn doesn't begin allowing videos in carousel ads. Especially with nearly 75 percent of those beta-testers seeing higher click-through rates than for standard Sponsored Content campaigns…
Complete your ads with the best resources
Facebook Carousel Ads complement any digital marketers advertising strategy by offering a native ad format to fill in any gaps in their online presence. To create the most optimized carousel ad, refer to the Instapage digital advertising specs guide for the most up to date ad specs and targeting options.