In November 2017, Facebook introduced optional campaign budget optimization to give brands an easier way to manage their ad budgets and allow Facebook's algorithm to optimize it across all ad sets: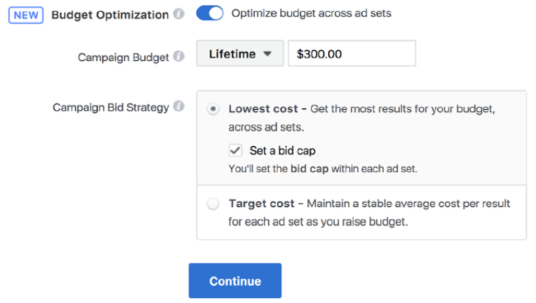 Later this year, however, another major change is coming to the way advertisers set their Facebook ad set budget.
Facebook's ad set budget change
Beginning in 2020, all new and existing ad campaigns will migrate to Facebook campaign budget optimization — and the once-elective feature won't be optional anymore. It will be mandatory that advertisers set one central Facebook ad set budget for the platform to automatically and continuously distribute top performing ad sets in real time.
According to Facebook, this change will generate the best possible results for every campaign: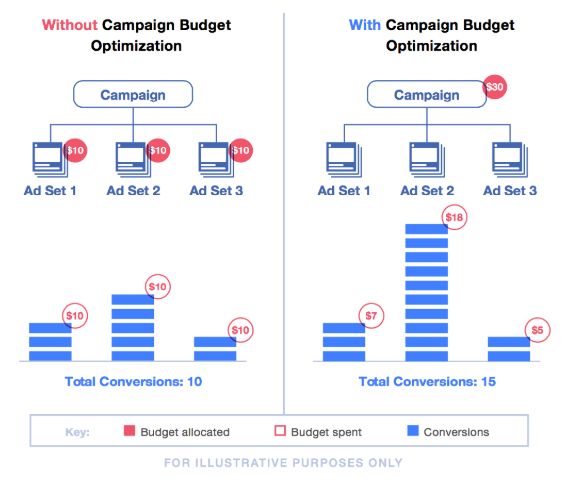 Facebook advises advertisers:
Be sure to set your optimization goals and bids according to their value to your business, not higher or lower, so Facebook can find the best results within your desired cost goals.
Katy Lucey, Director of Paid Social at Elite SEM, adds her thoughts about the change:
This is a major change in the structure of Facebook ad campaigns. There hasn't been one of this size in years. It will change the way advertisers optimize spend to their campaigns within the platform.
With such a new way to manage your ad set budget, how will it affect Facebook advertisers going forward?
What campaign budget optimization means for advertisers
Besides providing the best possible results for every campaign, there are several other benefits Facebook claims the new ad set budget update will provide.
Control of spending at the ad set level
Facebook advertisers will still have some control over spending at the ad set level, by using ad set spending limits. If they set a minimum spend limit, Facebook will aim to spend that amount, and if they set a maximum spend limit, Facebook will not exceed that amount.
Access to metrics at the ad set level
Advertisers will still have access to metrics at the ad set level but encouraged to focus more on campaign-level metrics to understand how campaign budget optimization distributes their budget. Instead of focusing on each ad set, advertisers should focus on the total number of optimization events for their campaign, and the average cost per optimization event at the campaign level.
More value from campaigns
Facebook campaign budget optimization finds the lowest cost opportunities across all ad sets and the markets they target. By distributing more budget to the highest-performing ad sets, advertisers can lower their total cost per result, ultimately maximizing the total value of their campaign.
Less time spent managing campaigns
As an automated process, campaign budget optimization eliminates the need to manually shift budgets between ad sets, recalculate budgets mid-flight, or restart the learning phase. This all saves advertisers significant time.
Unfortunately, though, these benefits are accompanied by one major downfall:
Less control
Since optimization is left to Facebook, advertisers will have to trust the platform it will provide them with the best campaign results. Even though advertisers will still have some control over budgets at the ad-set level, it will be limited — they will only able to set minimum and maximum spend limits.
Katy elaborates:
This change takes the guesswork out of optimizations, which makes it easier for brands and advertisers to manage campaigns and potentially scale spend more effectively… [but] it's critical for advertisers to test this before the rollout to see how it might affect their campaigns.
It's important to remember that this Facebook ad set budget change will affect existing campaigns as well. That means any advertiser with long-term or evergreen campaigns (with specific budgets and performance expectations at the ad set-level), must start thinking about what the change will mean for those efforts.
Case study: BuzzFeed
BuzzFeed is one company that experimented with Facebook's budget optimization feature. They wanted a way to optimize their branded content ads to cost-efficiently boost video ad views and link clicks, and their solution was automatic campaign budget optimization.
For the experiment, BuzzFeed focused on branded content campaigns promoting two of its partners: a retail brand and a quick-service restaurant (QSR) brand. Both had multiple campaign components that BuzzFeed wanted to optimize the content and efficiency of.
Using Facebook's ad set budget optimization, BuzzFeed created a central budget for optimization, and then ran split tests: It ran all control cells manually at an average of 15 minutes per day, per campaign, while running all exposed cells automatically and left them untouched for the entire test.
BuzzFeed's split tests proved that the exposed cells that used Facebook campaign budget optimization consistently outperformed the control cells that didn't use it. The budget-optimized campaign delivered:
10% increase video views with campaign budget optimization
10% decrease in cost per video view
5% decrease in cost per click
Henry Van Zant, Distribution Lead at BuzzFeed, summarized the company's experiment:
We enjoy using the Facebook campaign budget optimization tool because it simplifies the optimization process while also giving us the lowest cost per performance, helping us to further connect BuzzFeed brand partners to our audience. And because the tool automatically distributes budget to the top-performing ad sets in real time, we'll no longer have to manually optimize each ad set.
Are you ready for the change?
If not, Facebook is giving advertisers plenty of time to get familiar with campaign budget optimization before it becomes mandatory. So, if you don't yet have any experience with the setting, it's best to start experimenting with it now.
Download the Instapage digital advertising reference guide for the most updated ad specs, best practices, examples, and more. Then start testing Facebook's ad set budget optimization before it becomes the new norm.