The number of Facebook advertisers continues to grow each day, now totaling more than 7 million. With the platform's wide variety of ad formats and audience targeting options, there is no shortage of possibilities to show your preferred ad to the exact user you aim to convert.
But from the user's perspective, they can quickly become numb to advertising messages and ignore them completely. Ad fatigue and banner blindness are real things to combat. So, how do you get positive campaign results from campaigns? And, in the process, how do those results compare to Facebook benchmarks from others in your industry?
Below are the latest Facebook advertising benchmarks by industry in four key metrics:
click-through rate
cost per click
conversion rate
cost per action
(Note: The Facebook advertising benchmarks below are from WordStream: https://www.wordstream.com/blog/ws/2017/02/28/facebook-advertising-benchmarks. Data is from a sample of 256 US-based client accounts in all verticals and "averages" are median figures to account for outliers.)
Average click-through rate on Facebook
The average Facebook click-through rate across all industries surveyed is 0.90%: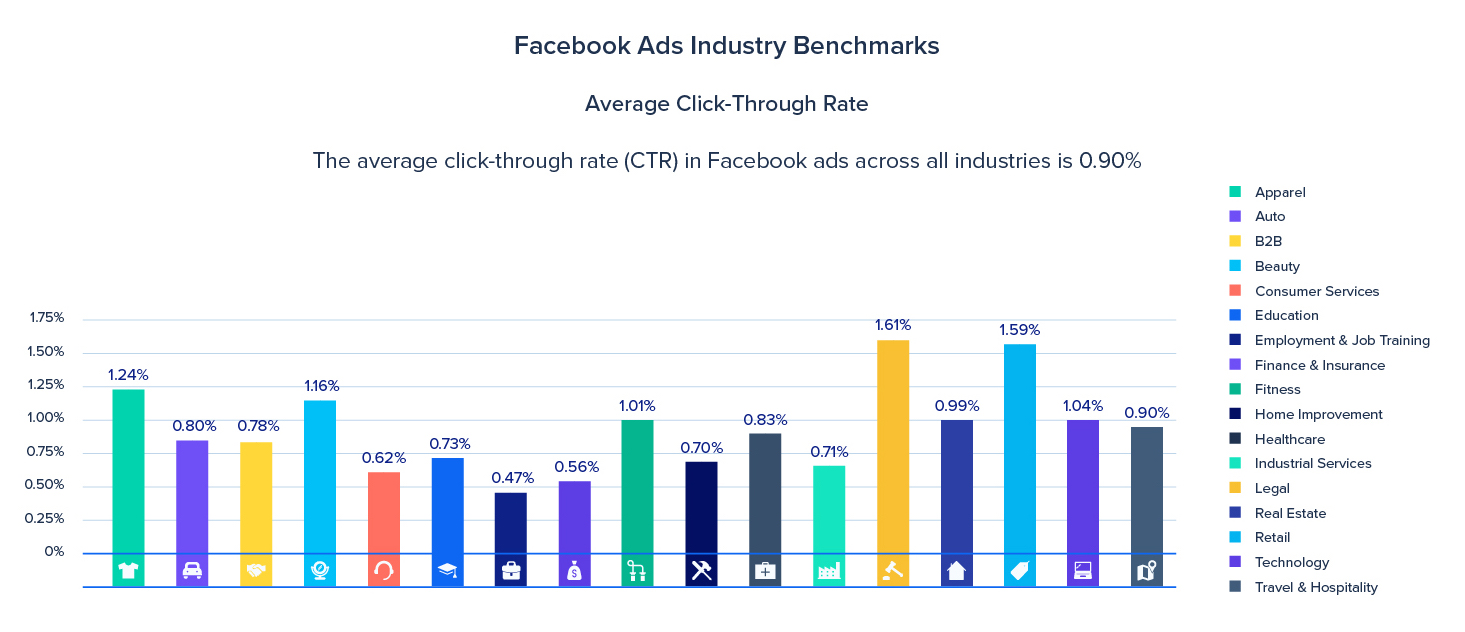 Advertisers in the legal industry may struggle with below-average CTRs on Google's Search Network, but not on Facebook. Here, they have the highest CTRs at 1.61%.
The difference in this industry CTR on the two platforms could be because it's more difficult to impress a prospective client looking for a lawyer when your ad blends in with the other ads on the SERP. However, a lawyer's UVP, enticing CTA, a scroll-stopping image, is much more likely to stand out on a prospect's social feed when other ads do not surround it.
Other industries with higher CTRs include:
Retail (1.59%)
Apparel (1.24%)
Beauty (1.16%)
Technology (1.04%)
Fitness (1.01%)
It's probably no coincidence that these industries' ads perform particularly well on highly visual platforms like Facebook, and they often feature high-quality images of people. Another factor that could contribute to higher CTRs in these industries is that they frequently offer sales, promotions, discounts, and giveaways that are great for convincing people to click through.
Industries with lowest average CTRs
Employment & job training services have the lowest average Facebook click-through rate (0.47%), followed by finance & insurance (0.56%), customer services (0.62%), home improvement (0.70%), industrial services (0.71%), education (0.73%), and B2B (0.78%). These industries likely have lower Facebook CTRs because people looking for these services are more apt to search on other platforms like Google, not Facebook. Users browse Facebook for social reasons, not necessarily to improve their career aspirations, hire plumbers, or further their education.
With Google Ads Benchmarks, CTR varied tremendously between the Search Network (5.06%) and the Display Network (0.50%). Similarly, Facebook CTR (0.90%) is very different from the Google Search CTR, but more comparable to the display CTR.
The most probable reason for this is the intent of Facebook users. Someone clicking a Facebook ad varies from the intent of someone clicking a Google ad. Google is keyword-based so people are actively looking for certain results, while Facebook users are typically scrolling their feed, viewing photos, interacting on Messenger, etc.
Cost per click on Facebook
The average Facebook CPC across all industries is $1.72: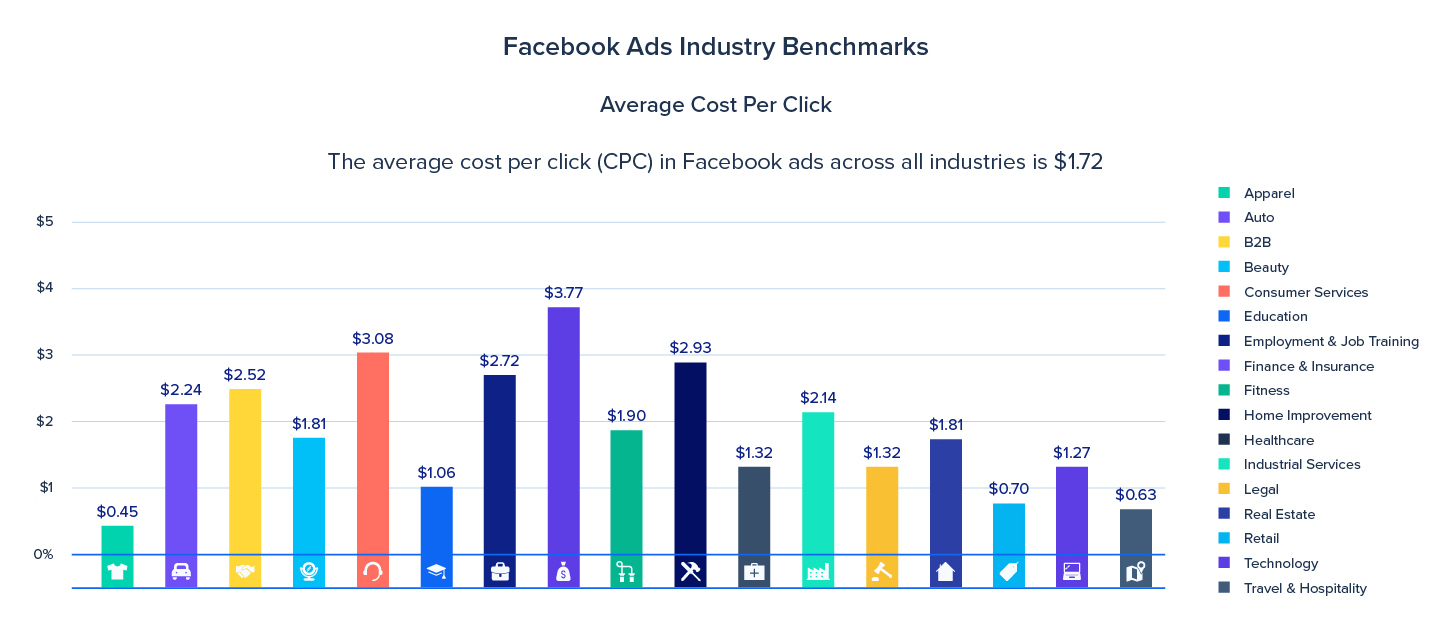 Financial advertisers experience the highest Facebook cost per click at $3.77. Unfortunately, they also have second-lowest CTR. So not only are few people clicking the ads, but advertisers are paying a lot for the clicks -- a lose-lose situation for finance advertisers.
The cheapest CPCs are in apparel ($0.45), travel and hospitality ($0.63), and retail ($0.70) industries. Each with clicks well below $1. Retail and apparel boast the second- and third-highest CTRs, respectively, in contrast to financial advertisers. This is a win-win for these two industries.
If your business falls under one of these low CPC categories, though, it's still essential to understand how to manage your Facebook advertising budgets, as these industries often have enormous audiences.
Facebook average conversion rates
The average Facebook ad conversion rate across all industries is 9.21%, much higher than the Google Ads conversion rate.
Note: Since Facebook advertising campaigns can have several different objectives, only those campaigns with the conversion objective were considered when calculating the average conversion rate.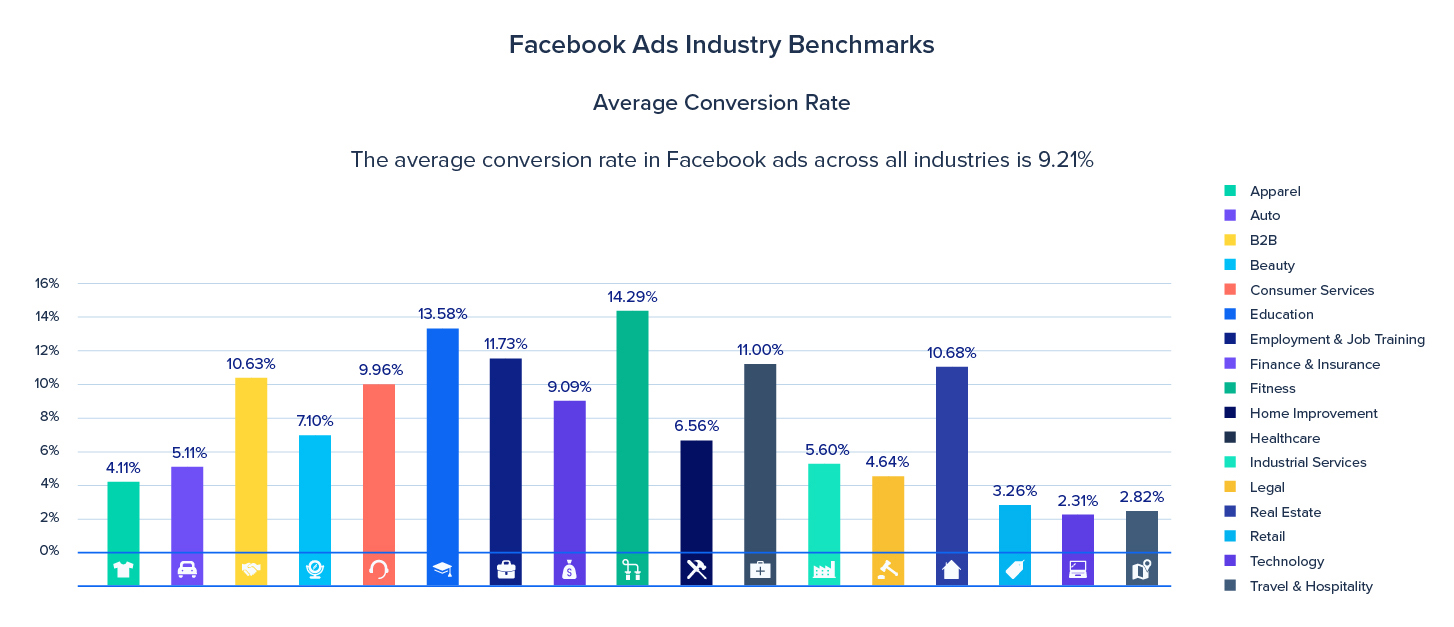 Facebook helps fitness, education, and employment & job training advertisers achieve remarkably high conversion rates, averaging 14.29%, 13.58%, and 11.73%, respectively.
This is interesting because the employment & job training industry, for example, has the lowest CTR -- but when people do click through, they convert at the third-highest rate. Similarly, while fitness ads have the fourth-highest CTR, they convert at the highest rate. A reason for this could be the high-intent of people clicking through. They know exactly what they want and don't click through until they're ready to take action.
Unfortunately, many industries fall below the average Facebook conversion rate, with retail (3.26%), travel & hospitality (2.82%), and technology (2.31%) having extremely below-average rates.
Another detail to notice here is that technology has a higher CTR but the lowest conversion rate. A likely cause being people exploring their options for technology solutions, but advertisers failing to optimize the post-click landing page (more on this below).
CPA (cost per action) on Facebook
The average cost per action on Facebook across all industries is $18.68. For these results, actions varied based on the advertisers' specific goals, including sales, providing contact information, submitting a form, placing a call, etc.
Note: Only campaigns with the conversion objective were considered when calculating average cost per action.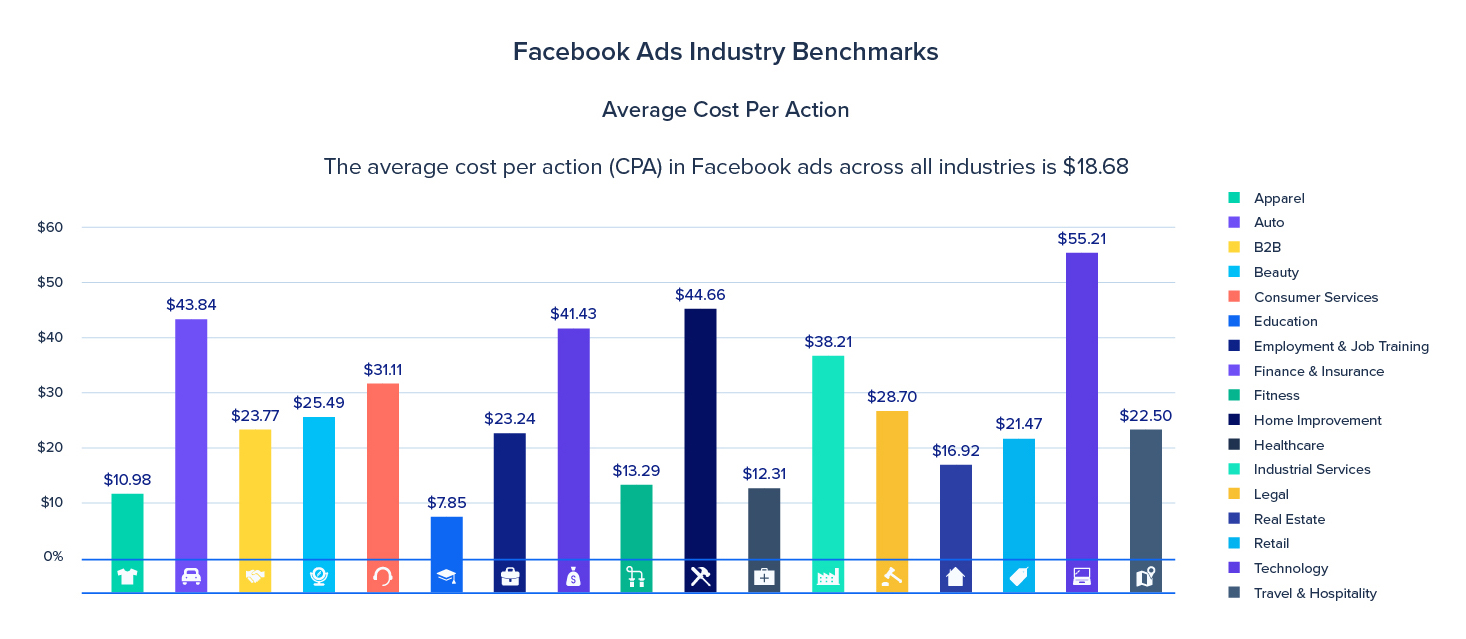 Education advertisers don't pay much for ad clicks, especially compared to technology advertisers who spend an average of $55.21 per action. So, although Facebook may be an excellent place for higher education programs to attract new students, it can be rather expensive for companies looking to hire a computer programmer.
For the technology industry, particularly, one reason for the high CPA could be is the intent of users. Remember, Facebook is a social media platform. So the vast majority of people engage with the platform to interact with friends and family -- not necessarily hire for such technical positions.
Other industries with high CPAs include home improvement ($44.66), auto ($43.84), and finance & insurance ($41.43), while other below-average CPA industries are apparel ($10.98), healthcare ($12.31), and real estate ($16.92).
2 Major takeaways from the Facebook advertising benchmarks
1. Take advantage of Facebook's targeting options (& retarget)
Since Facebook ads are not keyword-driven -- and display to users based on comprehensive audience targeting parameters. It would help if you were taking advantage of the unique targeting options the Facebook advertising platform offers. Demographic information, user interests, life events, and user behavior can all be used to pinpoint exactly who your ads display too. Which finally leads to higher click-through rates and conversion rates.
Retargeting can also increase CTRs and conversion rates. Likely, people who have already visited your site or engaged with your business have a higher purchase intent. In fact, it's been proven that Facebook Ads CTR can increase by 600% using content curation and retargeting.
2. Increase conversion rates with Post-Click Automation™
Even though Facebook's average conversion rates aren't as low as Google's average conversion rates, there's always room for improvement. This is especially true for those industries with below-average Facebook Ad conversion rates -- retail, travel & hospitality, technology, apparel, legal, auto, industrial services, and more.
All of these industries could improve their rates with Post-Click Automation (PCA). PCA is the category of marketing technology that enables marketers to maximize ad conversions by automating the post-click stage and delivering 1:1 personalized experiences at scale.
PCA helps you visualize the advertising funnel and connect it with the ad network to create message matched landing pages: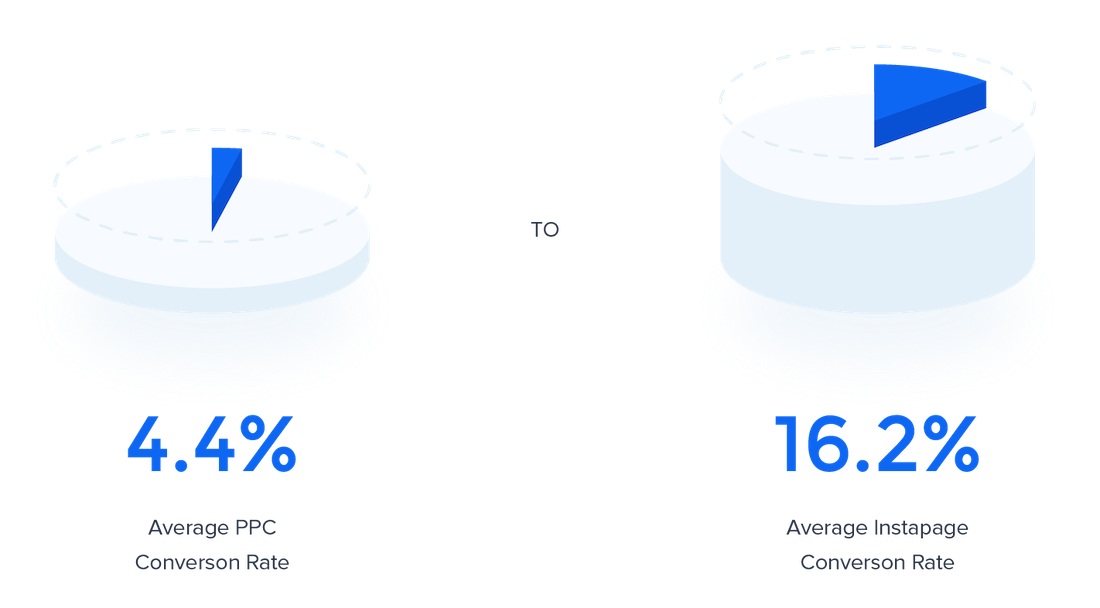 How do your Facebook ads measure up?
If you're already advertising on Facebook, knowing these advertising benchmarks will give you an idea of where your campaigns should stand. Using these as a reference is great because there's always room to improve your metrics, especially if you don't at least meet your industry's average.
Optimizing both your pre-click experience with relevant ads, keywords, creative, and offers -- and your post-click landing page with personalized pages -- will help you improve all of your campaign metrics.