Over 20% of the total U.S. digital ad spend in 2018 is estimated to have transacted through Facebook, making it the second largest ad network in the market. This equates to $23 billion spent on paid ads on the platform throughout the year. Yet there hasn't been an easy way for advertisers to measure the ROI of their Facebook ad campaigns through the landing page. Advertisers need a unified and accurate view of both their ads and their corresponding landing pages performance to evaluate their ads' effectiveness.
Instead of pulling metrics from disparate platforms and manually stitching them together for a cohesive view of overall performance, you need a solution that aggregates Facebook ad spend with conversion metrics and landing page performance in a single dashboard. This gives you the information you need to optimize performance within your current ad budget.
Now you have it with the Facebook Ads Manager integration.
What is the Facebook Ads Manager integration?
The new integration lets you see detailed insights into advertising traffic and conversion for the entire marketing and sales funnel.
What you see in Instapage Analytics
Instapage already integrates with Google Ads, so with this new Facebook Ads integration, users can view page and visitor analytics for paid traffic across the two largest advertising platforms. Both integrations allow PPC marketers to track and analyze conversions and advertising spend across multiple traffic sources in a single analytics dashboard providing a cohesive view of ad-to-page performance.
Availability
The Facebook Ads Manager integration is available on all plans and is integrated at the workspace level. Once you connect a workspace to a Facebook Ads Manager account, you can configure individual landing pages to link to a specific ad and begin tracking data.
How to integrate your landing pages with Facebook Ads Manager
(Note: Before connecting your Instapage account to Facebook Ads, you must verify the Facebook Ads account has Administrator or Advertiser permissions (not Analyst permissions). Also, only the Account Owner and team members with Manager permission can connect the Facebook Ads Manager integration. For more details on team member permissions, go here.)
To get started, go to your Integrations Dashboard and locate the Analytics section, then select Facebook Ads Manager. From there, click on Continue to Facebook to begin the authentication process: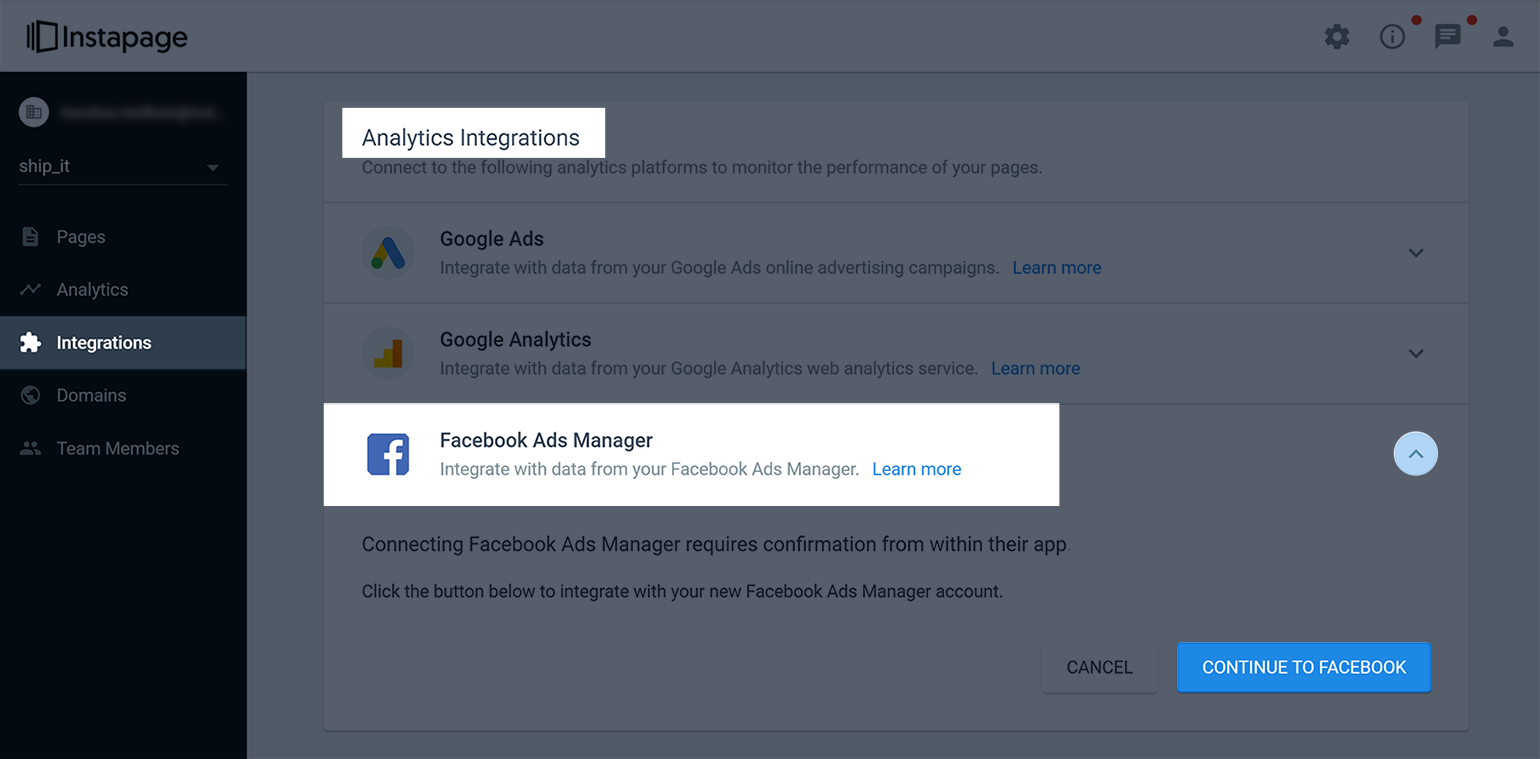 Once the account is connected and verified in Facebook Ads, you will see a screen similar to this where you can disconnect the integration at any time: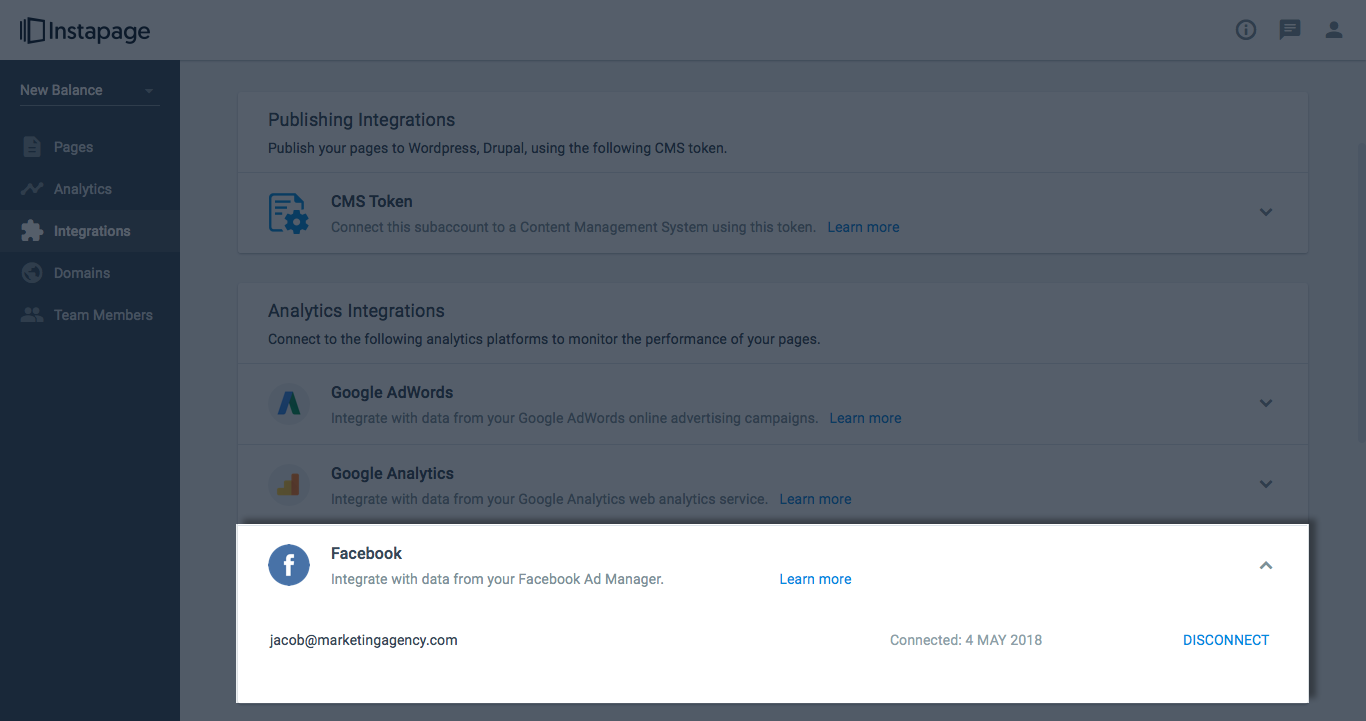 Connecting a landing page to Facebook Ads Manager
Now that your workspace is connected to Facebook Ads, the next step is verifying the landing page. Access the builder for the landing page you want to connect, navigate to Settings, select Analytics and then Facebook Ads Manager: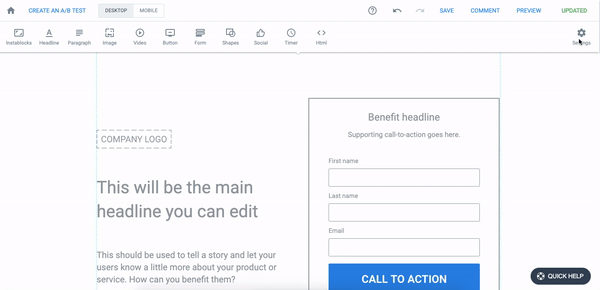 This opens the integration modal that allows you to connect your Facebook Ads account (if you haven't completed it already). If the account is already connected to your desired Instapage workspace, you will see a message similar to this: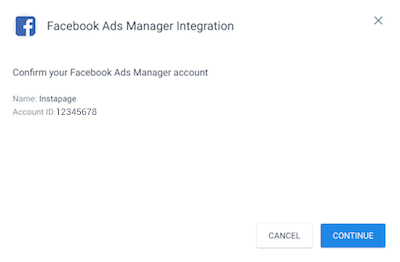 Following that, complete the setup process by confirming the Facebook Ads campaign, ad set, and ads for the landing page.
To identify incoming traffic to this landing page from your ad, allowing Instapage Analytics to attribute that traffic with the correct campaign, you must copy a snippet of Instapage tracking code and paste it into the "URL Parameters" field of the corresponding ad on your Facebook Ads Manager dashboard: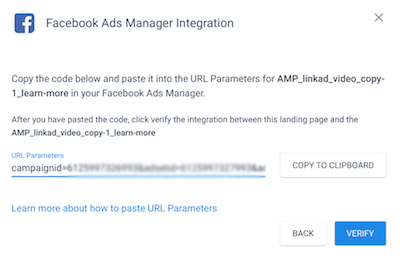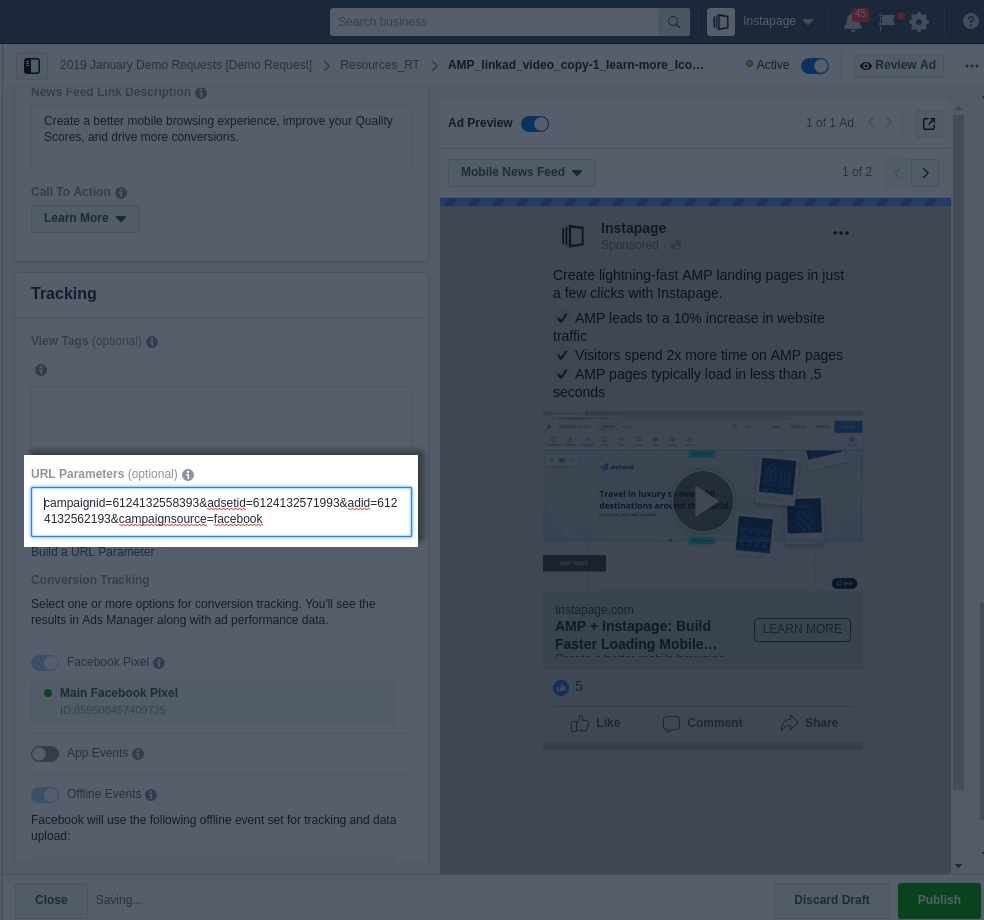 For complete details on the step-by-step process, read this help center article.
Get accurate attribution for your Facebook Ads today
Never before could marketers view Facebook conversion metrics and landing page performance data in a single unified dashboard. Make your job easier and get the Facebook advertising insights you need to make more informed decisions, today.