Merriam-Webster defines "ephemeral" as "lasting a very short time."
When we apply this to digital marketing, all social media platforms are ephemeral: Either our attention to content is ephemeral (we watch, react, and then move on), or the content itself is ephemeral (it's there, and then it's gone).
Today we're focusing on ephemeral content itself — what it is, where and how to use it, along with some examples. Let's start by defining the term.
What is ephemeral content?
Ephemeral content is rich media that is only accessible temporarily (usually 24 hours) before it disappears forever. It can take many forms, including photos, live-stream videos, product demos, narrative stories, and more. Ephemeral content can currently be published on three primary platforms: Snapchat, Facebook, and Instagram: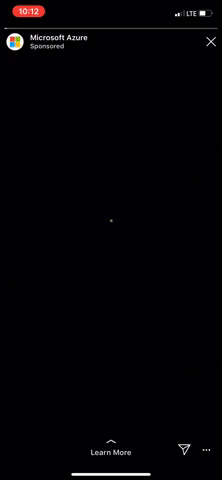 Where to use ephemeral content on social media
Snapchat
When people think of disappearing content, Snapchat is likely the first app that comes to mind — naturally, since Snapchat is where it all started. In fact, Snapchat's extreme success with the ephemeral concept is what made Instagram and Facebook quickly follow suit.
With Snapchat advertising, users can send ephemeral content to individuals or groups, or post on public "stories:"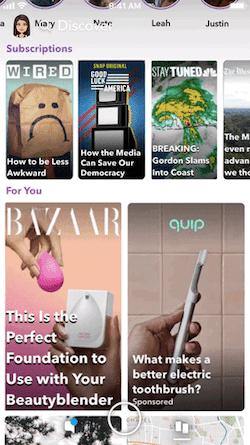 Facebook Stories
Facebook Page Stories appear automatically at the top of users' News Feeds, or users can tap your profile picture to view your story: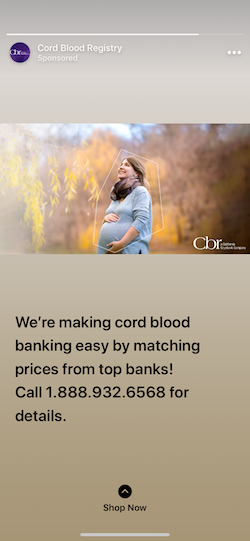 Page Stories can be added two different ways:
Take a photo or video in the moment with the Facebook camera, or upload one from your camera roll and add any creative effect (frames, masks, stickers, music, etc.) to personalize your Story
Cross-post your Stories from Instagram
Single Image
Single Video
Image
Aspect ratios: 9:16 to 1.91:1
Maximum duration: 6 secs
Maximum file size: 30 MB
Supported image types: .jpg, .png
Video
Aspect ratios: 9:16 to 1.91:1
Maximum duration: 15 secs
Maximum file size: 4 GB
Minimum video width: 500px
Supported video types: .mp4, .mov
Video quality: H.264 compression, square pixels, fixed frame rate, progressive scan
Audio quality: Stereo AAC audio compression at 128kbps+
Sound: Optional
Captions: Not available; subtitles or captions must be part of video file
Instagram Stories
Instagram's ephemeral content feature (also called Stories) is very similar (which makes sense since Facebook owns Instagram):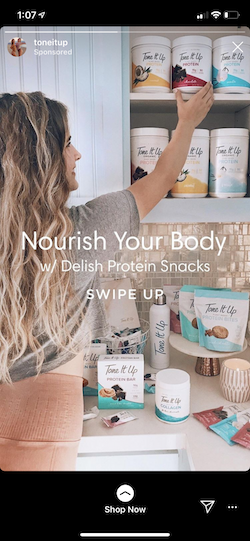 Ad formats
Single Image
Single Video
Canvas
Carousel
Image
Aspect ratios: 9:16 and 4:5 to 1.91:1
Maximum duration: 5 secs
Maximum file size: 30 MB
Supported image types: .jpg, .png
Video
Aspect ratios: 9:16 and 4:5 to 1.91:1
Maximum duration: 15 secs
Maximum file size: 4 GB
Minimum video width: 500px
Supported video types: .mp4, .mov
Video quality: H.264 compression, square pixels, fixed frame rate, progressive scan
Audio quality: Stereo AAC audio compression at 128kbps+
Sound: Optional
Captions: Not available; subtitles or captions must be part of video file
Note: For the all-in-one list of advertising specs on every major platform — dimensions, file formats, examples, and more — refer to the Instapage digital advertising specs guide.
Why should brands consider ephemeral content in ad campaigns?
Fear of missing out (FOMO)
One of the most obvious advantages of an ephemeral content strategy is that it elicits an immediate response from viewers — a quick decision to sign up, purchase, download, etc. The short-lived nature of ephemeral content creates urgency, fueled by the fear of missing out, a powerful motivator of human behavior.
Higher engagement
Ephemeral content often allows the user to engage with the brand on a more personal level than other forms of advertising. Some of the best engagement-boosting tactics with ephemeral advertising include:
Encouraging user-generated content with branded filters, geo-filters, etc.
Running polls and Q&As where you can ask viewers for their opinions, or encourage them to submit questions.
Live-streaming videos to communicate with your audience in real time
Tagging other users and locations to attract more attention
Wider reach
Ephemeral ads help increase reach for several reasons:
Stories appear in a separate feed on all platforms, so it's a way to beat the algorithm and increase reach.
When users go "live," their followers get a notification, which attracts interested people even if they're not using the app at that exact moment.
If you influence on Instagram, your stories can appear at the top of the explore page.
Stories are inherently shareable and visibility-boosting due to their FOMO-inducing nature, and it only takes a single tap for viewers to send someone's Story to another person.
Builds trust
Since today's consumers are bombarded with well-polished content encouraging them to buy products or services, they crave authenticity, personality, and rawness. Ephemeral content makes your brand feel more humanized and relatable because it's more informal and spontaneous. This helps your followers gain a greater sense of excitement, trust, and loyalty for your brand.
It doesn't have to be perfect
While traditional ads are expected to be professionally shot and perfect in every way, ephemeral ads don't have this same expectation. The quality of an ephemeral content video is secondary to the content itself. For example, a smartphone-shot video of your colleagues having fun at a company picnic is the perfect piece of ephemeral content.
Ephemeral marketing may not be right for every business, and it may not be right all of the time. You should weigh the previous list with the following disadvantages.
A few drawbacks
One of the main downsides of ephemeral is that it only works on social media. You can post the same content to your website as well, but if you don't also share it on social, it won't have the same effect, as it will go largely unnoticed.
Another drawback is the short-nature itself. Content that comes and goes quickly may also be forgotten quickly. To maximize each platform with ephemeral content, you must keep producing regularly (often daily), which requires:
A long-term strategy (how often, what content will you broadcast)
The necessary skills and technical resources
A budget (if you want it to appear more professional)
5 best practices for an ephemeral content strategy
1. Make a plan
Determine which platform to advertise on, and make sure your content is similar to other content on the site. Ephemeral content works best if it's native to the platform it's being shown.
It must also fit your brand, which means you have to decide whether images or videos are more appropriate. Generally speaking, images perform better for tangible products, while videos are more ideal for services. This isn't to say you can't use both, but at least know which format is more suitable for your brand.
2. Tell a story
Make sure you have a story to tell before you begin and have it all planned out so you're not constantly guessing where to go next. Then adopt a storytelling approach with a style and language that resonates with your audience.
The most important part of an engaging story is structure — a beginning, a middle, and an end. As Snapchat journalist Frankie Greek says:
Too many brands post snaps that are disconnected from each other and hours apart. Most of your followers are going to be watching your story all at once so regardless of what time you post each snap, you need to tell one cohesive story when played beginning to end.
3. Use the right tags
Using different types of tags can be a great, creative way to reach more followers with ephemeral content:
Geotags — Inform your followers about your location, engage local fans, get discovered by people interested in your location, have a chance to appear on the Instagram Explore page
Hashtags — Add hashtags in text or stickers to be recognized and explored by people searching for a specific hashtag
Name tags — To shoutout other users, capture their attention, and capture the attention of other people following them
4. Be consistent about posting
Posting quickly-disappearing content naturally requires more frequent and regular posting to generate constant engagement. However, creating and delivering content at high-volume poses the risk of sharing irrelevant content.
Therefore, in addition to having a consistent schedule, you must also have consistent messaging. Make sure every piece of ephemeral content you publish meets the goal or target you intended when you first created your campaign.
5. Show authenticity
86% of consumers say authenticity is an important factor when deciding what brands they like and support, so it's critical to stay personal, informal, and raw with your content. Treat your viewers like they're your friends.
Taking audiences "behind the scenes" leverages authenticity and can help build trust by giving them a glimpse into your business in an informal way. Show the real people behind your brand so they know you're a team comprised of individuals similar to themselves.
Above all else, have fun with this type of marketing. There is no one way in which ephemeral content performs best, so don't be afraid to try new, different things.
Build long-lasting relationships with short-lived content
Ephemeral content may seem counterintuitive to marketing (why put effort into something that's going to be gone in a day?). However, it holds huge marketing potential. Remember, it's all about raising brand awareness, making an authentic impression, and building long-lasting relationships with your target audience. All of this, consequently, plays an important role in driving conversions.
Ensure your ephemeral content drives maximum conversions by linking each one of your offers to an optimized post-click landing page. To set your landing page apart from the rest and increase your conversion rates, download the Instapage guide with 35 landing page techniques.